Swiss Cheese Fritters
(page 2 of 2)
Home
>>
Recipes
The mighty
Beignets de Vinzel
is a cult dish from the Swiss coast of Lake Geneva. It would fit nicely into the Scottish Diet.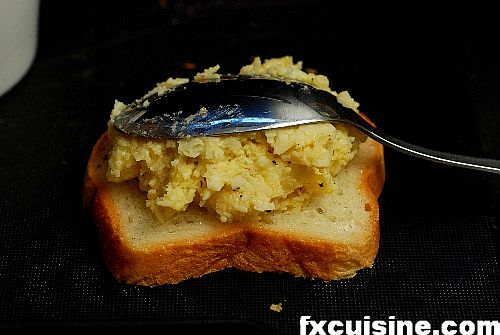 Using a large tablespoon, press the cheese dough on the bread slice. Continue until you have a regular mound that covers the entire top surface of the bread.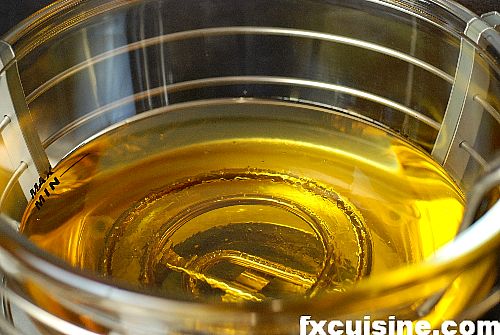 Heat your deep-frier or pot to 180°C / 360°F.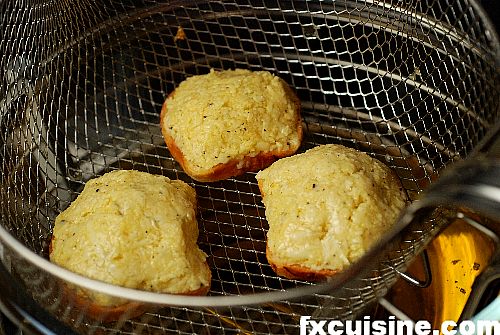 Prepare a reasonable amount of beignets in relation to your deep-frier's size.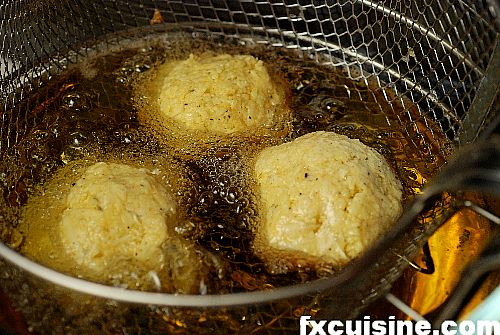 Lower them into the hot oil and watch.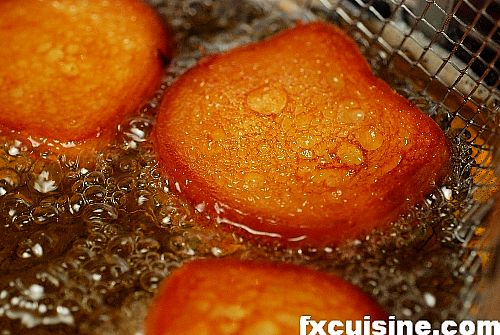 If they tend to float and keep their top out of the oil, just turn your fritters upside down with a slotted spoon so that they cook evenly. It is quite important the oil is not too hot as you need at least 3 minutes in the bath for the cheese core to melt, and they might burn on the surface if your oil were too hot.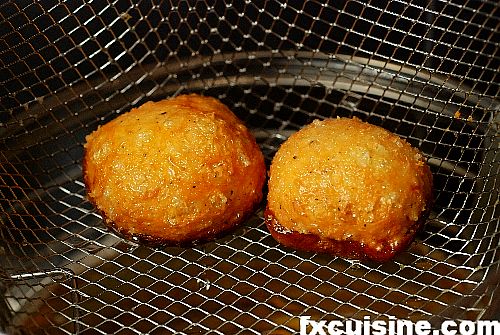 Let the oil drip for a while...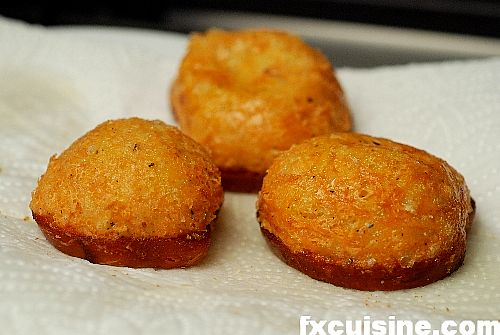 ...then carefully lay them over sponge paper. Try to absorb as much oil as you can without burning yourself nor crushing the delicate crust.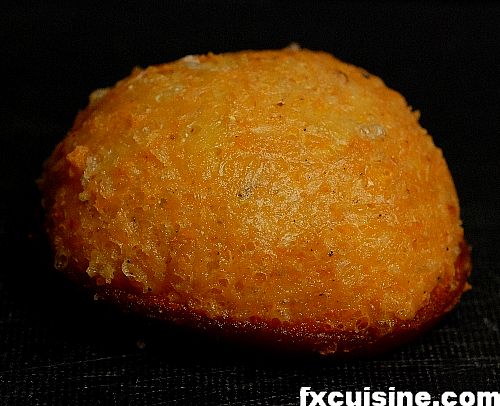 Here we are, the beignet de Vinzel is ready to be served. These are best eaten hot while the cheese inside is still melted.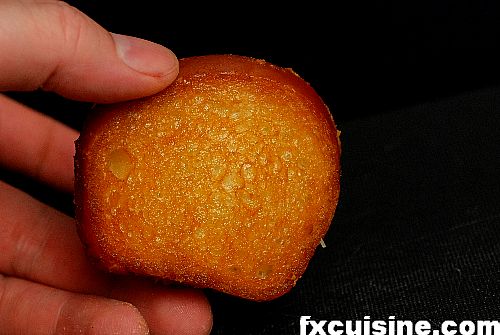 The bread does not absorb much oil and it becomes very crispy. Fried bread was a staple of bourgeois cookery in the 19th century.
In restaurants these are usually served with pickles and a salad, but if you are on a diet you can omit the salad as it has no real nutritional value.
160271 views
Related Articles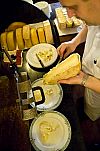 Swiss Raclette *** Popular
The national dish of Valais, my Swiss canton, raclette is the most gorgeous melted cheese you will ever have. Here at its best at the Manoir de Villa in Sierre.

Malakoff - Swiss Deep-Fried Cheese Sticks ***
These deep-fried cheese sticks named after the taking of Malakoff during the Crimean war are the most delicious deep-fried calorie bomb I ever tried.

Pizza Fritta - traditional Neapolitan deep-fried pizza *** Popular
Follow me inside the kitchen of working-class pizza joint in downtown Napoli and see how they make deep fried pizza, the cult Neapolitan street food.

A night at the Liboson ***
A memorable fondue in an over-the-top dungeon chalet straight out of a Hammer film. Our host, Paul du Marchie, has been building an architectural fantasy in the middle of the woods for the last 50 years. Dont' miss my eight 360° panoramas!

Swiss Alpine Pasture Cheese Croûte ***
How I bought cheese in a small cheese making chalet in the Swiss Alps 2 hours walk from the last road and how I turned it into a delicious Croûte au fromage.

Copyright FXcuisine 2023 - all rights reserved.
If you do this recipe at home please let me know how it worked for you by submitting a comment or send me a picture if you can. Thanks!