Anti Cholesterol Vegetarian Starter
Home
>>
Recipes
My doctor just sent me the cholesterol bill for this quarter. Apparently I have already had all I needed for the whole year. I followed his advice to
eat more vegetables
by preparing these amazing avocadoes in
béarnaise
sauce with a poached egg.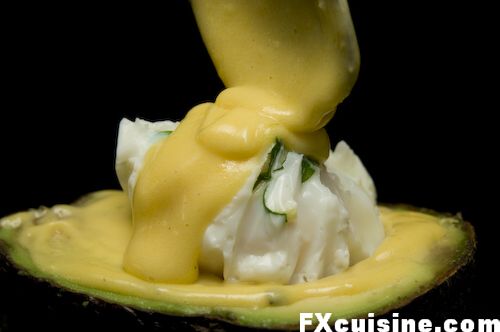 The other day my physician congratulated me : 'In less than three months, you have eaten all the cholesterol you will need for this year'. It felt really good at the time, but then a friend suggested I reduce my cholesterol intake. 'Yes, but how?' , I asked. 'Simple, just eat vegetables.' So I looked for a truly vegetarian recipe in the hope it would keep me out of the Guinness' Book of World Records under the heading 'Cholesterol'.
Read and learn how to poach an egg like a Swiss chef and how to make Béarnaise sauce like a French chef
Béarnaise Avocadoes
As a starter for 4
Or a light dinner for myself
2 mature avocadoes
5 eggs
100gr butter
Fresh chervil, tarragon and parsley
2 shallots
1 bay leaf
White wine vinegar
White wine
Pinch of salt
1 tsp crushed peppercorns
Kitchen string, plastic foil, a couple pots
This recipe was served as a first course 40 years ago as Avocats Fermont at Le Chanzy, a restaurant in Arras, France.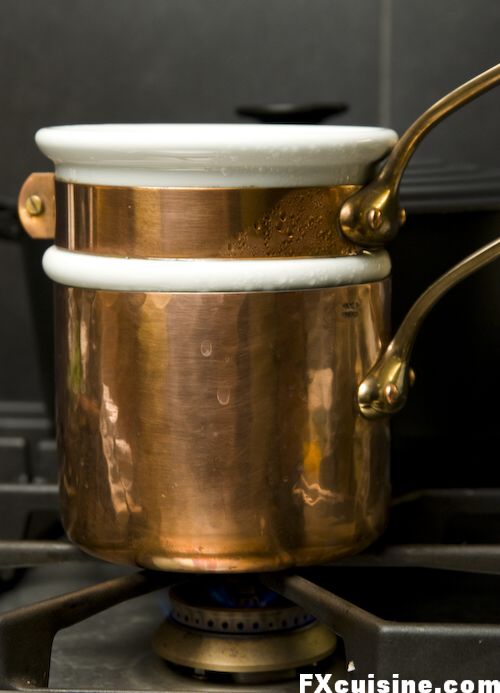 I will use this fancy copper bain marie pot to prepare the béarnaise sauce, but you can use any salad bowl placed on a pot of boiling water. I've been eyeing this pot for 5 years now at Mora and Dehillerin in Paris, and managed to snatch one on Ebay from a French lady who barely used it. It is made in two parts with the water downstairs and the sauce upstairs, with a ceramic ring between the two. Unless you spill some, the food is never in contact with the raw copper.
Anybody can do a béarnaise sauce by following my recipe. Béarnaise [bay-ar-nayz] is a member of the hot emulsion family of sauces, where fat is emulsified using egg yolks on a low heat. Béarnaise is a cult sauce, everybody's favorite and always a hit with cardiologists. It is flavored with tarragon infused in vinegar and then reduced. You can also use clarified butter instead of regular butter. But, as we are dieting, we'll use plain butter today.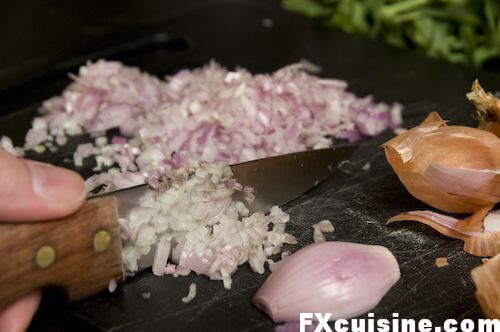 Start by dicing finely 2 shallots.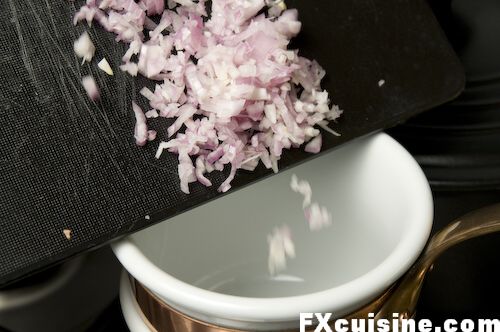 drop them into the pot. Here I am using the bain marie (pot on a pot of water) also for the reduction, but it would be quicker and more rational to use a regular casserole and only use the bain marie when the egg comes into play.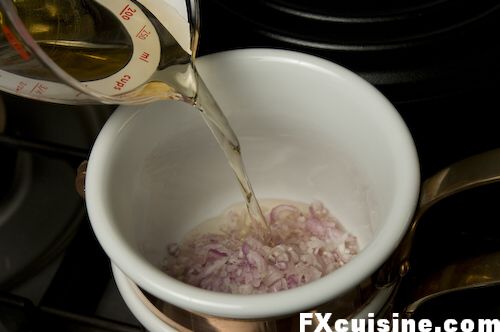 Add the wine and vinegar. Their job is to provide acidity to balance the butter's heavy blandness.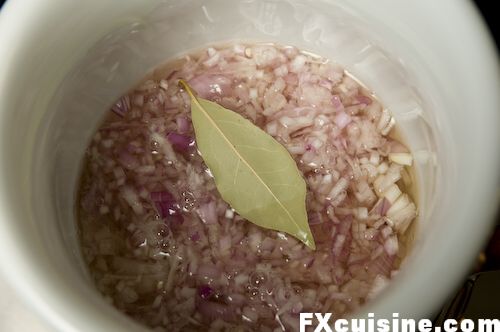 A bay leaf now.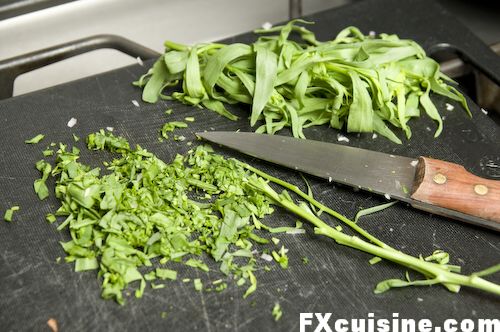 Finely snip the tarragon and chervil.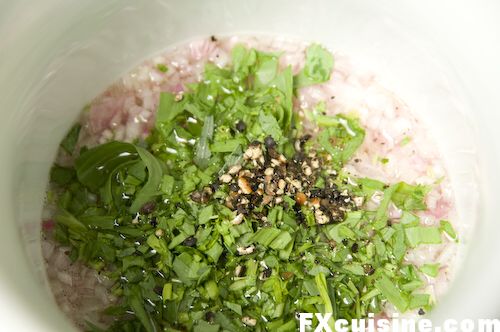 Add the herbs with parsley stalks (the part that is usually discarded when you snip parsley) and a teaspoon of freshly crushed pepper.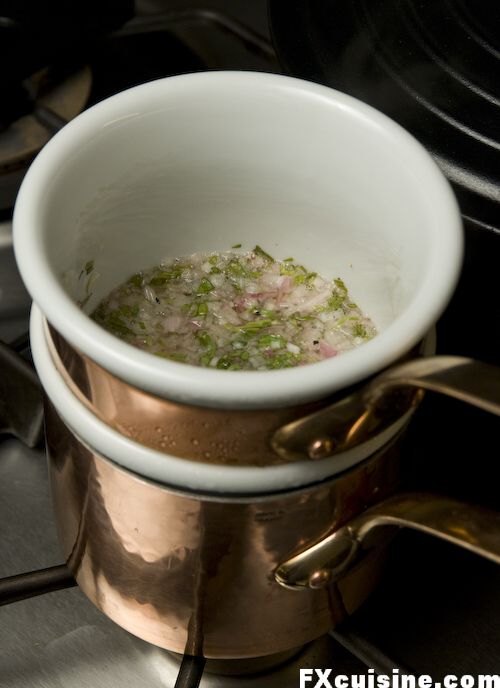 Let the vinegar boil until is reduces to a few tablespoons of liquid.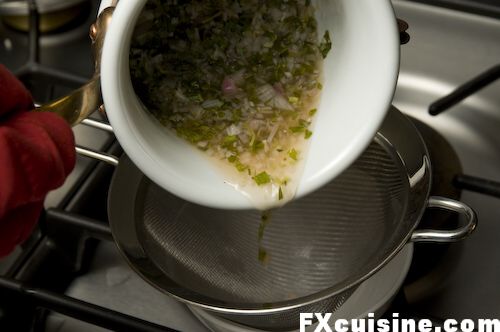 Filter out the herbs and discard them. Do not mourn these herbs, they have served their purpose and given their very best to the vinegar reduction. They can now rest, content of having fulfilled their ambition in life.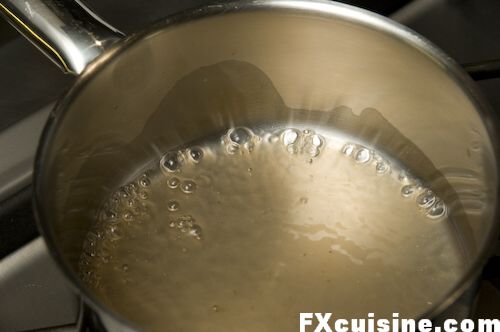 If needed, let the filtered vinegar, now flavored with paradisiac herbal fragrance, boil some more until you get about 2 tablespoons of liquid.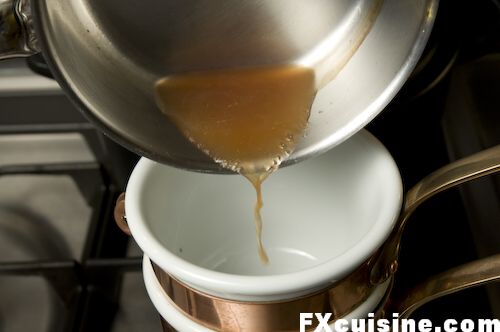 Pour the reduction into the bain marie pot. Make sure whatever you are using to cook this is not placed directly over a flame but rather on a pot filled with boiling water, otherwise your sauce will break as the egg yolk coagulates and the béarnaise will be on you and your children for 777 generations. With the acidity increase due to the vinegar, the yolk might not coagulate before you reach 91°C / 195°C. But when the yolk has coagulated because your pot was just too hot, then your sauce is lost, kaput, FUBAR and TOFUED, and you can order some Chinese take-away for your guests. So please do watch the temperature!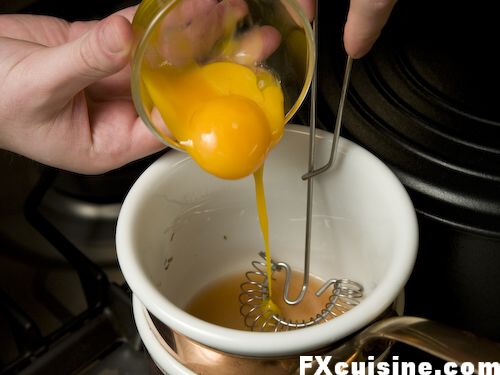 Wait until the vinegar has cooled down a bit, then add the egg yolks. If the vinegar's temperature exceeds 68°C, it might coagulate as you drop it in the vinegar. If this happens to you, just filter the egg out, wait until the vinegar has cooled down some more, then start again with another yolk.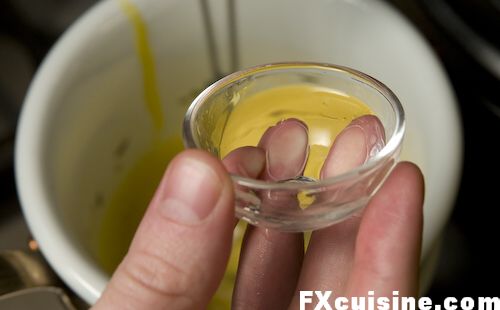 2 tablespoons of cold water are added so that we get an oil-in-water emulsion when we later add the butter.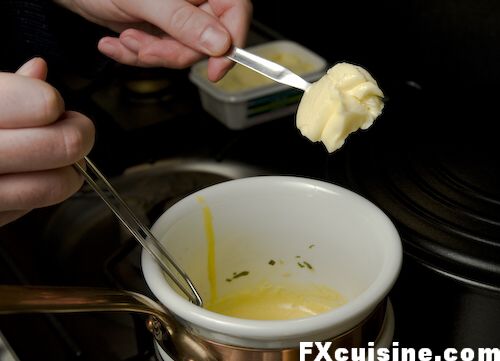 We will now add, tablespoon by tablespoon, butter at room temperature, and whisk it into the egg, water and vinegar mixture. Since they are collectively more numerous than the little of bit of butter we add, the butter's fat will emulsify using the egg yolk and make tiny fat droplets surrounded by water molecules. That is what we want.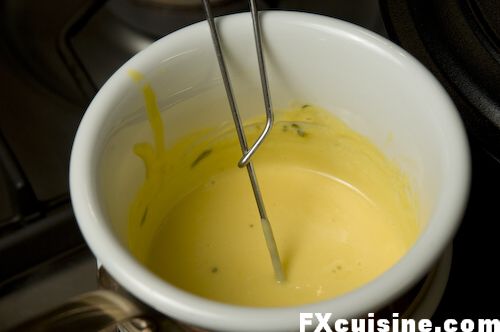 As soon as one tablespoon of butter has been fully absorbed in the sauce and you again have a smooth mixture, now one shade paler, if not lighter, continue with another tablespoon of butter. Continue until you run out of butter. Finish by adding some freshly snipped herbs into the sauce. Some people will tell you that this sauce is heavy, but as my Mom always says, 'It is not the béarnaise sauce that makes people fat, but rather what they eat with the sauce.
...