Serious French Cottage Pie
Home
>>
Recipes
Hachis Parmentier is French confort food at its best - slowly prepared over 3 days. Spend 3 minutes to see how it's done.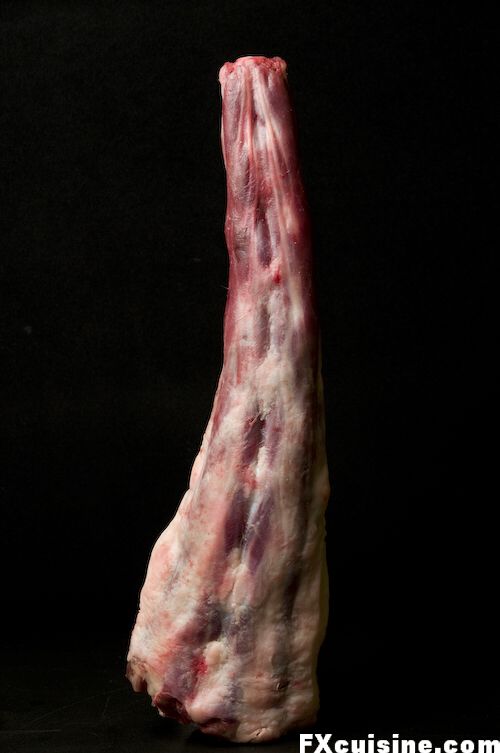 Pharmacist Antoine-Augustin Parmentier (1737-1813) spent his life campaigning to have potatoes officially declared edible, and then to convince his countrymen to make it a staple on their table. One of his many publicity stunts included offering bunches of potato flowers to the King and hosting dinners with Benjamin Franklin centered around the potato. As famine struck in 1785, Parmentier won and the French started eating potatoes for good.
The most popular dish named after Parmentier, is hâchis Parmentier, a French cottage pie usually associated with school messes, but let me tell you that I take my Parmentier seriously and won't mess it up.
The meat and potatoes of this dish is pulled braised oxtail with mashed potatoes.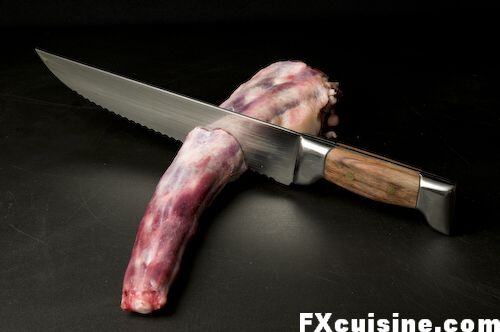 First, buy your oxtail. Then cut it with your largest knife ...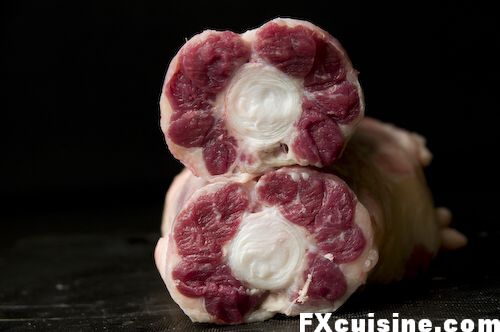 ... into manageable segments. They need to fit in a shallow dish where you will marinate the meat.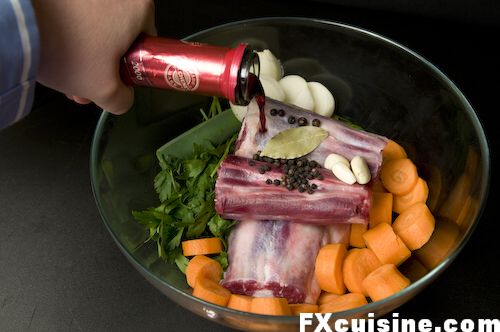 Add a couple peeled and sliced carrots, a few garlic cloves, peppercorns, a bay leaf, a few peeled and sliced onions, a bunch of parsley and a clean leak slived lengthwise. Pour a bottle of strong, glass-breaking red wine...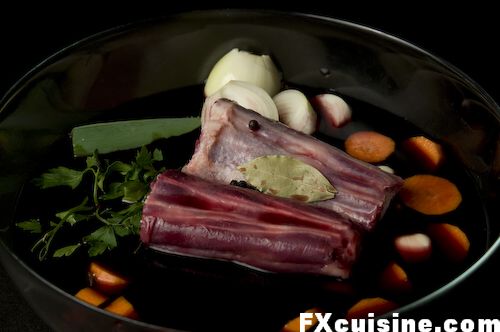 ... until the oxtail drowns in it. Cover with foil and leave in the fridge to marinate for 2 days. The meat will turn red.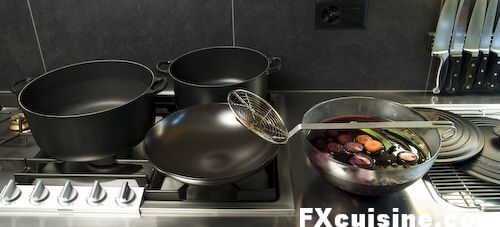 The day you cook this, prepare two cast iron pots, a bowl and a skimmer.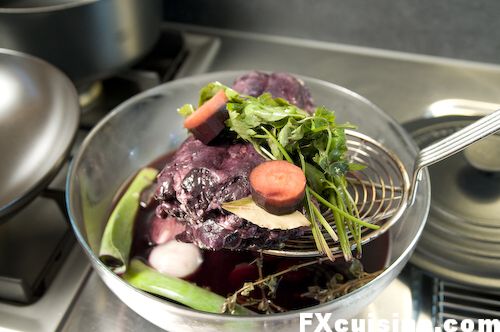 Remove the solid ingredients from the marinade and place them into your empty bowl.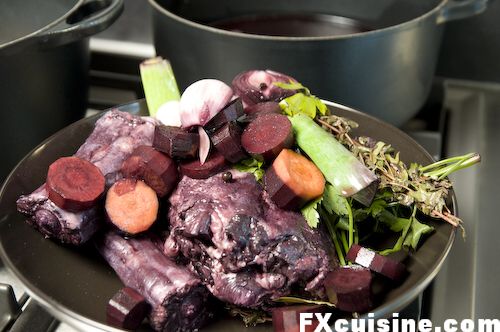 Filter the marinade and pour into a pot to warm it up. notice how half submerged carrots now look like half beetroots.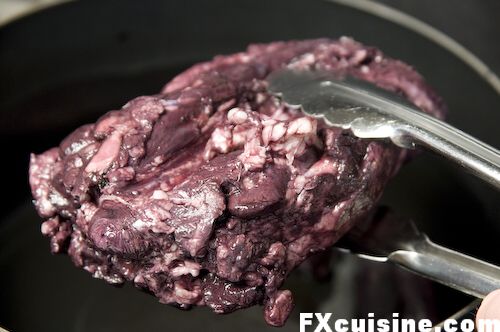 Heat a little oil in a large cast iron pot and place the oxtail slices in the pot. Sauté over high heat, turning from time to time until the meat is browned all over. The purpose is to create browned meat flavor by using Maillard's reaction, another French pharmacist. We don't try to 'seal the juices in' or other nonsense - just increase the flavor before the long simmer.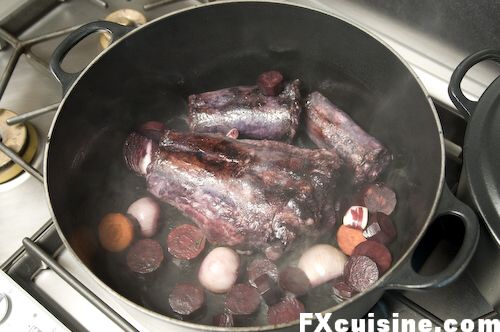 When the meat is ready, add the onions, garlic cloves and carrots into the pot.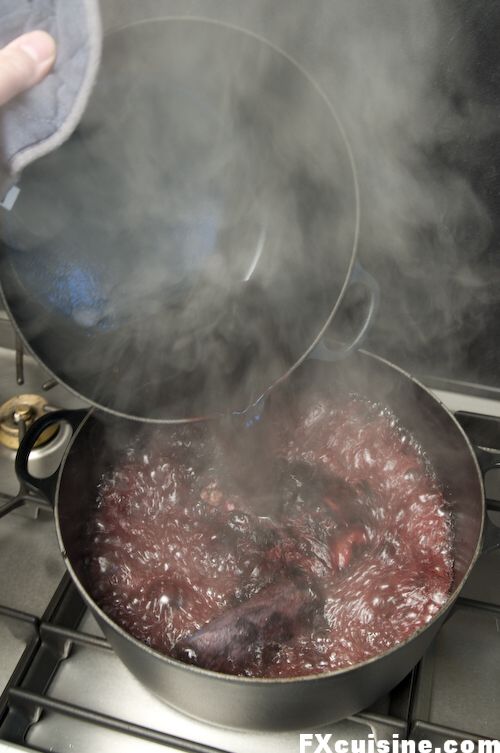 Your red wine marinade must be hot now - you need to heat it up. Don't be lazy and pour it ice-cold over the dish or you'll ruin everything. In one majestic gesture, let the marinade fall into the hot pot in a crimson cascade. I did this with my camera in the other hand - the things I do for my readers!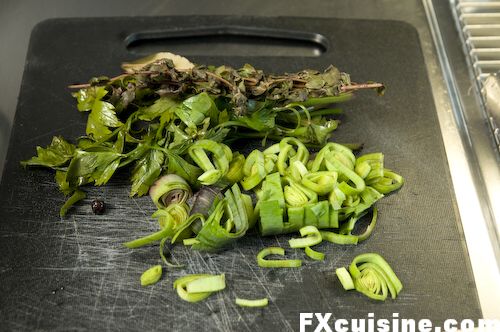 Slice the leek ...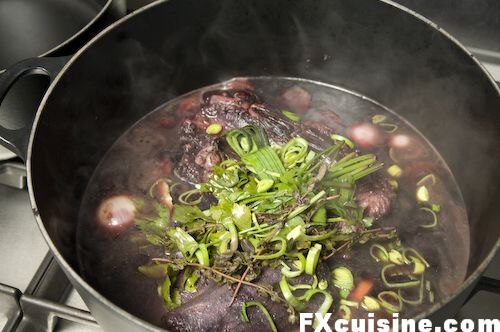 ... and add to the pot with the parsley.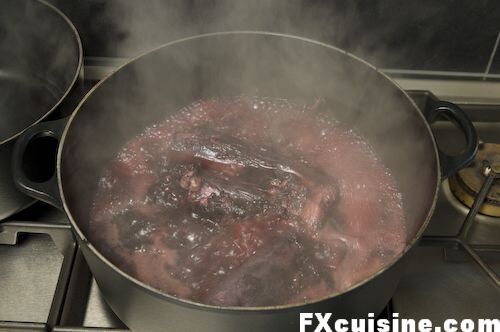 Bring to a strong boil, cover and reduce heat to the lowest setting. Simmer for 2 hours.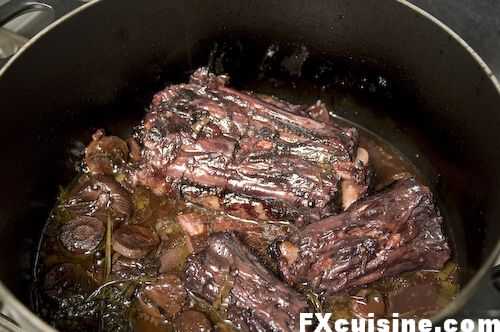 After two hours, our liquid has reduced and the formerly tough oxtail, the scourge of the flies, is now as soft as pudding.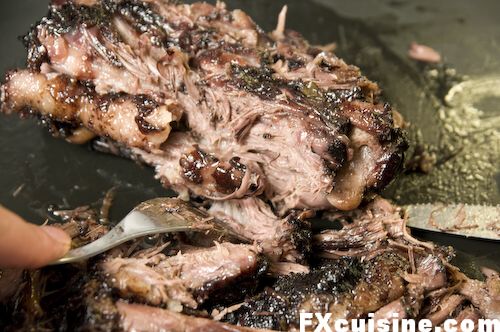 Start pulling the flesh off with a fork. Important: make sure you only use the muscle meat and leave the fat and gelatinous bits on the bone, they are not so pleasant under the tooth.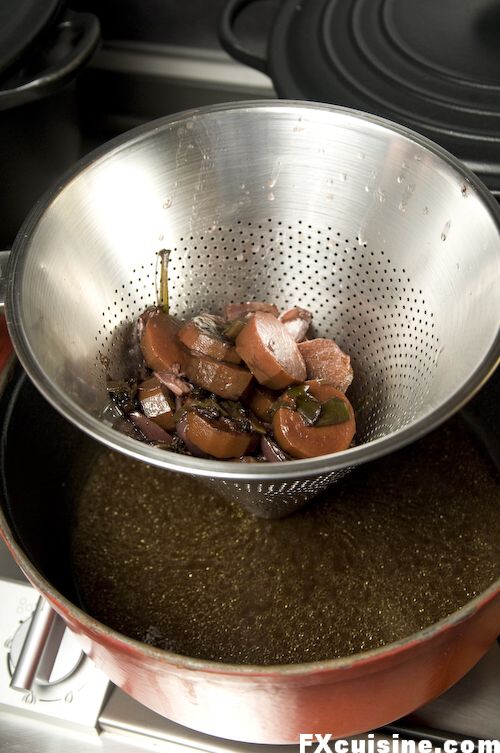 Filter out any remaining solid ingredients from the cooking liquid (the liquid formerly known as 'the marinade'). Bring this liquid to a boil once more to reduce it to about half a cup...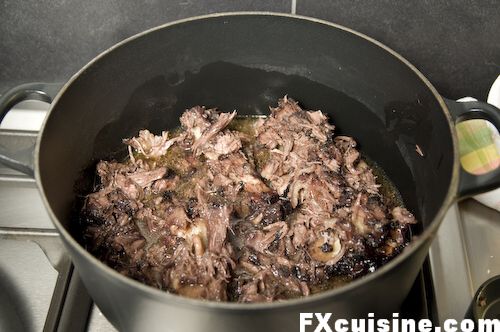 ...then combine with the pulled meat and keep warm. Who would have thought I'd have you pull an oxtail?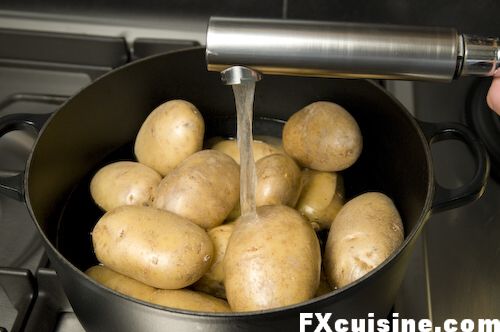 Let's prepare the potatoes. Clean one kilogram (2 pounds) of starchy potatoes, and boil them with their skins on ...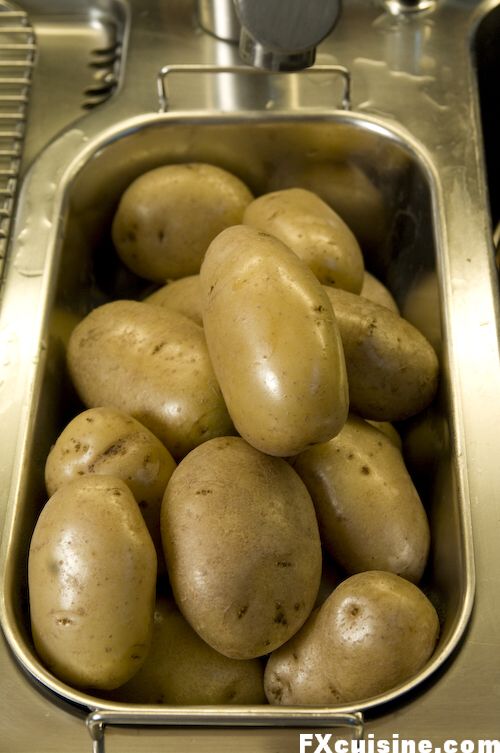 ... then pass them under cold water until cool enough to handle and peel.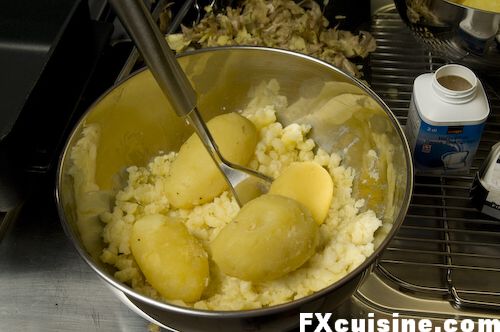 Mash the potatoes the old fashioned way - no mixer please. If you are a food-loving masochist you can push them through a fine sieve, that's the way Joël Robuchon does, or at least that's the ordeal his underlings go through.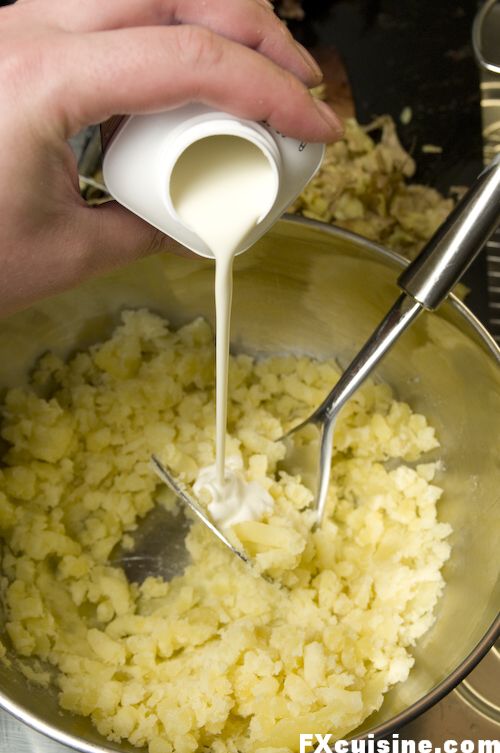 Add a drop of cream and the largest piece of butter you can find...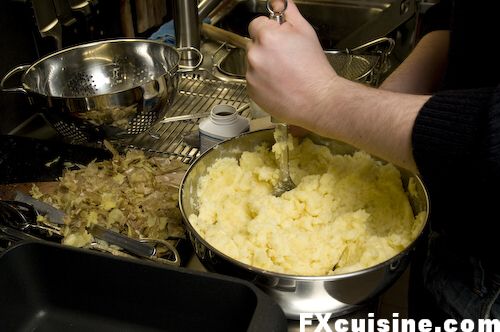 ... and mix until smooth. Season with salt, pepper and nutmeg.
...