Slow Food Organic Rice Krispies Treat
Home
>>
Recipes
My friend Therese enlisted my help to teach her son how to cook a healthy snack from scratch.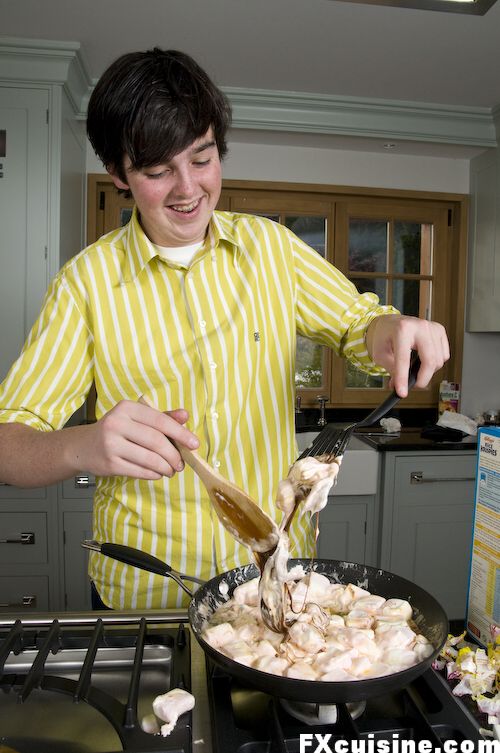 All parents agree that teenagers have a most unhealthy and unbalanced diet nowadays. Many are vegetarians and don't even like vegetables. All they seem to like are frozen pizzas, kebabs and fries with ketchup or mayo or both if they have their way. How can we expect them to grow up properly on such junk food? So when my friend Therese called for my help to show her boy Taz how easy homecooked food is, I could not refuse and drove to their chalet up in the Swiss Alps. like a real pro, Taz followed my verbal instructions to make an afternoon snack that would make the great Pierre Hermé jealous, using the finest homegrown natural ingredients.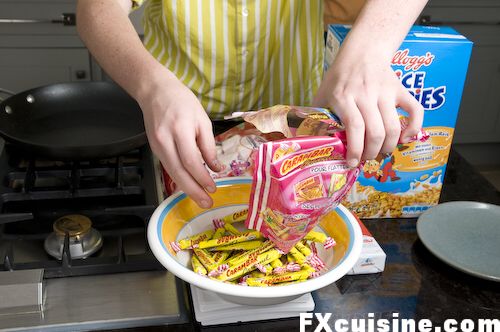 You know I am a fiend for slow food, so naturally my recipe will include an organic candy very popular in Switzerland, the Carambar. These are sold, through a shell company, by the Swiss Guild of Dentists and are very popular with kids of all ages. Rumor has it they are made from the concentrated sap of some Alpine shrub. How the Dentists Guild got so rich seling them, nobody really understands. After all, carambars sell for pennies and how many can each Swiss kid eat every year? They can be best described as sticky fudge bars, but really that doesn't do them justice.
Slow Food Organic Rice Crispies Treats
120gr (4 oz) carambar
120gr (4 oz) marshmallows
120gr (4 oz) butter
200gr (5 oz) rice crispies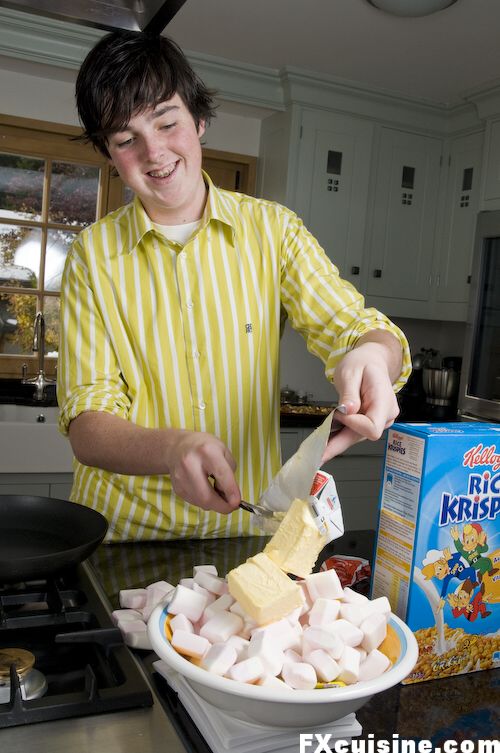 Let's throw in some wild marshmallows, harvested on a high-altitude alpine meadow, and some alpage butter. After Taz has carefully weighted all of the ingredient, ...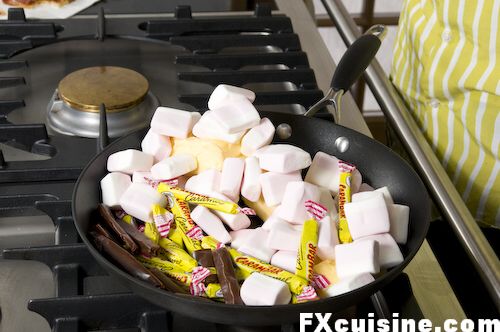 ... he dropped them in one of his Mom's frying pans. No need to complicate things here, just mix everything but the rice crispies in the hot pan.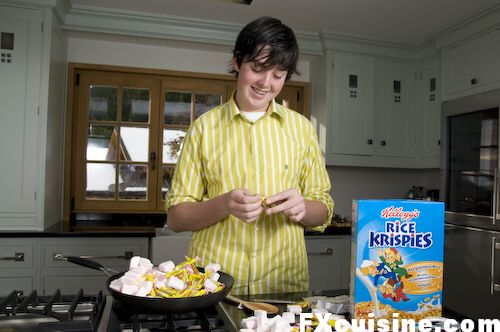 Look who forgot the wrappers on the carambars?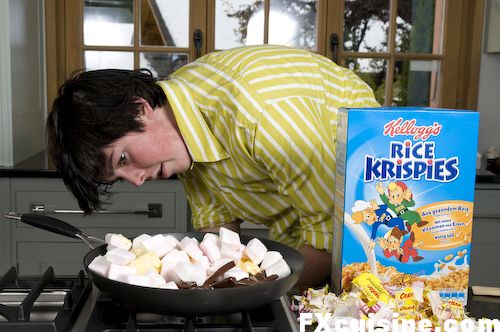 Now let's turn the heat on, as low as possible.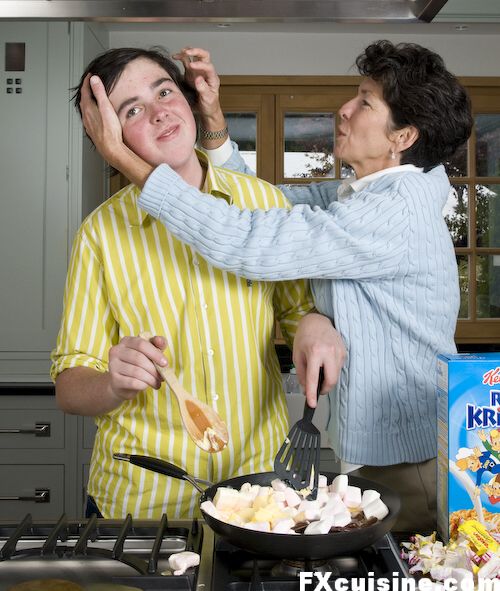 Mom walks on my set for some last minute hairstyling. He's got to look good for your readers, she apologizes.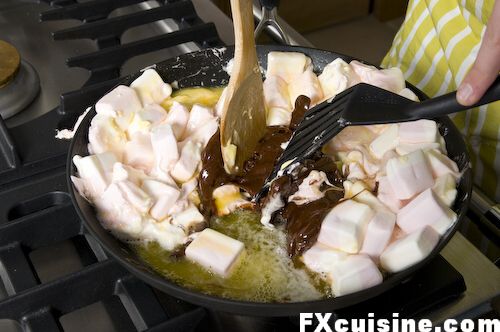 At last some action - the butter is melting...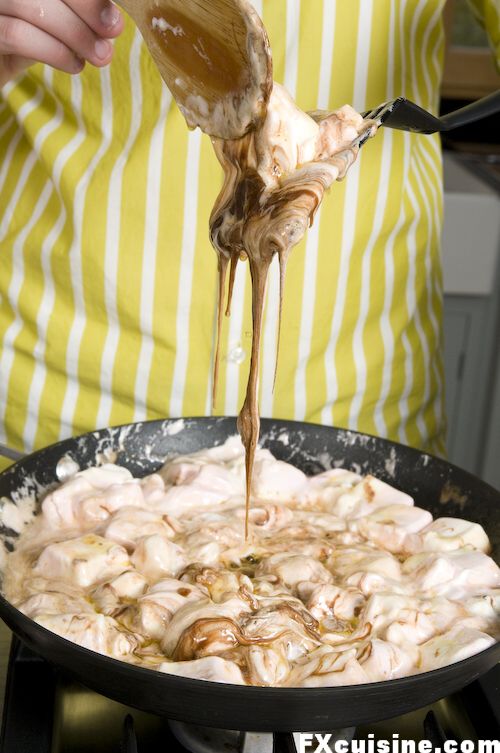 ... then everything starts to go soft.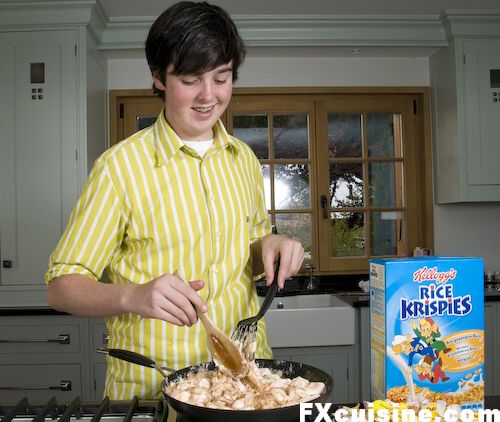 I look over my camera and see with concern that the bottom is now full liquid while the marshmallows are still floating on top. Taz is drawing some circles on the surface but not really mixing anything.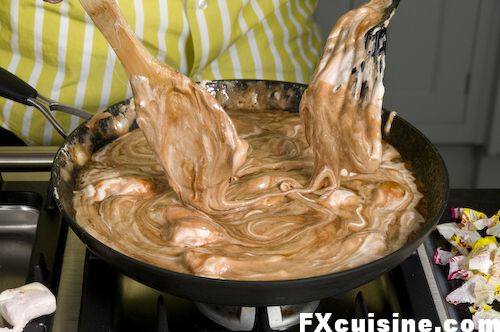 Taz, this isn't tai chi. You need to actually scrape the bottom and bring it up so that everything melts evently I tell him. Taz tries a couple moves, then gets the hang of it and tosses it like a pro.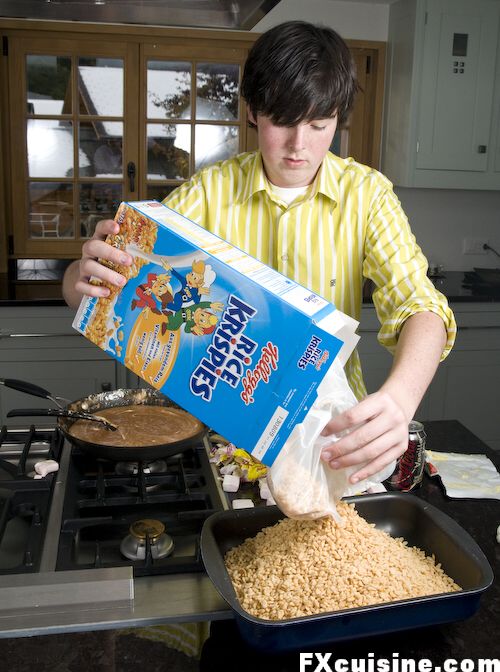 Rice crispies in the pan ...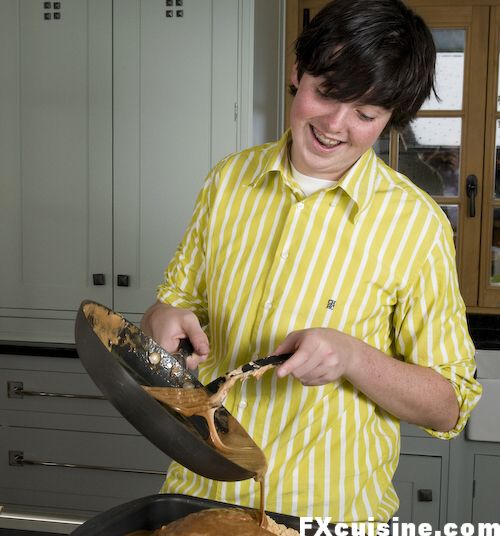 ... and pour. Taz has all the detachment of a seasoned chef, that boy will become somebody one day.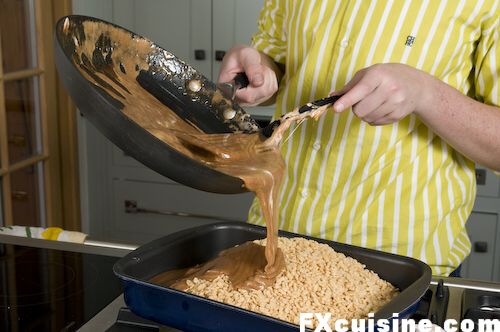 There seems to be very little of it compared to the brown mixture compared to the puffed rice. I check my proportions to see if they are off, but no, everything looks correct.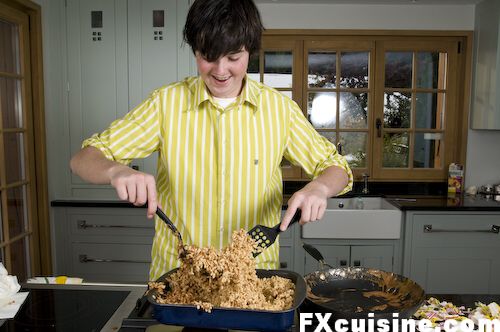 Now the serious part begins. This thing will turn into concrete within seconds. You must mix it forcefully to spread the brown caramel into the puffed rice before it sets.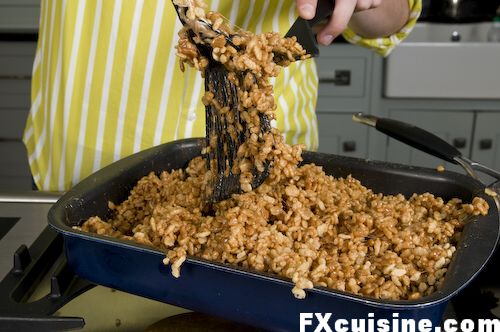 But this boy has a natural talent - he mixes it like if it were custard and the caramel soon coats every last grain of rice.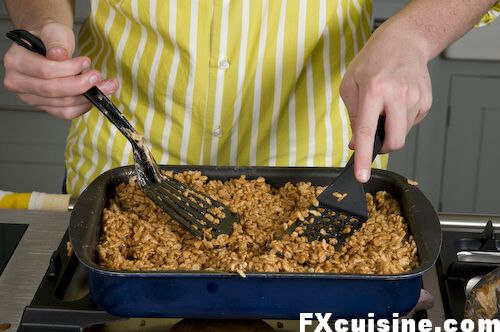 Smooth the top ...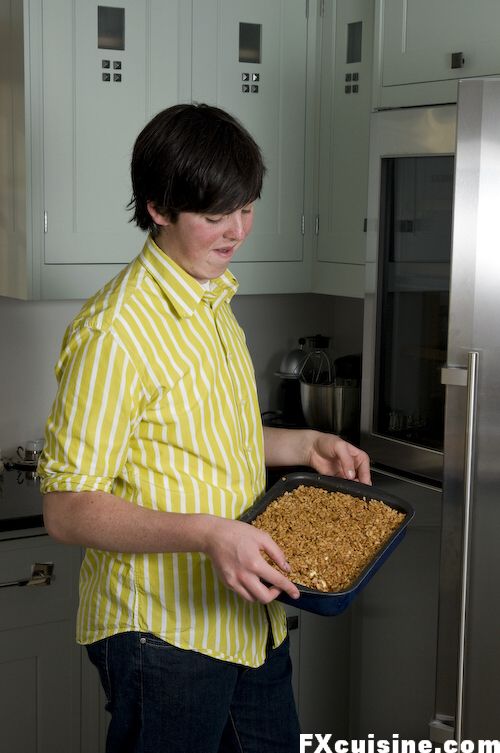 ... and into the fridge.
Next page don't miss Taz fighting his older brothers off the candy!
...