Salama da sugo
Home
>>
Experiences
This medieval Italian sausage from Ferrara nearly made me pass out.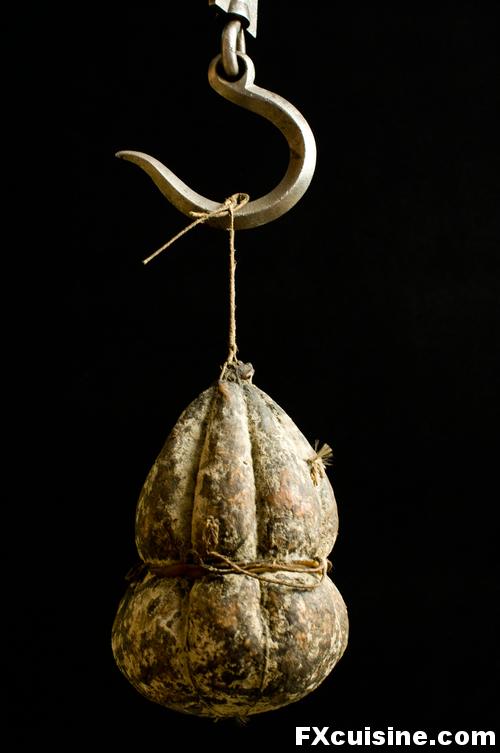 Those who enjoy laws and sausages should not see how they are made, said Otto von Bismarck. I head this at a dinner last night and wished they had told me before.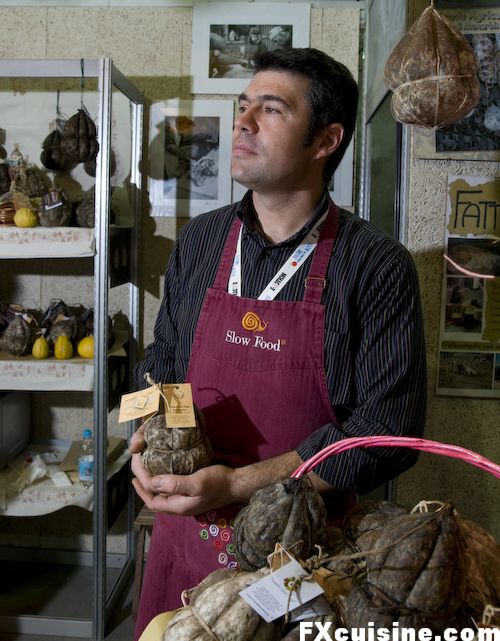 A couple week ago, I met this man from Calabria at the Slow Food Fair in Torino. He sold large sausages not unlike the Swiss Jesus, but with a dark, dusty exterior. The salama da sugo [sahlahmah dah soogaw] has been made in Ferrara since the Middle Ages and is a cult dish in this town. It does not sell well outside of Ferrara though.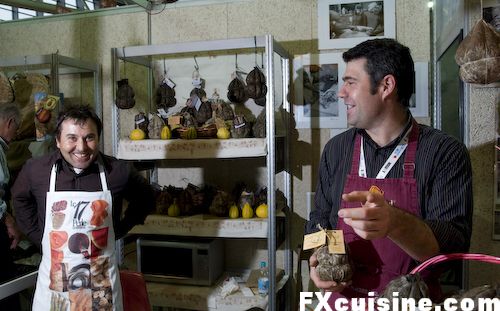 What's in it? I asked like Jack the Lad. They looked at each other, embarassed, and I immediately regretted my question. You like tongue? the man asked. I nodded mechanically. Ah, well then there is tongue inside. You like lungs? he continued. I didn't move. He looked resigned. Well there is not so much lungs inside. We also put spices and a loooot of wine. Finally the sausage looked so intriguing, I decided to buy one.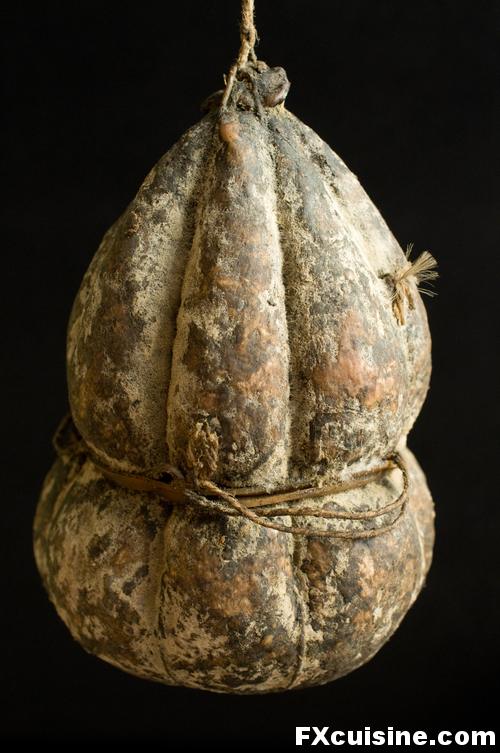 Back home, I hanged it to a hook and researched the salama da sugo.
Do you crumble it in a tomato sauce to make some ragù to serve with pasta, I asked the guy. He looked very seriously and answered. Not at all. This is not salciccia fresca. This is an ancient product of noble descent. It is mentionned since the 15th century and part of the court cusine of Ferrara.
He started explaining how to prepare that mighty sausage. The night before, soak it in water and leave it overnight. I plunged the sausage in a Kuhn Rikon pot.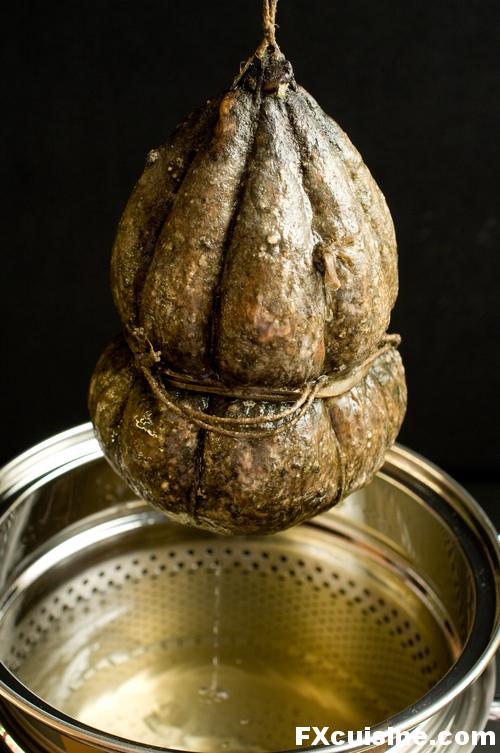 On the next day, remove the sausage, wash it and throw the water.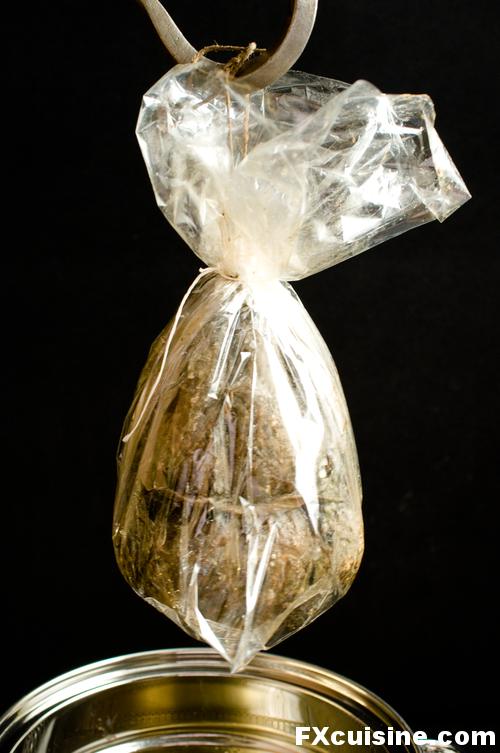 He gave me a transparent plastic bag. Take this and wrap the sausage in it so you won't lose any of its precious flavors, he said.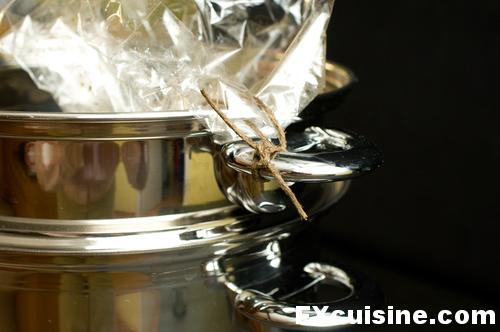 I tied the packet to the side of my pot...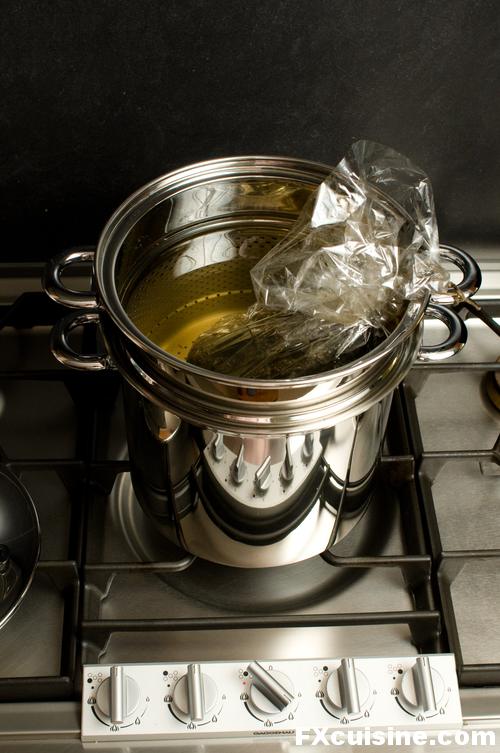 ... then placed it on the burner.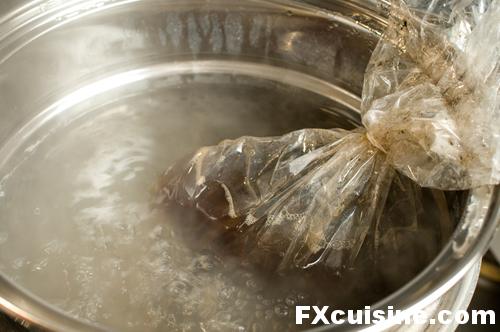 Cook it for 5 hours in boiling water. 5 hours, no more, no less.
Next page the potato purée and the cooked sausage.
...