Entrada Vegetariana 'Anti Colesterol'
(página 2 de 2)
Home
>>
Recetas
Mi doctor me acaba de mandar mi cuenta por el colesterol de este trimestre.  Parece ser que ya ingerí el que necesitaba para todo el año.  Seguí su consejo de
comer más verduras
preparando estos increíbles aguacates en salsa
béarnaise
con un huevo pochado.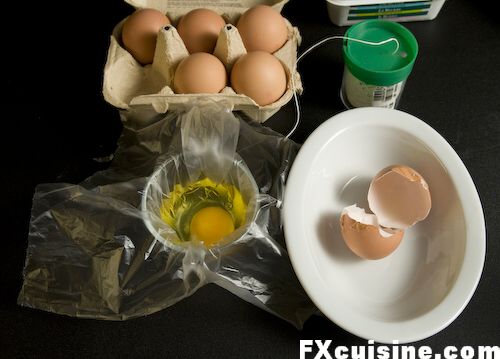 Ahora pocharemos los huevos.  A la mayoría de la gente le dá miedo pochar huevos, y ni soñar que hicieran esto para unos invitados por miedo a terminar con una sopa de municiones de clara de huevo.  Bien, pues de ahora en adelante podrás pochar huevos como un chef sin temor en el corazón.  Aquí tienes como pocha huevos Philippe Rochat.  A prueba de hamburgueseros de carrito. 
Toma un huevo por invitado, un vaso o taza pequeña, hilo de cocina y fim plástico (abajo a la izquierda), coloca el film en la cavidad y acéitalo ligeramente para que el huevo no se pegue.  Rompe el huevo en la taza.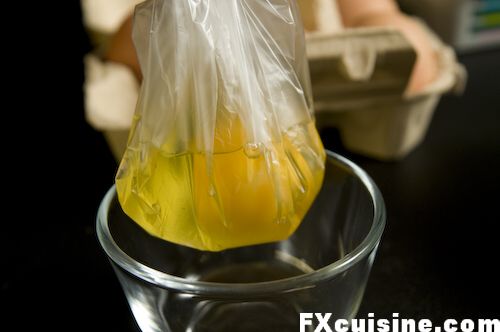 Con cuidado retira el plástico como si fuera una bolsita.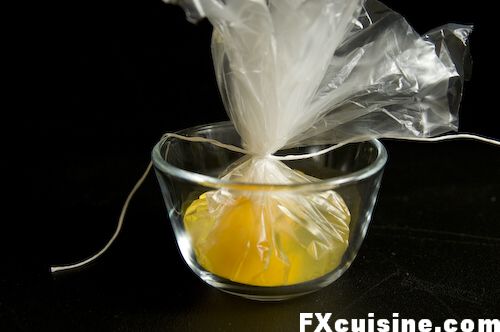 Amárralo con un pedazo de hilo.  No te precupes, la yema no se piensa ir a ningún lado.  Procede con los otros tres huevos.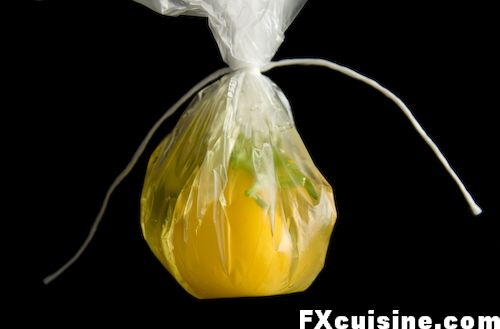 También puedes añadirle unas hojitas de estragón a la bolsita con el huevo (fíjate bien arriba de la yema).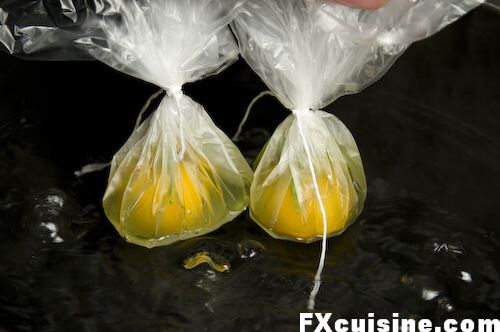 Póchalos en agua caliente 3 minutos, o 300 minutos 300 minutes, según como te gusten los huevos.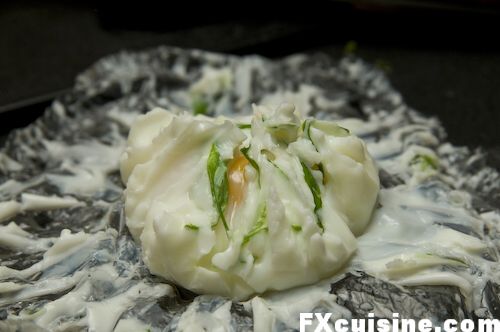 Sácalos, corta el hilo y abre.  Si olvidaste engrasar el film con un poco de aceite, algo de la clara del huevo se puede pegar como me pasó aquí.  Pero no pasa nada y... ¡Huevos perfectamente pochados cada vez que los hagas!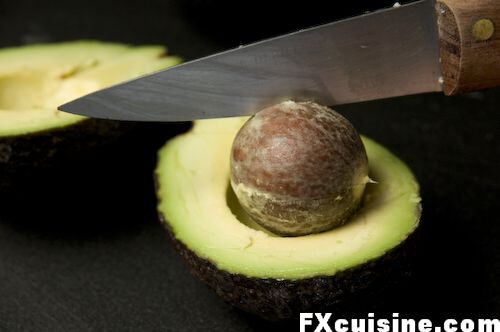 Corta tus aguacates por la mitad y con la hoja del cuchillo como yo lo hago, retira los huesos, a menos que pienses plantarlos.  Me dicen que si los aguacates que encontraste están demasiado duros, los puedes hervir a fuego bajo en agua caliente unos minutos.  Francamente, yo nunca he hecho esto y a mí me gustan mis aguacates tan maduros que en la tienda no saben si cobrarme siquiera. Como diría Gérard Oberlé, auténtica gerontofilia por el aguacate la mía.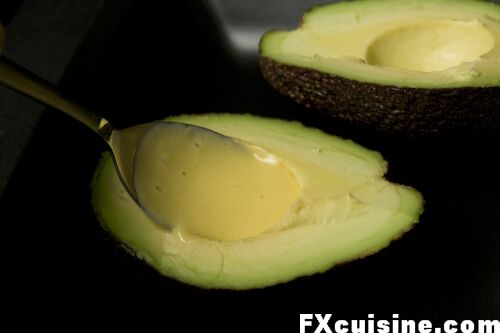 Una cuchara de salsa bernesa...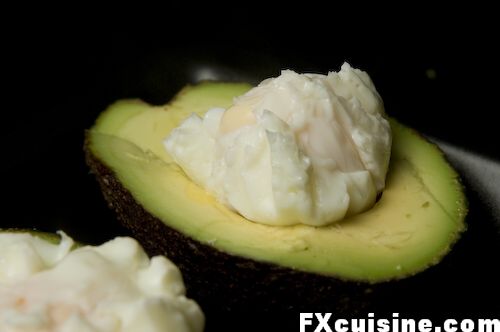 ...luego el huevo...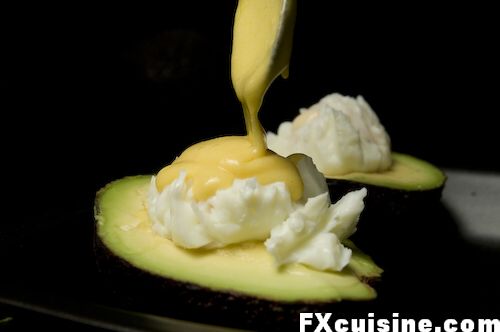 ... y más salsa bernesa.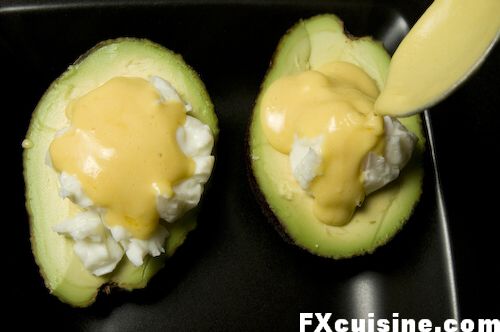 Ya estuvo.  Podría comer media docena de estos, como un primer tiempo vegetariano.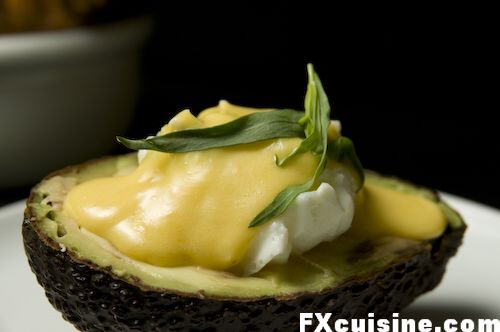 Podrías servir esto con ensalada, pero entonces en verdad se convertiría en una bomba calórica.  Seamos razonables por favor.
Tips de libros: Para una excelente discusión sobre la bernesa y muchas más explicaciones serias y detalladas de técnicas de cocina fundamentales, el libro "La Nuevas Hechuras de un Cocinero" The New Making of a Cook de Madeleine Kamman es uno de los imprescindibles que bien vale su costo.  Para un enfoque más científico, el libro "De Comida y de Cocina: La Ciencia y la Tradición en la Cocina" On Food and Cooking: The Science and Lore of the Kitchen es el mejor que se encuentra en inglés.
476150 visitas
Artículos Relacionados

Foie Gras Terrine (Video) **
Learn how to make a foie gras terrine from scratch in only 12 minutes.
Artículos màs populares ¦ Ultimos artículos ¦ Por temas ¦ Ultimos comentarios
Copyright FXcuisine 2020 - all rights reserved.
If you do this recipe at home please let me know how it worked for you by submitting a comment or send me a picture if you can. Thanks!