Pasta con Frijoles ¡Increible!
(página 2 de 2)
Home
>>
Recetas
Espaghetti de harina integral hecho en casa con un delicioso ragú de frijoles; un plato campesino típico de la toscana.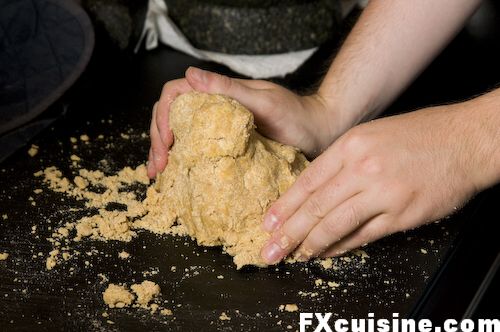 En la Toscana también hacen Bigoli con harina integral de trigo y les llaman de distintas maneras.  Aquí usé la mitad de harina integral con otra cantidad igual de semolina durum, que hace la pasta más dura, más al dente.  Un huevo por invitado, una cuchara de aceite y a amasar hasta que la masa esté tan dura como cemento.  Los bigolis se pegan a menos que tengas una masa super seca.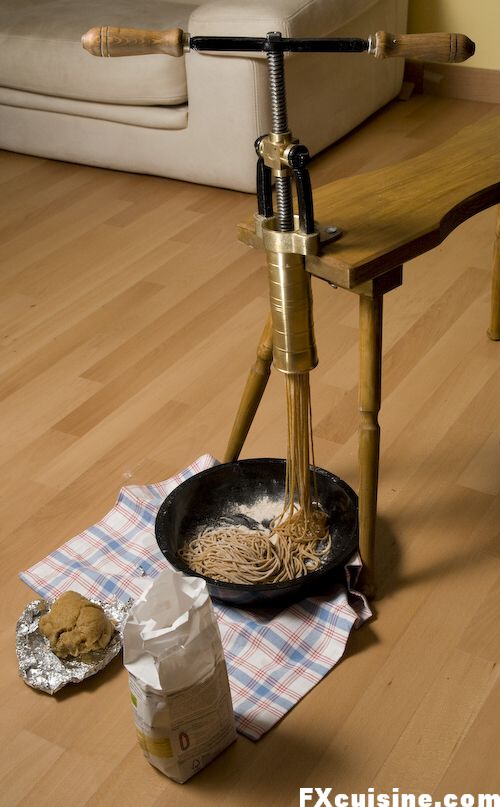 Es el momento de una broma práctica.  Mis cuates,  me acabo de dar cuenta que se nos acabó la pasta, lo siento pero realmente no sé que van a cenar, Les digo.  Mis amigos se ven confundidos y un poco angustiados; es muy tarde.  Luego sigo  Pero tal vez me pueden hacer un favor ... y les muestro el bigolaro con la masa café.  Cada invitado toma su turno en el banquito y el bigolaro comienza a chirriar y quejarse, quejido que pronto es acompañado por el quejido del dolido bigolarista que sufre de fatiga muscular mientras todo mundo se ríe.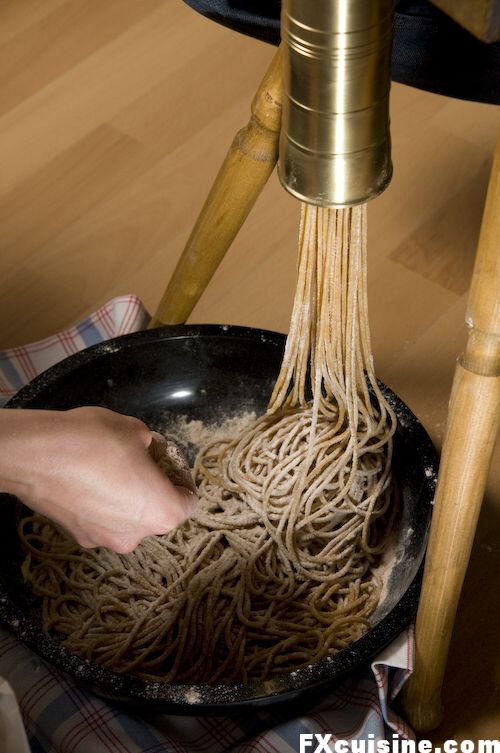 Le pido a otro invitado que ponga un poco de harina en su mano y suavemente sobe los espaghetis conforme van saliendo para que no se peguen uno al otro.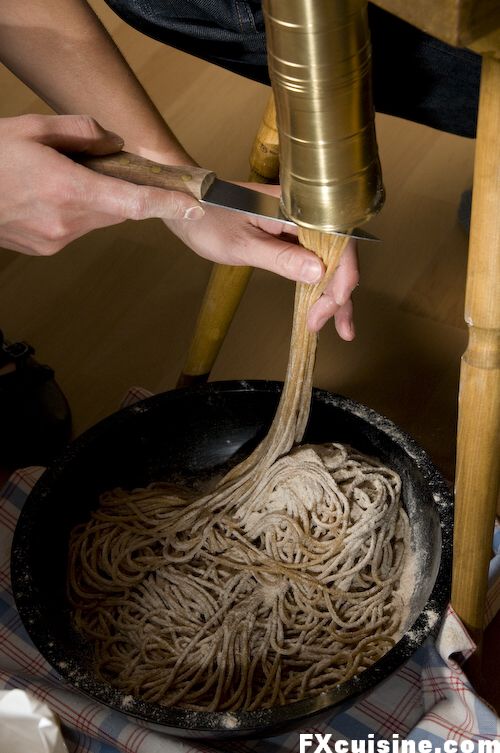 Finalmente, nos acamabos la masa y mi amiga corta los 28 bigolis con un movimiento decidido (¡es cirujana!).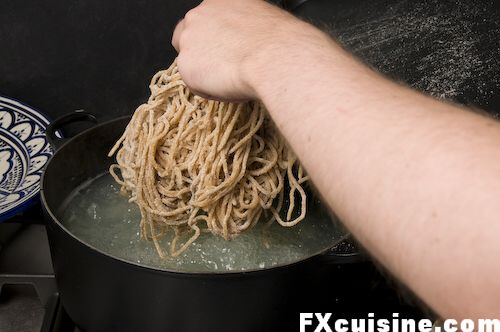 Sacudo los bigolis para quitarles el exceso de harina y los sumerjo en una gran olla de agua salada hirviendo.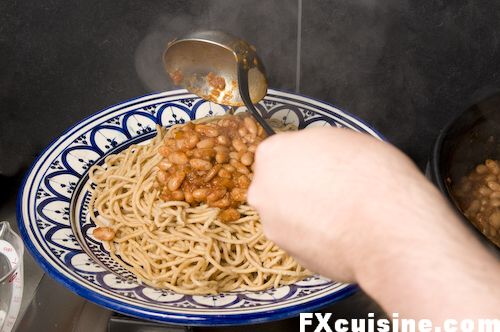 Hierven como 90 segundos, luego los paso a un platón y los cubro con el ragú de frijoles.  ¡Qué olor más divino!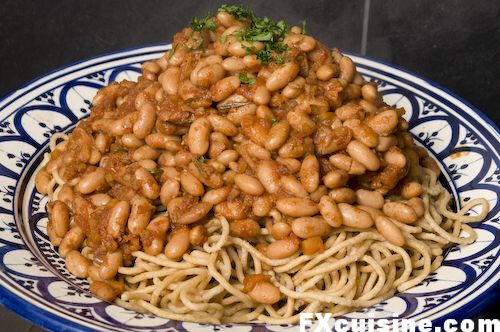 Un poco de perejil, un plato de Parmesano rallado y ¡Al ataque!.
338259 visitas
Artículos Relacionados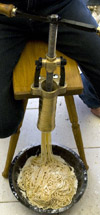 Bigoli, Bigolaro, Bigolarist ***
My largest and most unusual pasta-making accessory, the bigolaro, made 28 fat spaghettis, called bigoli, each as long as the room. Served with the traditional duck ragù, this made my guests very happy despite the fact they had to make their own pasta.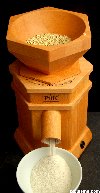 Italian Alpine Buckwheat Pasta Pizzocheri ***
Traditional buckwheat noodles from the Italian Alps with cabbage and Fontina cheese. I made them from scratch with my own freshly milled buckwheat flour. Hard core pasta!

Pasta all'arrabbiata ***
By request of a reader, one of the most popular Southern Italian pasta sauces ever. Simple, affordable, healthy, delicious.

Potato Raviolis ***
Italian comfort food on steroids. Only Italians love pasta enough to stuff it with such plain ingredients as a potatoes. Right they are, these make for a highly refined dish - and very affordable.

Spelt Pappardelle with Grouse Sauce ***
Homemade freshly-milled spelt flour noodles in a century-old sauce from a grouse that came with the feathers. Quite an experience!
Artículos màs populares ¦ Ultimos artículos ¦ Por temas ¦ Ultimos comentarios
Copyright FXcuisine 2020 - all rights reserved.
If you do this recipe at home please let me know how it worked for you by submitting a comment or send me a picture if you can. Thanks!