Kappabashi-Dori en Tokio - El Mercado Más Grande de Equipo y Utensilios de Cocina
(página 2 de 2)
Home
>>
Experiencias Gastronómicas
Fácilmente el lugar más grande en la tierra para comprar equipo y utensilios de cocina para restaurantes, esta larga calle en el distrito de Asakusa, en Tokio, me mantuvo ocupado todo un día.
Una combinación curiosa - carbón de primera para restaurantes de yakitori y un muy impresionante mortero con su mano de madera para machacar arroz y hacer paseteles mochi.  Nada cómodo para el avión.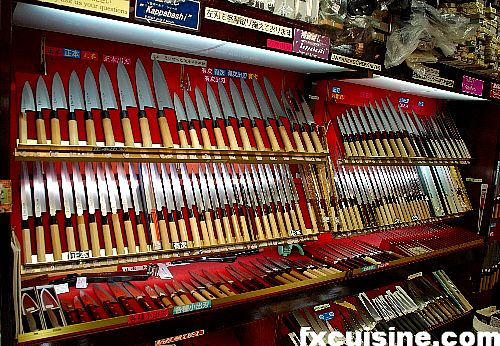 Una tienda que vende cuchillería con un propietario que habla inglés.  Le compré un enorme cuchillo para tallarines soba.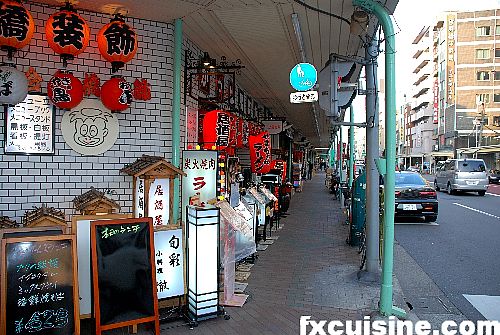 Todo tipo de letreros para restaurantes de todos los gustos.
No estoy muy seguro del tipo de platillos que muchos de los equipos producen.  Pero los japoneses son grandes entusiastas de la cultura culinaria europea y vi algunos de los equipos de cocina de mayor calidad que se usan en las cocinas europeas: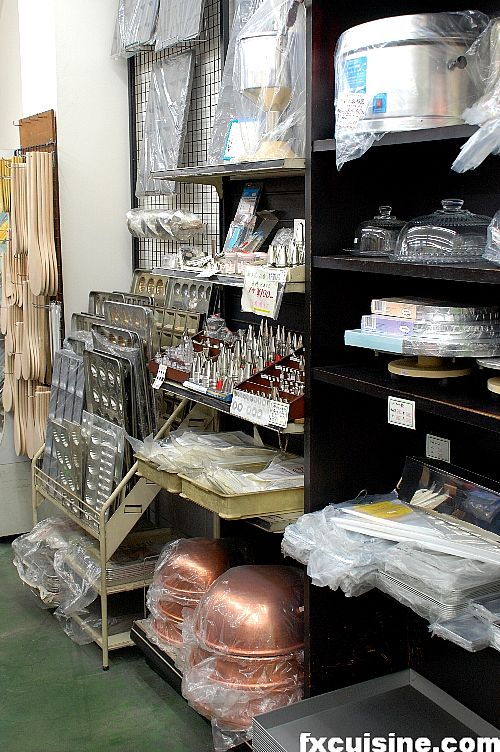 Un muy completo surtido de equipos profesionales de alta calidad para repostería francesa.  ¡Checa los cuencos de cobre para batir claras de huevo y la máquina suiza para templar chocolate (arriba a la derecha)!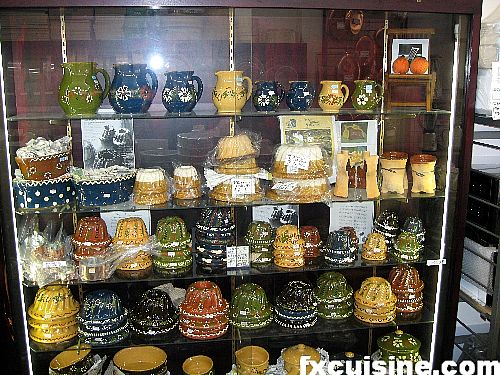 Esta tienda en particular tenía incluso una pared llena de moldes de barro para kougelhopf que no pude encontrar en ningún lado en Paris.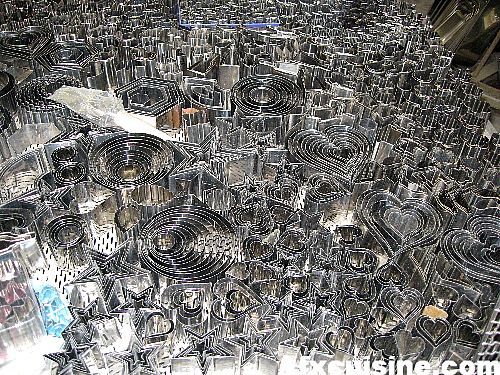 Otra tienda vendía cientos de cortadores de galletas - a esos japoneses sí que les gusta la pastelería europea.  Haz click en la imagen para agrandarla enlarge - muy impresionante.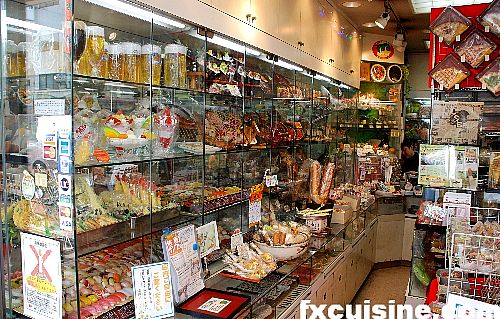 Una de varias tiendas que ofrece los omnipresentes modelos de plástico de platillos japoneses que normalmente ves en los aparadores de los restaurantes japoneses.  De las favoritas de los turistas.  Compré una plato de plástico de tallarines fritos para usar como utilería al fotografiar comida.
574563 visitas
Artículos Relacionados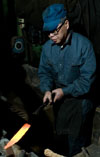 Japanese Bladesmiths ** Popular
A unique behind-the-scenes visit of the crafstmen who hammer out the best and most expensive kitchen knives in the world in the city of Sakai, Japan.

Paris' Oldest Kitchen Equipment Shop *
It took me several visits to the mythical 200-year-old professional kitchenware shop Dehillerin in Paris before they agreed to sell me the knife I wanted. A unique gastronomic pilgrimage destination if you can swallow the attitude.
Artículos màs populares ¦ Ultimos artículos ¦ Por temas ¦ Ultimos comentarios
Copyright FXcuisine 2023 - all rights reserved.
If you do this recipe at home please let me know how it worked for you by submitting a comment or send me a picture if you can. Thanks!