Haz tus Propios Merengues
(página 2 de 2)
Home
>>
Recetas
Un merengue es el postre más obvio que puedes hornear cuando tienes 
demasiadas claras de huevo
, aún así muchos chefs caseros le temen a intentar hacer sus propios merengues.  Mira lo fácil que es si sigues los canones.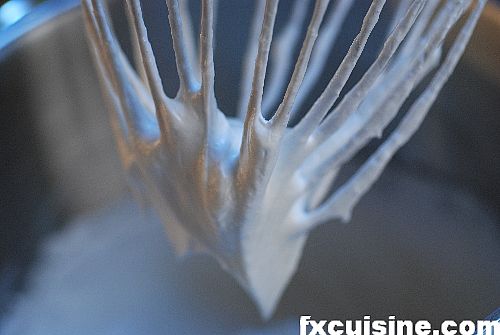 Debes tener una crema cream muy dura de un blanco intenso.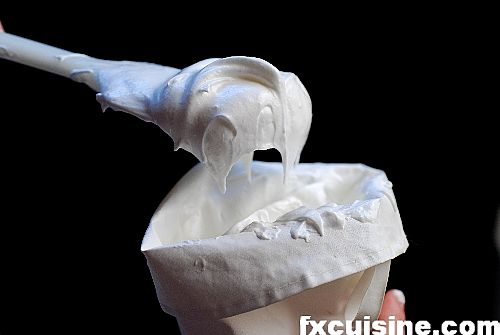 Llena una duya con la crema de merengue.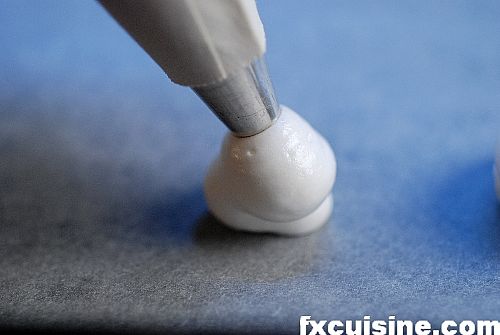 Coloca papel encerado en una charola de hornear y haz pequeños montículos de igual tamaño.  Trata de no mover la duya al exprimir y el merengue formará bonitos montículos circulares.  No es pasta de dientes y no quieres churros white slugs.
No necesitas mucho espacio  entre ellos ya que no expandirán mucho.  dependiendo del uso que les darás, puedes puedes hacer barritas o incluso un disco.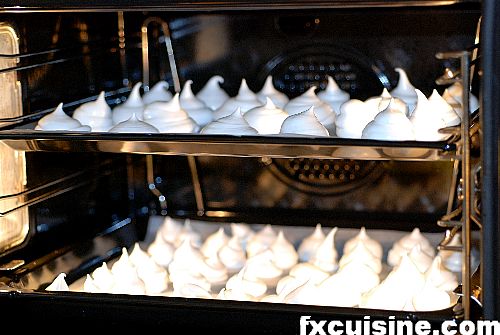 Mis 200 gr de claras de huevo coladas me dieron para dos charolas completas de merengues.  Calienta el horno a 105°C/220°F y hornea como 90 minutos.  Si tu horno funciona aún con la puerta abierta, atora un recipiente de aluminio para que quede entreabierta y el vapor de los merengues pueda escapar, así se secarán mejor.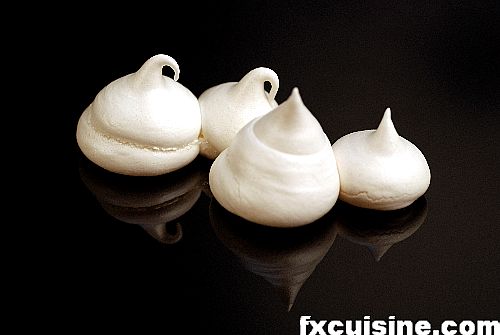 Pasan dos cosas cuando horneas merengues.  Primero la espuma de azúcar/huevo cambia su estructura.  Luego toda el agua se evapora, dejando una estructura quebradiza.  Dependiendo del tamaño del merengue que hagas, puedes tener que dejarlo a secar en el horno a 80°C con la puerta entreabierta para que se sequen perfectamente.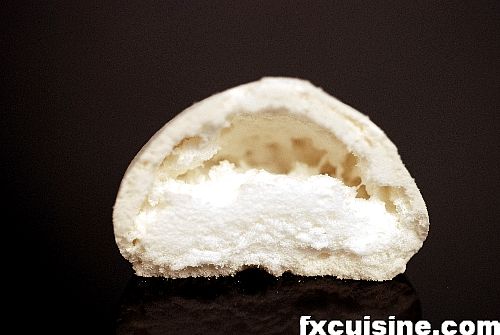 No dudes en tomar uno y probarlo.  El interior debe estar seco pero puede estar ligeramente chicloso, como un caramelo.
¡Te deseo éxito con tus merengues!  Este es el merengue más simple y el más natural para preparar en casa, conocido en el oficio como 'Merengue francés' o 'Merengue común'.  También existen 'Merengues italianos' y 'Merengues suizos' que toman una técnica un poco más compleja.
638049 visitas
Artículos Relacionados

Pistachier at Lenôtre **
A pistachio-flavored little cake served with coffee in French gastronomic restaurants. If you get the pistachio paste, you can make it too.
Artículos màs populares ¦ Ultimos artículos ¦ Por temas ¦ Ultimos comentarios
Copyright FXcuisine 2023 - all rights reserved.
If you do this recipe at home please let me know how it worked for you by submitting a comment or send me a picture if you can. Thanks!