Pigeons Bologna-Style
Home
>>
Recipes
Gorgeous self-contained romantic dinner in a pot. A traditional recipe from Bologna, Italy.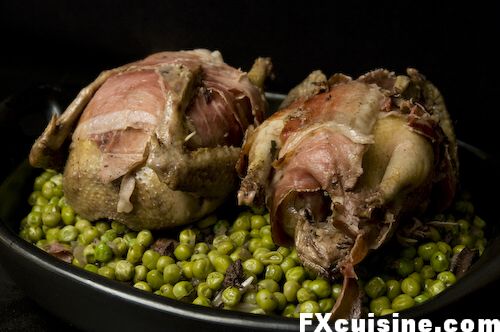 For one so keen on taking pictures of food you'd think that my favorite cookbooks are the ones with the most pictures. Not quite! Food photography ages very fast and excellent books written 10 years ago sometimes reek of naphtaline when you look at the pictures. A picture may be worth a thousand words, but words just age better. So in my cooking library, the place of choice is reserved for unillustrated books describing the food of yore. One of my favorite collections are the Italian Traditions books by Newton Compton, the Italian publisher, with their trademark ruby robe. They sell for less than $10 a piece, a real bagain when you consider that each book contains over 700 recipes from one region of Italy. I have them all. Why are they unknown if they are so good? They are in Italian only. When you think that in America three new cookbooks are published every day, most of which will never make it to the bookshops, I wonder when somebody will have the idea of translating those. One of my favorites is La cucina bolognese by Alessandro Molinari, a food journalist from Bologna. It is a treasure-trove of old recipes. One of them, called 'Piccioni in umido' intrigued me by the author's comment: "Gourmets know of no better way of preparing pigeons". It is simple to prepare and will make a wonderful romantic supper provided you can find the pigeons. And please, don't tell me you work in the City and have never seen a pigeon in a shop.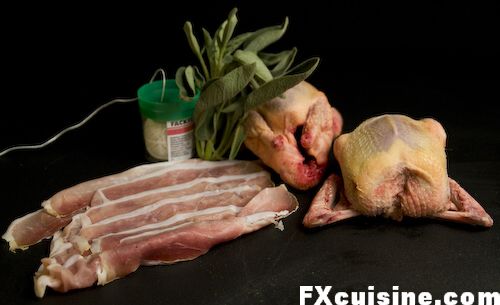 Pigeons with Peas, Bologna Style Piccioni in umido
Dinner for two
2 pigeons or squabs with their livers
8 slices fatty prosciutto crudo, pancetta or other slices of quality pig fat
10 sage leaves
1 bay leaf
3 cloves
Salt and pepper
1 small glass vinegar
1 large glass dry wine, red or white
1 cup (that's two glasses) stock, chicken if possible
2 cups green peas
1 onion
A little butter and oil
1 lemon
Stale bread
Kitchen string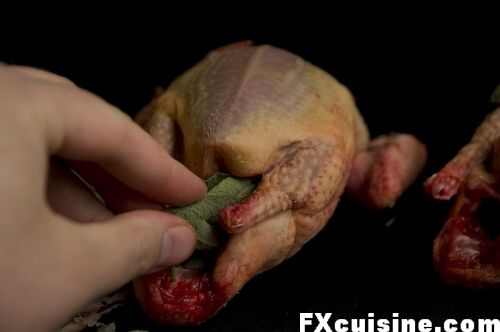 Untie and wash the pigeons. Remove the internal organs and wash the hearts, livers and gizzards. Make sure there is absolutely no trace of the greenish bile on the liver or this would turn your dish into a bitter prison disciplinary stew. Stuff a few sage leaves inside the pigeons.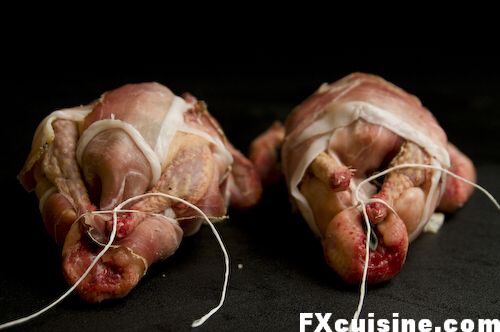 Place a few sage leaves on the pigeon skin and wrap with the ham, prosciutto, pancetta or bacon slices. Do not be afraid, it is really easy as the ham will stick to the meat. Cut a forearm-long piece of kitchen string, make a loop and tie the back of the pigeon, then make another loop around the legs to close it.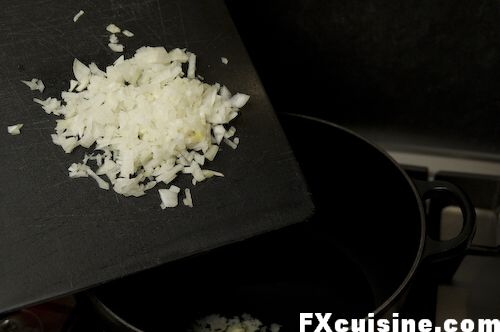 Heat a little butter with a tablespoon olive oil in a large, heavy pot with a tight-fitting lid.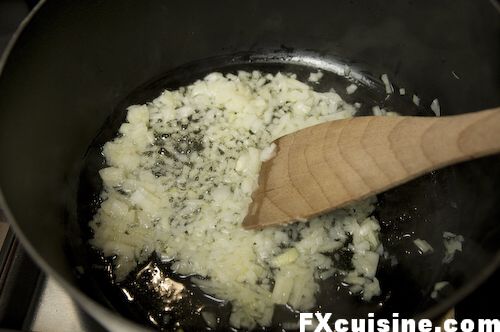 Fry the onions gently until they become soft. Do not let them turn brown at this stage.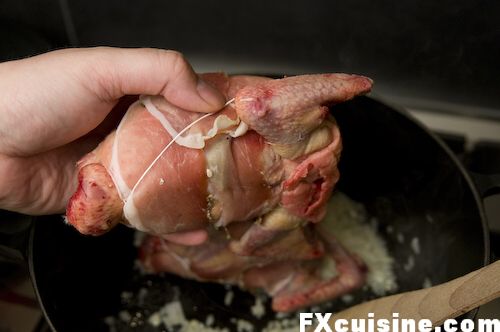 With your hands or kitchen tongs, delicately place the pigeons in the pot for their last voyage, making sure not to tear the ham or string.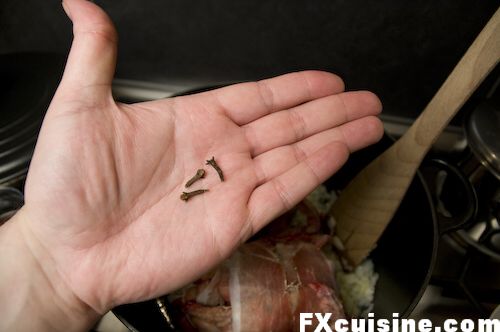 Add three cloves...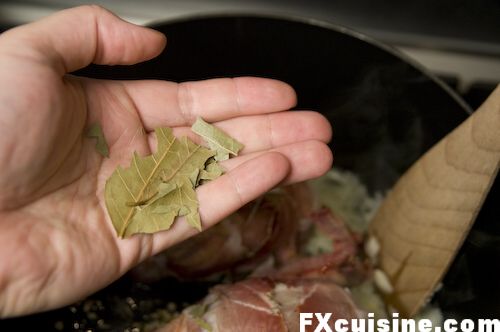 ... and one bay leaf crushed in tiny pieces.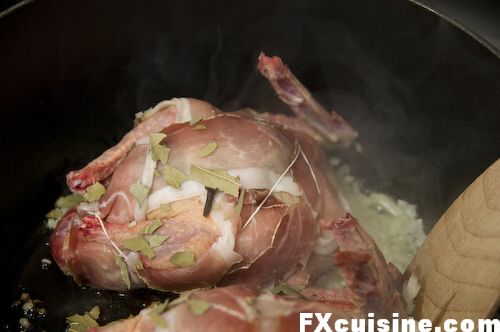 Let the pigeon roast on one side ...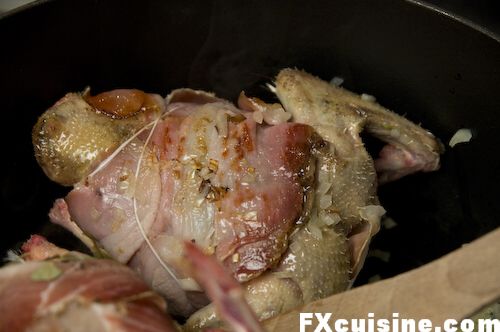 ... then turn them around with care.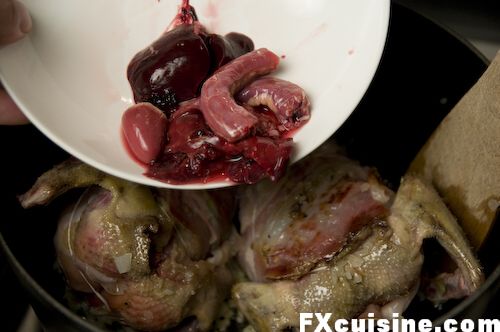 When the pigeon is nicely browned all over, add the organs. You can crush them or chop them into tiny pieces, but you can't discard them - bird offal is essential to the taste. If you don't believe me please try with a wee bit of pigeon liver in the sauce and see how nice it is, nothing like the awful pork liver they serve in the army.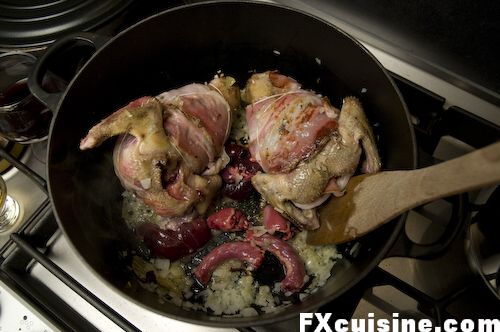 Continue to fry over medium high heat until the liver has coagulated - it will turn grey.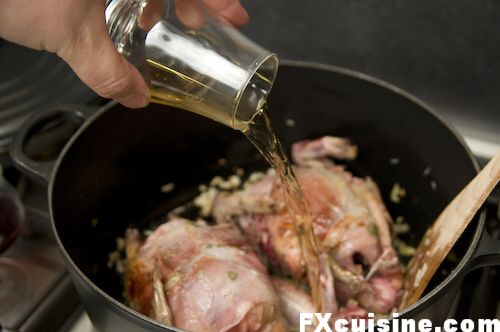 Vinegar now? Yes, a small glass of fine vinegar goes into the pot ...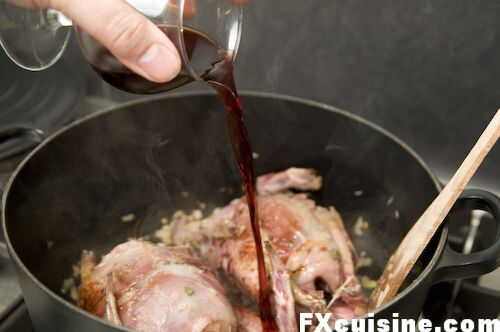 ... followed by a large glass of dry red or white wine. After the long simmering there will not be very much left of the wine apart from some sweetness and tartness, so the color of the wine does not make a huge difference. The vinegar apparently evaporates during the cooking and what seems like an unwieldly large quantity is barely perceptible on the tongue when you serve the dish.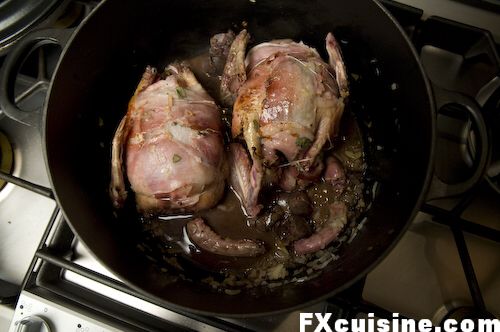 Let the liquid boil and the alcohol evaporates over high heat...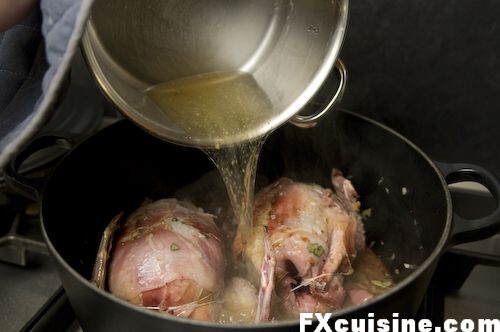 ... then add a cup of hot stock. Season with salt and pepper.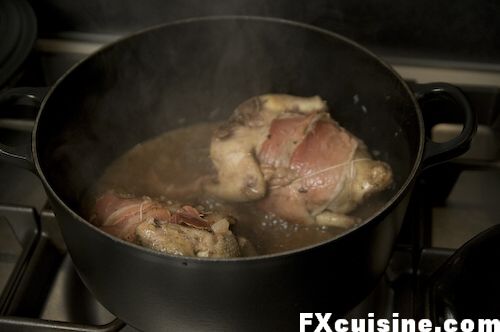 Cover and simmer over low heat for 30 minutes or so. My recipe indicated a minimum of 40 minutes but nowadays we like our pigeon red, so I would recommend 20 to 30 minutes.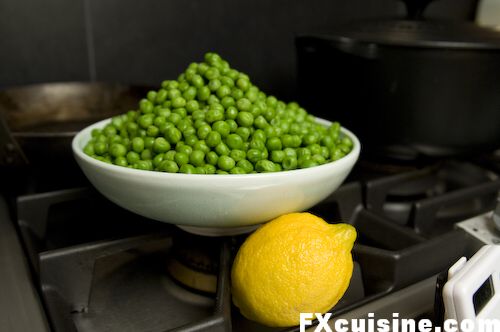 Italian cuisine can play tricks on foreign visitors. You need to order the main course and any accompaniment separately. If you order pigeons, they'll serve you pigeon with nothing else. This dish is a very pleasing exception as it is entirely self contained. We will now cook the green peas in the pigeon sauce.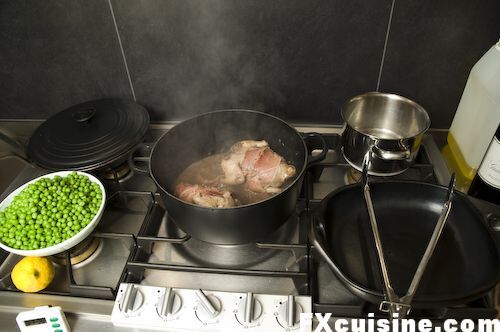 First we will remove the pigeons from the sauce to avoid overcooking them while the peas cook. Prepare a flat dish and kitchen tongs.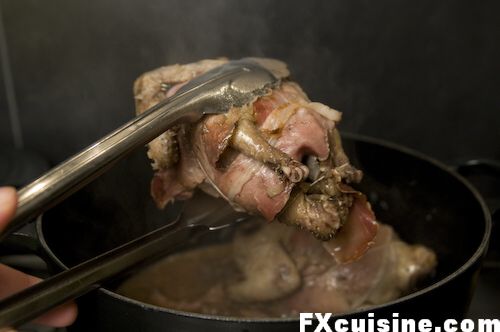 See how the ham has become crisp and still nicely wrap the pigeon after the long simmer?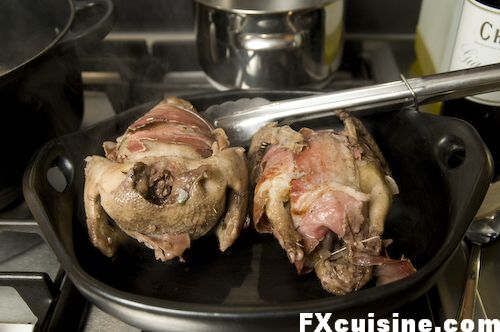 Reserve the pigeons and cover to keep warm.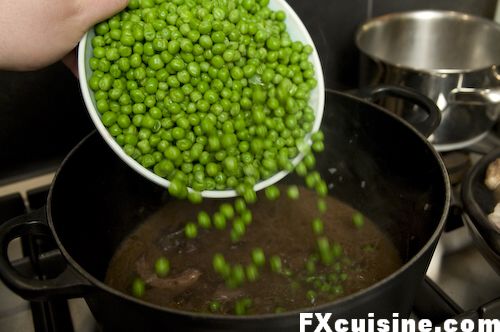 Pour the peas into the stock (about 500 grams of peas here).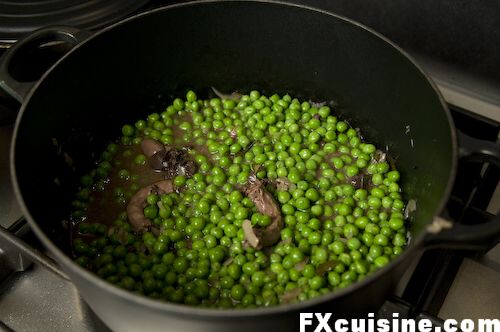 Mix well. You can leave the gizzards, hearts and livers in the pot. Don't eat them if they scare you but they'll add to the peas' flavor.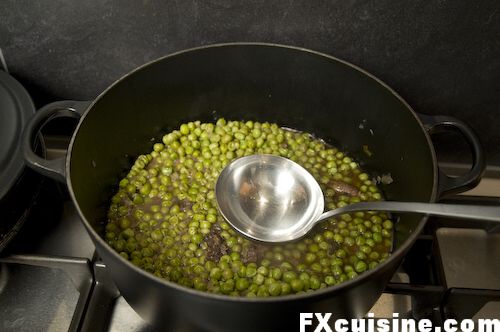 Simmer well-covered for about 20 minutes or until the peas are no longer floury. Bring out your best ladle.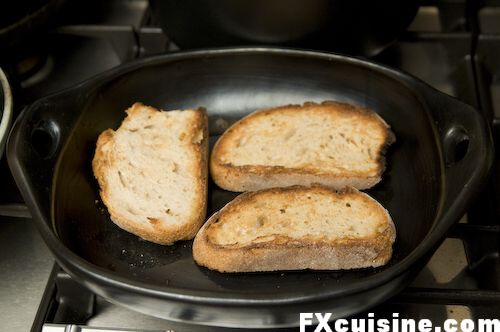 Cut your stale bread into slices and toast them. What we need is really hard bread that will not turn into a mush when dipped into the sauce. You could also fry one-day-old bread slices in some oil or let it dry for a half an hour in a 70°C oven. Lay the bread in the serving dish.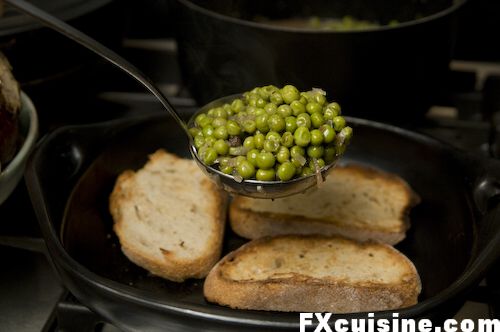 Carefully place the peas and cooking liquid over the bread with the ladle...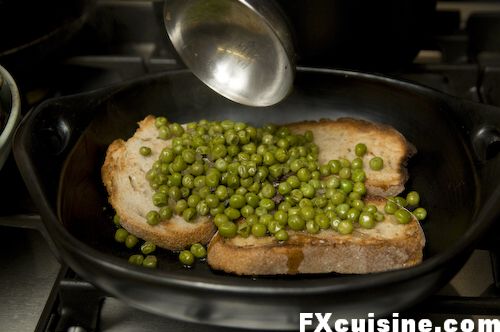 ... including the gizzards.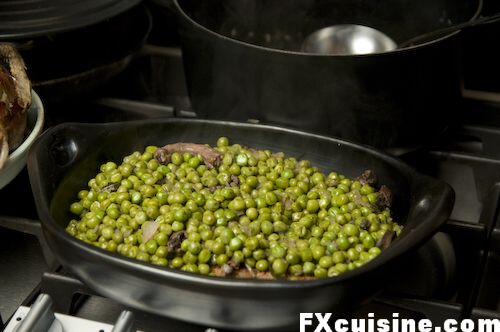 Continue until you either run out of peas or your dish is filled up.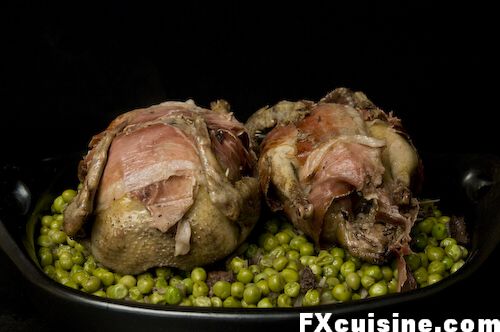 On this green bed lay the pigeons for a short rest. Sprinkle a little lemon juice on top the pigeons to wake the tartness up.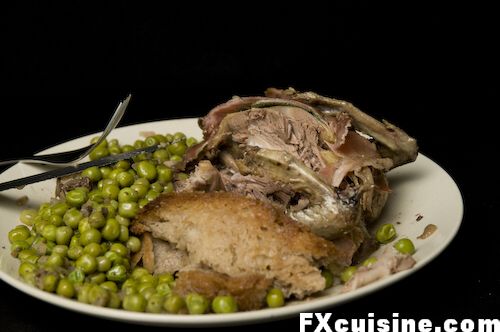 Serve with sauce-soaked croûtons. A delicious way to eat pigeons indeed!
Thanks to Trice Bryan for her kind spellchecking. 
78143 views
Copyright FXcuisine 2023 - all rights reserved.
If you do this recipe at home please let me know how it worked for you by submitting a comment or send me a picture if you can. Thanks!