Sicilian Drowned Broccoli
Home
>>
Recipes
Broccoli drowned in red wine like they will serve you in Catania, Sicily.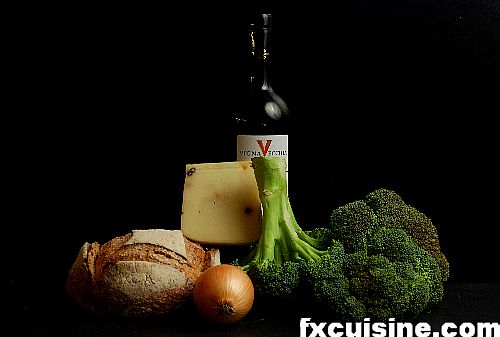 Here is a simple Sicilian recipe from Catania - broccoli affogati, literaly meaning 'drowned broccoli'. How do they drown? The broccoli drowns in glorious Sicilian wine and is served with pecorino scales, to make for a scrumptious side dish or, served with toasted bread, for a light evening meal.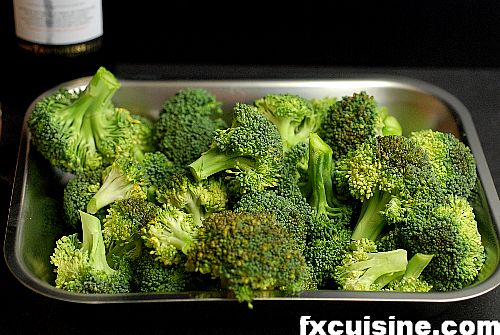 Cut your broccoli into florets and wash. Discard the hard stems.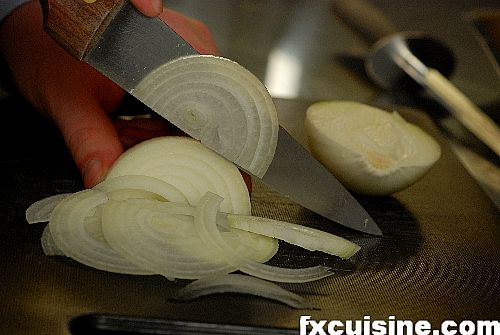 Peel and cut an onion in half.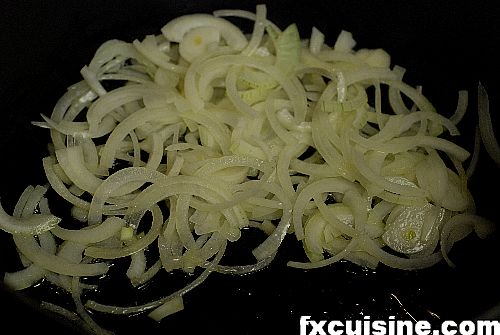 Slice thinly.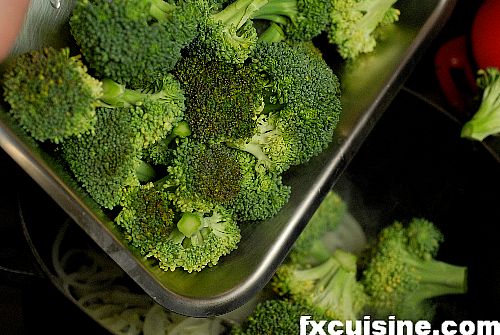 Heat a tablespoon olive oil in a deep pot such as a Dutch oven and heat the onions until soft. Add the broccoli.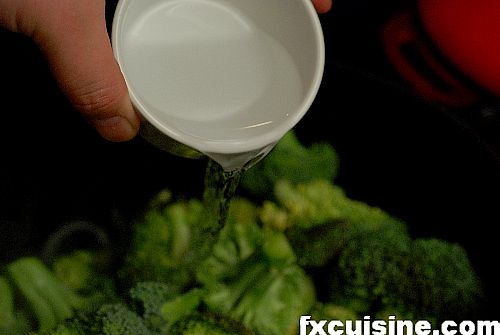 Leave for a minute on medium-high heat then add a glass of water (half a cup).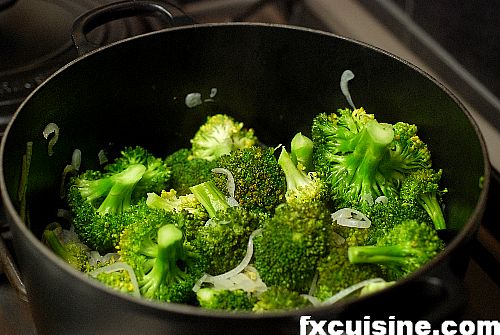 Mix and let the water reach ebullition...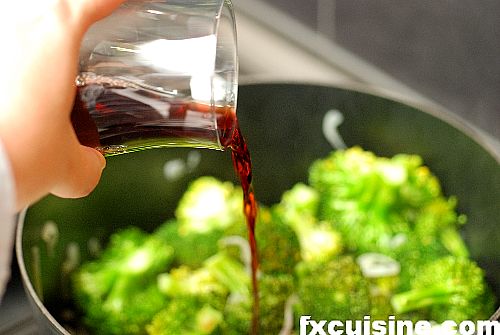 ...then add a glass of red wine, Sicilian if you have it. Cover and simmer quietly for 15 minutes.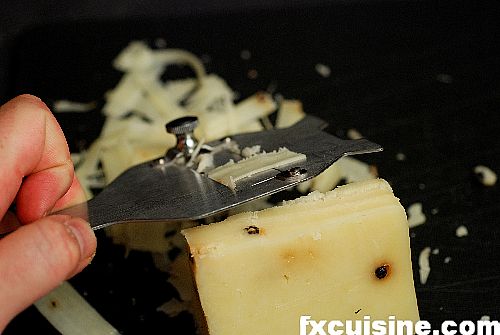 Meanwhile, cut your pecorino cheese into the thinnest slices you can make. Here I use a fancy tool, a truffle mandolina, but you could do it with a vegetable peeler.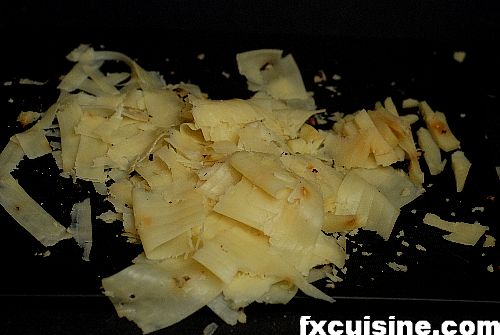 I recommend you use a cheese with character, such as this seasoned pecorino with whole peppercorns. It will be soul of this dish. If you must substitute choose a full-fat semi-hard cheese that can melt like a gentleman. No prima donna that will break into oil and casein when the heat comes around the corner.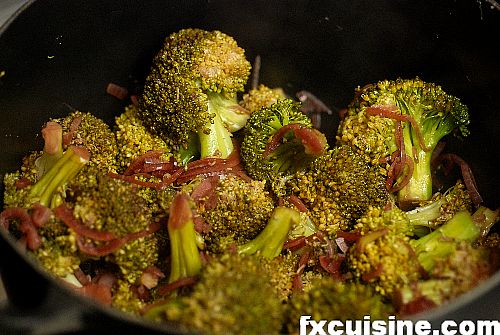 After 15 minutes, try to stab the broccoli stems where they are thickest. If the knife goes in smoothly, proceed. If not, cover and continue to cook for a few more minutes, then test again.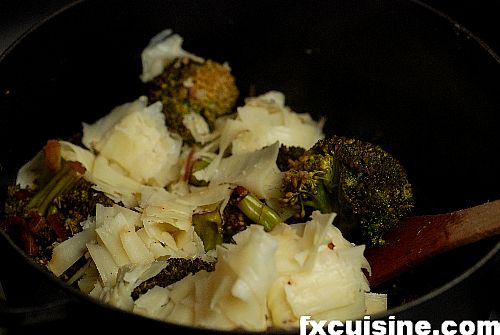 Remove the pot from the fire. Don't you just turn the heat off, you need to put the pot on some cool surface lest your cheese breaks down because of too much heat. Mix the cheese in ...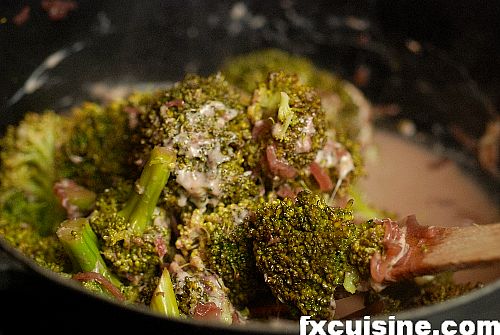 ... and toss.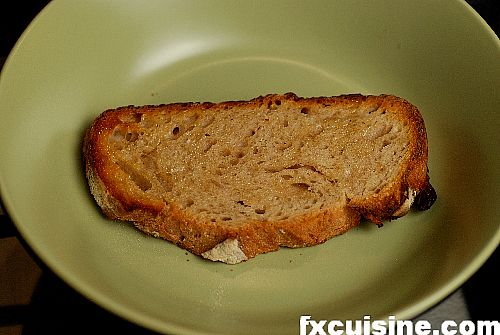 Rub the bread with oil and toast. Grate a garlic clove on the toasted bread, then garnish each plate with one toast.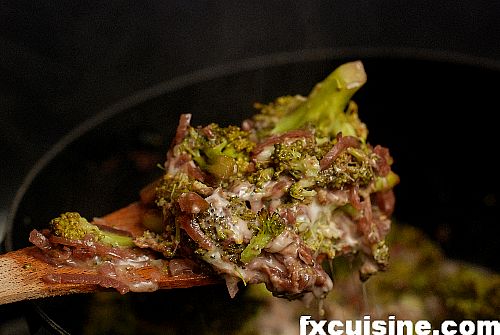 Delicately remove the broccoli and wine-colored onions with a spatula ...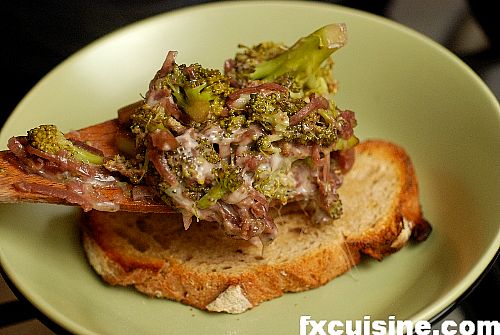 ... and place over the bread.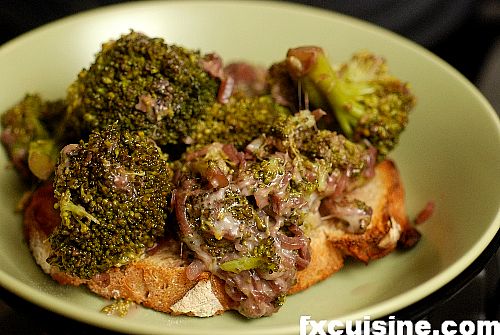 A rustic but very authentic Italian dish.
100442 views
Related Articles

Authentic Sicilian Pasta With Broccoli ** Popular
This traditional Sicilian recipe brings together North African and Italian culinary traditions. A cult dish!

Serious Pasta alla Norma ** Popular
Pasta alla Norma, a divine combination of eggplants, tomatoes, basil and ricotta, is one of the most elegant traditional Sicilian recipes. A real cult classic!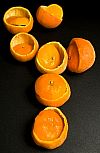 Sicilian Tangerine Sorbet **
Extraordinary sorbet served in the shell for a spectacular dessert suited for the calorie conscious vegetarian and the truffle-eating epicure alike. With no cooking and no ice cream machine required, this is an offer I can't refuse.


Sicilian Cash Cow **
This baked eggplant pasta dish has been keeping client queuing at the door of Geneva's most successful popular Italian restaurant 15 years. Find out how you can milk the Sicilian cash cow for yourself.

A Sicilian Cookery Class on Mount Etna - Peperonata in Agrodolce **
Sicily's top food authority let me into her kitchen on Mount Etna while she was preparing sweet-and-sour peppers.
Copyright FXcuisine 2023 - all rights reserved.
If you do this recipe at home please let me know how it worked for you by submitting a comment or send me a picture if you can. Thanks!