Pasta con l'anatra - pasta in duck sauce
Home
>>
Recipes
Using a whole duck to make pasta sauce is uncommon outside Italy.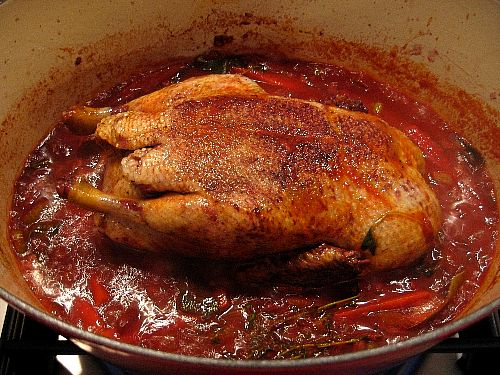 Outside Italy pasta is considered a highly convenient dish. With dried ingredients you can store for month, you can cook up a meal in a matter of minutes. Tasty, healthy, with a different sauce every night.
The pasta recipes you find in Italian-language cookbooks are very different. Often they suggest you make your pasta from scratch, hardly a quick-fix lunch. Sometimes they recommend you cook a stew separately using prized ingredients such as rabbit or game to serve as a sauce. I always wanted to try one of these recipes. My choice settled on the Pasta con l'anatra - pasta in duck sauce.
The sauce is a simple stew with chopped garlic, onion, thyme, sage, parsley, laurel, carrot, a celery branch, a duckling, guanciale, tomato puree and red wine.
First chop the ingredients coarsely: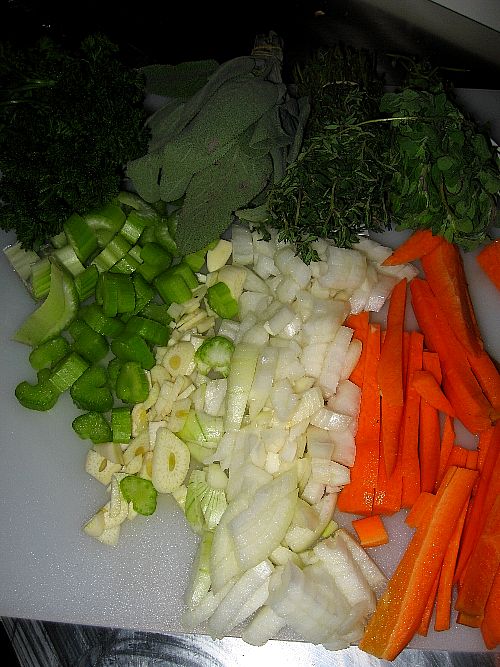 Fry them with some guanciale over a hot flame and add the duck.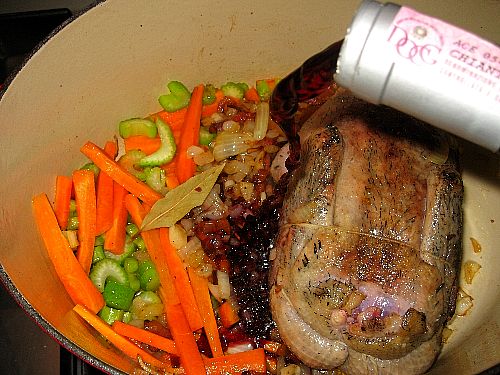 Add the herbs: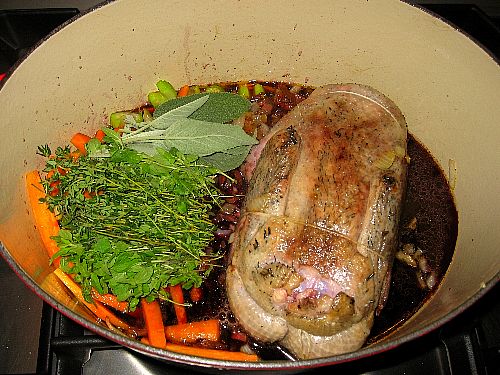 Add the tomato puree (passata):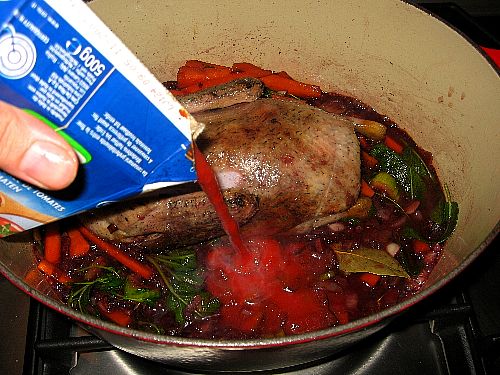 Wet with the red wine and give it boil.
<>Meanwhile, I made the pasta itself, using my prized
chitarra
. They were a sort of obese tagliatelle, almost as thick as wide, made with as much hard-grain flour as my 4 eggs would take.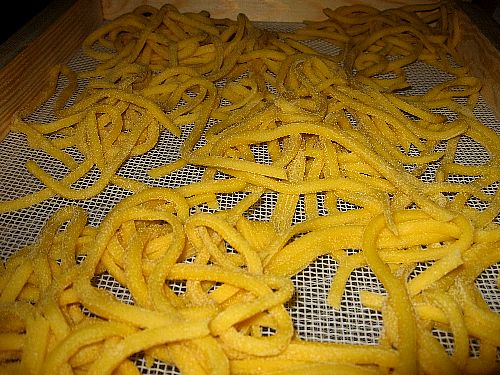 Leave the stew for about 90-120 minutes on the stove over a medium-low flame or as long as it takes for the duckling to be cooked through. Add water as required for the stew not to burn.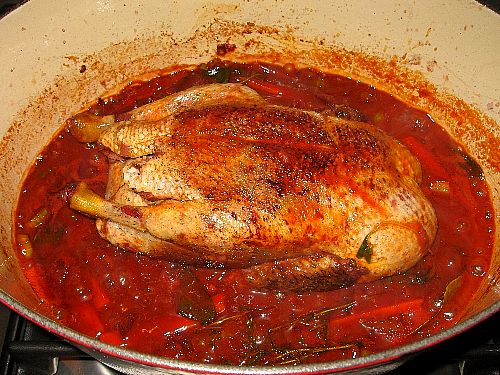 Fish out the cooked duck and lay it on a cutting board.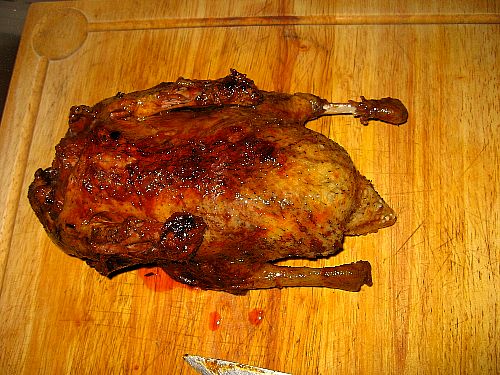 Cut out all the meat and cut in bite-size pieces.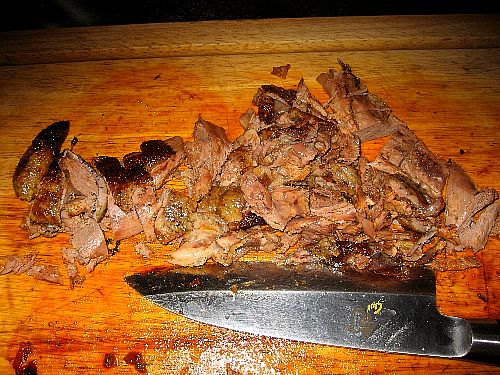 Pour the sauce in a sieve and filter.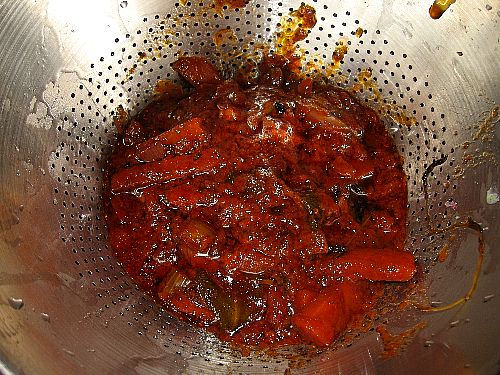 Return filtered sauce to the dish and decant it to remove the large quantity of duck fat.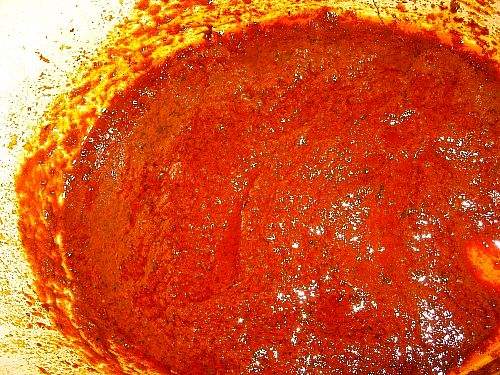 Here is the result, al dente pasta in a gorgeous sauce with a rich and complex taste. Unlike any pasta you can eat outside Italy and well worth the effort!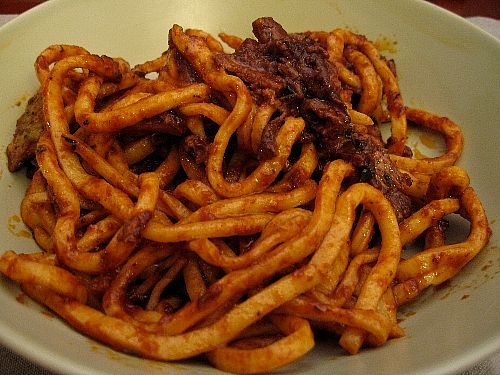 136706 views
Related Articles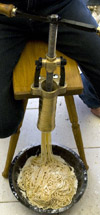 Bigoli, Bigolaro, Bigolarist ***
My largest and most unusual pasta-making accessory, the bigolaro, made 28 fat spaghettis, called bigoli, each as long as the room. Served with the traditional duck ragł, this made my guests very happy despite the fact they had to make their own pasta.

Priest-stranglers in Neapolitan Meat Sauce **
These gnocchis served in the cult Napolitan ragł sauce would be a world-famous dish if they didn't take 7 hours to cook.

Pasta con i fagioli **
Homemade wholewheat spaghetti with a delicious beans ragu for a typical Tuscan peasant dish.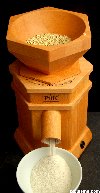 Italian Alpine Buckwheat Pasta Pizzocheri **
Traditional buckwheat noodles from the Italian Alps with cabbage and Fontina cheese. I made them from scratch with my own freshly milled buckwheat flour. Hard core pasta!

Potato Raviolis **
Italian comfort food on steroids. Only Italians love pasta enough to stuff it with such plain ingredients as a potatoes. Right they are, these make for a highly refined dish - and very affordable.
Copyright FXcuisine 2023 - all rights reserved.
If you do this recipe at home please let me know how it worked for you by submitting a comment or send me a picture if you can. Thanks!