I Made My Own Macaronis From Scratch
Home
>>
Recipes
How do they make the hole in the maccheroni? I had thought about it long and hard only to conclude you just can't make tubular pasta at home. I was wrong - see how I made my first batch of macaronis!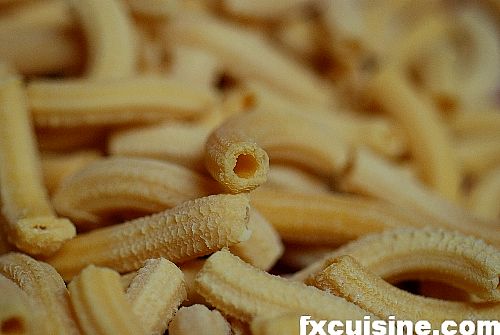 Have you ever wondered how they make the hole in the macaroni, penne, rigatoni and other tubular pasta? There is much speculation as to how it's done. 'They must use long needles' say some, while other think that 'they first take the hole, then wrap it with pasta dough and let it dry'.
My new Kenwood Chef came with a domestic pasta extruder that promised to turn out 'fresh maccheroni rigati'. It worked! See for yourself how: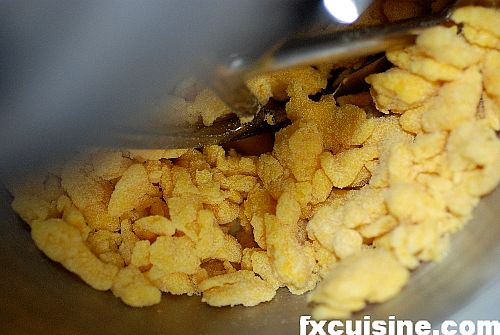 Start by beating a few eggs with a pinch of salt, then add twice their weight in semolina and mix. You need to reach a crumbly texture. If it makes a ball, add more flour and cut it back in crumbles. Too soft a dough will make your maccheroni cave in.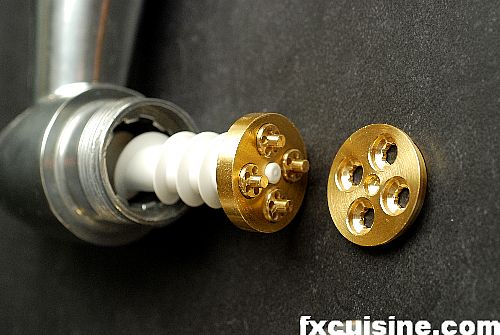 Assemble the contraption pictured above and attach it to the machine. It is quite simple really. A funnel feeds the dough to a worm drive that pushes it against a a bronze grid. The pasta is compressed and exits in one of four small chambers with a big pin in the middle. That's where the macaroni get their tubular shape. The dough exits on the other end as four little fluted tubes.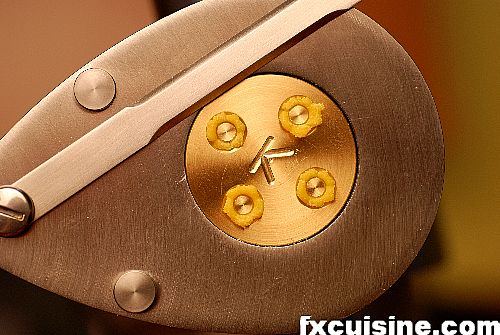 The dough begins its exit through the bronze extruder grate.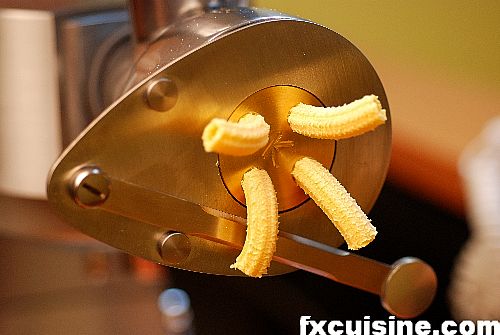 The macaronis are ready to be cut by moving the cutting lever you see above. You need to feed the crumbles manually and cut at desired length. Great fun!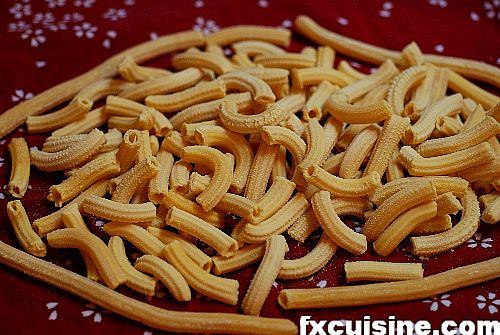 This is my second batch, with four oversize macaronis I did to see just how long they could be! My first batch was not successful as I disregarded the instructions recommending crumbly dough. If you look carefully you will notice most macaroni have one open end and one closed end. The blade seems to seal shut one end and you need to work with a toothpick to reopen it if you think it's necessary. I will try an even drier dough and see if that still happens.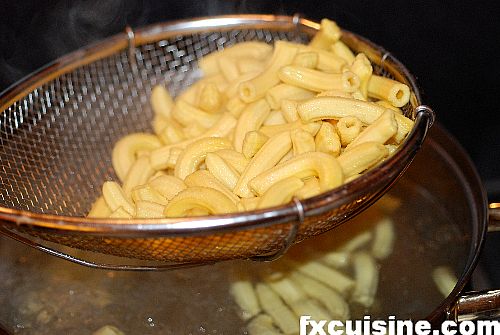 The pasta cooks for about 3.5 minutes. It is very much al dente and
crunchy
even though I made it only an hour before. This is very encouraging! The pasta has a delicious strong fresh eggs smell. Very much unlike any bought pasta! The Kenwood fresh pasta extruder comes with
bronze
discs, this is terrific as it gives the pasta a very grainy texture so the sauce sticks. Best quality pasta in Italy is always
trafilato al bronzo
- bronze-extruded.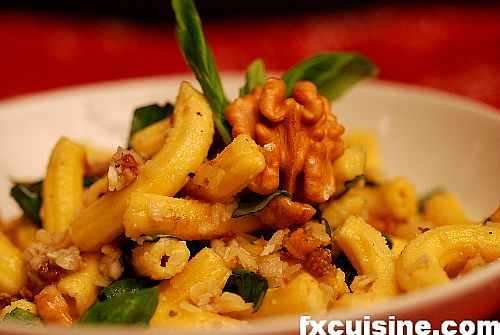 I prepared it with an Italian recipe of crushed garlic fried in olive oil with chopped walnuts, fresh basil and lots of Parmesan. Another success at FXcuisine!
228434 views
Related Articles

My New Italian Chitarra Pasta Cutter **
Homemade pasta with the legendary Italian chitarra, a harp-shaped pasta cutting tool.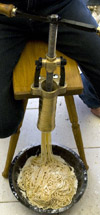 Bigoli, Bigolaro, Bigolarist **
My largest and most unusual pasta-making accessory, the bigolaro, made 28 fat spaghettis, called bigoli, each as long as the room. Served with the traditional duck ragł, this made my guests very happy despite the fact they had to make their own pasta.

Homemade Garganelli Pasta **
Thanks to a tiny a garganelli comb ordered from Italy I was able to make these legendary hand-rolled penne. A treat!

Priest-stranglers in Neapolitan Meat Sauce *
These gnocchis served in the cult Napolitan ragł sauce would be a world-famous dish if they didn't take 7 hours to cook.

Pasta con l'anatra - pasta in duck sauce *
Using a whole duck to make pasta sauce is uncommon outside Italy.
Copyright FXcuisine 2023 - all rights reserved.
If you do this recipe at home please let me know how it worked for you by submitting a comment or send me a picture if you can. Thanks!