Linguine con le vongole - Clams Pasta
Home
>>
Recipes
These gorgeous Neapolitan noodles in a clams-tomato sauce make a serious gourmet meal in less than 30 minutes.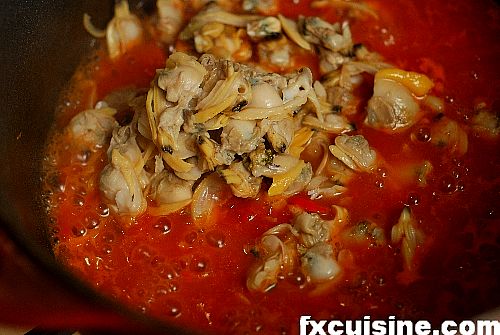 Many times I wondered how Italian cooks obtained such a strong sea smell in their tomato pasta sauces. There is a long way - simmer fish carcasses in tomato purée for hours. And there is the shorter, brilliant traditional Neapolitan way using clams. Just see how easy it is:
Linguine con le vongole Clams Pasta
Main course for 2
1 kilogram vongole veraci or other clams
400 gr linguine or flat egg noodle or spaghetti
300 gr chopped tomatoes, canned or fresh
2 garlic cloves
1 chili pepper
2 tbsp olive oil
A drop of the very best olive oil
A bunch fresh parsley
Notes:
1. Italians used vongole veraci clams (tapes semidecussatus) but you can definitely substitute with a number of clams or even mussels. Use what you find but make sure they are really fresh - that means alive. In my parts one can buy a 1 kilogram bag of vongole clams for less than the price of a hamburger. I admit the shells make up most of the weight, but boy do they taste good!
2. You can use just about any olive oil for frying but for the seasoning just before serving please use the very best olive oil you have. It will show.
3. Most people just buy linguine [lean-gwee-neh] but they taste infinitely better if you make them from scratch. See how I make them: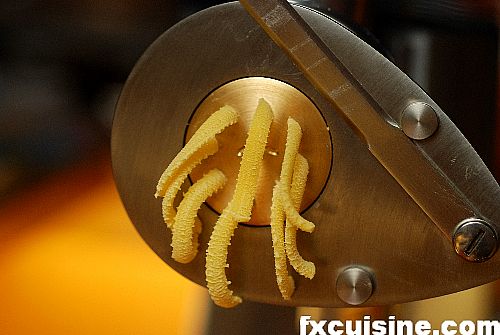 Mix durum wheat semolina flour from the local supermarket with 1 egg per person for a main course. The consistency must be very, very dry, something like a crumble. Then just put the linguine bronze die on the Kenwood kitchen machine and just gradually feed the dough and cut the linguine to the size you want. The edges are a bitted jagged - it doesn't hurt and the sauce sticks even better. That's all there is to it!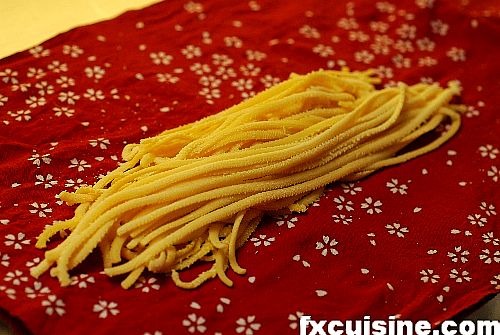 Linguine, as you can see, are short flat spaghetti much like Chinese egg noodles. They are much easier to eat for non-Italians than spaghetti and keep a wonderful bite unless grossly overcooked. Making three eggs' worth of linguine took me about 20 minutes, all this while watching the evening news on TV - not very exhausting. If you do not have a Kenwood kitchen machine or pasta extruder, you can make your own pasta with a rolling pin and cut the linguine with a sharp kitchen knife - soba style.
While you prepare the clams sauce, fill your largest pot with water and put on high heat. This will serve to cook the pasta and it can take a long time for a large quantity of water to reach boiling temperature. I recommend you do not salt the water since the sauce will be quite salty by itself. And please, do NOT add any oil.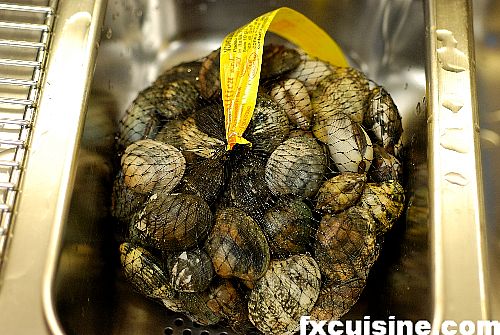 Rinse the clams under fresh water and listen. The clams are alive! It even says so on the label 'Do not eat unless the animals are alive' (picture). As soon as you rinse them they start opening up, probably for a change of water, and that makes an intriguing, subdued whistling sound.

Heat a tablespoon olive oil in a large pot.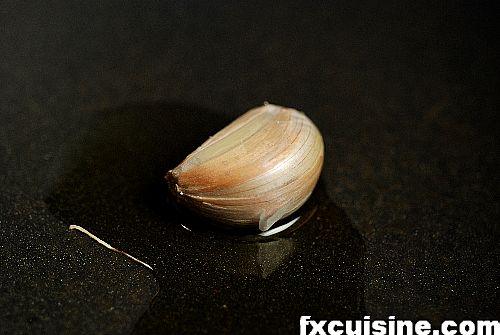 Briefly fry a garlic clove with skin on. When it starts to brown a little remove it and add the clams.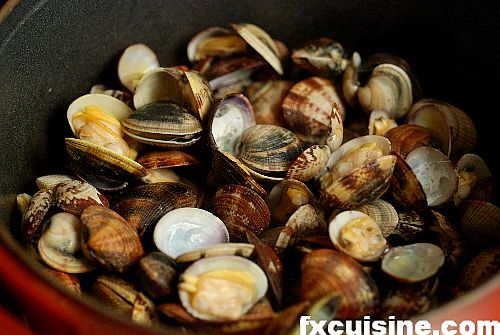 Cover and leave for 2-3 minutes. As they die, the clams will open, releasing the sea water they contain. You'll end up with a lot of milky water at the bottom of the pan. This clam-infused sea water will serve as the basis of our sauce.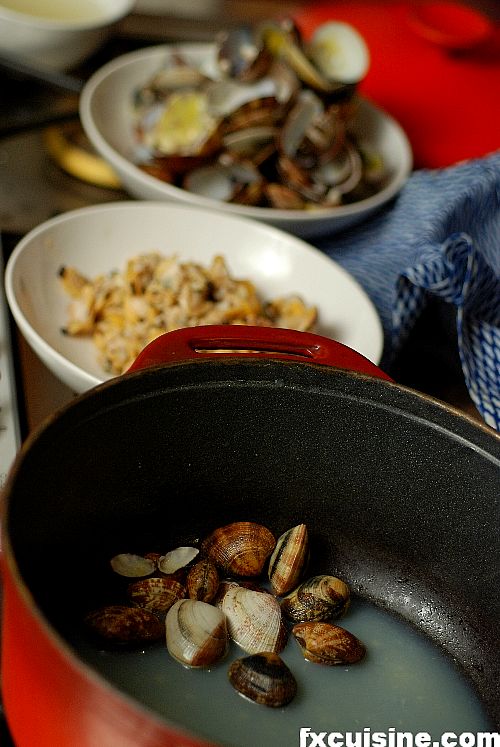 As you see above, some clams won't open. They were 'Dead On Arrival' as they say on TV. Since you can never know why they died, it is best to discard these closed clams.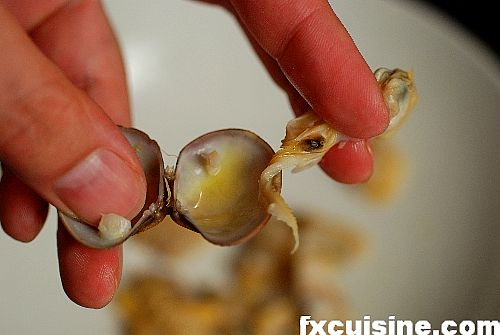 Remove the flesh from the clams. Dip your fingers in a bowl of cold water if the clams are too hot. Leave a few of the best looking clams whole for decor.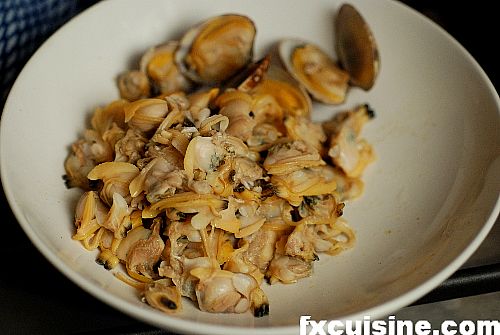 Cover and reserve the clams.
Place a clean towel over a steel or plastic bowl and filter the clam juice through the cloth. This step is very important as there is sand, grit and clam shell debris in the juice. That might bring your dentist new business, but won't impress your guests. Reserve the filtered juice.
...