Strawberry Risotto
Home
>>
Recipes
Serious risotto from the king of modern Italian cookbooks - Il Cucchiaio d'argento. It contains strawberries for a surprising but successful and now well established match.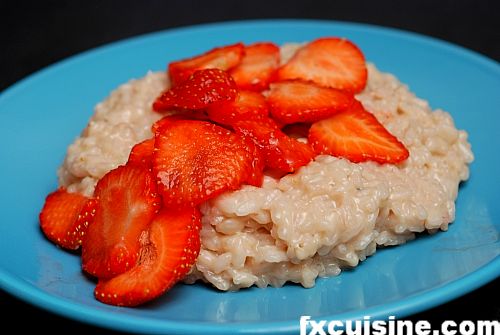 Rice is born in water and dies in wine as the Italian say. And for sure most Italian rice finishes in a bubbling pool of wine. Risotto is the favorite way of eating rice in Italy, especially in the North. There are so many different risotto recipe that one could have the impression you can add just about anything to the rice and call it risotto.
And yet, when Marina told me about strawberry risotto, I was quite surprised. "I make the risotto with the strawberry that you won't know it's in there" she said with her wonderful Italian accent. Marina has been my mom's best friend for 20 years and she is a walking encyclopedia of Italian culinary lore. I've been eating her dishes and cooking with her recipes most of my life. She never failed to deliver. Thus I decided to try and make this intriguing dish.
Risotto is a foolprool gourmet dish anybody can cook in under 30 minutes, provided you follow the instructions.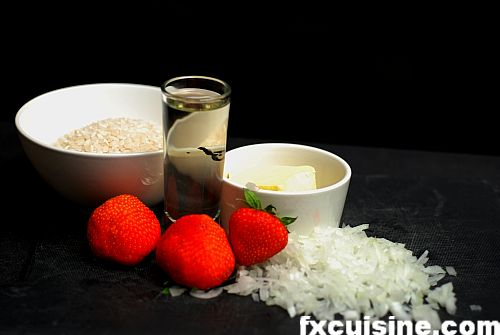 Strawberry Risotto
Risotto con le fragole [reezauto conlay frahgawlay]
As a first course for 6
2 tbsp butter
1 small white onion cut in tiny cubes
1 cup risotto rice
1 glass dry white wine
4 cups broth
4-8 strawberries
100 gr freshly grated Parmesan cheese
2 tbsp butter or 2 tbsp heavy cream or 2 tbsp mascarpone
You need risotto rice. Italian chefs are very particular about which specific type of risotto rice they use for a given recipe. But if you are starting out with Italian cooking, just use any rice with 'risotto' on the box. Do not use pre-cooked or pre-seasoned risotto mixes. Do not wash the rice - it needs to be dry when it goes into the pot. We are not making pulao where you want each rice grain to be free and not stick to the others. Risotto is about rice grains sticking together and the little rice flour on the grains' surface is a desirable feature.
You also need hot broth. Not cold water. Not cold water with a broth cube. But a saucepan of piping hot broth. If you don't have the time you can very well heat up 1 liter / 4 cups tap water in a saucepan and add a broth cube. But it needs to be hot before you start.
Just before serving, risotto is mixed with additional milk fat - most commonly butter, but some people use heavy cream or mascarpone. Then a little grated parmesan add a final layer of flavor.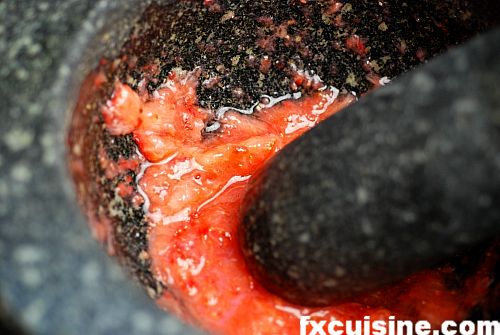 Wash and stem your strawberries, then crush half of them to a pulp in a mortar. Reserve a handful of the best looking strawberries for decor.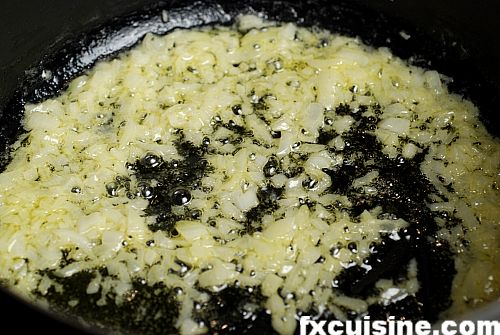 All risottos start with very finely diced white onion gently fried in butter. Do not let the onions nor the butter turn brown - you want medium-high heat, not high. You just need your onion to be become soft and the water to evaporate.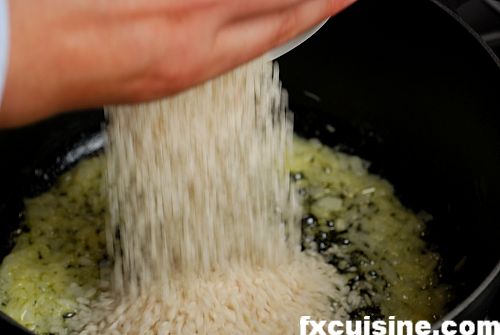 Pour the dry rice into the frying onions and butter.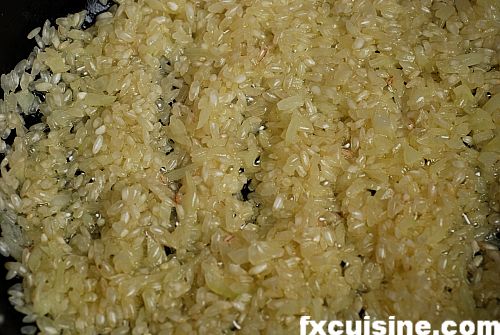 Fry it for 1-2 minutes. Every grain must be covered with a little butter.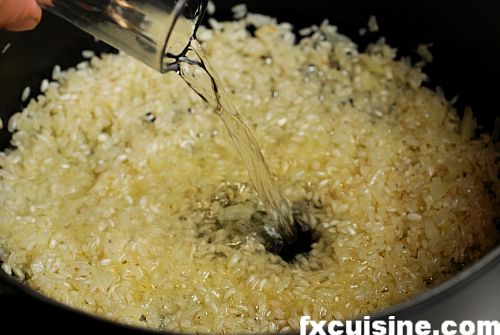 Pour in a glass of white wine. Some people use red wine but that will raise an eyebrow and change the risotto's color. Let the wine boil and reduce. Mix well so that no rice sticks to the bottom.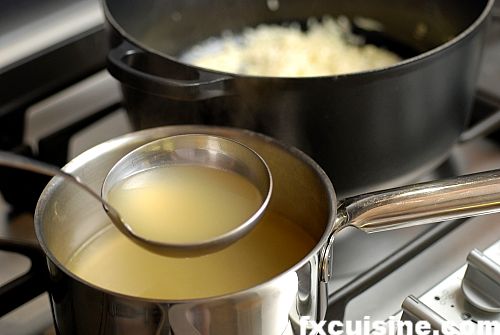 Keep the stock pot next to the risotto pot and use a ladle. Cooking with the proper tools is very pleasant and if you can afford to browse the Internet, you can afford a ladle too.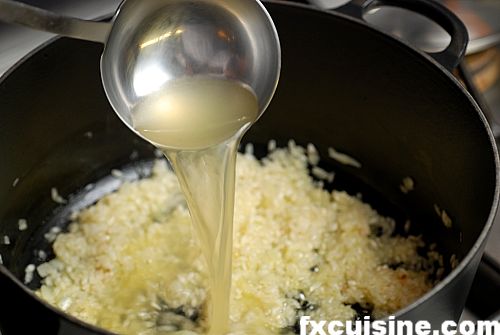 Pour two ladlefuls of stock into the rice.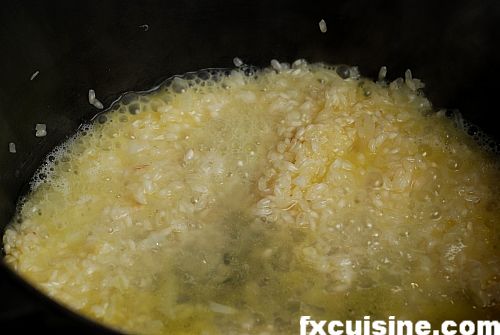 Mix well to prevent the risotto from sticking and help the stock to spread evenly across the rice.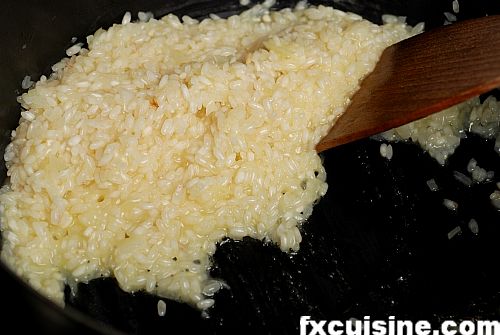 Continue to mix over medium-high heat until the mixture is almost dry. No liquid should be visible before you put the next ladlefuls of broth in.
Turn constantly until the second ladlefuls has evaporated too. Some of it will be absorbed by the rice which will become softer and inflate more and more as the process continues.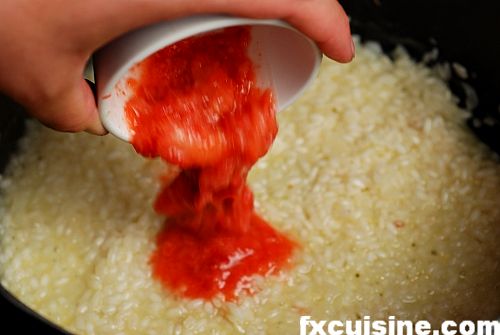 On the fourth ladlefuls of stock add the strawberry purée.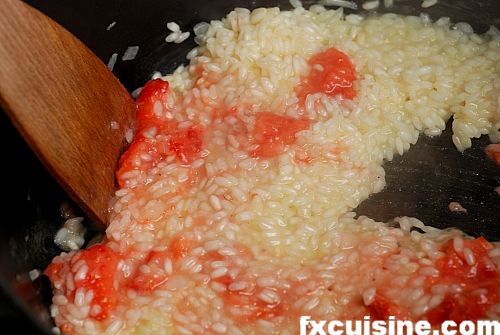 Mix well.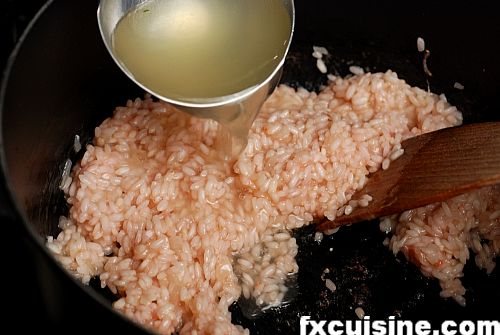 The strawberries will disappear into the risotto will turn dirty pink. Continue to add the hot stock ladleful by ladleful until the rice is cooked but still crunchy. Proper risotto has some bite and the rice will continue to soften for at least 5 minutes after you turn off the heat.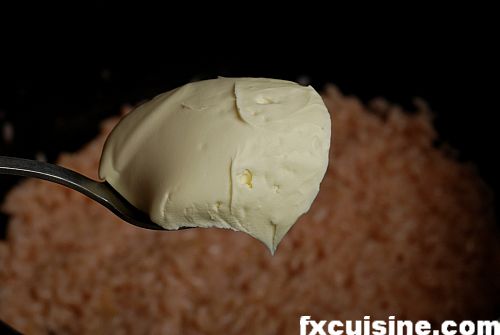 Now for the most crucial stage called mantecatura [mantehkatuoorah] by Italian chefs. We mix tasty milk fat in the risotto just before serving. Turn the heat off and take the pot off the stove unless it is gas-powered. If you don't do this, the heat will make your butter split. Let the risotto rest for 1 minute off the stove and add the cold butter cut into small pieces or the heavy cream or mascarpone. Mix it in vigorously taking care not to crush the grains. If you put a large piece of butter into a boiling risotto, the part of the butter that touches the rice will split into water and fat and you'll have an uneven mix with patches of butter fat all over the dish. Butter, cream and mascarpone are all water-fat emulsions which we need to be assimilated into the dish as an emulsion.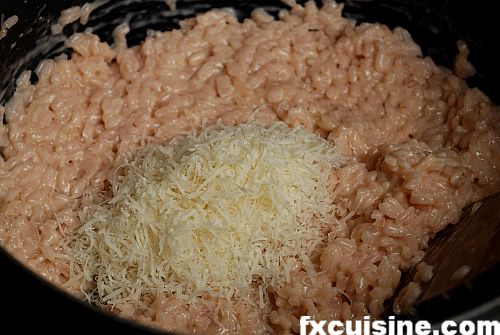 Finally the grated Parmesan is added and mixed in.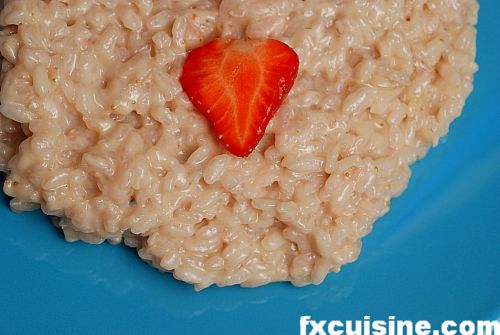 You can serve with thinly-sliced strawberries on top or omit them altogether. It is a hard decision to make. If you put the strawberries on top, most guests will be surprised and think this is some prank or that you are training to become a chef in Hawai. And if you don't use them, nobody will guess unless you tell them what's inside. Will you resist the temptation of telling? If you tell, you are back to square one with the added aggravation that people now think you tricked them and wonder what will come next - Olive Squirrel or Rat Couscous perhaps? Really difficult.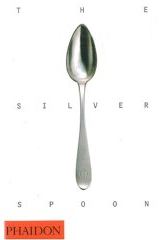 I go for full disclosure with a little strawberry on top and my impressive copy of the huge culinary tome Il Cuchiaio d'argento in the original Italian edition left conspicuously open as a shield against any suspicion of fanciness. It is now available in English as The Silver Spoon on Amazon.com
The process is the same for any risotto recipe, with or without strawberries. Replace the strawberries with saffron and you'll have risotto alla milanese.
208190 views
Copyright FXcuisine 2023 - all rights reserved.
If you do this recipe at home please let me know how it worked for you by submitting a comment or send me a picture if you can. Thanks!