Spaghetti in Squid Ink Sauce
Home
>>
Recipes
Legendary dish in black squid ink sauce. Highly addictive and not easily forgotten.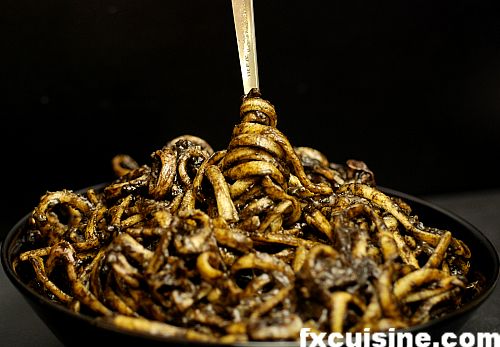 Food made pitch black with squid ink is not a culinary gadget. It's an addiction. The intense black color and strong iodine taste makes those dishes want to hit them again and again until none is left. This is nothing new. In popular crime novel by Andrea Camilleri, Sicilian police captain Montalbano is invited for dinner by the police Superintendent. "My wife will prepare spaghetti in squid ink. An exquisiteness". Montalbano is so taken with the prospect of eating this legendary dish that during the whole novel he makes every effort not to confront his superior in the thorny case in he's working on so that the spaghetti in squid ink can be safe. Finally Montalbano calls him the day before:
  -Superintentent? I am calling to say I am really mortified, but won't be able to make it for dinner tomorrow.
  -You are mortified because we cannot meet, or because of the squid ink pasta?
  -Both Sir.
Pasta in Squid Ink Sauce
Pasta al nìvuro di sìccia
4 squids
2 bags of squid ink (see text)
4 ripe tomatoes or 1 can chopped tomatoes
1 medium onion
2 garlic cloves
500gr/1lbs long pasta (ie spaghetti, linguine, bucatini)
120gr grated pecorino cheese
A bunch of parsley
Quality flaked red peppers such as piment d'Espelette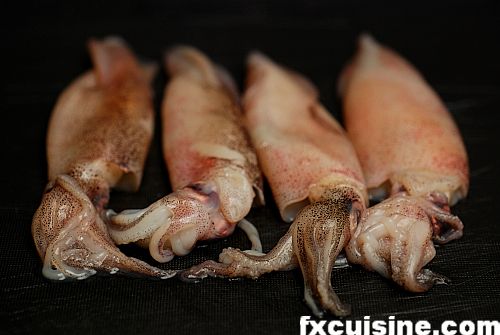 Unless you fish them yourself, squids come with an empty ink bladder. Not that they tried it on the fisherman in a hopeless bid to get away, they just get squeezed so much in commercial fishing nets that all of the ink disappears into the ocean. You need to get the ink separately. If you live close to a Spanish or Italian immigrant community, chances are your local fishmonger will store tiny squid ink pockets in his fridge. When you find them, buy as many as you can afford!
Squids are members of the baggy animal kingdom. Their whole body is organised in bags, which the cook needs to extract one by one by putting his fingers into the beast and remove them. Then you have to find the transparent 'bone' that keeps the bag straight and remove it too. Finally, peel off the skin as shown on the pictures above. You can then cut 0.5''/1cm rings and set them aside. Some people will buy ready-made rings from a freezer store but not me.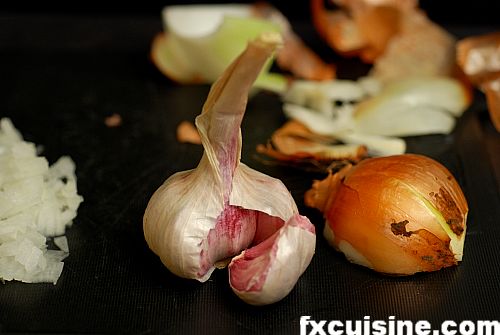 I use 1 medium white onion and 2 garlic cloves for 4 portions.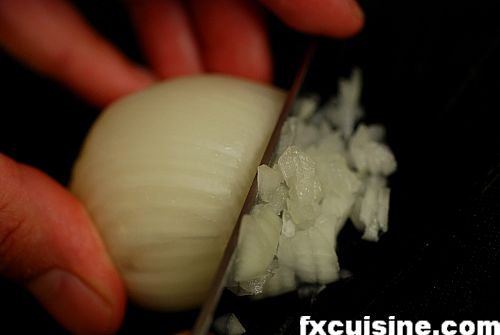 Peel the onion, then cut it in half, then thinly lengthwise, then one time lengthwise but horizontally and finally thinly crosswise. You'll end up with tiny onion cubes and be content to have cut an onion like a French chef. Look at the pictures for a clearer idea. Proceed in the same fashion with the garlic.
In a wide saucepan, start by frying the onion and garlic in 2 tbsp olive oil. Add the puréed tomatoes and bring to a boil. Let the squid rings join them and cook over a medium-high flame until they are cooked through.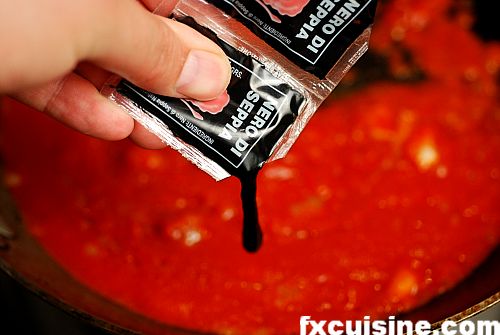 Add the squid ink, chopped parsley, red pepper flakes and mix well.
This miraculous substance starts spreading in the bright red sauce and turns everything the darkest shade of black. Food scientists will pin me to the wall but in my book, squid ink is just as powerful a colorant as saffran. And it adds a brilliant, intense iodine taste.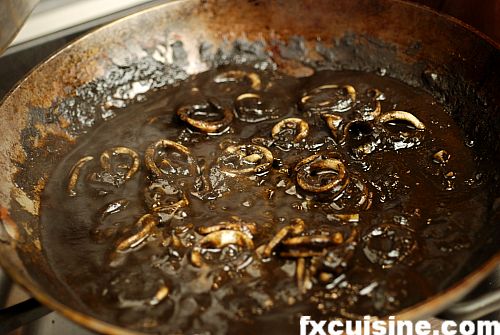 The Pasta
This recipe calls for long pasta such as spaghetti, bucatini or linguine. My Kenwood pasta extruder makes great linguine from eggs and semolina flour, and this is my favorite choice. But feel free to use your favorite long pasta.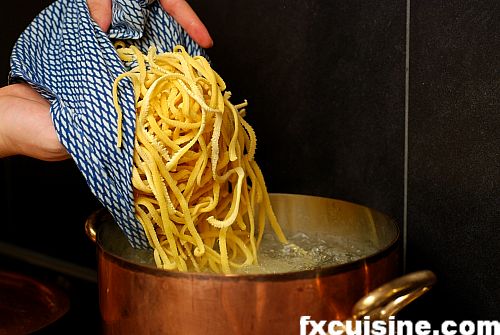 Fill your largest pot with water, add some salt and bring to rolling boil on your hottest burner. Remove the pasta just about 30 seconds before it's fully cooked, as it will continue to cook in the sauce.
Eating grated cheese with fish pasta is one my guilty pleasures. The Italians, you see, consider it sacrilege eating Parmesan on any dish that contains fish, and most Italians extend this notion to any cheese. But this traditional Sicilian recipe calls for grated pecorino, and I checked in several books and with Mrs Consoli and this is in fact culinary orthodoxy. Not that I am such a classicist, but this is not of these I-add-a-little-ginger-as-a-personal-touch kind of blog and if you discuss this dish with Italians somebody might certainly end up with his feelings bruised - now it won't be you.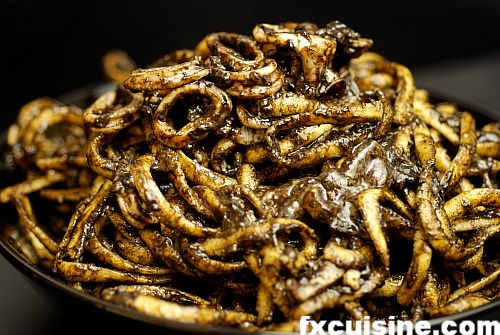 Mix intimately and serve as a gorgeous first course in a formal dinner or as main course.
499129 views
Copyright FXcuisine 2023 - all rights reserved.
If you do this recipe at home please let me know how it worked for you by submitting a comment or send me a picture if you can. Thanks!