Pumpkin Gnocchis
Home
>>
Recipes
After nearly 20 years of trials I finally succeeded in making these delicious gnocchis - my own personal culinary holy grail.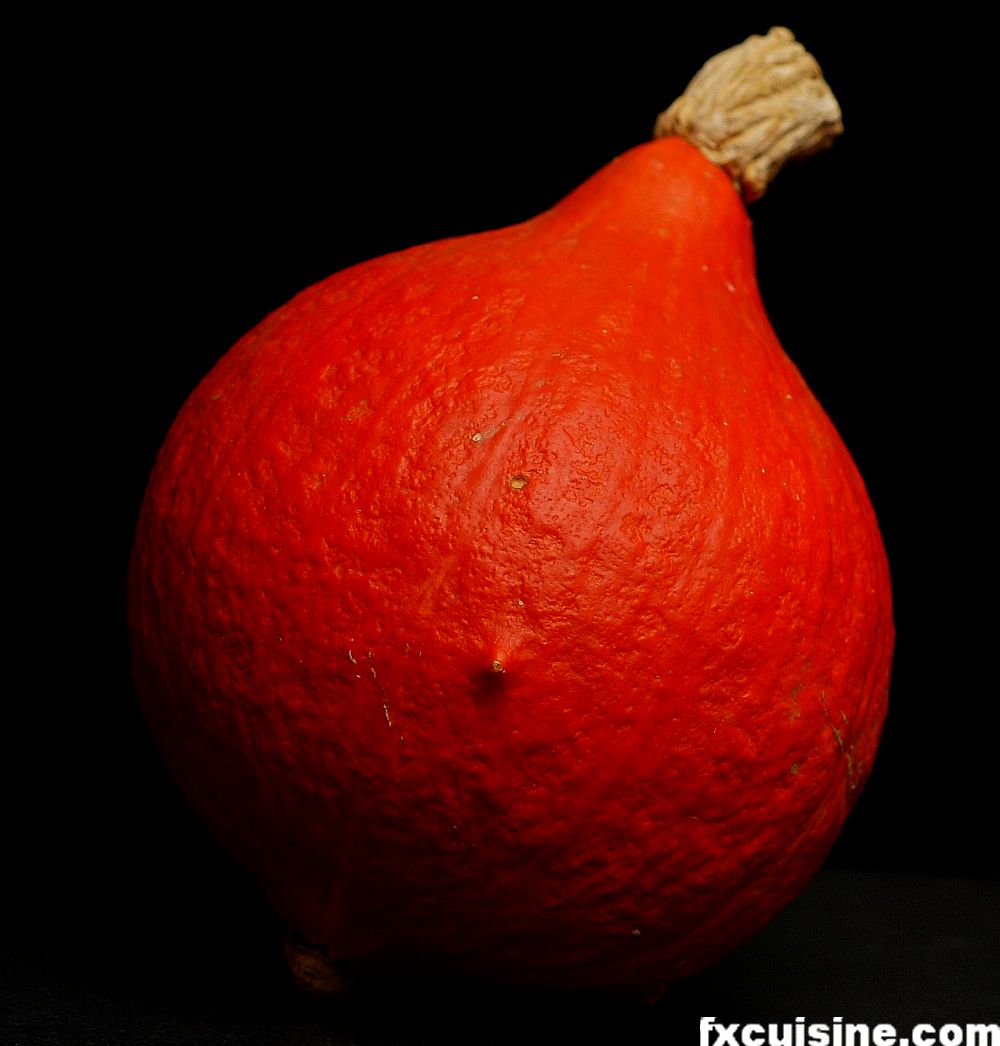 I've been trying to make pumpkin gnocchi since I'm 15 years old, and until last week it had always been an absolute disaster. The gnocchis (Italian dumplings) would just dissolve in the boiling water and whatever part you could fish out would look like oranges sponges that fell into the dishwasher. I had tried everything - bake the pumpkin first to dry it out, add a truckload of flour or combine with potatoes. No joy, until I tried a Lombard recipe from a Slow Food cookbook in Italian. 'The secret', they said, 'is in the pumpkin.' And indeed it is. Using potimarron (Hokkaido squash or Kuri Pumpkin) only very little flour was needed to turn the most delicious gnocchis I have ever eaten. And when the next day I tried it again with a very dry pumpkin of a different sort, I was back to disaster and had to use more flour than pumpkin for the gnocchis to withstand the cooking.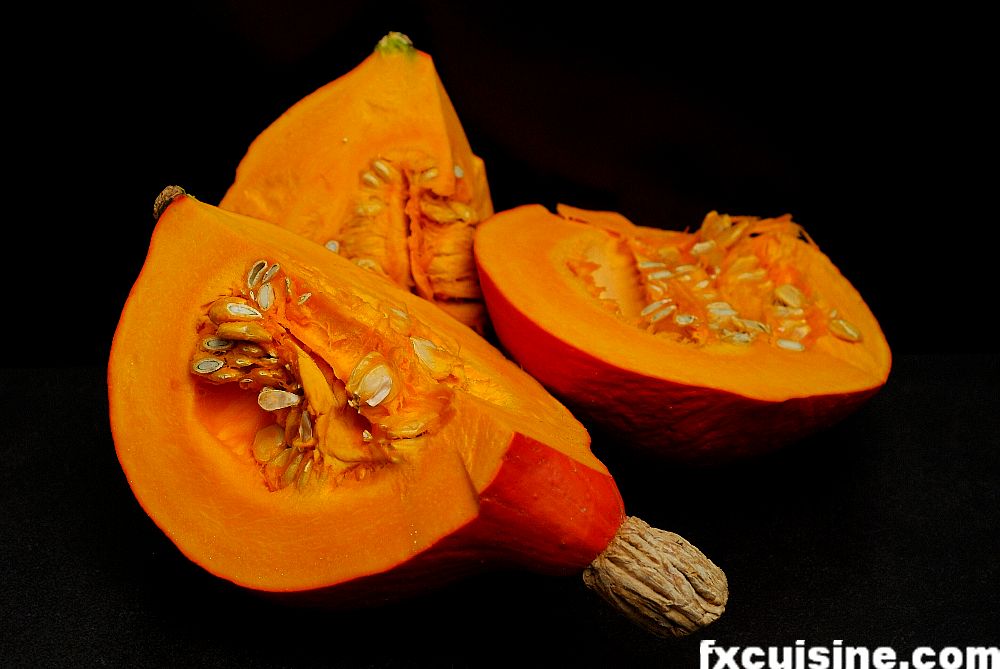 | | | |
| --- | --- | --- |
| |   | |
Slice the squash in 4 pieces and remove the seeds but leaving the peel on. Bake in a covered dish in a hot oven until soft, 30-40 minutes.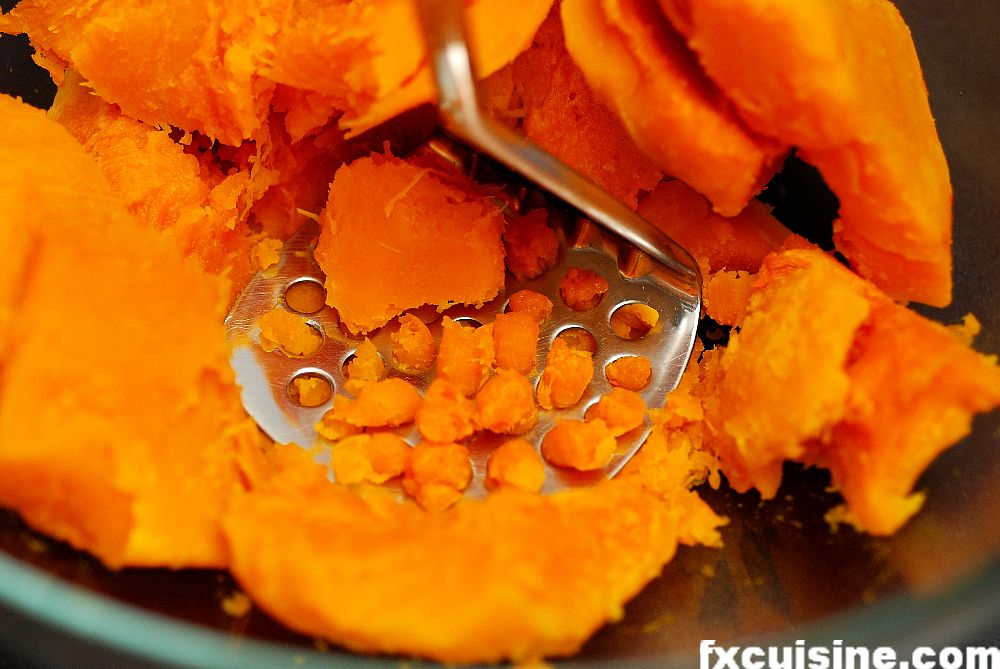 Discard any juice and peel or scrape the flesh off with a spoon. Mash to a smooth pulp. Fill your largest pot with water, salt and bring to a boil and keep ready for the gnocchi.
Crush a couple amaretti (Italian macaroon made from apricot stones) in a mortar. Do not bother to remove the sugar, the squash is already quite sweet and you won't notice it. Matching sweetness with bitterness is a long established way of eating pumpkins of all sorts in Northern Italy.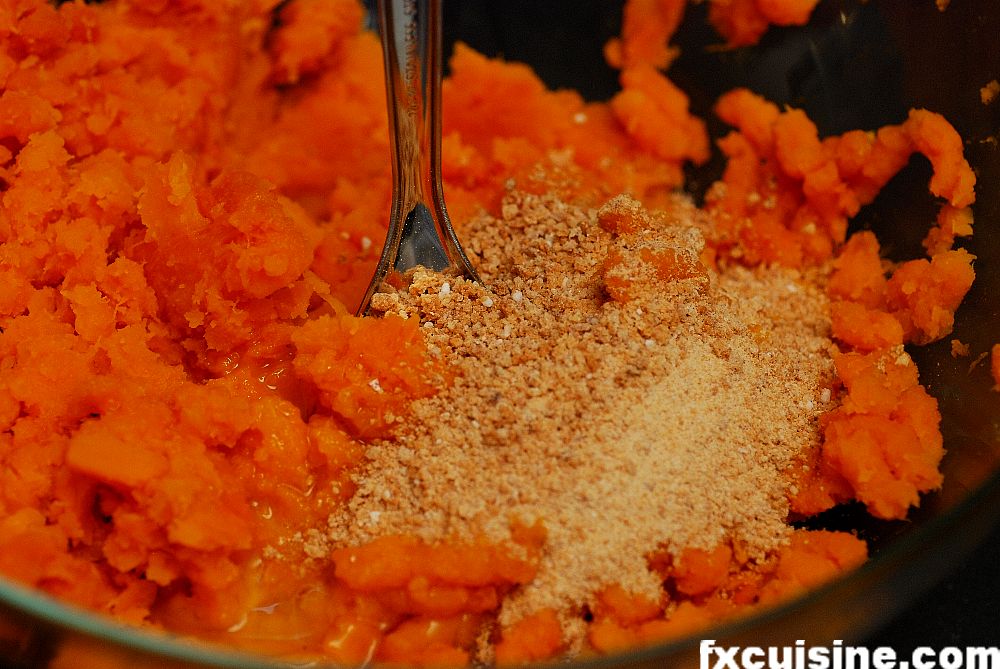 Combine the smashed squash with the crushed amaretti.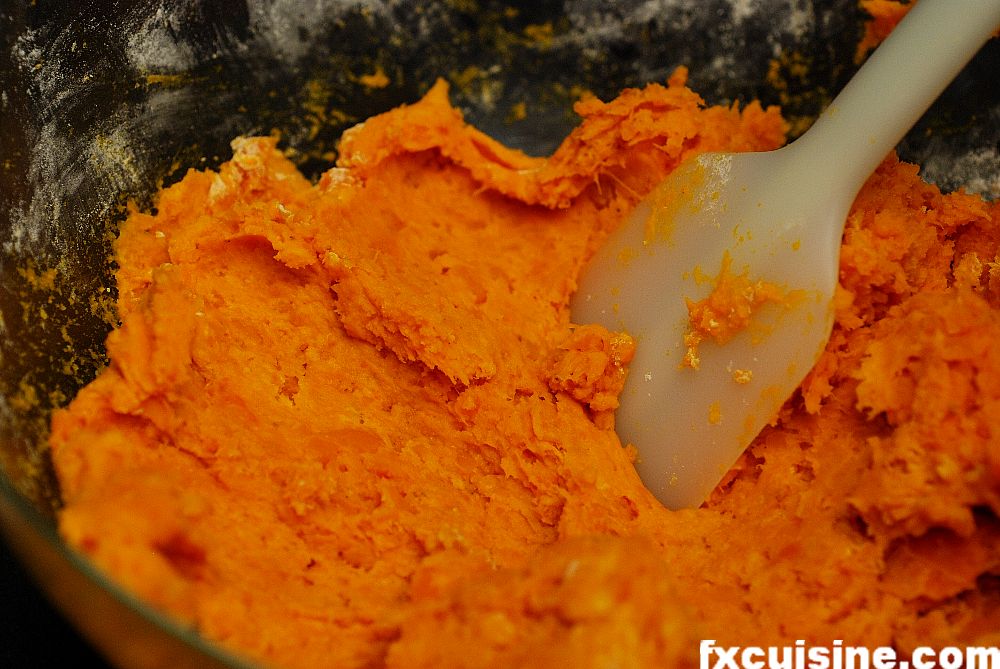 Add just enough flour for the dough to hold together.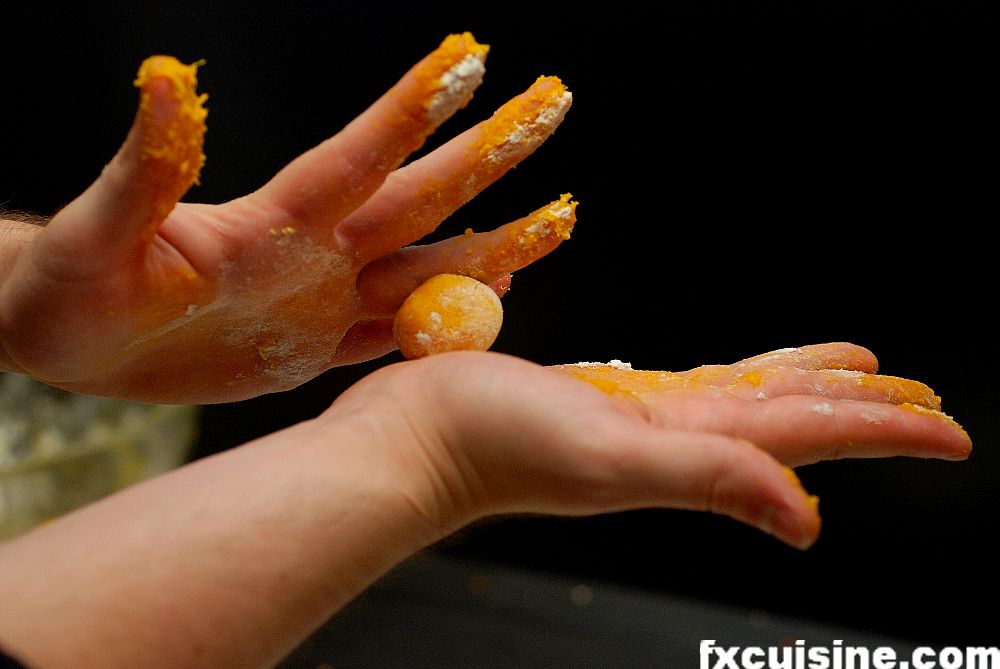 If you are not sure, try to form a small ball in your hand as explained hereafter and boil it in your pot. If the gnocco holds together and comes out without having absorbed half the water in the pot, then there is enough flour.
Flour a board and take a little dough in your hand. Either form balls the size of a small walnut one by one, or roll a long cigar which you will cut down in small gnocchis. Finish them by pressing a fork on one side of each gnocco (for the butter to stick better).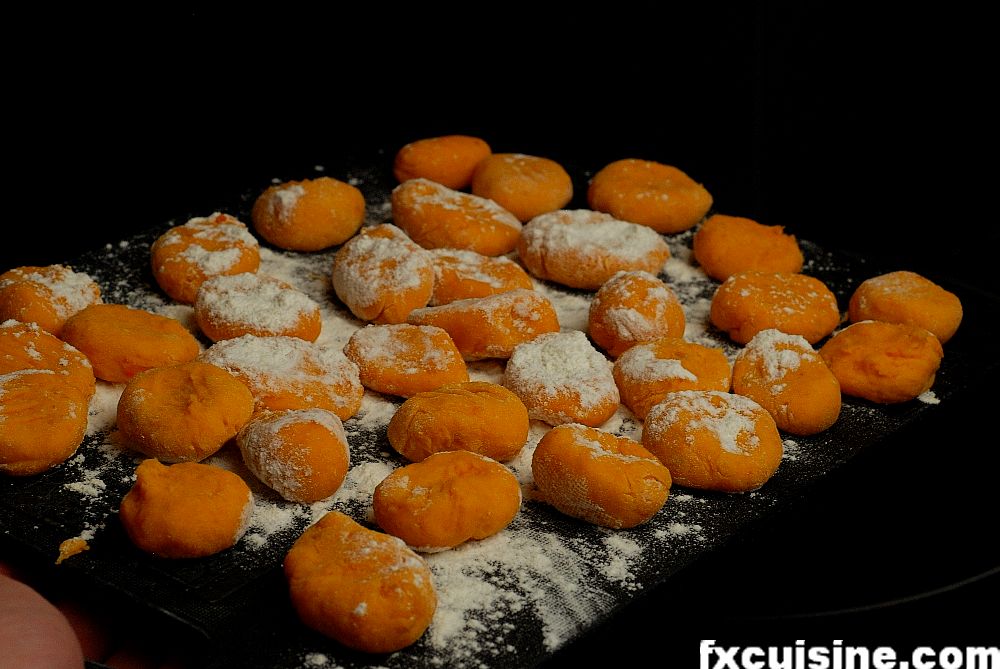 Try to use as little flour as possible at this stage. If you make big lumps of flour on the gnocchis surface like I did here, the flour will not disappear in the boiling. You'll see it.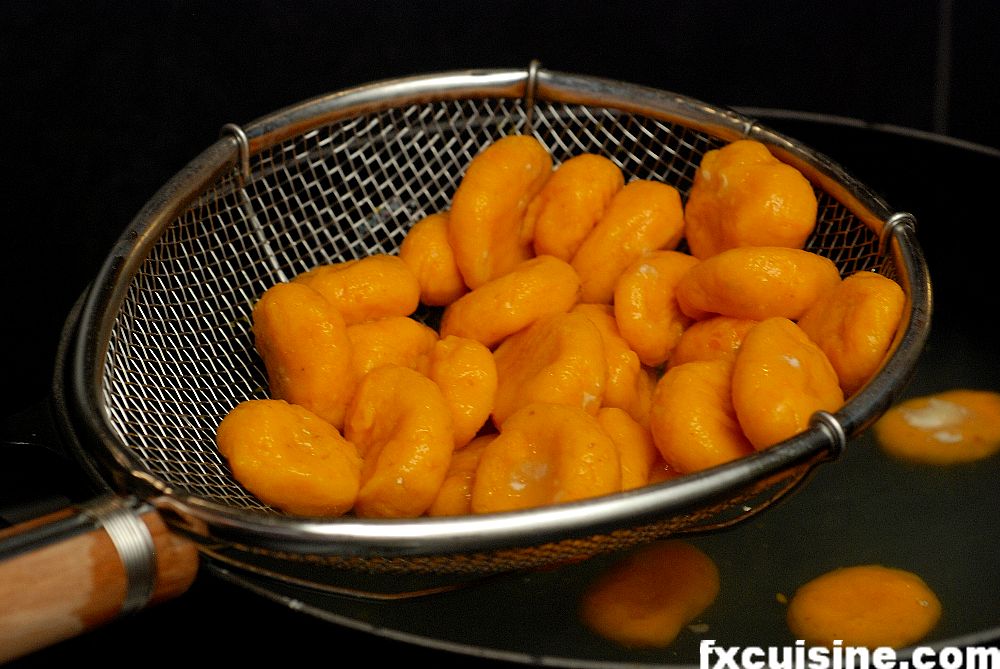 Plunge the gnocchi in the boiling water. Please do this with care as the raw gnocchis can lose their shape if you drop them into the pot from the ceiling. Ideally use a slotted spoon to do this, but make sure they all enter at the same time, or just make separate batches, or the cooking will not be even across the batch. Cook only for a minute or so. If in doubt, taste one gnocco.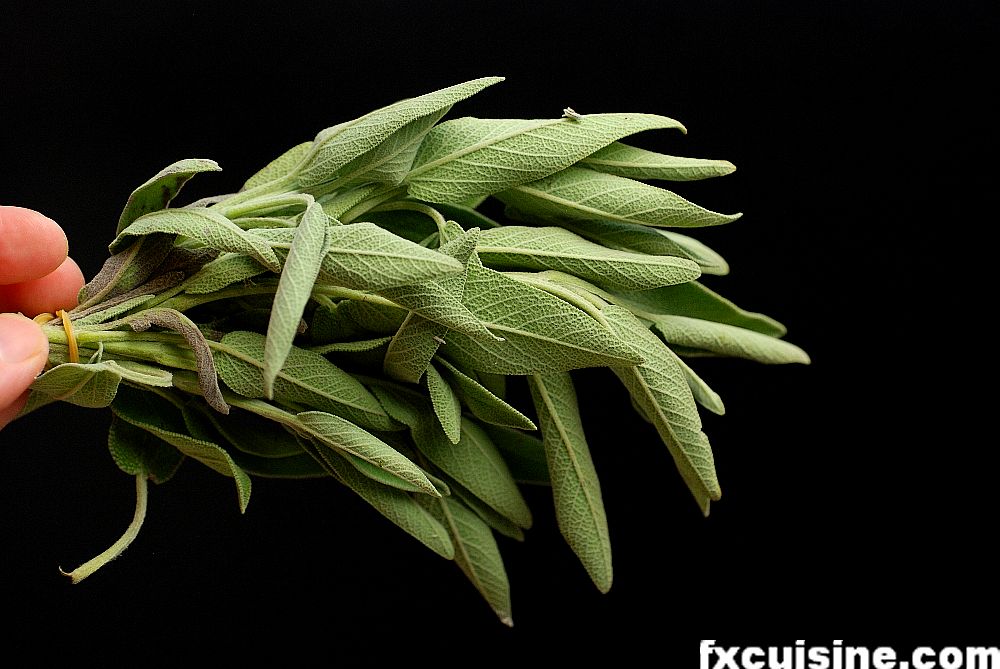 Good gnocchi do not need sauce. The most delicate flavoring you can use is sage. For reasons known to chemists only, the delicate perfume of sage cannot be properly extracted in water but is readily soluble in fat.
In a small saucepan, melt as much butter as your diet can afford and add the sage leaves. Do not fry them but just let the butter melt quietly and the sage leaves bathe in it. You could remove the leaves as most of their taste is now in the butter, but guests prefer to see where the flavor comes from and the stripes of green match very well the pale orange color of the pasta.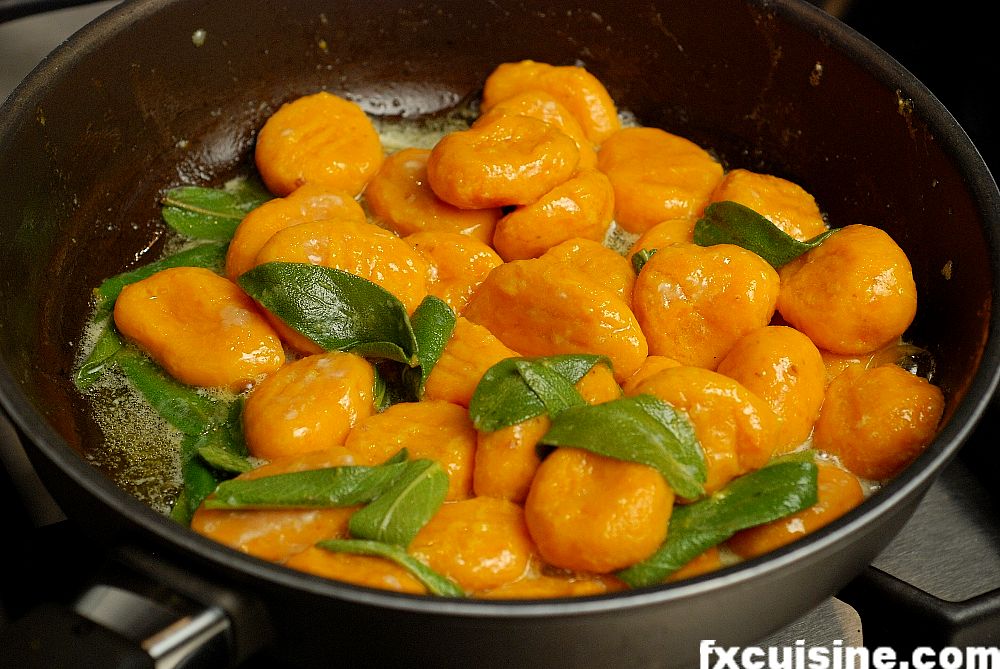 Transfer the gnocchis into the sage butter and leave on a very low flame until ready to serve.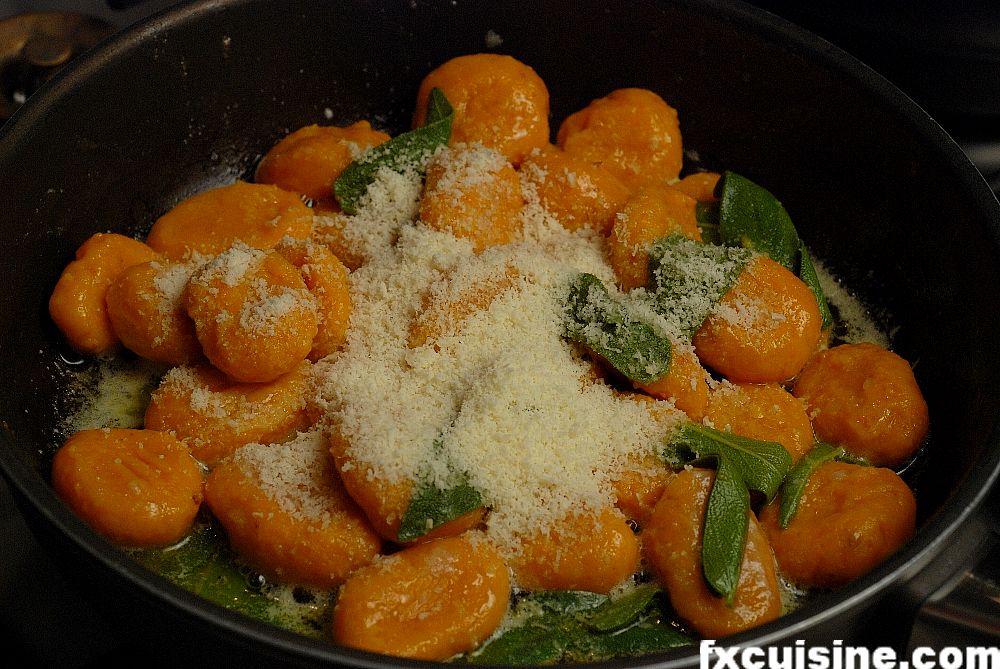 Serve with freshly grated Parmesan cheese and if needed a few crushed amaretti.
These are the best gnocchis I ever tasted or made - period. You could very well make them with a different type of squash than the one I used, but if your dough is too runny you'll have to add so much flour your gnocchis will deserve the name of priest-chokers. Even so, they would be edible but the balance of tastes would be all wrong and the texture very floury. Good luck!
140556 views
Related Articles

Halloween Pumpkin Risotto ***
Serious gourmet traditional pumpkin risotto from Lombardy (Italy) anybody can cook in under 40 minutes.

Priest-stranglers in Neapolitan Meat Sauce *
These gnocchis served in the cult Napolitan ragù sauce would be a world-famous dish if they didn't take 7 hours to cook.

Pasta con l'anatra - pasta in duck sauce *
Using a whole duck to make pasta sauce is uncommon outside Italy.
Copyright FXcuisine 2023 - all rights reserved.
If you do this recipe at home please let me know how it worked for you by submitting a comment or send me a picture if you can. Thanks!