A Day Out in the Swiss Alps
Home
>>
Experiences
Last weekend my friend John invited me to spend the day at his chalet in the Swiss Alps. We sledged down the fearsome 5-miles-long run and finished with cheese fondue.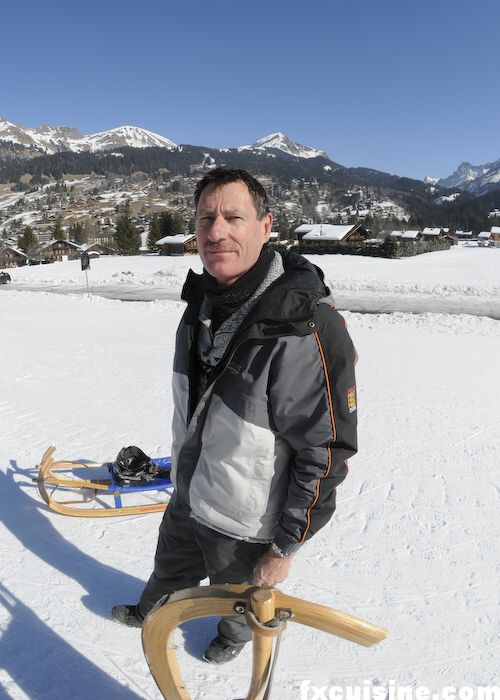 Here is my good friend John. He is a major with the Swiss army general staff, a military judge, a bank auditor and the smartest negotiator I know. But the reason he looks so serious on my pictures is that he ripped a muscle while skiing last week. And yet he offered to accompany us and even carried the luges without a word. Don't let his stern look deceive you - John is a witty practical joker and great fun. That's John - a man of gold!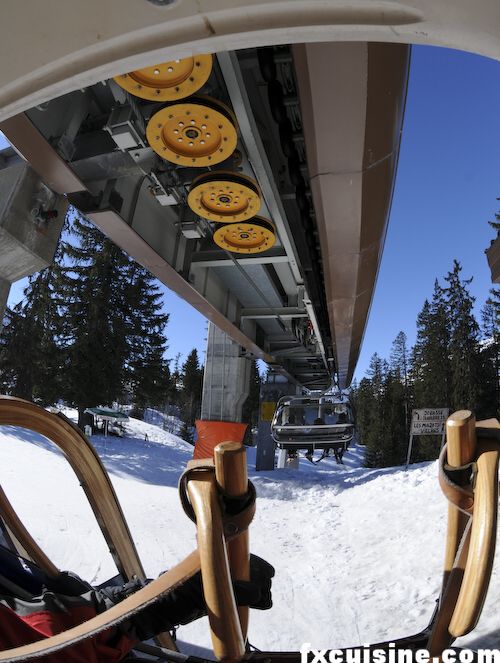 We set out early for tourist-free ski slopes. 'The sledge run is closed today', explained the skilift guy. Disappointing news, but in fact the guy was joking with John, who paid him no mind and helped me secure the sledge on the lift.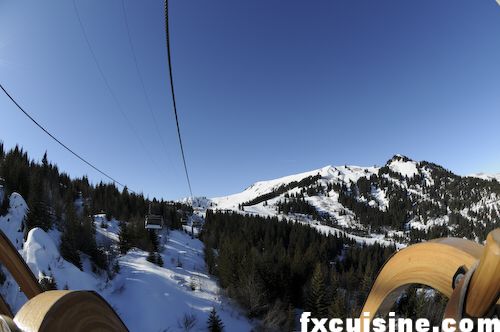 In a split second we are taken up in the air and soon sail above the treeline. The skilift takes us to a halfway station, then further up the mountain.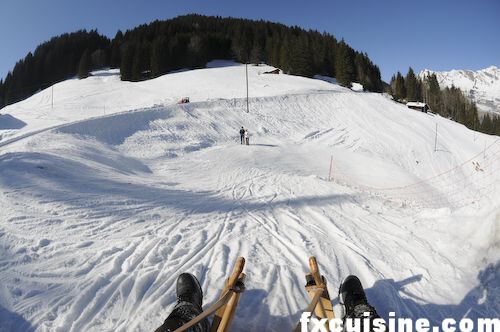 Who said luge was for kids? This is a seriously steep slope, and gravity is not on my side.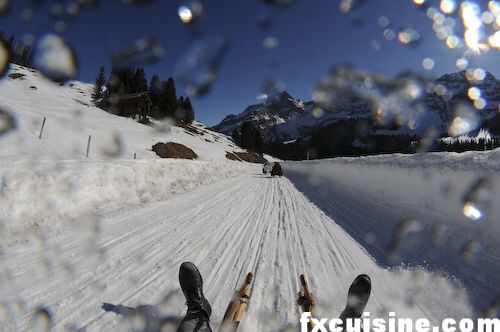 Too late to chicken out. Off we go! I brake with my heels all I can, sending two whirlwinds of ice-cold snow into my lens. I ended up with icicles on my camera but hell, it said weatherproof on the box.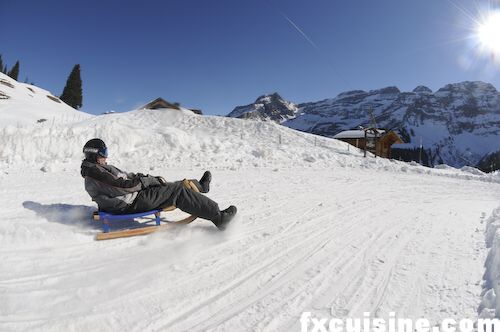 John passes me over. He is not of the braking type and only digs a heel in the direction he wants to turn. Very fast!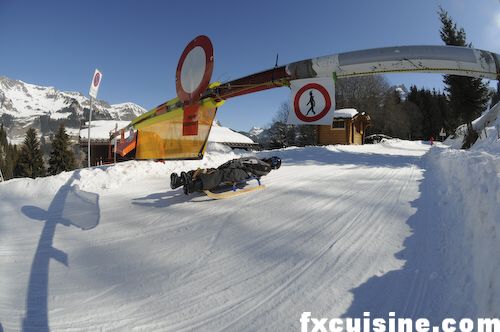 Now for the test of the brave. A large metal barrier closes the luge track so that pedestrians don't use it to climb the mountain. As you go down the track on your luge, you need to lay flat on your back to avoid crushing your head at full speed against the pole. My lens exagerates somewhat the barrier height - in fact it is really, really low. A doctor I know lost the use of his legs just after this barrier.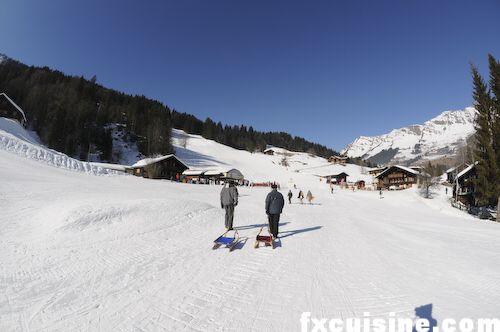 One more descent, then we walk back to John's chalet for the culinary part of our little adventure.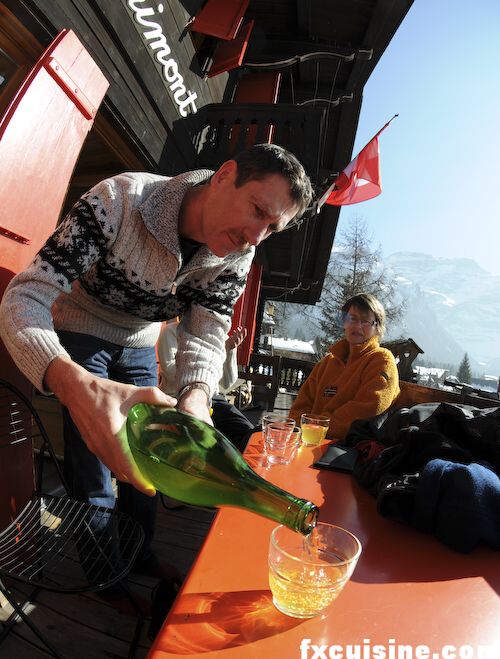 Christine, John's lovely wife, welcomes us and explains that the same morning she received a huge bottle of homemade apple juice from neighbors who made it with fruits from their orchards. 'They mix several kinds of apples to balance the flavour,' she explains. John serves me a glass - what a treat! We are at freezing temperature, I even saw the river fume this morning. And yet, here on John's beautiful wooden balcony, I start peeling off layer upon layer of clothing. Believe it or not, my snow-soaked pants start to steam as the water evaporates in the strong sun.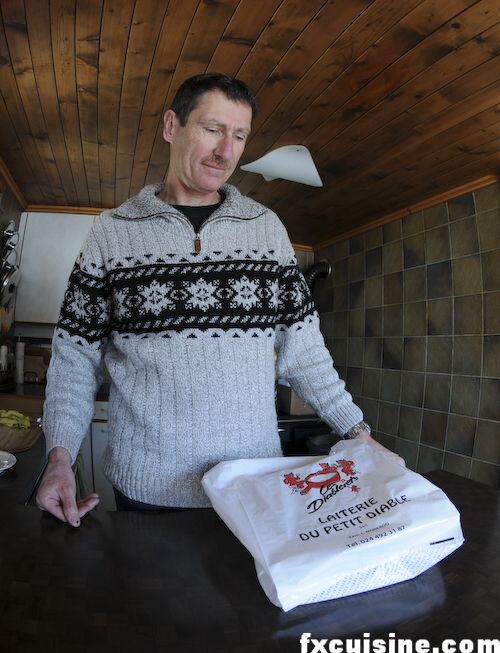 All this is very nice, but after a day out in the great Swiss Alps, my only question is : What's cooking? As I enter the kitchen, John is opening a bag from the local cheesemonger, La laiterie du petit diable 'the little devil cheesemonger', the best up there in Les Diablerets.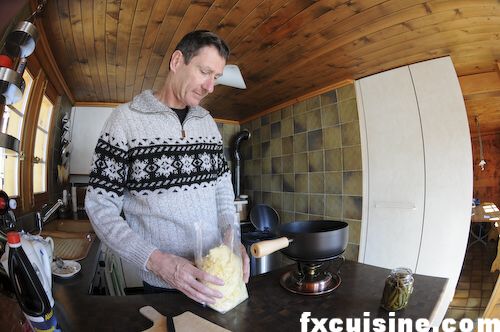 As John cuts the grated cheese bag open, Christine explains: 'I went to the milk shop this morning. They grate the cheese fresh, half Gruyère and half Vacherin. Then they add a little cornstarch and seal it in the bag. John makes the fondue, me I never get it right!. Fondue-making in Switzerland is a bit like barbecueing - a matter best left in the able hands of the pater familias, the head of the family, the man. Most of us Swiss men don't cook, but we have a monopoly on grilling and fondue-making. It's a cultural thing.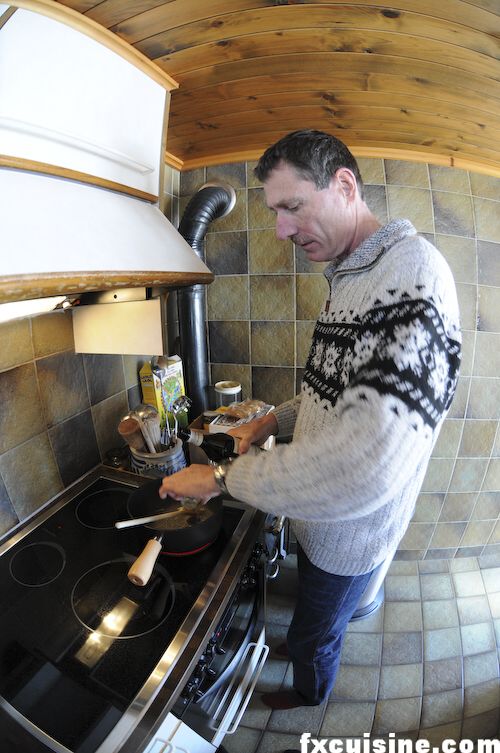 Now we start. John rubs a garlic clove cut in half all over the inside of his caquelon (crockware or cast iron pot). He heats it on medium high, leaving the cloves inside (some people take them out but this is really not a website for garlic haters), then pours a couple glasses of white wine into the pot. In Eastern Switzerland they make it with cider.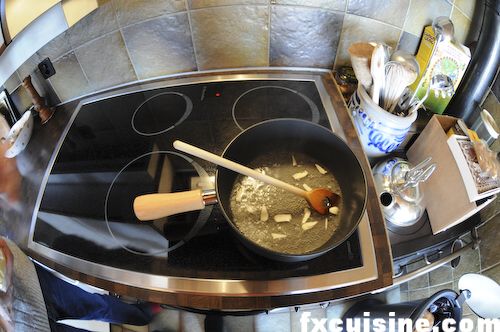 The wine starts to boil.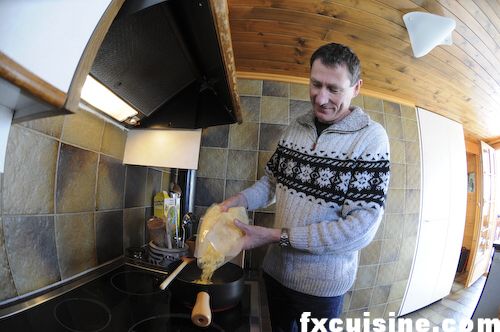 When the smell of alcohol disappears, he empties the grated cheese into the hot wine and mixes vigorously.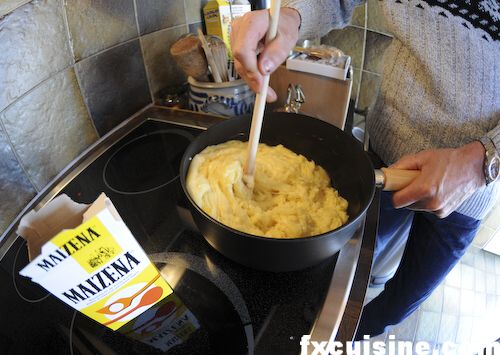 A pinch of cornstarch (called Maizena in Switzerland and in many other European countries) will help the cheese fat mix smoothly with the wine. When a fondue 'splits', the fat makes a separate phase and nobody will eat it. There are a few fixes if this happens, but this is a real party pooper.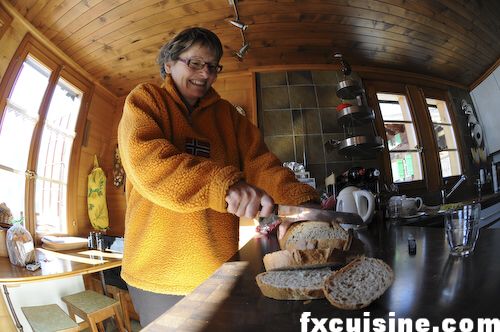 Christine cuts the bread in thick slices - 'Today that's my job! she explains merrily.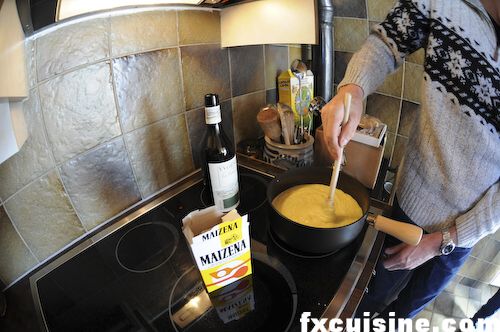 The cheese is now fully melted and makes a smooth mixture. John keeps turning constantly.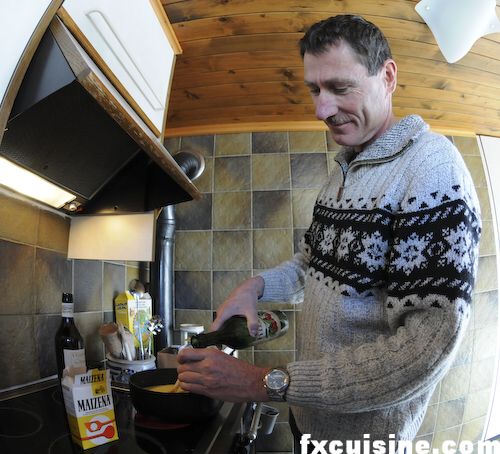 Christine pulls out a bottle of locally-made kirsch (cherry brandy) and John pours a glass into the fondue, mixing it in vigorously.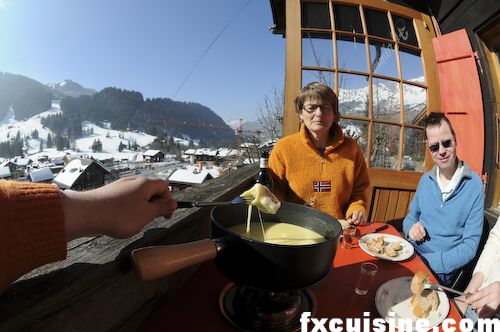 That's it! The table is set, let's turn the heater on and bring the fondue pot. I am the first to try - delicious!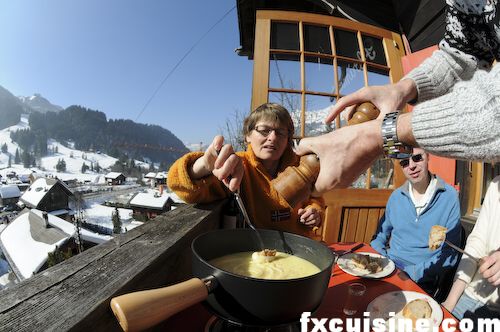 Pepper. The custom is to ask all the diners whether they like pepper. If they do, the black pepper is freshly ground directly into the pot. If not, each guest makes small mount of ground pepper in his plate and rubs the cheese in it just before eating.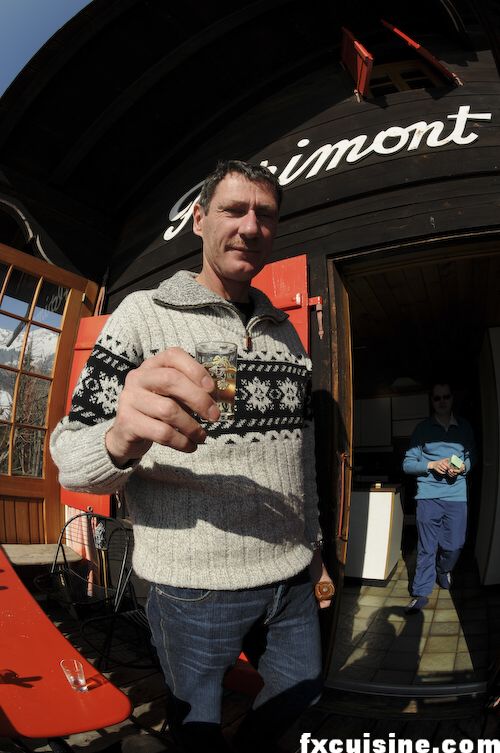 Santé! To your health, we drink the remaining white wine. Melted cheese will play nasty tricks on your stomach if you drink anything but wine or hot tea. Try a coke to prove this wrong and you'll be sick.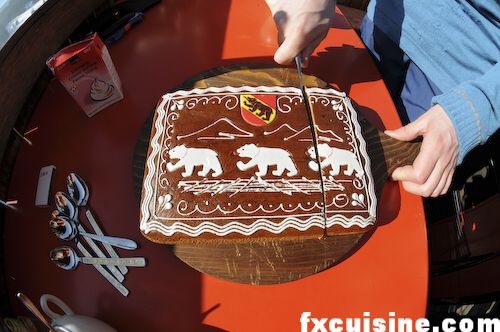 Bernard, a family friend who works for the Swiss Federal Banking Commission in Berne, brought a typical sweet - gingerbread with Bernese symbols on the icing - or is it a Bearnese dessert from Bearnard?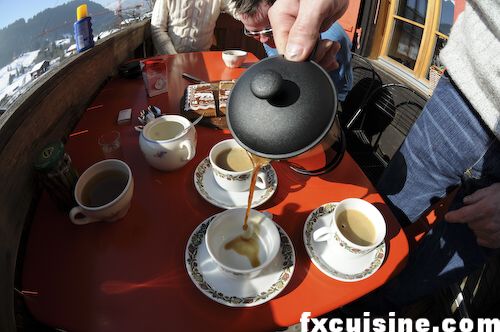 Coffee to help us cope with the fondue calorie shock.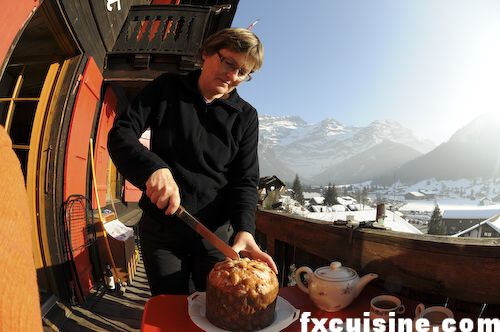 And finally my own contribution, a delicious artisan Panettone from Augnet in La Tour-de-Peilz I bought on the way.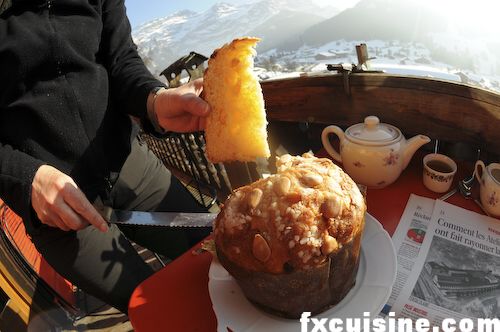 Conviviality, friendship and simple pleasures - another day in paradise!
Thanks to Trice Bryan for her kind editing of my Swiss mountaineer's English!
122257 views
Related Articles

A night at the Liboson ***
A memorable fondue in an over-the-top dungeon chalet straight out of a Hammer film. Our host, Paul du Marchie, has been building an architectural fantasy in the middle of the woods for the last 50 years. Dont' miss my eight 360° panoramas!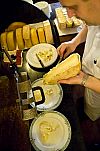 Swiss Raclette *** Popular
The national dish of Valais, my Swiss canton, raclette is the most gorgeous melted cheese you will ever have. Here at its best at the Manoir de Villa in Sierre.

Swiss Alpine Pasture Cheese Croûte ***
How I bought cheese in a small cheese making chalet in the Swiss Alps 2 hours walk from the last road and how I turned it into a delicious Croûte au fromage.


Hard Core Swiss Vacherin Cheese ***
Follow me as I wake up in the wee hours of the morning to see Swiss armailli make a unique cheese in a small chalet up the Gruyere Alps.

Swiss Cheese Fritters ***
The mighty Beignets de Vinzel is a cult dish from the Swiss coast of Lake Geneva. It would fit nicely into the Scottish Diet.
Copyright FXcuisine 2023 - all rights reserved.
If you do this recipe at home please let me know how it worked for you by submitting a comment or send me a picture if you can. Thanks!