Swiss Alpine Pasture Cheese Croûte
Home
>>
Experiences
How I bought cheese in a small cheese making chalet in the
Swiss Alps
2 hours walk from the last road and how I turned it into a delicious
Croûte au fromage
.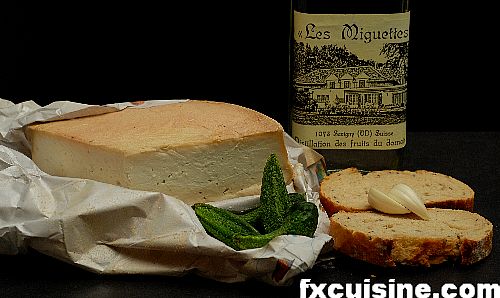 One of the simplest and most popular Swiss recipes is the croûte au fromage, a hearty celebration of melted Alpine cheese over toasted bread with a hint of garlic and a generous amount of fruit brandy. Delicious and foolproof if you follow my instructions. Here is how I bought the cheese used in this recipe directly from a small cheese-making chalet in the Swiss Alps - 2 hours' walk from where roads stop.
We have mountains in Switzerland - lots of them. Some are tall and spikey like the Matterhorn, but others are low (2000m/6000') and referred to as montagnes à vaches 'cow mountains', because they are turned into pastures for cows during the summertime. And this is where us glutoons start to pay attention, for the very best Swiss cheese is born on these lowly cow-mountains despised by the summit-climbing jocks. Any Swiss worth his cheese knows that good cheese comes from good milk. You cannot get good milk unless your cows eat a well-diversified diet of fresh plants. Cows in the plain eat hay and industrial animal food. No surprise, when this garbage is processed through the cows' intestines, the resulting milk does not have an impressive taste. But cows who pasture on alpine meadows - known as alpages - enjoy a diet of the freshest flowers, herbs and grasses.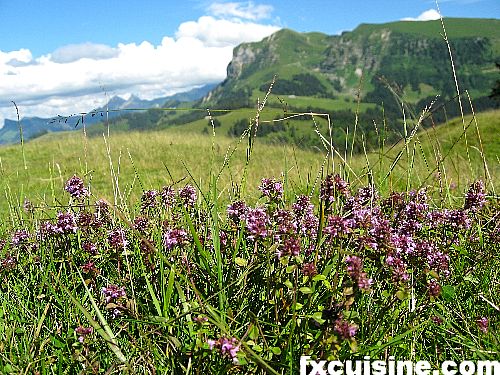 Last week-end I drove up Les Alpettes cow-mountain where the Gruyère county meets Lake Geneva and measured the amazing diversity of the plants growing there. Bunches of wild thyme in full flower made for pinkish patches here and there (picture above).

We left the car where the road stops and after two hours' walk we reached a huge meadow with a tiny chalet d'alpage in the middle.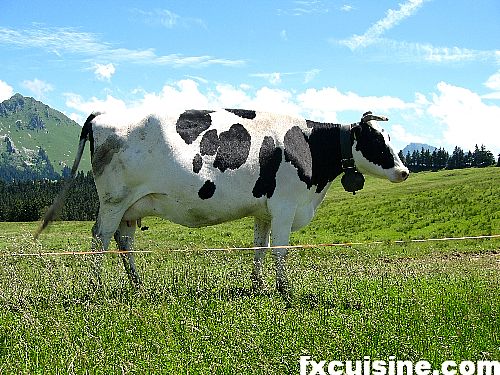 As we drew near, we met the creatures whose milk was turned into cheese inside the chalet. Tiny white goats and the trademark Gruyère cow, with black and white patches like if you had spilled a gallon of ink on their backs.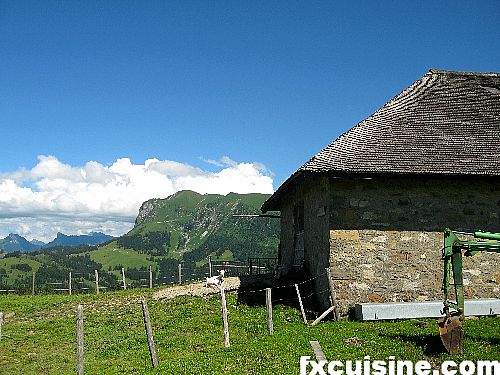 The chalet d'alpage (Alpine pasture chalet) was clearly active and I drew near. This chalet is the real thing, well outside of the beaten track, apart from a few hikers and the occasional mountain biker, few tourists ever set foot up there. It is designed to shelter the cows during bad weather and allow a man to leave in it for half the year and make cheese. Some of these chalets have huge war dogs but the dog here was nice and chained. I entered the chalet.
| | |
| --- | --- |
| | |
The armailli was inside. An armailli [ahrmahyee] is the Swiss equivalent of an American cow-boy. like his US brethren, he wears a distinctive clothing, blue pants and a blue jacket called bretzon [bruh-tzon] and often a small cap like people wear at the synagogue. He had a hat instead. These guys come up to the chalet d'alpage with their cows in the Spring and stay up there the whole summer. They come back down in September. In the Gruyère you will see huge traditional paintings known as poyas [paw-yah] picturing the armailli leading his cow herd up or down the alpage. A very impressive sight when your car gets stuck in the middle of the herd. On a shelf he had the shapes for the tommes.
I greeted the armailli, complimented him on his beautiful pasture and healthy cows and asked whether I could buy some cheese. "Sure you can - come on inside", he answered. The man let me into his kitchen, a small place with walls and ceiling black from the heavy smoke of the huge opened fireplace in the back where two gigantic caldrons were hanging. That's were he made his cheese, using the wood for fire. No electricity in these chalets. "where do you get the water from?" I asked. "Water is never a problem. We have four different springs up here. It just streams through.". The caldrons were clearly too heavy for one man to lift and empty outside, and the entire kitchen floor was soaked in whey, which flowed towards the exit and dried.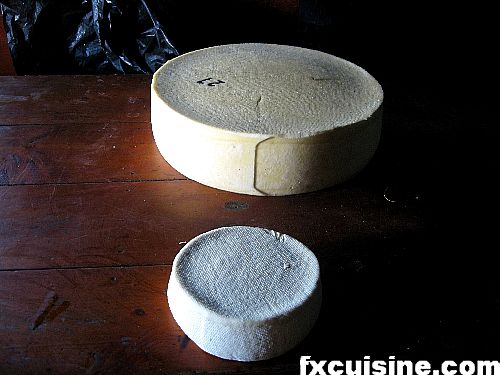 On the table lay the two cheeses he made that day, a goat tomme (front) and a small Gruyère (back). "What sort of cheese do you make?" I asked him.
"From time to time I make a Gruyère, but I'm getting fed up with the Gruyère song-and-dance, it's really a tricky cheese to make. This morning I had all sorts of trouble with the acidity level. I'll make a Gruyère only if I have time, otherwise I make vacherins. Do you want to taste some?"
. Of course I did!
"Well then, come on in the back."
.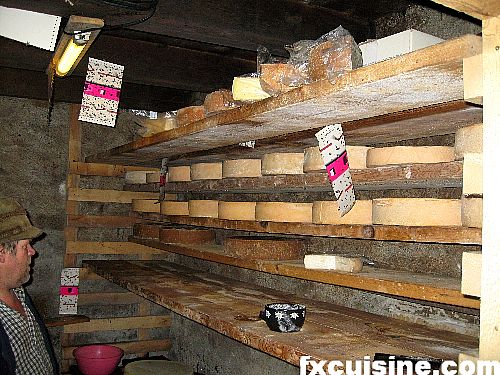 We moved to an adjoining windowless room with pebbles on the floor. That's where he ages his cheeses. They were on wooden racks. "I rub them in a saline solution twice a day." We were very far from the hospital-clean industrial cheese factories down in the plains. Here at last was the real thing, the single guy in his chalet making and aging his cheese alone on a mountaintop. I tasted all of his cheeses and bought as much as I could afford with the change I had. Very affordable cheese in fact, but if you're short of change the closest bank is about 4 hours away. I must have spent an hour chatting with this guy about his cheese, really a most decent fellow.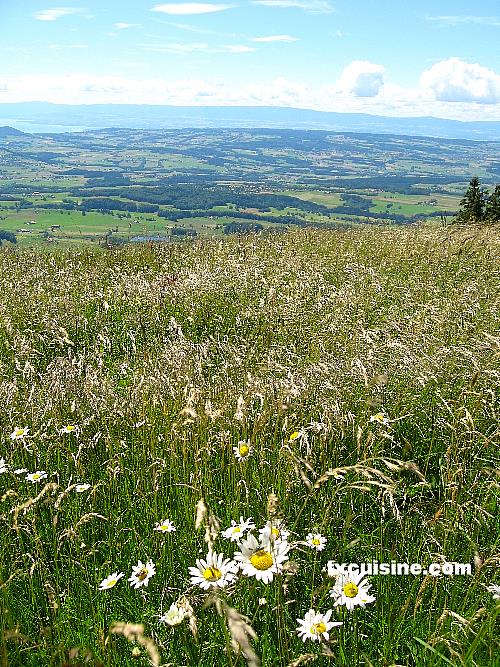 I took my cheese with me and walked on until the pasture turned into a cliff. From there in one glance you can see Lake Geneva and the Lake of Neuchâtel with the entire canton of Vaud in the middle. No sound other than the wind across the grass. I lay on the grass and slept in the sun with half Switzerland unfolding below my feet. That was the best thing I did that week.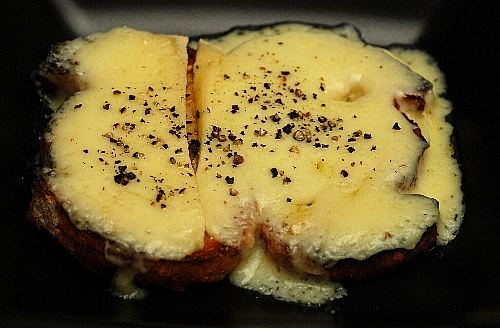 Swiss Croûtes/Tranches au fromage
Cheese crust like in the Swiss Alps
For each guest as a hearty main course:
2 slices stale bread
2 slices cheese 5mm/0.2'' inch thick
Apple, quince or cherry brandy
Black Pepper
A clove garlic
A deep oven-proof plate

Some cheeses melt better than others. You need a full fat hard cheese, if possible unpasteurized, Swiss and au lait d'alpage , milk of cows who pastured an Alpine meadow rather than some crap in a barrel. There is a world of difference in the resulting product, just like for wine or tea.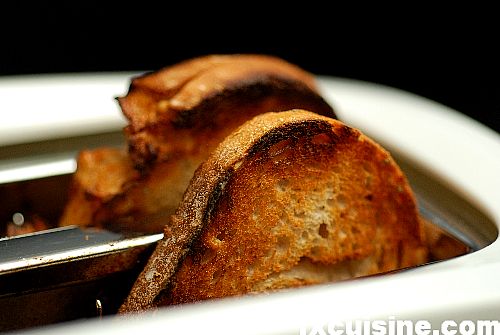 To make a proper croûte you need your bread to be as dry as possible. Ideally use stale bread cut into slices and left uncovered for a few days. Toast two slices of bread or enough to cover the bottom of the hollow oven-resistant plate you will present each of your guests with. Swiss restaurants routinely toast the bread directly on a live gas flame on their stoves, and they always burn it. Nobody complains as it is buried under the cheese but the bitter burnt bread taste is perceivable. So toast it but don't burn it.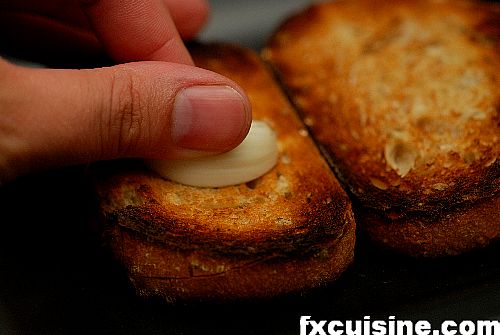 Cut the garlic clove in half lengthwise, remove the inside stem and scrape it against the bread. Garlic lovers will be tempted to put a whole crushed garlic clove into the croûte but the taste will be overwhelming, you won't digest it so well and after an hour or so you'll be left alone in the room.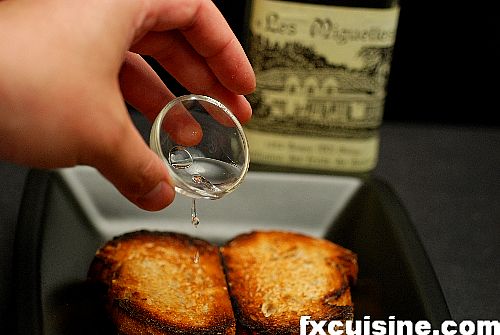 Sprinkle a tablespoon of fruit brandy over the bread slices. There is nowhere you can hide a poor ingredient in such a simple dish. Use the best fruit brandy you have, a distillation of fermented pears, cherries, quince or apples. I used my bottle of President Mobutu's quince brandy which I bought at his house near Lausanne.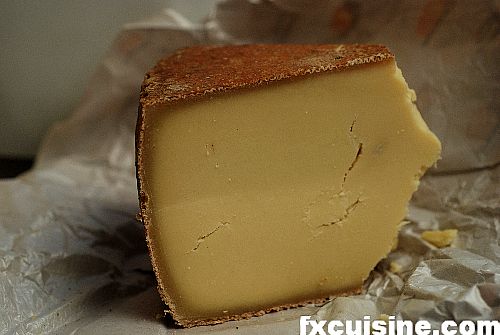 The right cheese for a successful croûte should melt nicely. The armailli's Gruyère was just right - not too hard and packing a concentrate of the alpine pasture's grass, herbs and flowers.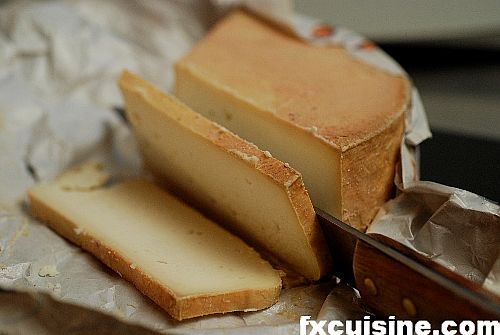 Cut the cheese in 5mm/0.4'' thick slices and remove the crust. Some people would leave the crust after scraping it but it's good only if you manage to really roast it under a strong broiler, and that is hard to achieve without splitting the cheese into an oily mess.
I prepared a second croûte with the Vacherin (picture) although its melting property where not as attractive given its age. Clearly over the hill but you won't find that much taste in any cheese shop even in Switzerland.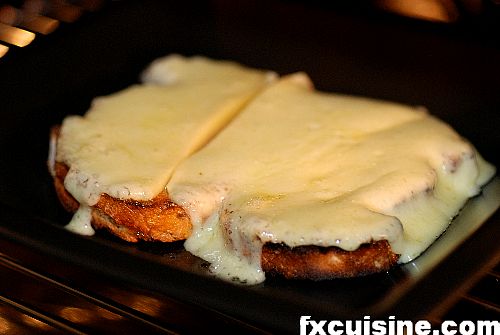 Cover the bread slices with the cheese and melt in a medium hot oven. Too hot or too long and your cheese will split. Watch carefully, it should be ready in about 5 minutes or so. When the cheese is fully melted take it out and don't wait for oily flecks to appear.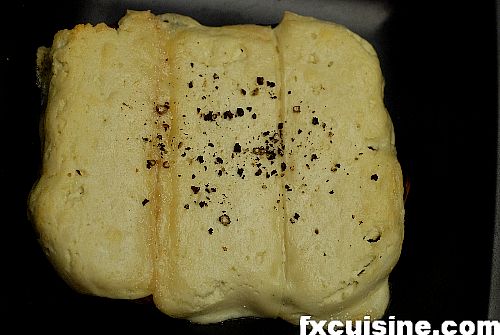 Serve hot with a little crushed black pepper or powdered white pepper. Do not drink anything but hot tea or white wine with melted cheese or you'll be sick. This applies also to fondue and raclette, two Swiss dishes related to the croûte au fromage.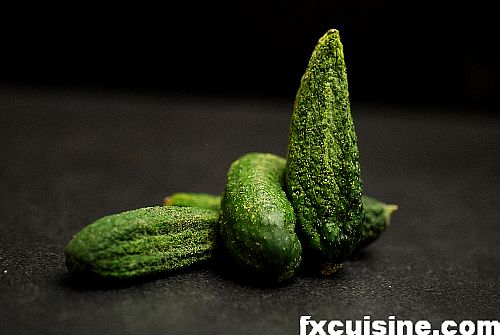 Many people like to eat pickled onions or cucumbers with Swiss cheese dishes.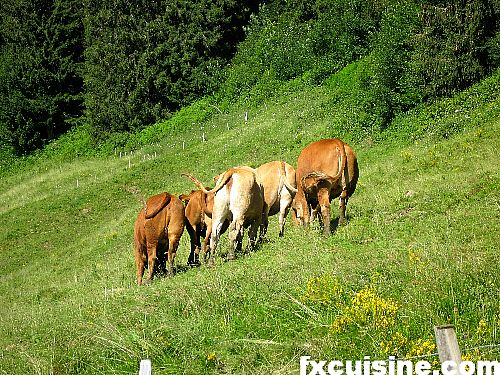 I hope you liked this little trip in the heart of Switzerland's cheese culture and hope you'll have one day a chance to taste real alpine pasture milk cheese - fromage au lait d'alpage!
166960 views
Related Articles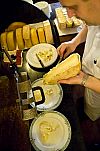 Swiss Raclette *** Popular
The national dish of Valais, my Swiss canton, raclette is the most gorgeous melted cheese you will ever have. Here at its best at the Manoir de Villa in Sierre.

Hard Core Swiss Vacherin Cheese ***
Follow me as I wake up in the wee hours of the morning to see Swiss armailli make a unique cheese in a small chalet up the Gruyere Alps.

A night at the Liboson ***
A memorable fondue in an over-the-top dungeon chalet straight out of a Hammer film. Our host, Paul du Marchie, has been building an architectural fantasy in the middle of the woods for the last 50 years. Dont' miss my eight 360° panoramas!

A Day Out in the Swiss Alps ***
Last weekend my friend John invited me to spend the day at his chalet in the Swiss Alps. We sledged down the fearsome 5-miles-long run and finished with cheese fondue.

Swiss Alps Ricotta ***
See how we make sérac, the Swiss ricotta, up in the Swiss Alps and learn about about Swiss cheese botanics with a field trip to see what the cows graze up there.
Copyright FXcuisine 2023 - all rights reserved.
If you do this recipe at home please let me know how it worked for you by submitting a comment or send me a picture if you can. Thanks!