Lasagna From Scratch
(page 2 of 2)
Home
>>
Recipes
One of the most memorable pasta ever -
lasagne bolognese
made from flour, eggs and sweat!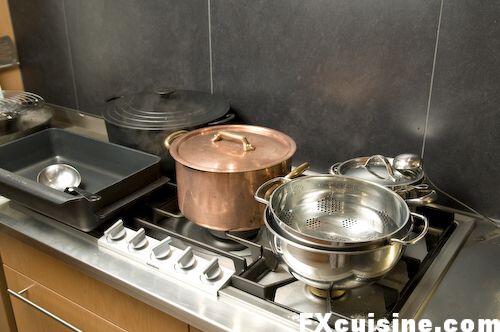 An organized workspace is essential! Clockwise from the top left: A large black pot of ragù bolognese, a small stainless steel pot of white béchamel sauce, a stainless steel colander and pot full of ice cold water to instantly stop the cooking once the lasagna has been blanched, a copper pot of boiling salter water and finally a large rectangular ovenproof dish. That's where it will all end.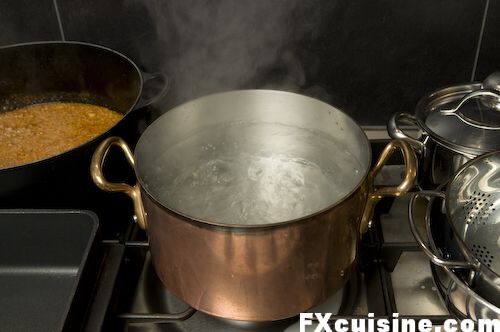 When the water is boiling like a caldron from hell, turn the heat up to make sure it will continue boiling even after the pasta absorbs part of the heat.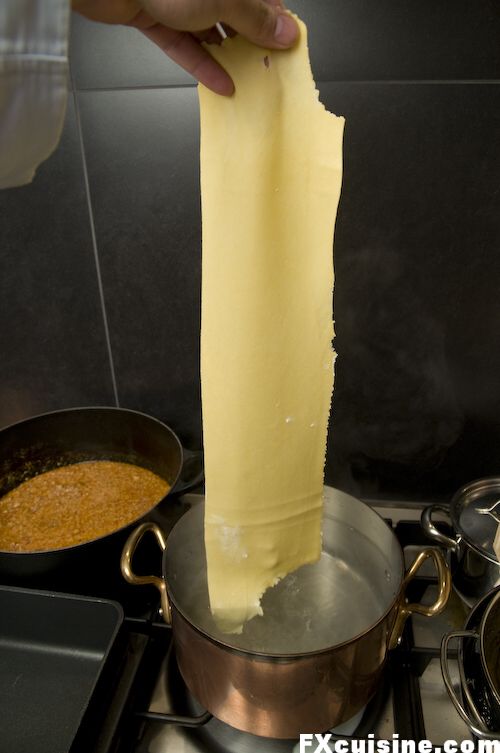 Plunge the lasagne one by one into the hot salted water. Please consider that I could have trimmed the lasagna to remove the unsightly serrated edges, but to some see this as a desirable telling sign of homemade pasta. You can see what happens when you flour the pasta or incorporate tiny grains. Nothing goes away, instant lasagna karma.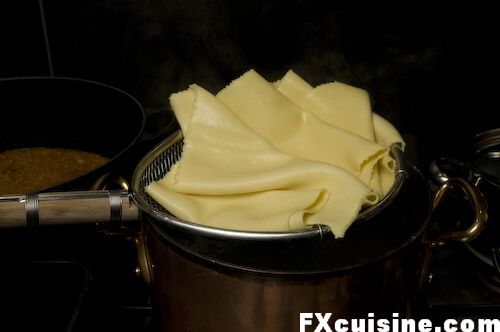 Do not actually cook the lasagna, just boil it for a few seconds to stiffen the pasta, then remove using a skimmer or shallow sieve. Please, please, do not ever pour down the pasta into a colander with the boiling water. This is nearly criminal. Not only will you tear your pasta but it means you will have tried to cook everything in one batch, rather than cooking it a few sheets at a time.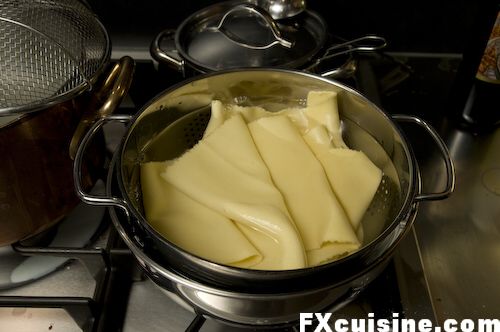 Immediately immerse the cooked lasagna into a bowl of cold water to stop the cooking. If you don't do this you will end up with overcooked pasta unfairly known in my parts as a Swiss-German floorcloth pasta. You haven't cooked for hours to eat that.
Cover the bottom of your ovenproof dish with a layer of pasta. Please consider that you may have to cut some of the very long pasta sheets, or fold them in half or pile them on top of each other to achieve this. Place some hot ragù bolognese on top ...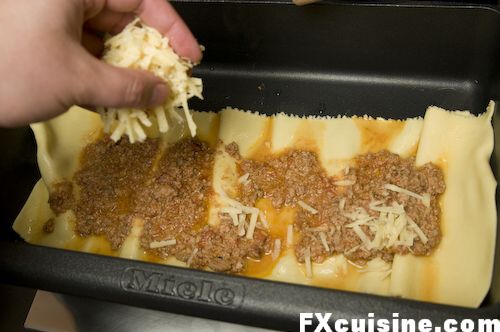 ... then a little grated parmesan cheese ...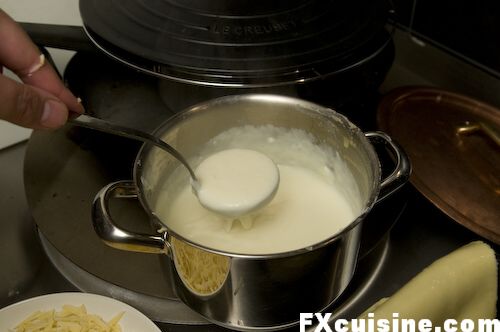 ... and finally some béchamel sauce. The béchamel is never mixed with the ragù, these are two separate layers.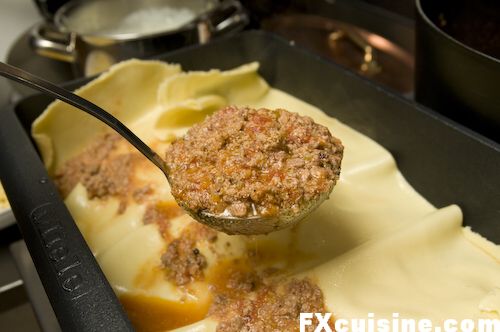 Continue with another layer of pasta and ragù ...
... now we have covered most of the dish's bottom.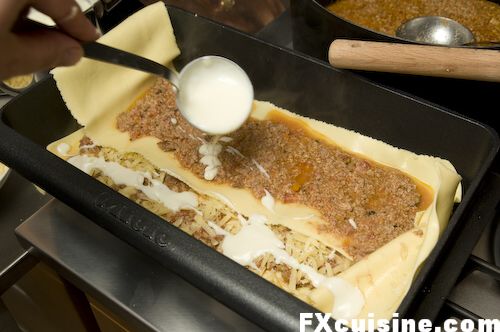 Proceed with the béchamel ...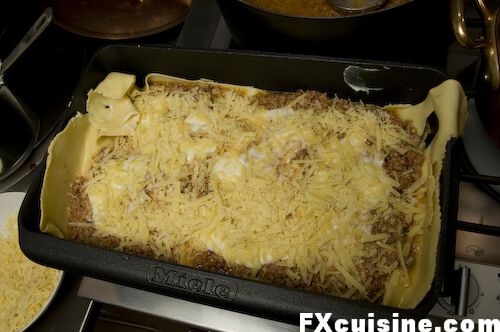 ... and more cheese.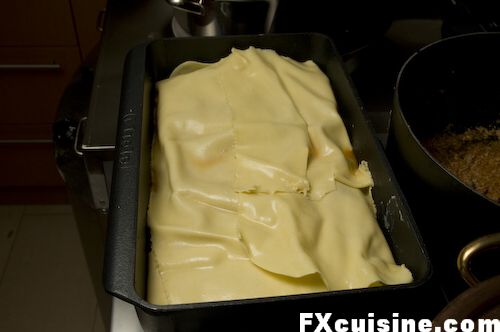 Finally our top layer, well wrapped in the pale yellow pasta...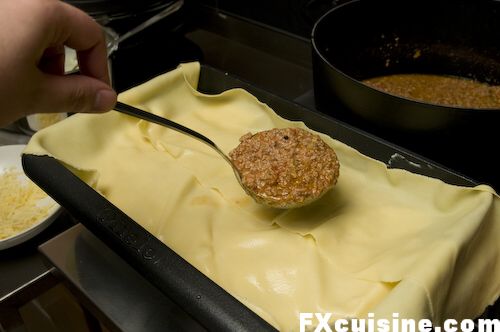 ... then some ragù.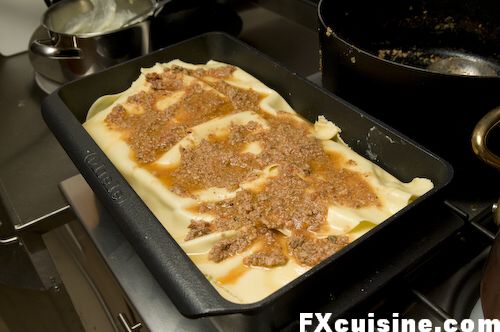 Please consider that not all households in Bologna place ragù on top.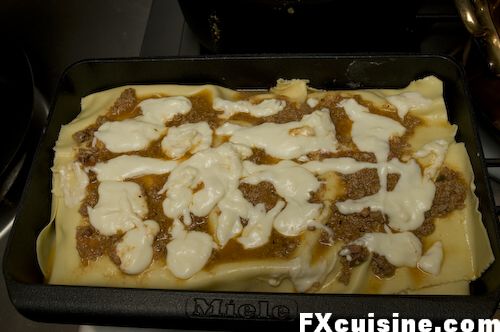 Finally the rest of your béchamel ...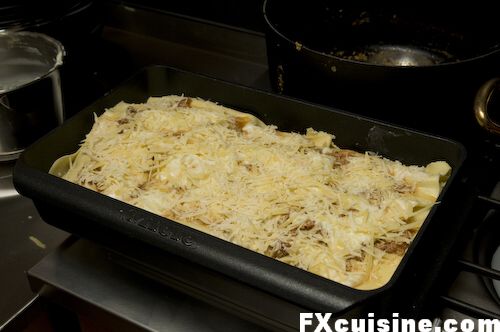 ... and the cheese to get a nice crust. Bake in a medium hot oven (180C°/350F°) for about 40 minutes or as long as it takes for the lasagna to bubble and color on the top.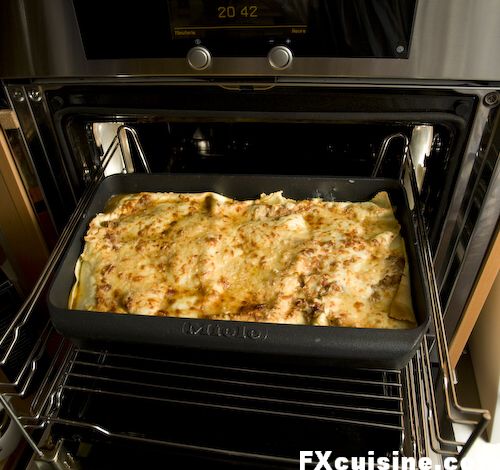 Here comes that pivotal moment when the blabbermouth stops talking, the conceited prima donna looks up from her mirror, the teenager closes his phone, your brother-in-law shuts the TV off and all congregate in silence around the oven. As the dish slowly comes out the dark crucible and into the light, they whisper: All we saw enter the oven was flour, water, ground meat and some spices, and behold this wonder! What miracle could turn these mundane ingredients into this marvel?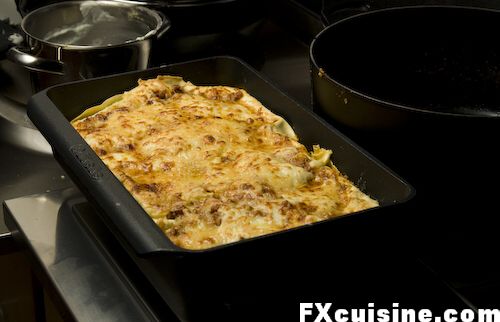 The smell fills the room. Have your guests leave the kitchen and sit at the table. Bring her majesty the lasagna out. Let her rest one last time so that everything sets and won't slip as you cut it.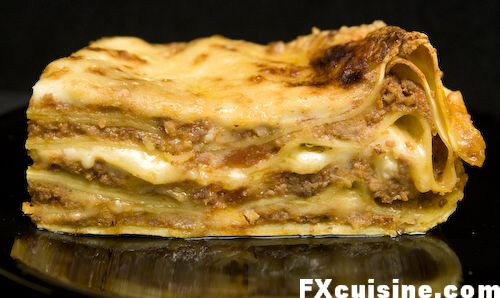 Cut into rectangular portions with a metal scraper.
The lasagna needs no side dish.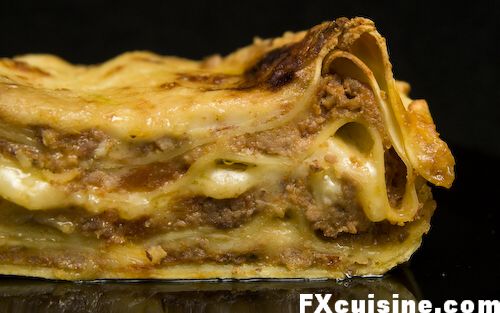 Tell them you saw this on FXcuisine!
As always, many thanks to Beatrice Bryan from Alsatia for her patient proofreading
445482 views
Related Articles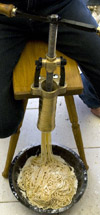 Bigoli, Bigolaro, Bigolarist ***
My largest and most unusual pasta-making accessory, the bigolaro, made 28 fat spaghettis, called bigoli, each as long as the room. Served with the traditional duck ragù, this made my guests very happy despite the fact they had to make their own pasta.

Italian Minestrone Vegetable Soup ** Popular
The most delicious traditional Italian peasant soup, simmered for three hours. Learn how to make this soup with your local seasonal vegetable and the three secret ingredients that will make your soup really Italian.

Serious Ragù Bolognese ** Popular
Bolognese is one of the most famous dishes in Italy, but where outside Bologna can one eat a proper ragù these days? Right in your kitchen if you follow my recipe.

Priest-stranglers in Neapolitan Meat Sauce **
These gnocchis served in the cult Napolitan ragù sauce would be a world-famous dish if they didn't take 7 hours to cook.

Pasta con i fagioli **
Homemade wholewheat spaghetti with a delicious beans ragu for a typical Tuscan peasant dish.
Copyright FXcuisine 2021 - all rights reserved.
If you do this recipe at home please let me know how it worked for you by submitting a comment or send me a picture if you can. Thanks!