The Four Hour Lunch
(page 2 of 2)
Home
>>
Experiences
Lunch with my father at the best restaurant in Switzerland - and beyond. Don't miss the exclusive behind-the-scenes 360 panorama of the kitchens!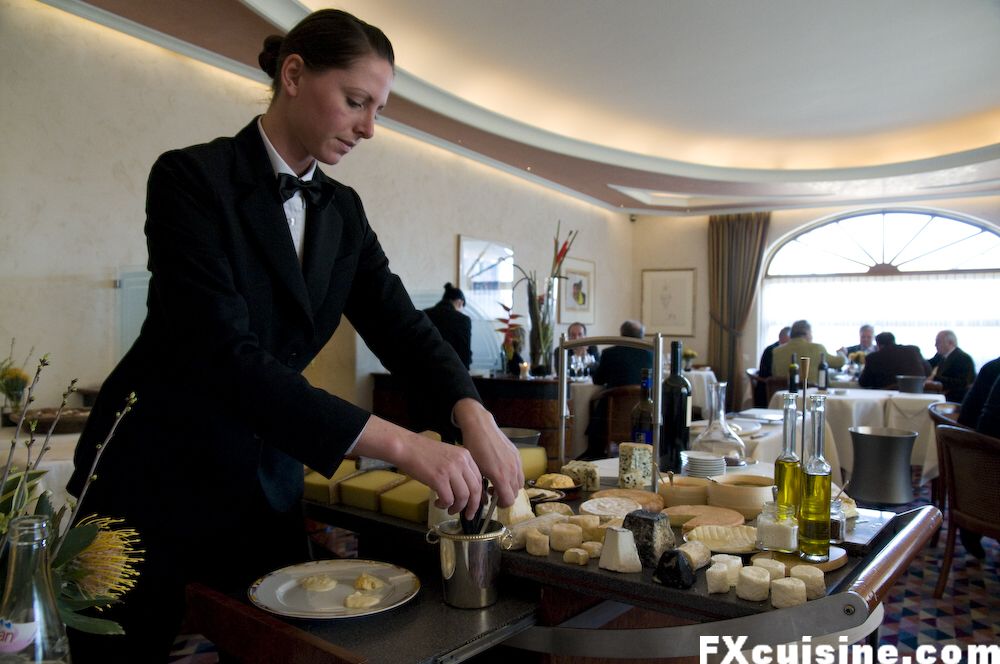 «A meal without cheese is not a meal», an old French professor always tells me. Well, the very best place to taste cheese in any cheesemaking country is a gastronomic restaurants. Chefs make a point to offer the best local cheeses served at perfect maturity. I usually don't take the cheese to keep the calorie bill down, but the gentleman we were having lunch with is an important man in the Swiss cheese industry. I just had to. «Close your eyes and think of Switzerland», I told myself.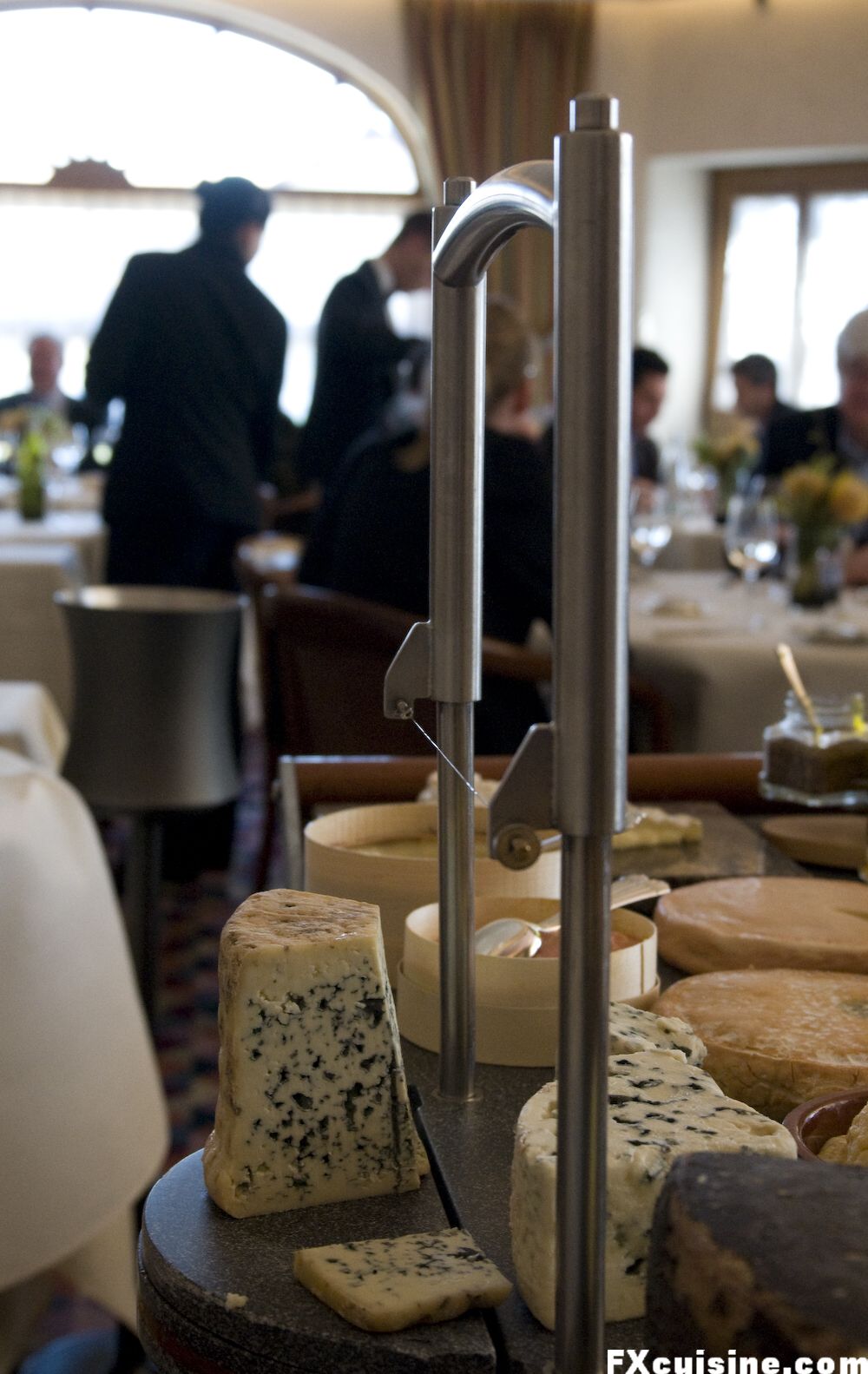 Let's keep this simple - fresh goat cheese with olive oil, sea salt and pepper. Then a slice from the Roquefort guillotine to go with Rochat's marvellous dried fruit bread.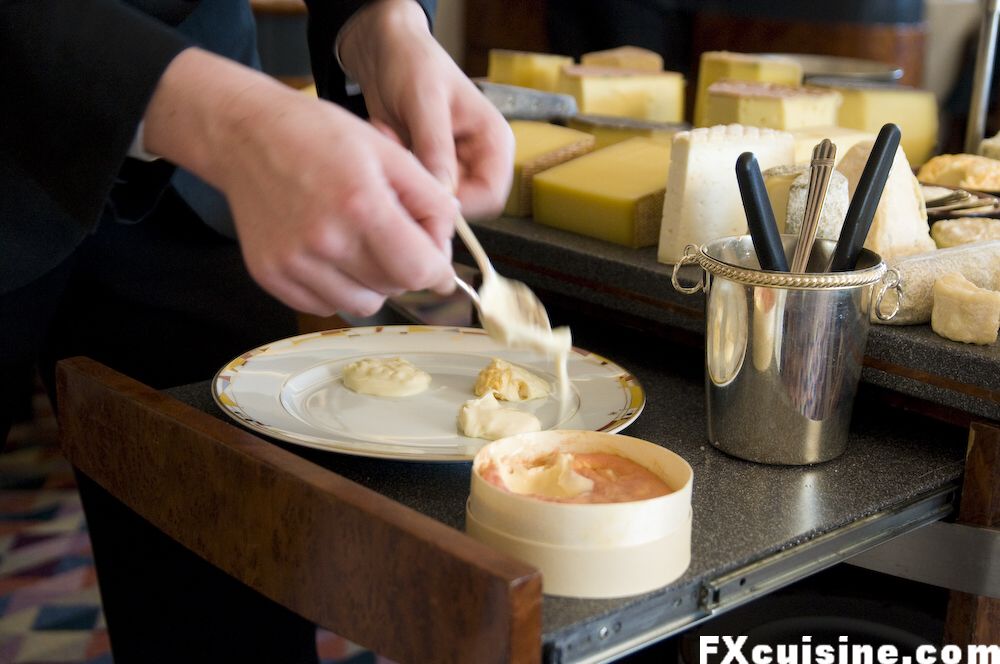 A bit of perfectly aged Vacherin Mont d'Or...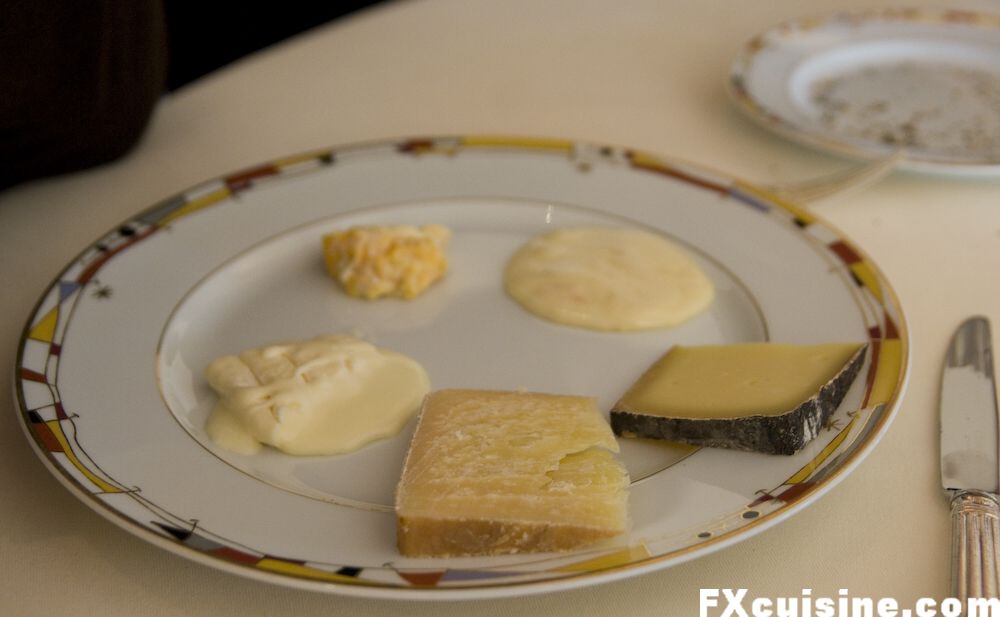 My father's choice, by order of pungency. You start with the tamest cheeses and finish with the most fiery so that you get to feel the formers.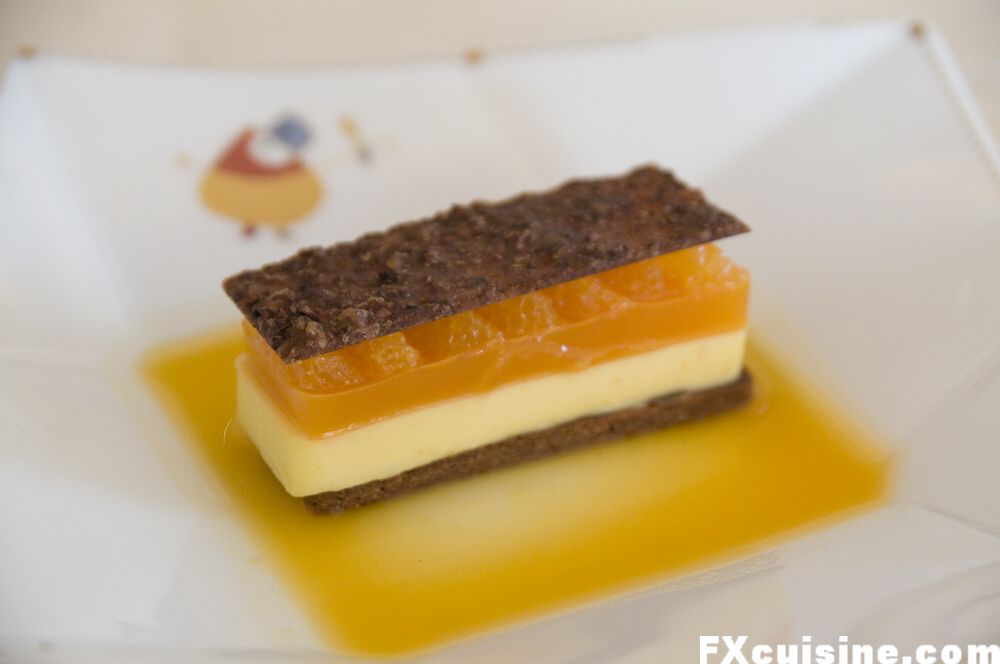 An extraordinary dessert of Sicilian tangerine custard in a hazelnut biscuit I saw the pastry chef prepare moments before. Simple perfection.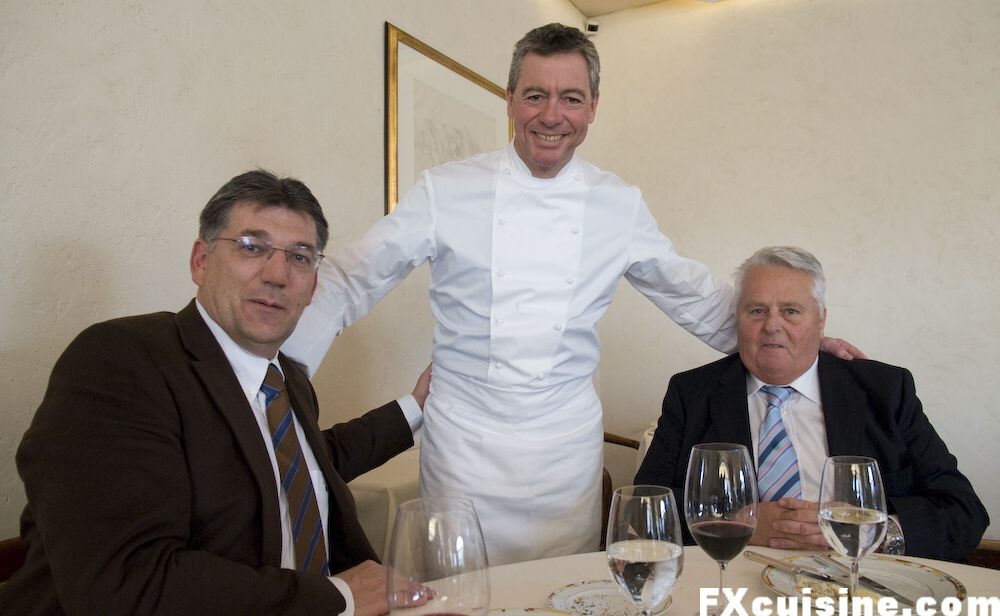 Chef Rochat is very considerate in that he always, always come and talk to every last table in the restaurant after his service. You may come there only once in your life and he will come and greet you and, as long as you speak French, he will answer any questions you ask him. Some chefs only greet the regulars, others never enter the dining room. But Rochat is a decent man. Some nights you can see he is really exhausted and tense from the long hours, but he still makes a point of coming to greet the clients. He doesn't clown around to be petted by clients. He comes only because he knows the guests are just thrilled to meet him. This is the right thing to do and makes very good business sense. And he was kind enough to pose for a picture with my dad and his friend (I asked for the picture).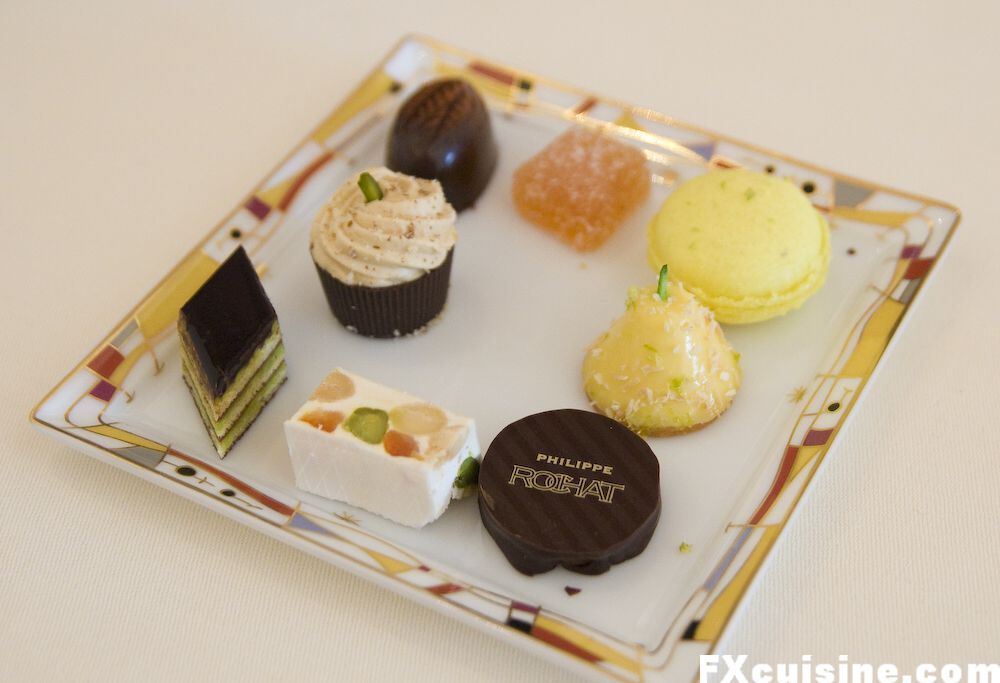 One for the road? We are well into our fourth hour as this plate of delicacies arrive, one per guest. The nougat is the best I've ever had. The whole meal was light - difficult to believe that after 12 courses I didn't feel heavy in the least. «What's for dinner?» I asked. Please consider that this was an exceptional meal in every respect. I don't eat like this very often, maybe once a year, and I never to 4 hour business lunches. But hey, lunch at Rochat with my dad is just an offer I can't refuse.
Restaurant Philippe Rochat
www.philippe-rochat.ch
Crissier (just outside Lausanne)
Switzerland
Rochat is nothing like these stiff-upper-lipped British restaurants that demand jacket and tie and a reservation two years in advance. You can get in any week day for lunch if you call the day before. You can come as you are. You can be a communist or a wickan, nobody will judge you as long as you're not vegetarian. The staff is extremely courteous and their job is to make you feel welcome and at ease. And tell them FXcuisine sent you, maybe I'll get a free duck for Christmas!
119390 views
Related Articles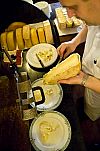 Swiss Raclette *** Popular
The national dish of Valais, my Swiss canton, raclette is the most gorgeous melted cheese you will ever have. Here at its best at the Manoir de Villa in Sierre.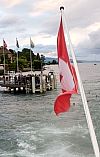 Swiss Steamer Dining ***
Dinner on a 100-year-old steamship on Lake Geneva by one of Switzerland's most famous chefs - complete with my behind-the-scenes visit of the kitchens.

Hard Core Swiss Vacherin Cheese ***
Follow me as I wake up in the wee hours of the morning to see Swiss armailli make a unique cheese in a small chalet up the Gruyere Alps.

A night at the Liboson ***
A memorable fondue in an over-the-top dungeon chalet straight out of a Hammer film. Our host, Paul du Marchie, has been building an architectural fantasy in the middle of the woods for the last 50 years. Dont' miss my eight 360° panoramas!

Swiss Alps Ricotta ***
See how we make sérac, the Swiss ricotta, up in the Swiss Alps and learn about about Swiss cheese botanics with a field trip to see what the cows graze up there.
Copyright FXcuisine 2020 - all rights reserved.
If you do this recipe at home please let me know how it worked for you by submitting a comment or send me a picture if you can. Thanks!