Proper Pea Soup
Home
>>
Recipes
Probably the best soup in the world, provided you get the key ingredient - a smoked ham bone.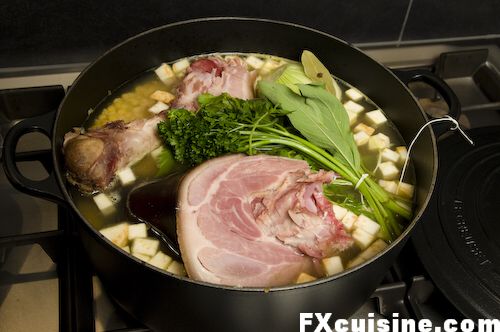 For a good peasoup, three things are needed - the peas, the ham and myself. Everything else is colored bubbles. If you can't get proper ham or a piece of barbecued pig, you might as well cook another soup as it's never going to be anywhere near good as this. It took me 2 solid month of searching and haggling until I could locate a man who would part with his ham bone. I've been offered all sorts of industrial pig-concentration-camp sorts of hams, until finally I found this extraordinary local ham. They call it a jambon de la borne, or hook ham, as it is hooked up in the huge cheese chalet chimney where people make cheese on wooden fires up there in the Alps. The ham is left until almost black with soot, and it is the most delicious smoked ham I've ever had. With such a ham all you would need really is the bone, but I could not resist leaving a little flesh right where the pig's shins dip into the shit. A unique taste, really.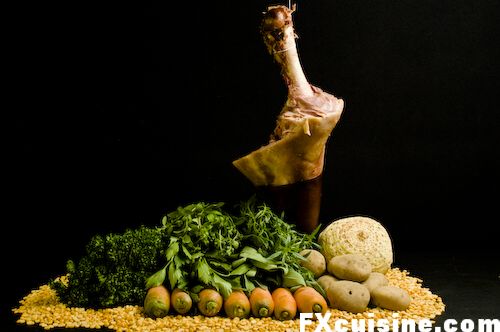 Peasoup is one of two dishes I've ever seen my old man cook, but boy was it good. It cooks for 24 hours or until the ham disappears into the soup, he used to say. Well, you don't need to cook it that long.
Peasoup
500gr / 1lbs yellow peas
Unbroken ham bone with some meat on it
4 carrots
10 waxy potatoes
1 celeriac
1 leek
3 garlic cloves
2 onions
2 bay leaves
2 cloves
Herbs : parsley, sage, thyme, oregano, celery leaves and savory.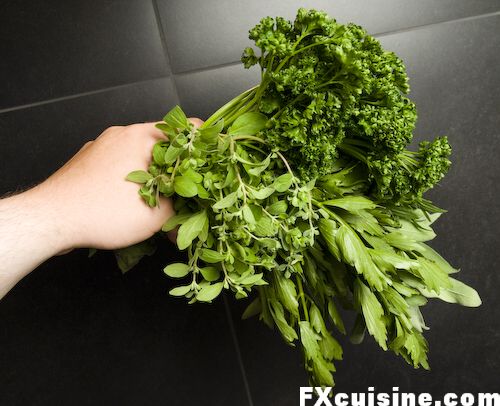 Clockwise from the bottom left : oregano, parsley, sage (in the backŘ) and my favorite, herbe Ó maggi or Ôche or lap', a wild cousin of celery.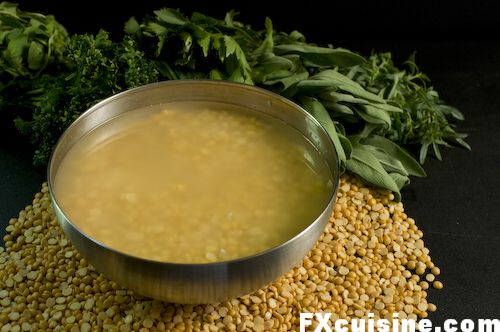 Soak the peas in water for at least 90 minutes or overnight. I recommend changing the water regularly as it seems to reduce their use as a chemical weapon.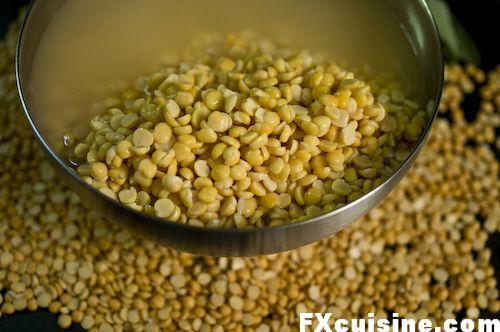 Some of the sugars at the source of flatulence are dissolved in the soaking water - make sure you discard that water.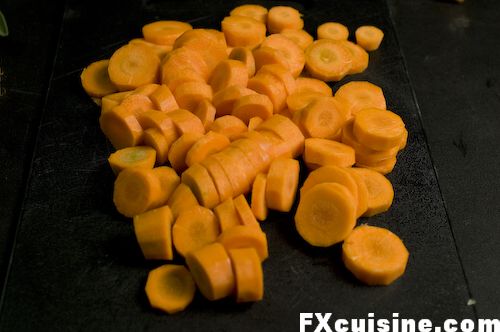 Peel, wash and chop the carrots...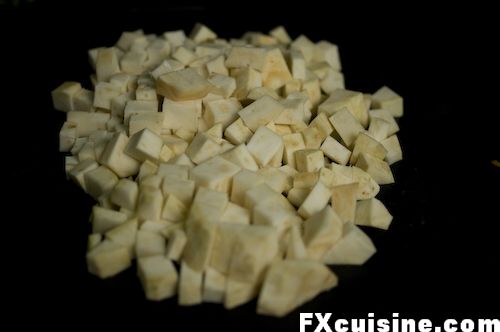 ... celeriac ...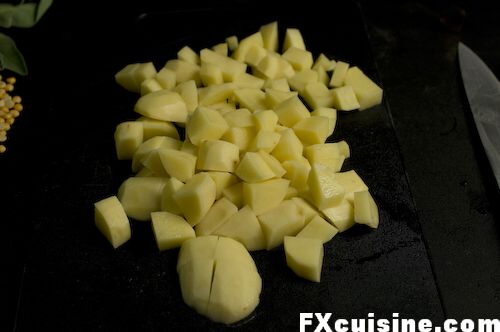 ... and proceed likewise with the potatoes.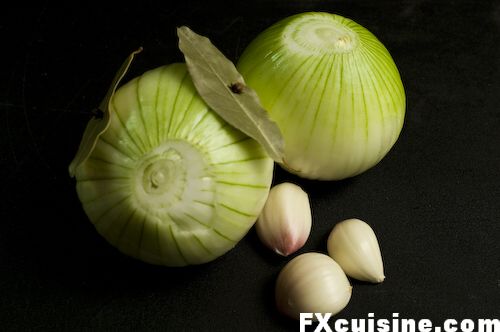 Peel the onions and nail the bay leaves on one onion using the cloves. Finely dice the other onion. Finely chop the leek as well.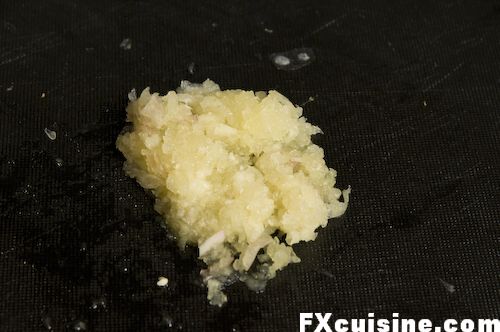 Crush the garlic. Whenever my father walks into the kitchen, if he sees something cooking that has garlic in it, he'll go Please double the amount of garlic. If you answer But Dad, I already did he'll just reply Well, then boy, just double it again. In other words, the amount of garlic you need to use very much depends on your tastes. Please consider that boiled crushed garlic is way more pungent than sliced or fried garlic.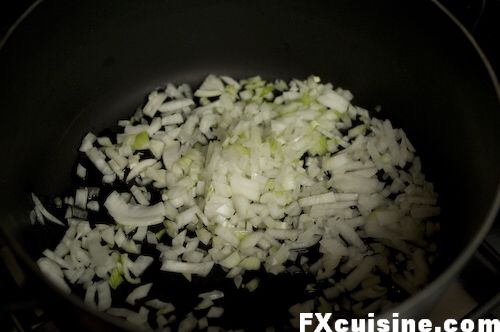 In a large cast iron pot fry the onions and leeks in a little oil until soft.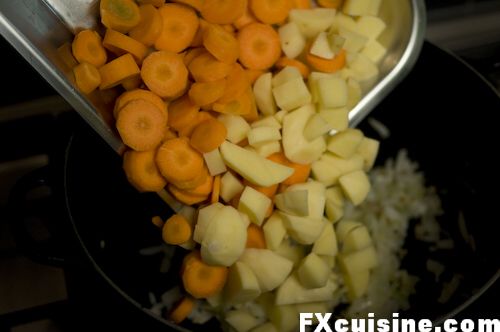 Add the diced vegetables ...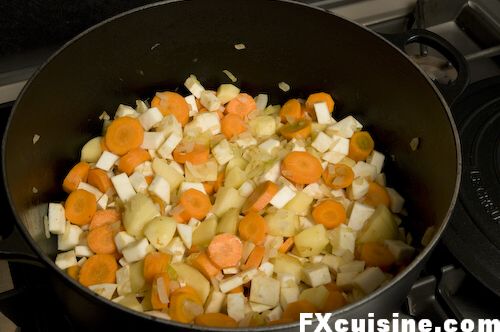 ... and toss.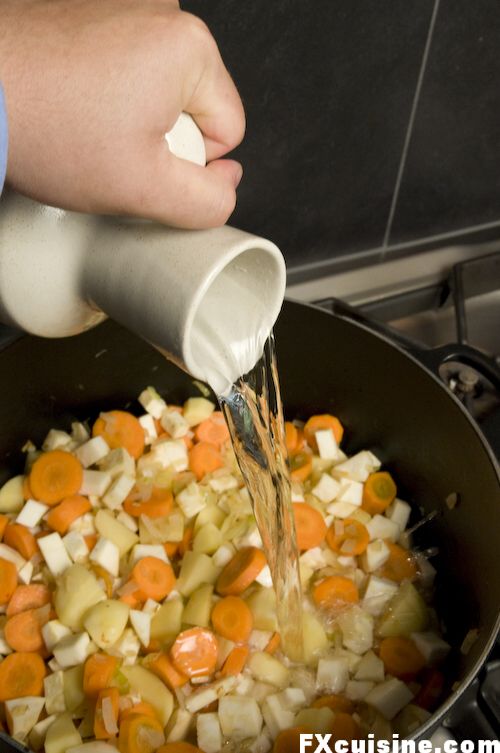 Cover with water.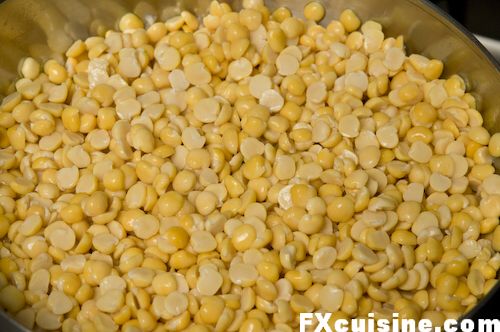 Wash the soaked peas one last time, drain and ...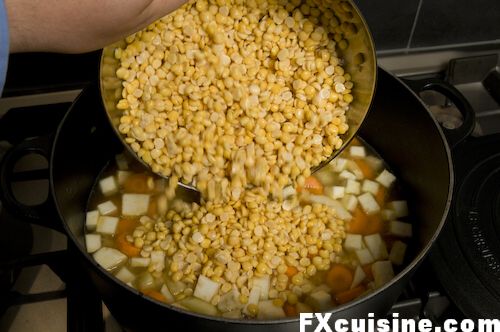 ... pour into the soup.
...