Proper Pea Soup
(page 2 of 2)
Home
>>
Recipes
Probably the best soup in the world, provided you get the key ingredient - a smoked ham bone.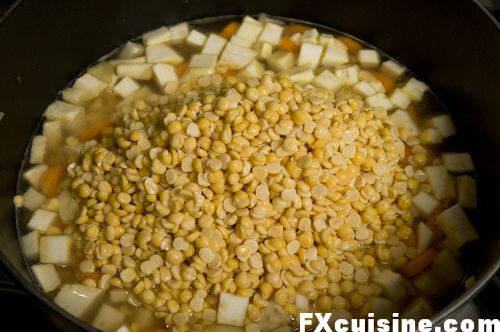 Stop for a minute to lean over the pot consider the beautiful color and texture of your pea mound.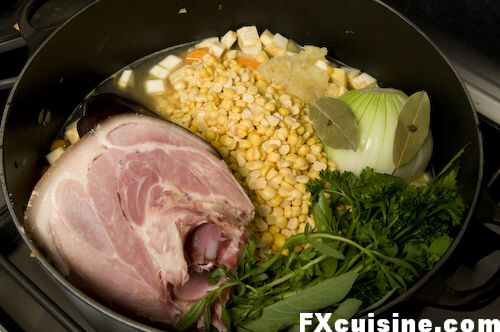 Add the onion and ham. You may have to break the ham at the knee joint to make it fit into your pot. Just make sure not to break any bone as the marrow could be rancid and impart a foul taste to your soup. Take a reasonable amount of herbs and tie them by their twigs with a kitchen string which you'll attach to the pot's handle for convenient removal later on.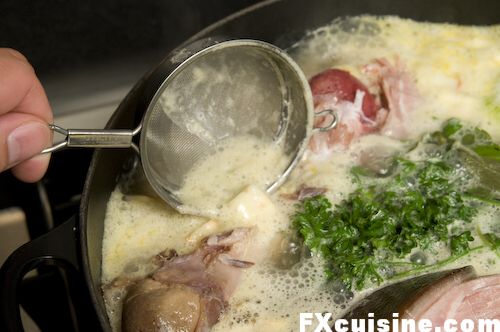 Add some more water until everything is swimming. Leave on a medium fire so that the soup takes a really long time before it boils. This is necessary to help skim off the protein coming off the ham. When all skim is gone, bring to a boil and then turn the heat to the lowest setting and simmer for at least 2 hours but as long as 24 hours. If you go for a long boil you could place this in an oven at 80 C° and program it to stop in a couple hours.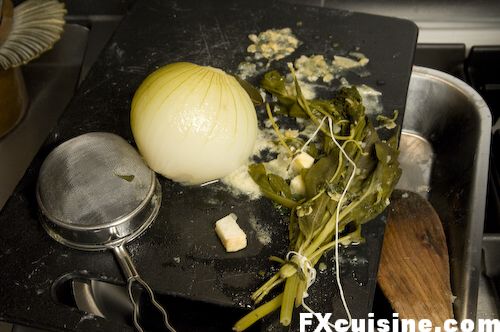 Fish out the herbs an onion...
... then the shinbone ...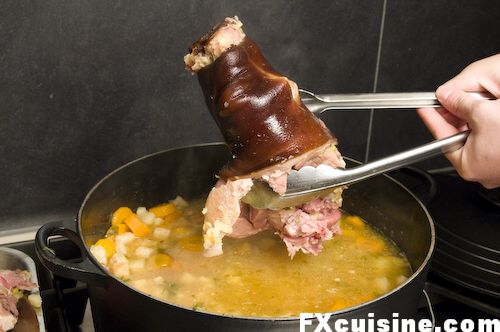 ... and finally the femur.
Set the onion aside as well as the femur if there is any meat on it.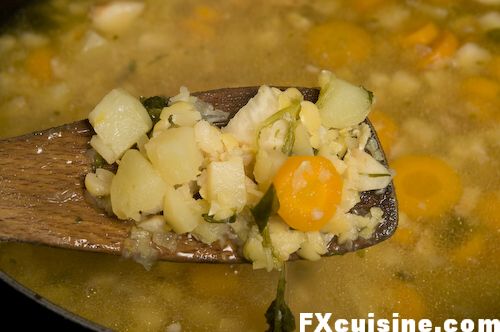 I'm told children love peasoup - I certainly did back in the days, but not with such large chunks floating in the water.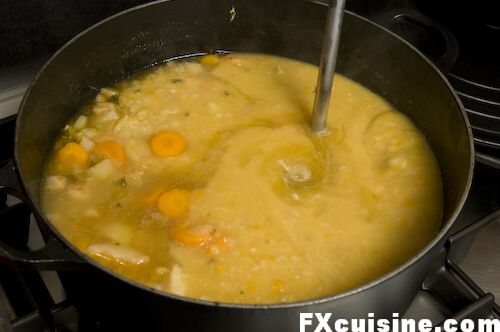 Use a plunging mixer to turn your soup into proper peasoup.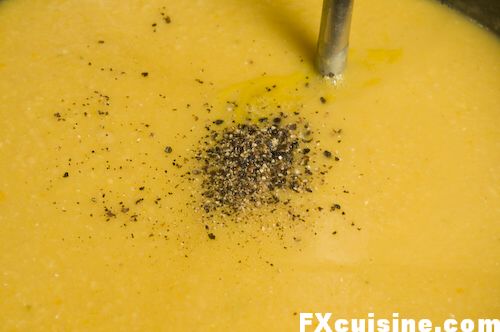 I would not recommend adding much salt if you boil meat in the soup as there is much more salt than meets the eye in most preserved meats. Just check the seasoning and correct with salt and pepper before giving the soup a final mixing. Chop some more fresh herbs and mix them in.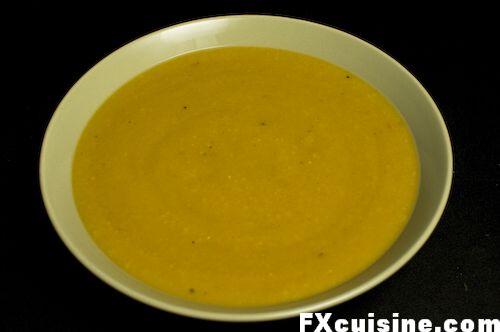 That's it. The ground peas have soaked up all of the remaining liquid and all that's left to see is a honey-colored brew fit for the gods. Have a taste - amazing, isn't it? The delicate smokey and porky aftertaste imparted by our ham mixed with the garlic and herbs. Have another taste. You start wondering if this might not be the best soup in the world.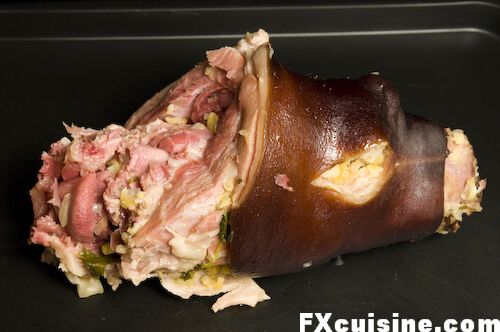 You can either slice the ham ...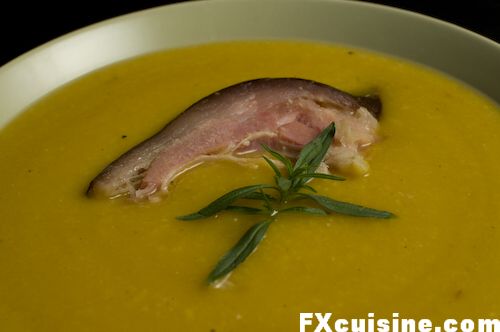 ... and serve it in the soup.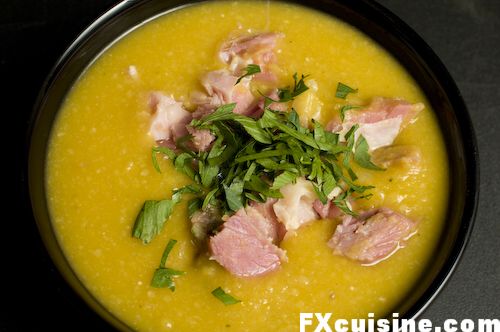 Or dice the ham and mix with the soup.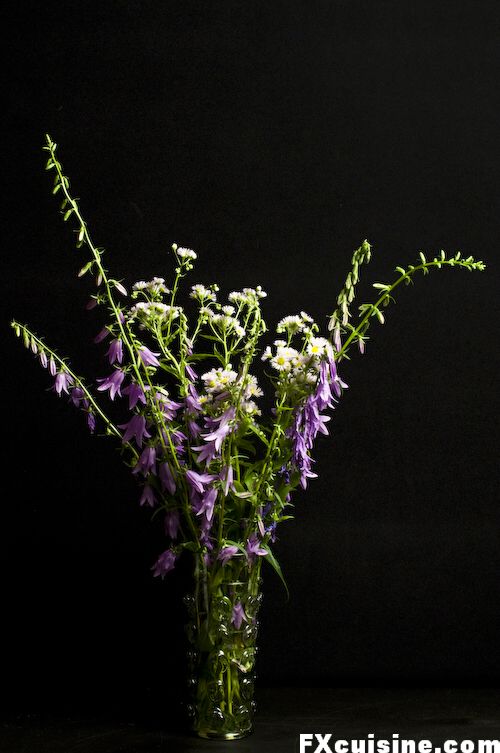 Here is a bunch of wildflowers I gathered in my garden to help you remember how earthly pleasures are transient.
Hurry, my friend, before it is too late!
Carpe ius leguminum, as the ancient wisdom goes.
300292 views
Related Articles

Italian Minestrone Vegetable Soup *** Popular
The most delicious traditional Italian peasant soup, simmered for three hours. Learn how to make this soup with your local seasonal vegetable and the three secret ingredients that will make your soup really Italian.

Magical Italian Pesto Soup ***
This legendary Italian and French traditional vegetable soup is turned into an elixir of long life by mixing in fresh pesto. A cult summer delicacy ready in under an hour.
Copyright FXcuisine 2022 - all rights reserved.
If you do this recipe at home please let me know how it worked for you by submitting a comment or send me a picture if you can. Thanks!