Potato Raviolis
(page 2 of 2)
Home
>>
Recipes
Italian comfort food on steroids. Only Italians love pasta enough to stuff it with such plain ingredients as a potatoes. Right they are, these make for a highly refined dish - and very affordable.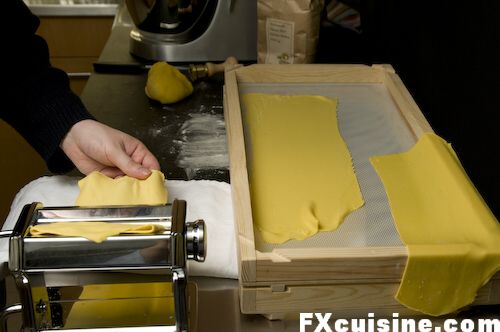 Our stuffing is ready and our dough rested. Take an apricot-sized piece of dough and stretch it with the pasta machine or using a rolling pin on a lightly floured table. Stretch until really thin, the one-before-last setting on the machine.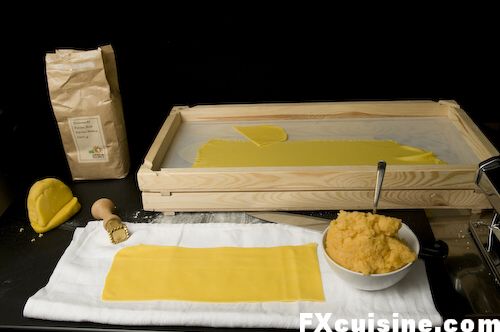 Lights, ready to roll ...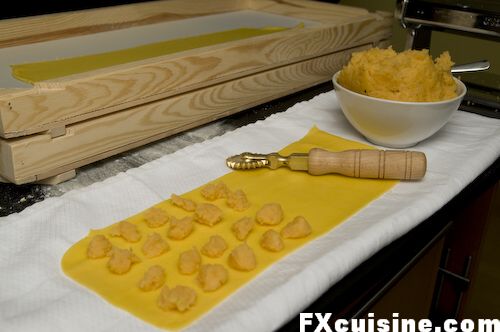 ... and action! Place a rectangular piece of pasta on a lightly floured clean cotton cloth. This setup ensures your pasta will not stick, but don't be overly exuberant with the flour as it might make unsightly white patches on the finished raviolis. Using your fingernail if you are a lady, or a dull knife if a man, very lightly trace parallel lines on half your pasta sheet, then trace more lines crosswise to outline little squares. Now imagine a little bird playing hopscotch on this imaginary chessboard, and pooping the exact same quantity of stuffing on every square it passes. Continue until you have covered your pasta sheet with little pieces of stuffing at regular intervals. The exact quantity required depends on the size of your squares. Err on the side of too little otherwise you won't be able to close the raviolis.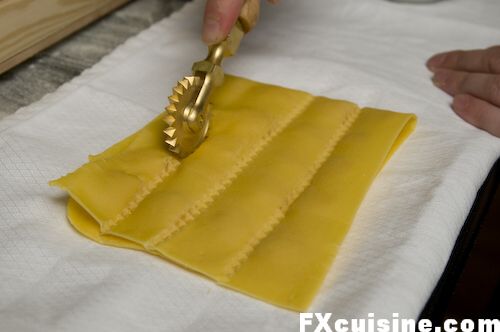 Fold the free part of the pasta sheet over the one your little bird covered with stuffing and gently press with your fingers to outline the raviolis. Using a pastry roller, carefully cut strips of raviolis one by one ...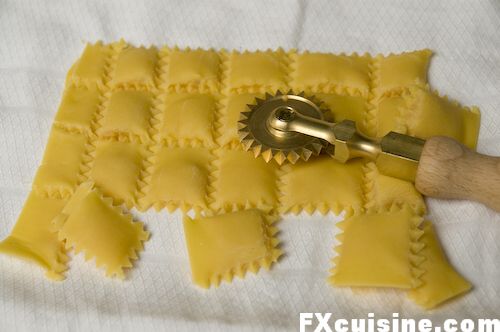 ... then cut crosswise to detach each ravioli. I bought this cool ravioli cutter in Cremona, Italy, but you can find similar ones on Ebay for pennies or in pastry supply aisles in many supermarkets. Make sure the cutter does not only cut but also pressed the edges to seal them, otherwise you'll have a leak.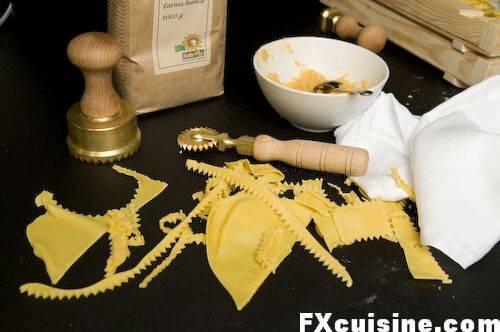 You can use the cutouts in a soup or prepare some pasta for the next day and call it maltagliati (illcuts).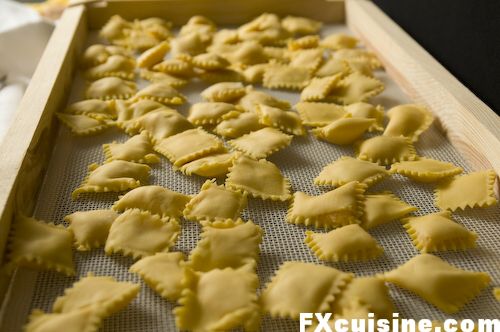 Leave the raviolis on a drying rack or just a plain clean, dry, lightly floured cotton towel until ready to cook.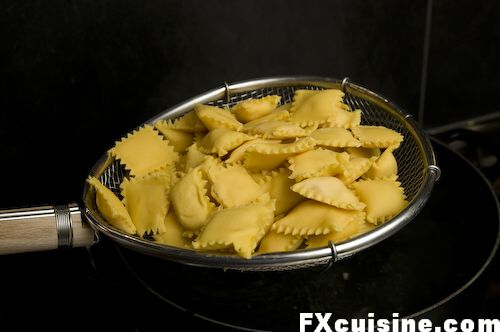 Fill your largest pot with water, add a bit of salt and bring to a boil. When the water boils like the waters of Lake Lucerne in the first Act of Rossini's William Tell, drop your raviolis all at the same time. Make sure to dust all the flour off before doing so.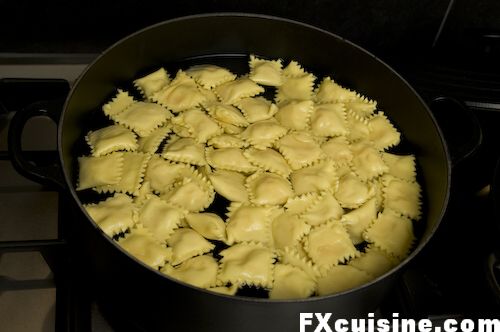 They should cook in under 2 minutes.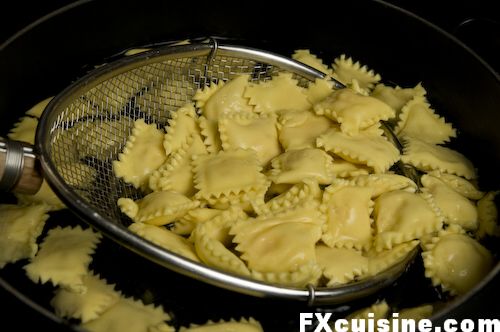 As soon as the pasta is almost cooked through - that means before it is actually fully cooked - fish them out using a sieve. Please do not pour the whole pot into some strainer like some illiterate Swiss German mama or you'll ruin your work and the raviolis will split open. Instead, do this gently with a sieve or spider like a literate Swiss german mama.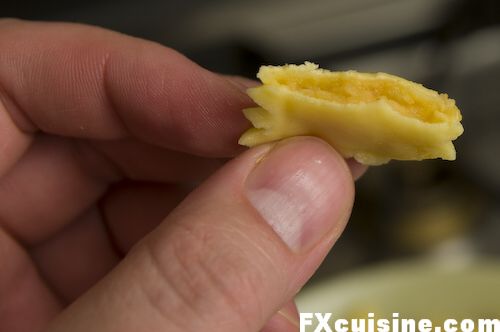 That's it - Italian refinement with the most basic ingredients. The triumph of work, human genius and artistry over universal entropy. You just made the most delicate pasta using plain potatoes and flour.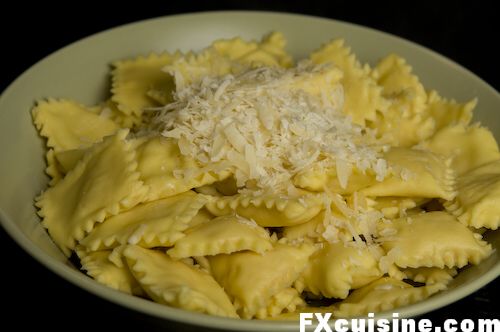 Congratulate yourself on a job well done and eat as many raviolis as you can before other people in the house realize what they are missing.
254903 views
Related Articles

Pasta con i fagioli ***
Homemade wholewheat spaghetti with a delicious beans ragu for a typical Tuscan peasant dish.

Pasta all'arrabbiata **
By request of a reader, one of the most popular Southern Italian pasta sauces ever. Simple, affordable, healthy, delicious.

Priest-stranglers in Neapolitan Meat Sauce **
These gnocchis served in the cult Napolitan ragł sauce would be a world-famous dish if they didn't take 7 hours to cook.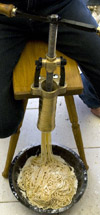 Bigoli, Bigolaro, Bigolarist **
My largest and most unusual pasta-making accessory, the bigolaro, made 28 fat spaghettis, called bigoli, each as long as the room. Served with the traditional duck ragł, this made my guests very happy despite the fact they had to make their own pasta.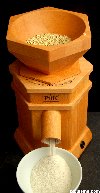 Italian Alpine Buckwheat Pasta Pizzocheri **
Traditional buckwheat noodles from the Italian Alps with cabbage and Fontina cheese. I made them from scratch with my own freshly milled buckwheat flour. Hard core pasta!
Copyright FXcuisine 2020 - all rights reserved.
If you do this recipe at home please let me know how it worked for you by submitting a comment or send me a picture if you can. Thanks!