Swiss Alpine Gingerbreads
Home
>>
Recipes
The most popular Swiss country fair cookie, Magenbrot, is a light gingerbread supposed to be a friend of the stomach. He is my friend too!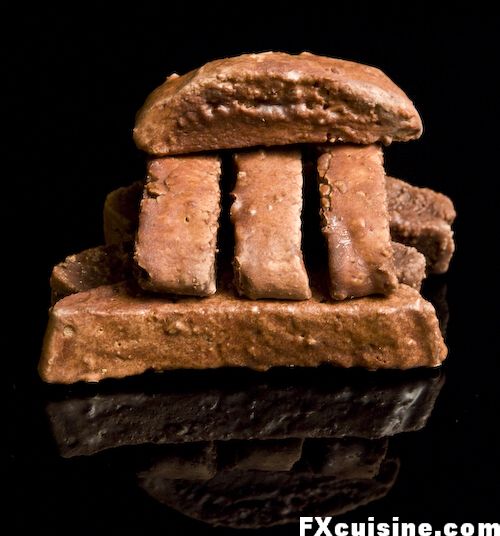 Ever since I'm a little kid I've been eating those long black cookies sold at Swiss fetes and fairs as Magenbrot or Pain des Alpes - Alpine Bread. Despite it's dark looks it is very much a member of the gingerbread family and nothing like one of those brownies so heavy you can use them as boat anchors. I happened to find the recipe for these popular Swiss cookies and managed to reproduce them in my kitchen - see how you can do it in yours:
Swiss Alpine Gingerbread (Magenbrot)
750gr (1.5lbs) sugar
750gr (1.5lbs) cake flour
4 tablespoons cococa powder
3 teaspoon cinnamon
1/2 teaspoon mace (optional)
1/2 teaspoon clove
1 teaspoon baking powder
40cl (14 fluid oz) water
Glazing:
300gr (2/3lb) confectioner's sugar (ultra fine)
200gr (0.5lb) chocolate (couverture)
100gr (0.25lb) milk chocolate
15ml (1 tbsp) water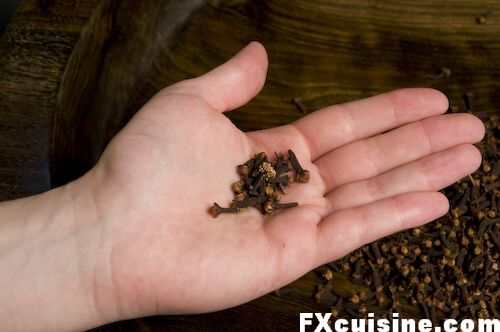 Use whole spices and grind them in a blender or mortar. You can then sift the spice powder in a tea sieve to prevent unpalatably large chunks from getting in the dough. Magenbrot really is about cloves, which give the dish its unique character.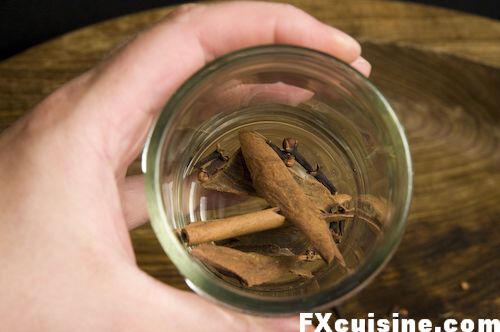 I place everything in a small electric spice grinder and off I go until the powder is as fine as cocaine (from what I see of it on TV - cooking is my cocaine!).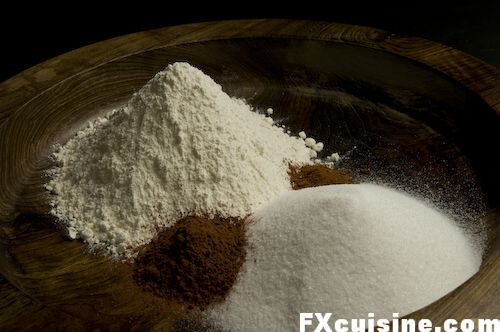 On a large table, bench or Moroccan dough bowl, mix all of the powdery ingredients together (clockwise from top left: flour, clove powder, sugar, cinnammon powder).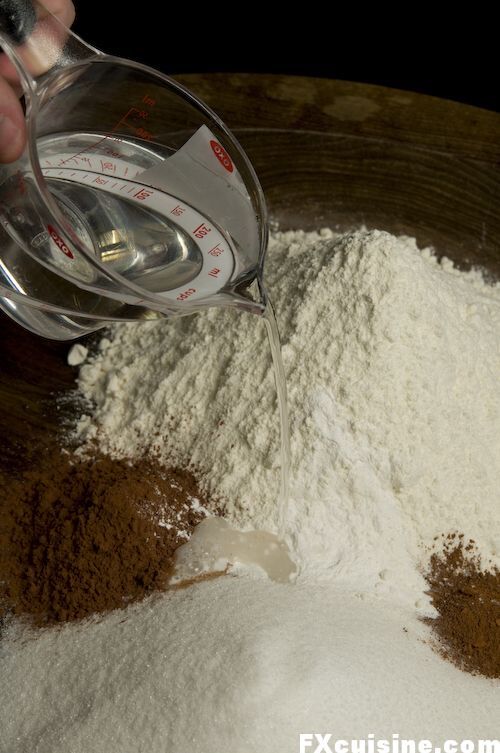 Add the water to bring life to this desert.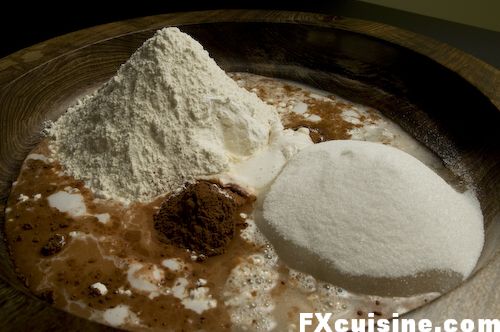 Hold for a minute to contemplate the fleeting landscape you have created - a japanese rock garden in your kitchen.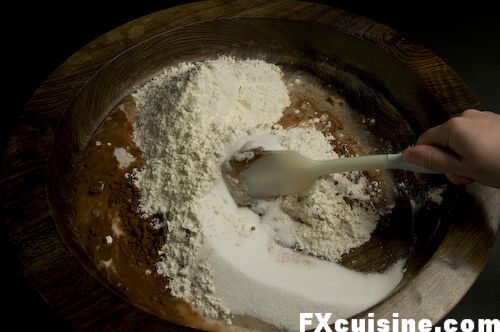 Don't hesitate to add a little more water if the dough is too hard.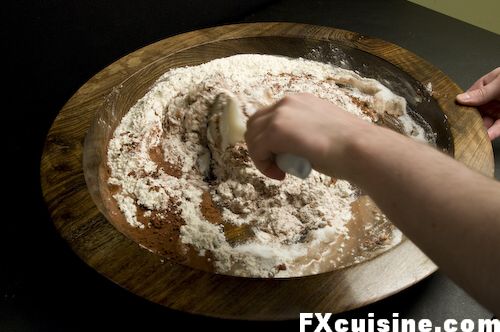 Using a wood or rubber spatula, mix all ingredients together until you have a smooth, even dough.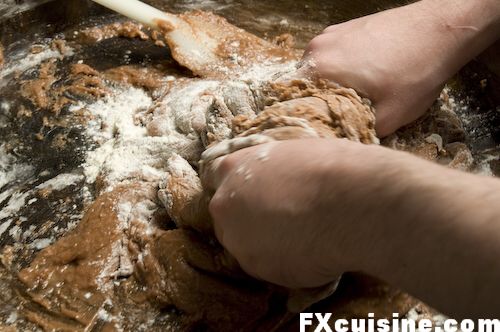 At some point, the call of nature will be overwhelming and you might give in and dip your hands into the dough.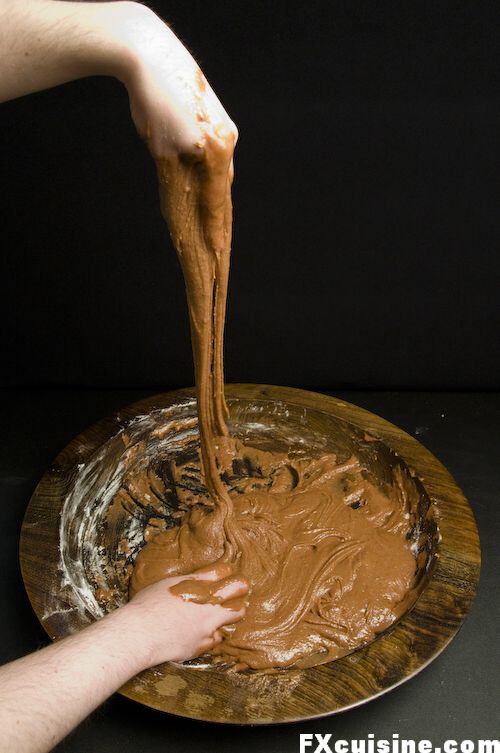 Continue to squeeze and toss and work the dough until a perfectly even black mass is obtained. Please consider that the dough on the picture is too wet and soft - you need something harder. Add some flour to balance the mix if you have been overly prodigal on the water.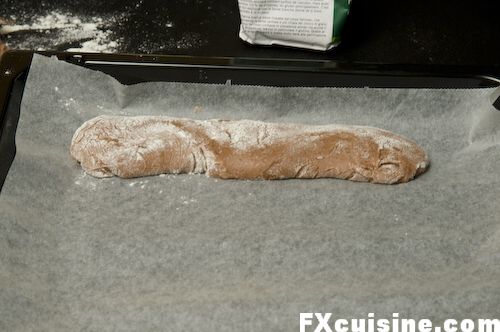 Shape little flat cakes as long and thick as your thumb and lay them on a sheet of baking paper while you heat the oven to 180°C (350°F).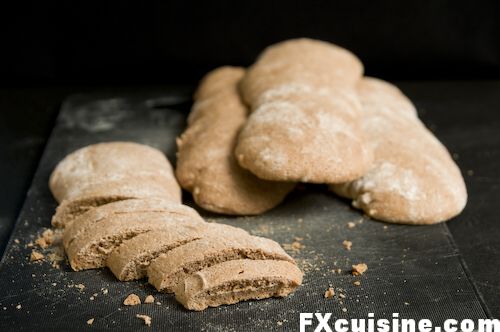 Bake for 20 minutes or until a sharp knife inserted in the cake exits cleanly. Remove from the oven and place on some grid to let them cool down.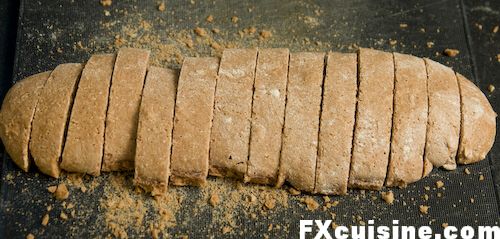 Please wait until the cakes are cool before slicing or they might crumble. Take this from one who frequently knocks on baker's window in the middle of the night to eat newborn croissant - they are better cold then warm.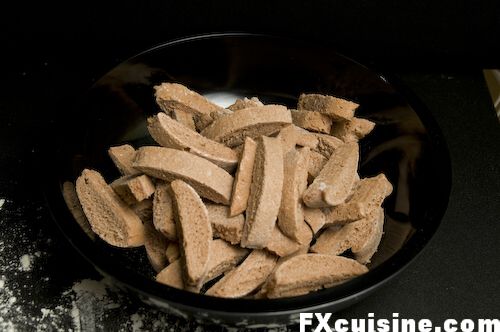 Place the gingerbreads in a large bowl.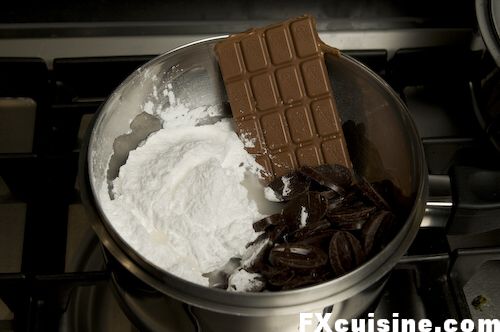 Let's prepare the icing. Unite in a small saucepan or metal bowl the sugar, water and both chocolates and melt on a waterbath. Milk chocolates is hardly prized by foodies but is essential to this recipe. The other chocolate is pastry chocolate, the sort bakers and confectioners use. We call it couverture [koo-vayr-tur] from its French name but it's mainly to look smart. In fact there are hundreds of types of couverture chocolate, you can use plain high-quality dark chocolate and it will be the same.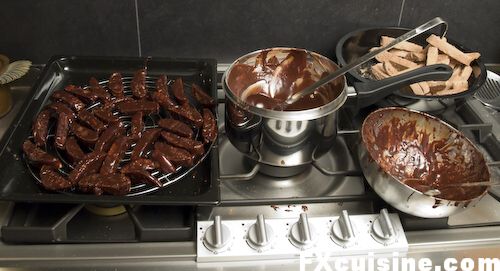 Last step is the glazing - you need the proper mise en place for this. If your wife or mom is in the room, ask her to leave. It's the decent thing to do as the vision of chocolate mess might be too much for them. Place your raw gingerbread on the right. Position the waterbath pot with the hot glazing in the center but farthest from you, and a large empty bowl in the middle. Finally, you need a cooling rack set on a tray or disposable paper on your left.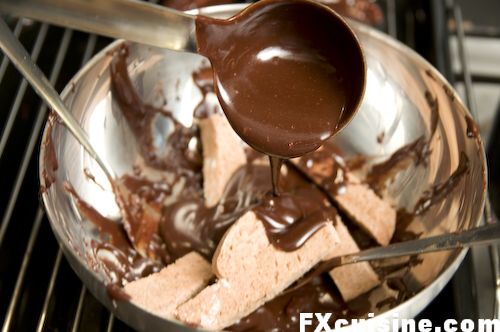 Take a handful of gingerbreads and place them in the emtpy bowl, then cover with a ladle of hot chocolate glazing.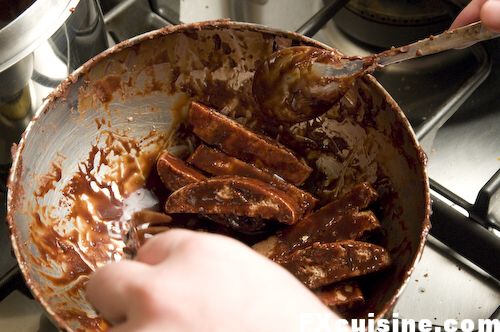 Toss like a madman until all gingerbreads are coated evenly. We don't want inch-thick glazing here, but rather for the gingerbreads to suck up chocolate all over their surface. It is a rustic Alpine specialty and thick, even glazing would be quite foreign to its original spirit.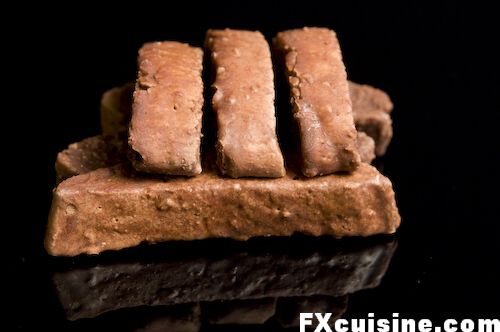 Wait until the chocolate hardens up, then store in a cookie jar. I took a brown paper bag filled with these cookies to the office - they didn't last the hour and people are still asking for the recipe.
139315 views
Related Articles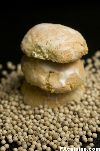 Swiss Pepperballs ***
No need to be nuts about pepper to enjoy these amazing pepper-flavored gingerbreads. Hugely popular in my parts of the Alps!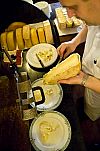 Swiss Raclette ** Popular
The national dish of Valais, my Swiss canton, raclette is the most gorgeous melted cheese you will ever have. Here at its best at the Manoir de Villa in Sierre.

Swiss Apple Roesti (Video) **
Make an extraordinary dessert in no time using stale bread an apple. A timeless classic from the Swiss Alps.

My Boyhood's Hungarian Plum Dumplings *
I had eaten these dumplings only once, when I was 12, but boy did they make an impression! Such a rich combination of gorgeous juicy sweet prunes covered in a soft potato-based simmered dough.
Copyright FXcuisine 2023 - all rights reserved.
If you do this recipe at home please let me know how it worked for you by submitting a comment or send me a picture if you can. Thanks!