Paris Truffle Dinners
Home
>>
Experiences
Hoping the financial crisis will at least do something good and bring truffle prices down from their stratospheric heights, I show you how they eat truffles in Paris.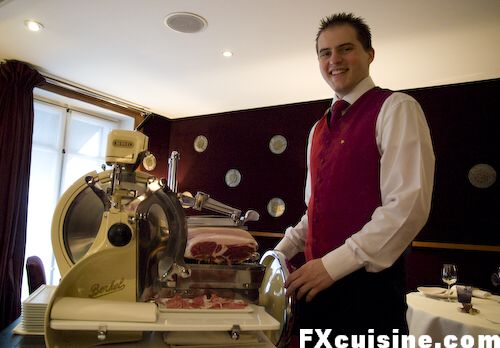 Many people have never tasted truffles. I'm writing this not to taunt you if you haven't, but rather to show you what they are and how they are best enjoyed. If you mark down 'Eating a Truffle' on your life's to do list, I'll tell you how to do it properly. And if you think you'll just never be able to afford one please don't feel bad about it. Truffles are not magical. They taste as good as quality vanilla bean, only their scarcity and short shelf life makes them horrendously expensive. You may be surprised to learn that worldwide truffle production has been going down for a solid 100 years. Truffle gatherers today collect less than 15% of what they did in the late 19th century. Less pastures, less truffle-friendly orchards, you name it. Truffles don't even preserve so well, no matter what truffle preserves producers would have you believe. All of this makes for astronomical prices and scarce availability no matter who you are. That's all. So you can enjoy vanilla, saffron, good red wines or great oolong teas - they are all at the same level with truffles but much more affordable.
Some of the components of truffle flavors are not perceived by everyone. It's a genetic thing. But unless you try a really fresh truffle, you'll just never know whether it's the truffle that's vapid or your nose that can't smell it fully. Don't buy any truffle preserves. Don't buy truffles in a shop unless you are experienced with truffle. Go to a really good restaurant that uses a lot of truffle, and go in season. For black truffles, that's December to March. The later in the season, the less truffles, but the more flavor they have. If you want to bring one back home, ask the maître d' whether you could buy them a truffle.
For Easter I had a black truffle lunch at two restaurants in Paris. It's not as expensive as you'd think so please don't envy me. If you can afford to go to Paris, you can probably afford at least one good dish in such a restaurant. If you can't, you may one day. Don't give up!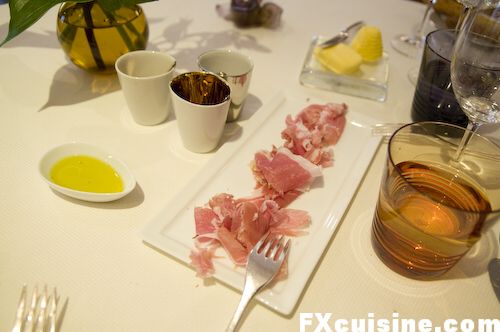 My first lunch was at Hélène Darroze, a young female chef from the French SouthWest. A couple years ago, I called her last restaurant and the rugby mom Maître d' laughed at me for daring to ask if she had a table free for the next day - But it's a Saturday, Monsieur. It didn't encourage me to try another time, but when the place went bankrupt and she set up shop somewhere else, I decided to give Mrs Darroze another chance.
The restaurant is located near the Bon Marché department store, in a converted 1st floor appartment. Sitting down, a youthful waiter came and sliced excellent Basque ham on a huge vintage Italian machine (lead picture). Very entertaining and great product.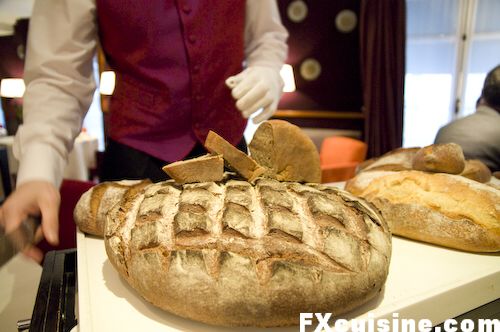 We get to pick from large collection of breads before moving to the first course. I like the white glove to handle the breads.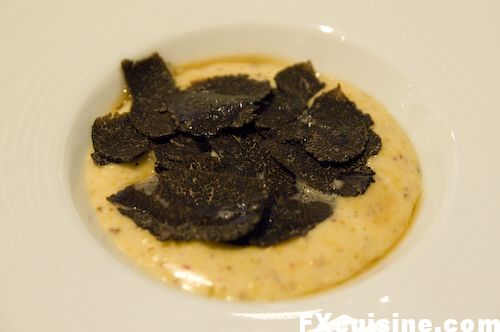 The first first course was a truffle escautoun, similar to the one I had cooked from her instructions but merged with the Mont d'Or Vacherin Truffle Fondue, not a success. The version I cooked at home was much better than this one, here the cornmeal was too coarse or too undercooked, and had a sandy, gritty feel under the tooth. Too salted also. But the dish is brilliant and I've never quite understood how it could be the very least popular article on FXcuisine.com.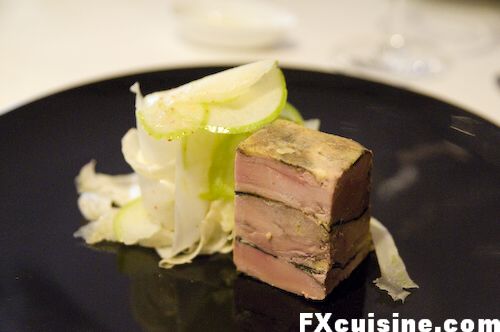 A very decent foie gras terrine with truffles, although nothing fancy compared to my own.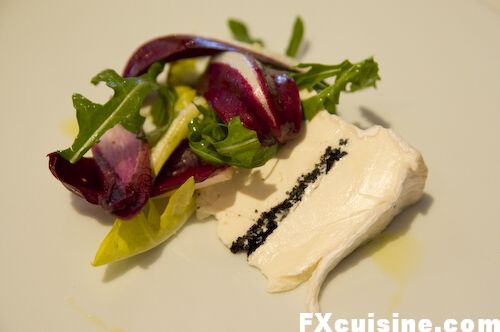 Brie, a soft cowmilk cheese from Normandie, aged enough so that the bacteria have transformed it in a creamy heaven, sliced through and filled with fresh black truffle. You can buy it at the cheesemonger's (at least I can round the corner) but it's never as good as this one, since they use canned truffle and Daroze uses fresh ones.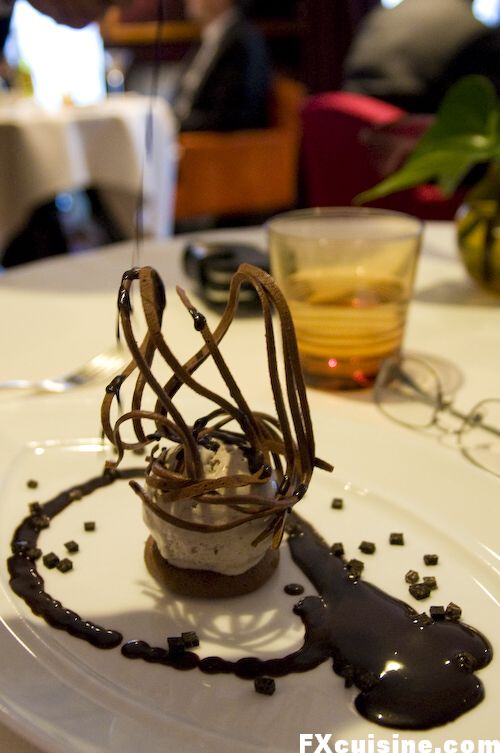 The dessert got it all wrong. Truffles in the ice cream - you just can't feel a thing, with truffle dices on the plate and chocolate sauce. A good-looking disaster and a waste of a perfectly good truffle.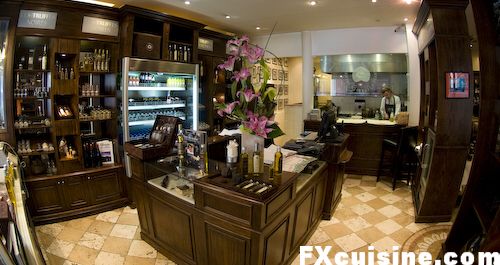 A great place for a quick truffle initiation is Terre de Truffe just off Place de la Madeleine in Paris. You could be excused for thinking this is a urban showcase for a cult focused on the truffle yes, but mainly on its owner, larger than life 'Bruno des Truffes'. As you enter the shop a small altar with pictures of this Provence chef and his books, with framed quotes. In his restaurant in Provence, Bruno has a wall covered with a huge fresco, Bocuse-style, with him at the center. But contrary to Bocuse's, Terre de Truffe offers value for money in its restaurant.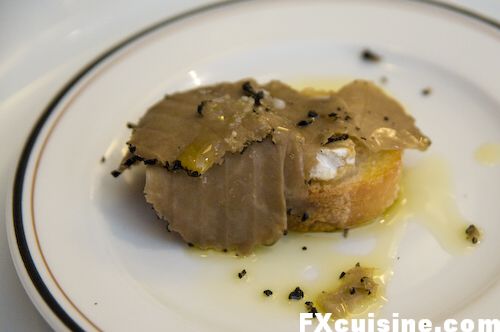 Truffle is best eaten simply - on eggs or potatoes. Here is a simple piece of toasted baguette bread with black truffle shavings, sea salt and truffle oil.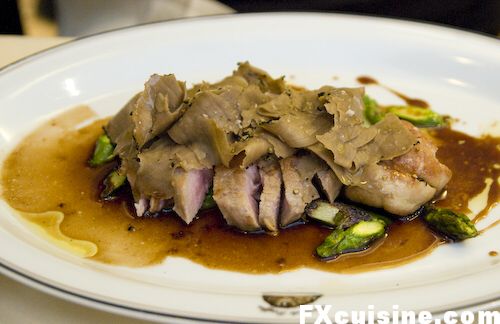 Veal with asparagus and truffle shavings was good, but with truffles, simplicity is the way to go. I ordered a much simpler dish: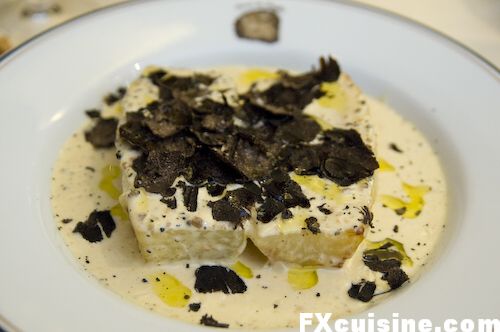 My favorite truffle dish - one large oven baked potato with reduced cream, truffle oil and as many fresh melanosporum truffle shavings as you can afford.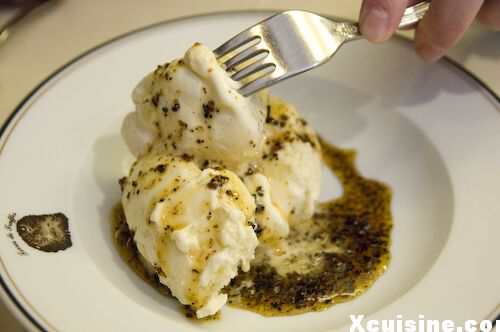 Ice cream with truffle shavings in a honey sauce at Terre de Truffe. Very nice, but you do need some heat to sense the truffle flavor, truffle ice cream is an idea that just doesn't work. Nothing like La Truffière's delicious Black Truffle Soufflé.
Terre de Truffe
www.terresdetruffes.com
+33 (0) 1 53 43 80 44
21 rue Vignon
75008 PARIS
Truffle shop and restaurant. There is another one called Maison de la Truffe on the Madeleine square 3 minutes from there, but I like Terre de Truffe better.
Hélène Darroze
www.helenedarroze.com
+33 (0) 1 42 22 00 11
4 rue d'Assas
75006 PARIS
They also have a more affordable brasserie downstairs.
La Truffière
www.latruffiere.com
+33 (0) 1 46 33 29 82
4 r Blainville
75005 PARIS
I love this restaurant, very cosy and truffles from start to dessert. Read my article about their Black Truffle Soufflé for more.
228201 views
Related Articles

Duck Tour d'Argent * Popular
Probably the most spectacular classical French recipe, le canard à la presse, here made at La Tour d'Argent, a Paris restaurant open since the 16h century.

Black Truffle Soufflé *
How you can make this astonishing dessert from La Truffière, a Paris restaurant specialized in black truffle.
Copyright FXcuisine 2023 - all rights reserved.
If you do this recipe at home please let me know how it worked for you by submitting a comment or send me a picture if you can. Thanks!