Eataly - Slow Food Superstore
(page 2 of 2)
Home
>>
Experiences
My day at Eataly, the biggest slow food grocery store in the world, just outside Torino, Italy.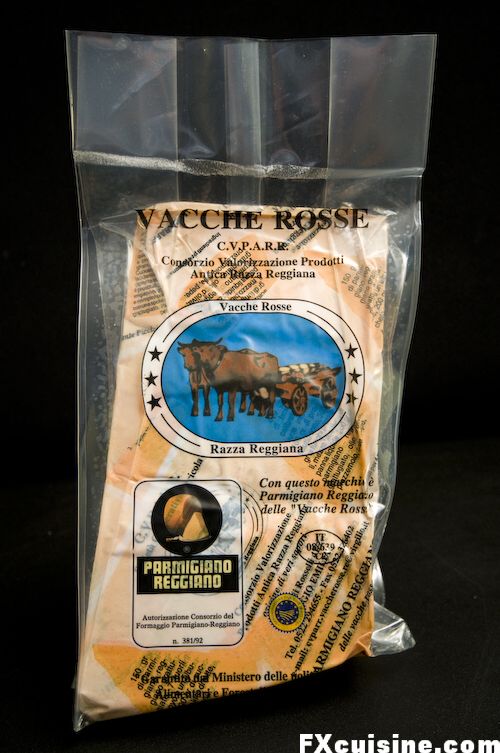 Nowadays proper Parmesan can be found in many places outside Italy, but getting a large piece of Parmigiano Reggiano from actual reggiana cows and seasoned 24-30 month, well that is quite a catch. Many cows are raised in Emilia-Romagna to make Parmesan, but the traditional red cows of the Razza Reggiana persuasion was a nearly extinct breed in the 1950s, with only about 1000 cows left. The just have comparatively drier teats than the cows imported from Switzerland used my most producers. But their milk imparts the Parmesan with an incomparable taste. So naturally, a Associazione Nazionale Allevatori Bovini di Razza Reggiana was created to foster the use of these cows and promote the unique dairy products derived from their milk. A slow food presidio before Carlo Petrini, if you will. This one costs €30 a kilo (US$19 a pound at the time of writing).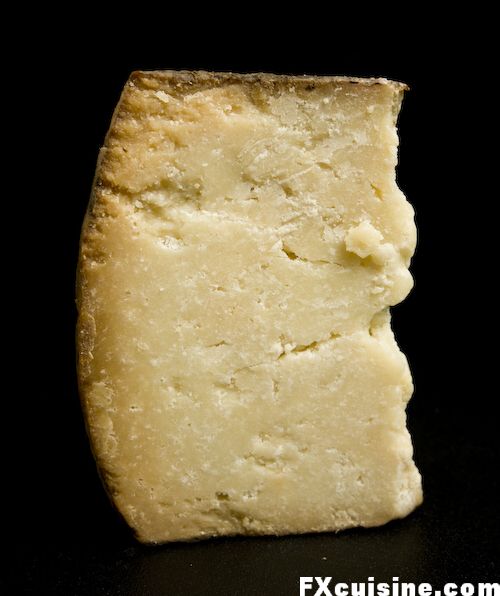 I bought this Formaggio fiore sardo DOP, as a gift for my father who loves old cheese. Raw sheep milk from Sardinian sheeps and curdled using rennet from Sardinian lambs. 16€ a kilogram (US$20 a pound at the time of writing).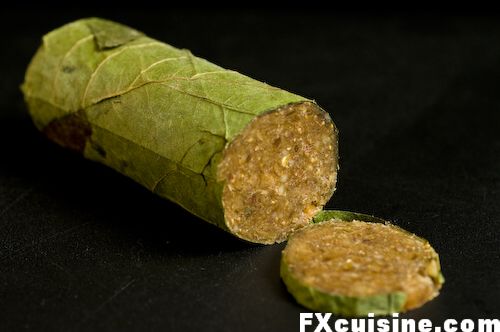 Lonza di fico, a delicious dried fig, walnut and anis sausage wrapped in fig leaves. Cut a slice and eat with cheese. Absolutely stunning.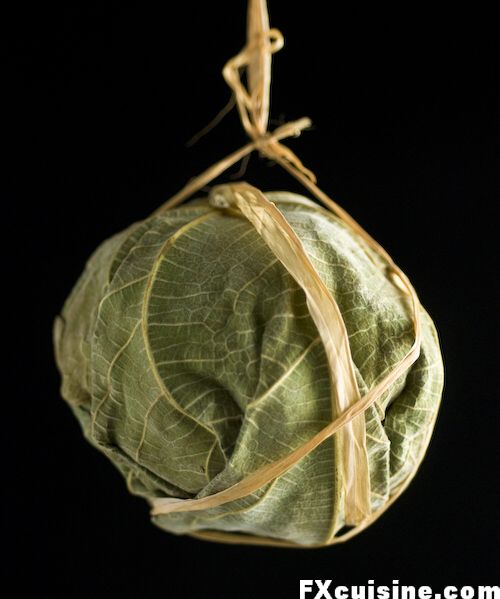 Although I bought this fist-sized ball of dried figs from Dolce Calabria at the Fiera del Gusto, you might find it at Eataly too. The ball looks beautifl with the wrinkled green leaves ...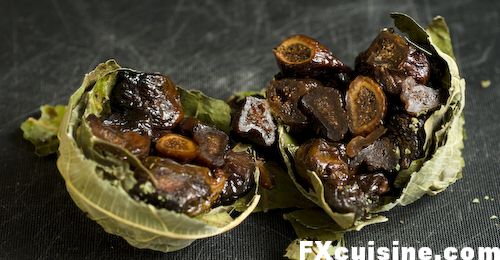 ... and when you slice it open, it reveals a treasure of moist dried figs. No sugar, no additives, no nothing. Just the most amazing juicy dried figs. They are dried and then slowly baked in an oven which gives an intense caramel flavour. Eating this is a bit surprising at first if you are used to complex processed foods. The taste is simple but complex. And the more you eat, the more you feel the intensity of the product's character, the majestic sun that grew these fruits until they were lush and plump and dark, and the same sun that made them shrivel back.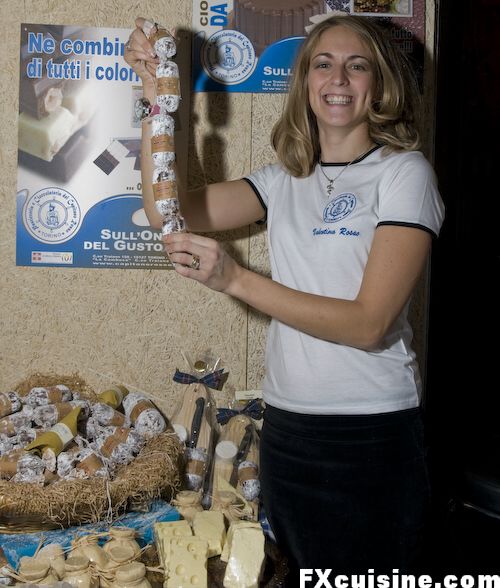 You may recall that I met this girl at the Slow Food Fair, who was selling the most intriguing sausages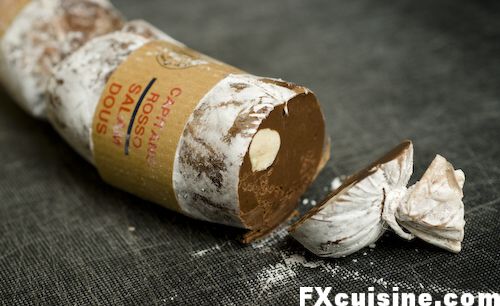 Well, these Salam Dous from Calbria turn out to be made in chocolate and filled with hazelnuts. Really astonishing taste and effect. I need more. Not sure if they sell it at Eataly but if they don't they should.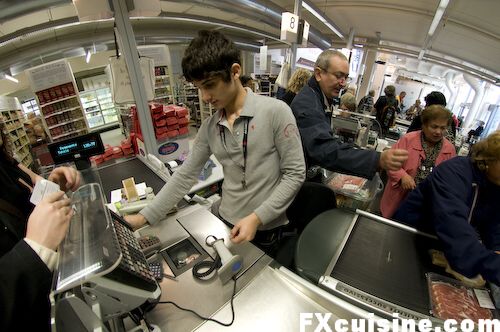 Here is where those shoppers who had hoped to escape with their wallet untouched give up their last hope. Slow food is not cheap.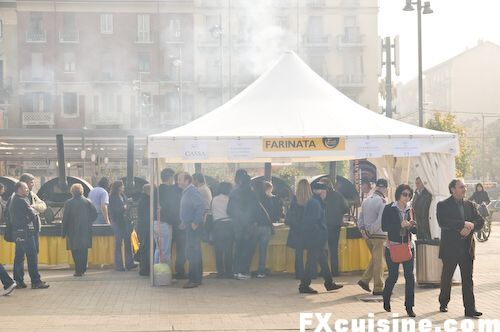 As you walk out, you can't miss the busy booth with a row of wood-fired oven dispensing a smell of Liguria all around. They make Farinata, an ancient and very popular dish from Liguria, on the Meditterranean coast. Follow me as I draw closer.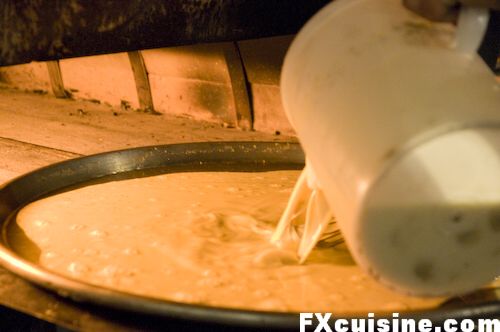 In essence, Farinata is an express chickpea polenta baked in a white-hot wood-fired oven. Chickpeas are ground into a flour, mixed with salt, milk and water. A generous amount of olive oil is poured into a huge circular baking pan and the chickpea mixture is poured into it with a little rosemary sprinkled on top.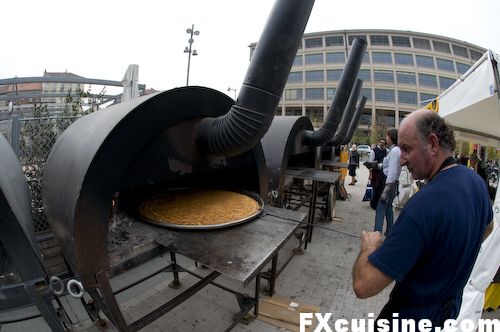 The tray is pushed into the super hot wood-fire oven and baked for about 15 minutes. These guys work around the clock and I had another farinata at night. They just can't make enough.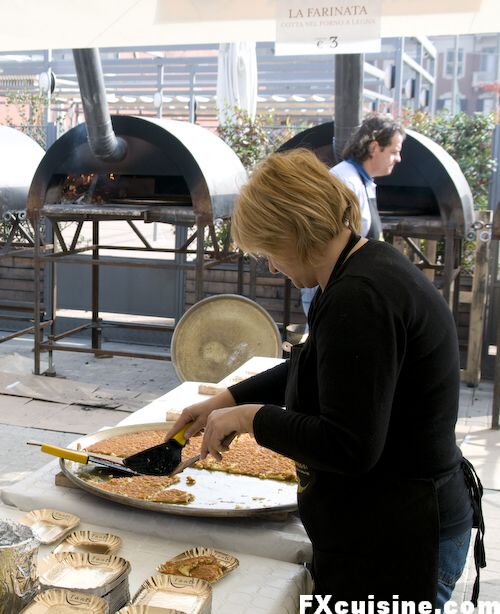 As soon as the farinata turns brown and crispy on top, it is sliced into 8 portions and served. These guys were highly organized - you pay 3 euros (5 dollars) and get a ticket with a number. The lady slices and calls each number in turn and serves a hot portion to the drooling clients.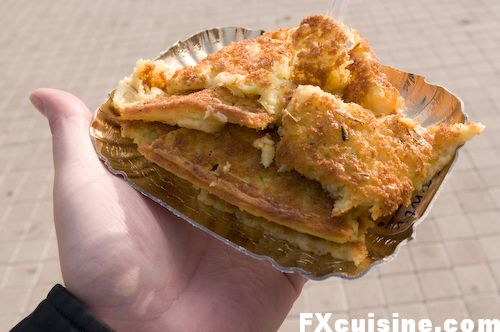 Hot, crispy, incredibly rich and juicy inside and yet the slowest of snacks. If you used to be a trader on Wall Street, here is a nice business idea for you. Just buy, steal or borrow a couple portable wood ovens, a few trays, some wood and you're in business. Mix chickpea flour with milk, water and salt, generously coat the baking pans with olive oil and bake until crispy on top. Charge three bucks a portion and you'll never bake quite enough - they indeed sell like hot cakes!
Eataly
www.eataly.it
Off the Lingotto
7 days a week, 10AM to 10:30PM
+39 011 195 06801
Good Italian spoken
They also have stores in Milano, Bologna and Tokyo. A proof, if any was needed, of the discerning taste of Japanese shoppers.
Thanks to Marco Lama for showing me the way towards Eataly!
216636 views
Related Articles

Slow Food Fair **
My visit of the largest traditional food fair in the world in Torino, Italy.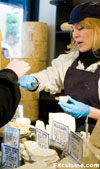 Neal's Yard Dairy **
My visit to the cult London cheese shop, selling no less than 57 types of British cheeses.

Montgomery's Cheddar **
My Christmas article will show you how the best cheddar since King Arthur is made in Somerset, including a 4 minutes video.

Hard Core Swiss Vacherin Cheese **
Follow me as I wake up in the wee hours of the morning to see Swiss armailli make a unique cheese in a small chalet up the Gruyere Alps.
Copyright FXcuisine 2023 - all rights reserved.
If you do this recipe at home please let me know how it worked for you by submitting a comment or send me a picture if you can. Thanks!