Primeval Tyrolian Cheese
Home
>>
Experiences
Graukäse is the closest offspring of the first cheese ever made. It is so strong you can actually raise the dead by placing piece under the deceased's nose. Follow me to Valle Aurina in Südtyrol to see how it's made at the farm.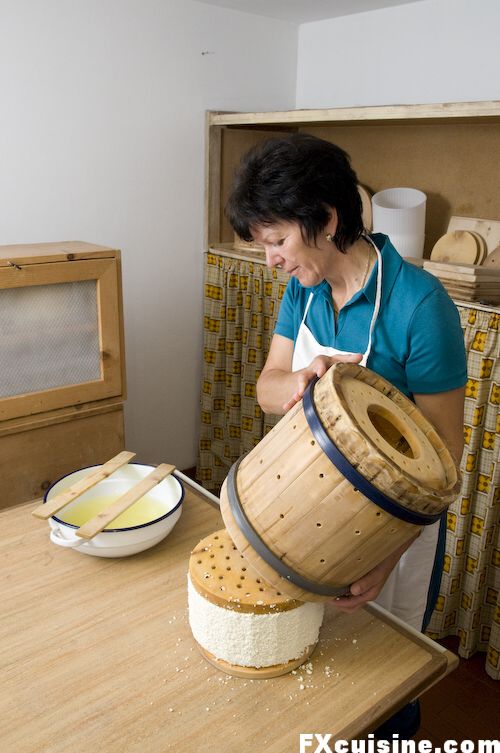 If you ever wondered how cheese was invented, a look at Graukaese [grah-ow-kayzay] will tell it all. This is a primeval cheese, one of the most basic expressions of the art of cheesemaking. No bacterial culture, no rennet, no nothing. Just the milk and the man.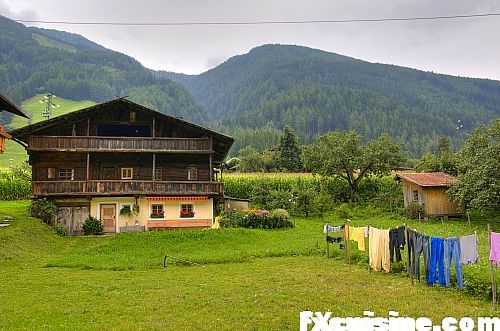 Graukäse is a product of Südtyrol is an Austrian province under Italian administration since WWI. People speak both German and a Germanic dialect. Some also speak ladino, a romance dialect. All have learned Italian, which they speak with a very slight German accent - but don't tell them. Although they love Italy very much and send their kids to University in Linz or Vienna, Austria, Sütyrol feels like a piece of Switzerland with Italian taste. Everything is clean, well-ordered. People are very polite but not all that expansive like in other parts of Italy. Towns are the realm of bicycles and pedestrians. Unlike regular Italian towns where smelly cars and noisy mopeds are dancing all day and night long.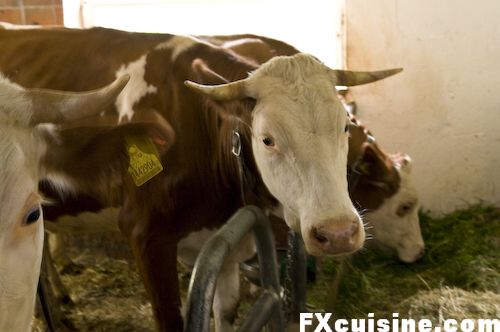 Only 50 years ago, just about everybody and his brother used to make cheese in the Alps. If you lived in the coutry, you had a few cows, and there was just no way of preserving the constant stream of milk other than making cheese. Most farmhouses had a cheese room. Recently I showed you how cheese is made when the cows are up the mountain grazing some high-altitude pasture. This is still down like in the days of yore. When in the fall the cows come down in the valley to spend the winter in the farm, nowadays most cheese is made in modern cheesemaking cooperatives. Precious few people still do it at the farm.
Today, I'll show you how Martha Hofer does her own Graukäse twice a week using her three cows's milk at her family farm near Campo Tures in the Valle Aurina.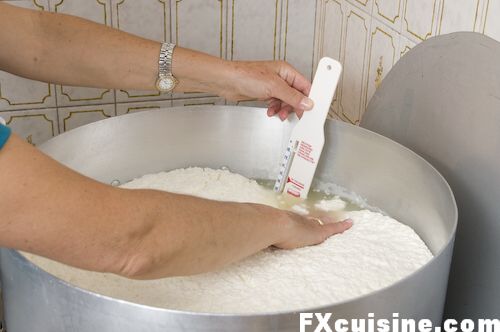 Cows are milked in the morning and in the evening and both milks are mixed together and skimmed to make butter. The milk is left at room temperature for two days until it curdles by itself. This spontaneous process is very different from what cheesemakers do when preparing regular cheese, where they add a yoghurt-like starter culture and then use rennet to make the milk coagulate. Instead, Graukäse relies on natural ferments present in the milk and in the air to coagulate the milk. As a result of the resulting intense lactic fermentation, the cheese has a strongly tart flavor.
As Martha ushers me into her cheese room, her milk has already curdled naturally. She heats it for a short while...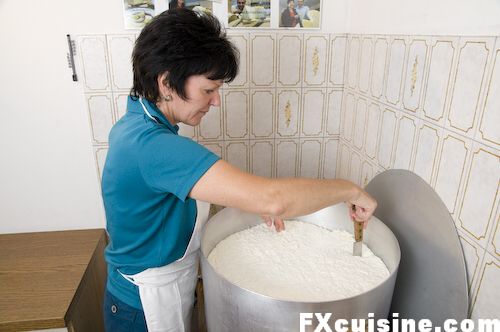 ... then proceeds to cut the curds...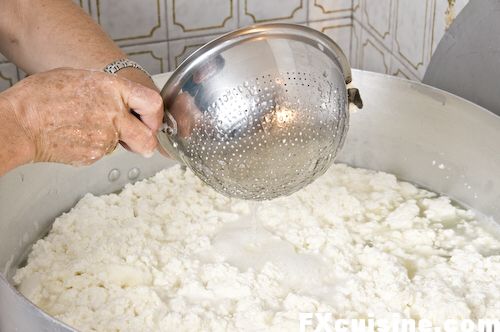 ...then drain them off to let the intensely acidic whey drip back into the pot.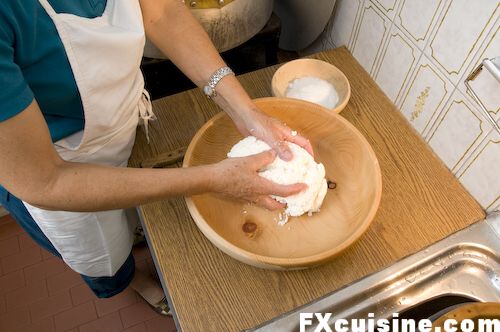 Martha now moves a piece of dried curds to a bowl ...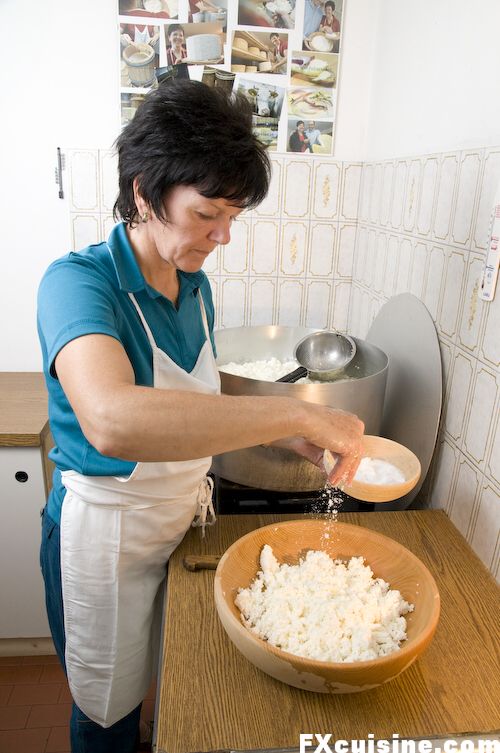 ... where she seasons it with a sprinkle of salt. Some cheesemakers add white pepper at this stage.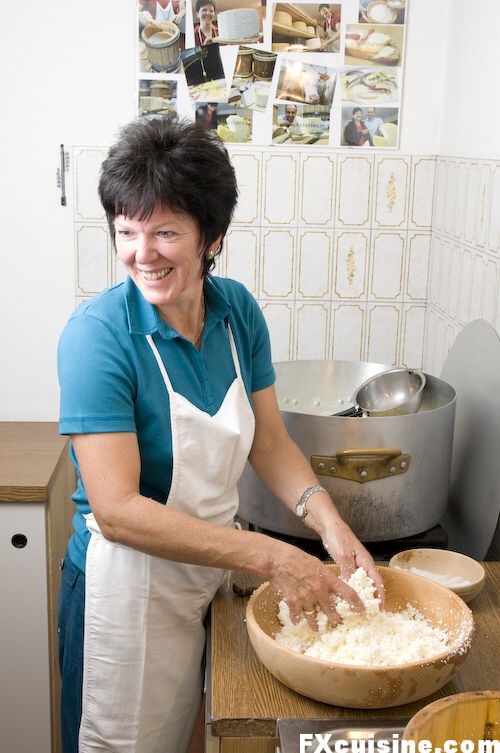 The salt is worked into the curds ...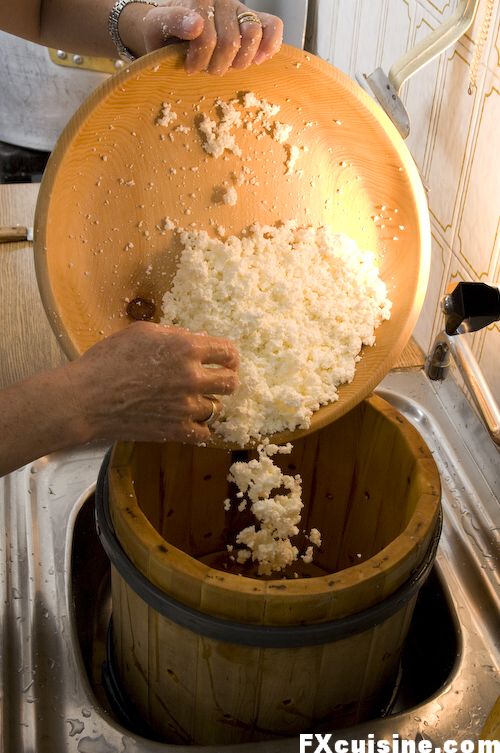 ... then the curds are poured into a large wooden barrel.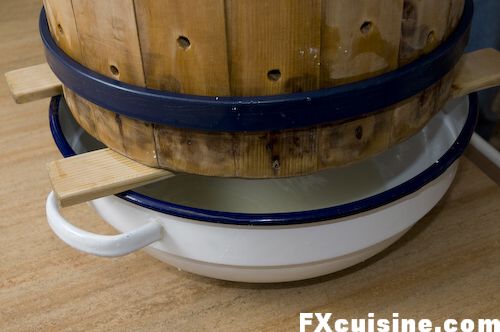 The wooden barrel is left overnight on a bowl to let excess whey drip off.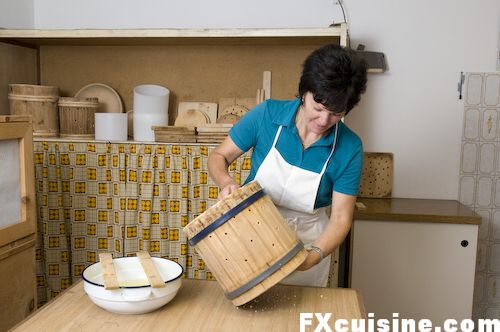 The next morning, Martha opens her barrel of cheese...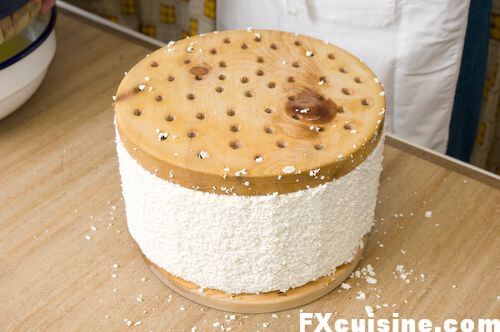 ... and pours the content onto the table.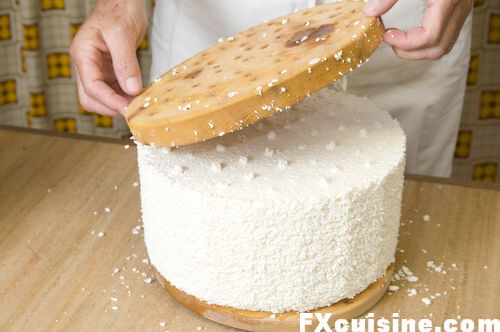 The curds have formed a solid mass...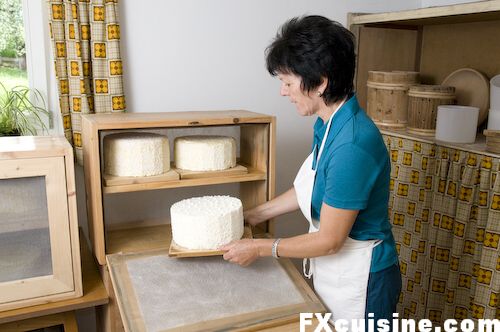 ... which she moves to a maturing box. With her 3 cows, Martha Hofer makes 4 cheeses of 4kg (9lbs) a piece every week. She doesn't sell them - all of it goes for family consumption or barter with her neighbors, much like country people every where do.
Sometimes the line between white and gray, edible and poisonous, is a difficult line to trace. In the case of Graukaese, this cheese was made in rather drab Alpine mazos where they would soon be covered by moulds and turn gray. Hence the name - Graukäse means Gray Cheese. Well, the only thing that might turn gray nowadays is the food health inspector's hair if you'd leave the cheese out to catch the moulds.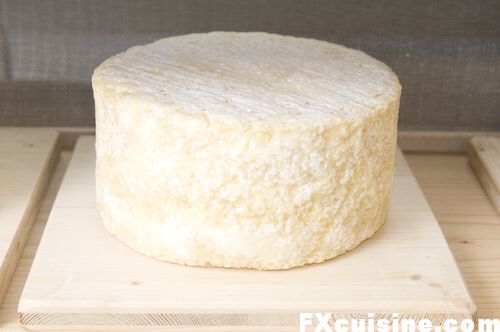 The cheese is left for 10-15 days to mature. The maturation is the most extraordinary thing, with the plaster-like texture and white color slowly turning, from the inside out, into a creamy yellow rind. You only eat the exterior as it matures.
If you ever happen to need to wake somebody from the dead, place a piece of Graukäse below his nose and he'll raise all right. But he might as well immediately pass out from the smell and never wish to come back, for this is a really seriously strong cheese. I think you can't really call yourself a consumate cheese expert (I don't) if you have not tasted such an uncompromising cheese.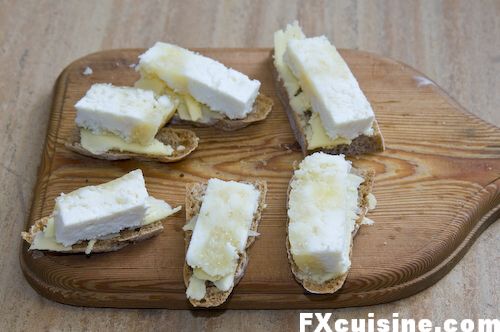 Tyrolians eat Graukäse over bread. The older, the yellower and mellower. If you could withstand the acidity, you could eat this cheese all day - it contains at most 2% fat. I like to grate it over knödels - a pungent but really interesting seasoning.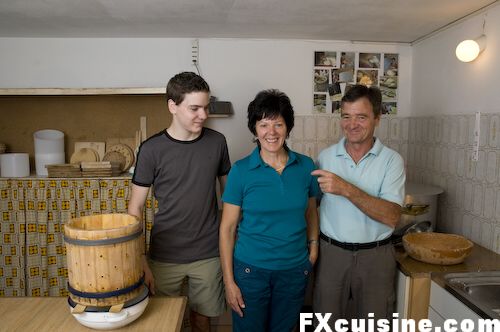 Who is the best cheesemaker in the Hofer family? «Martha», answered father and son in unison.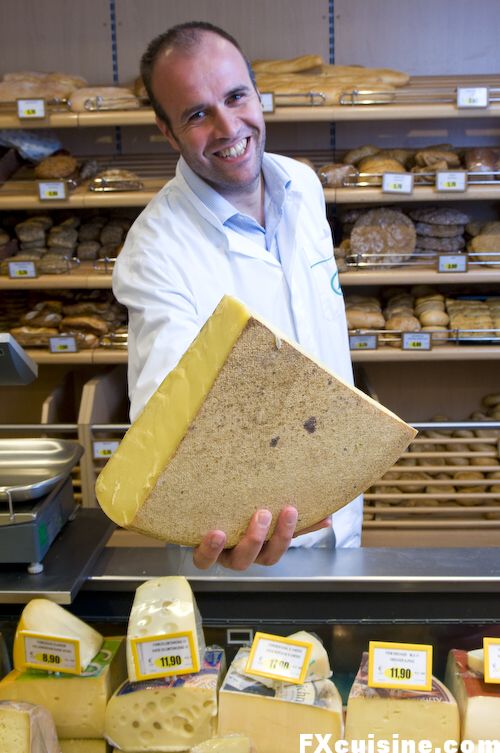 Many thanks for his helps to Martin Pircher, the big cheese in all things Slow Food in Campo Tures. He also runs the biennal cheese festival in Campo Tures and worked to ensure the Graukäse obtained its own Slow Food presidio, a rare honor. Martin owns the local Despar supermarket in Centro Tubris, complete with the most exhaustive selection of local cheeses on offer in the area. Don't miss it. Martin organized our visit to his friend Martha in San Giovanni up the Valle Aurina from Campo Tures.
Martin Pircher
Despar
Campo Tures in Valle Aurina (Südtyrol)
Tel + 39 0474 678 495
Fax +39 0474 679 425
despar.pircher@bestofdolomites.it
165423 views
Related Articles

Montgomery's Cheddar ***
My Christmas article will show you how the best cheddar since King Arthur is made in Somerset, including a 4 minutes video.

Hard Core Swiss Vacherin Cheese ***
Follow me as I wake up in the wee hours of the morning to see Swiss armailli make a unique cheese in a small chalet up the Gruyere Alps.

Swiss Alps Ricotta ***
See how we make sérac, the Swiss ricotta, up in the Swiss Alps and learn about about Swiss cheese botanics with a field trip to see what the cows graze up there.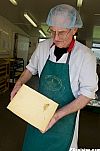 Quicke's Slow Food Cheddar ***
My visit of Quicke's Dairy in Devonshire, the largest of the nine remaining producers of real farmhouse cheddar, or how to produce world class traditional cheddar on a large scale.

Swiss Alps Cheesemaking ** Popular
My visit of a 8000'/2400m high cheesemaking chalet in the Swiss Alps where cheese is still made like 300 years ago - and not one tourist in sight!
Copyright FXcuisine 2023 - all rights reserved.
If you do this recipe at home please let me know how it worked for you by submitting a comment or send me a picture if you can. Thanks!