Persian Jeweled Rice
(page 2 of 2)
Home
>>
Recipes
Spectacular recipe fit for a king, this Persian rice is adorned with beautiful dried fruits and nuts that turn it into a jewel. Really memorable!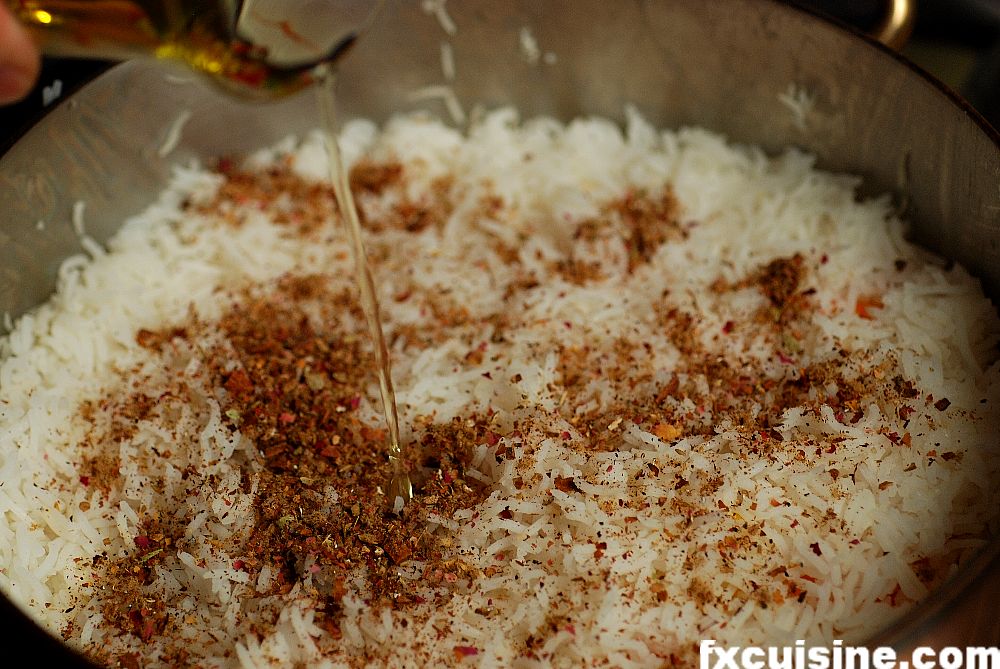 Add a generous amount of advieh on top and pour the rest of the melted butter and saffron water and half a cup water. Cover tightly, possibly using a towel wrapped all around the top of the pot to prevent any leakage. Cook over low heat for about 45 minutes.
While the rice finishes cooking, prepare the garnish.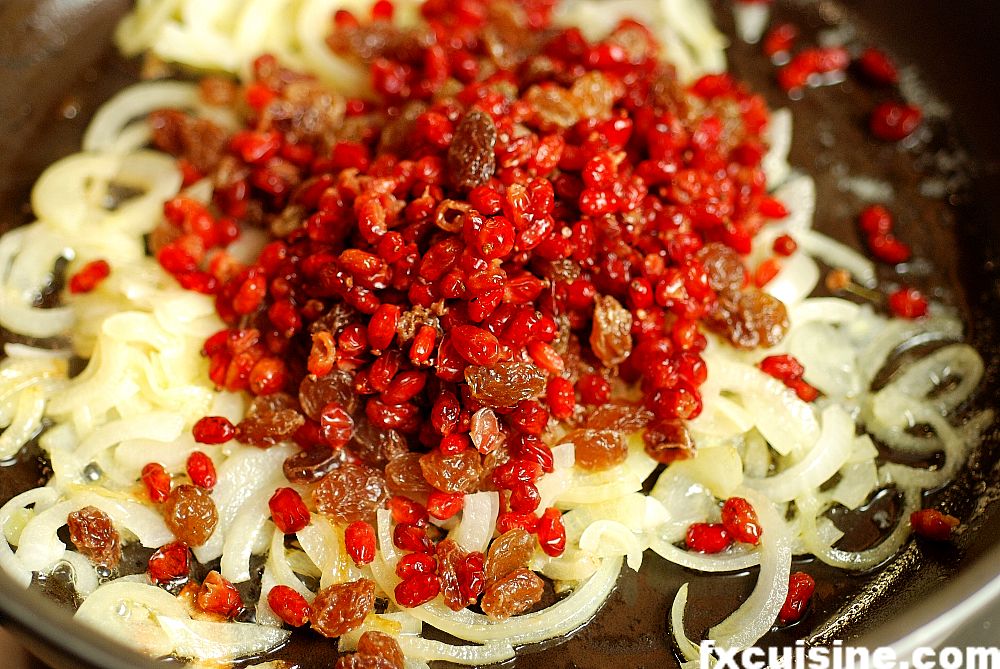 Soak 1 cup barberries and half a cup raisins into 2 cups warm water for 20 minutes. Thinly slice an onion and gently fry it in 2 tbs/25 gr butter until soft and brown.
Add the strained barberries and raisins and cook for one more minute. Reserve.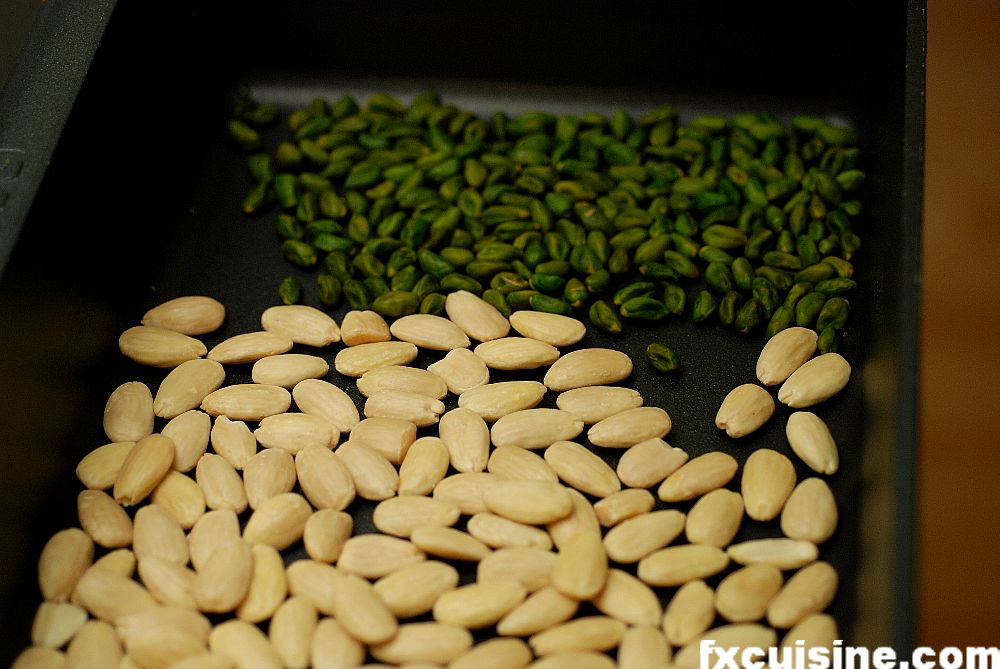 Toasted
nuts
have a more intense flavor but too much toasting can ruin their appearance and make their taste overwhelm the rest. In a baking tray place the almonds and, if you want, the pistachios. Toast for about 10-15 minutes at 180░C while watching them continually. Nuts are easily overtoasted! alternatively, you can gently fry them in a non-stick pan with a little oil or no oil (
picture
).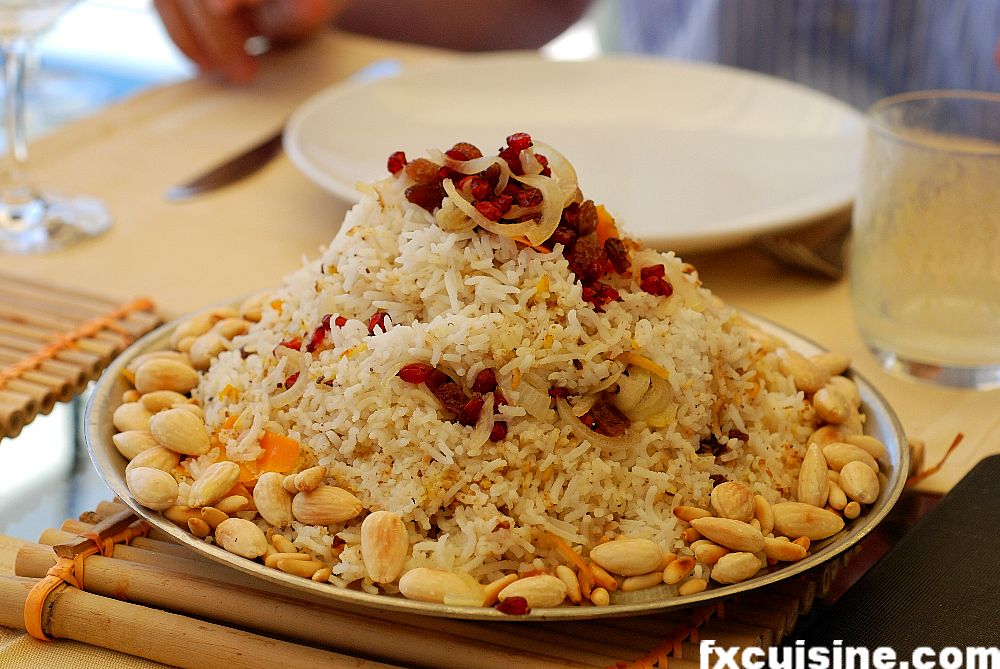 Prepare a large serving platter, if possible of Persian or at least Arab origin. Carefully pile the rice in a nicely shaped mound and garnish with the Berberis-raisin-onion mixture and nuts.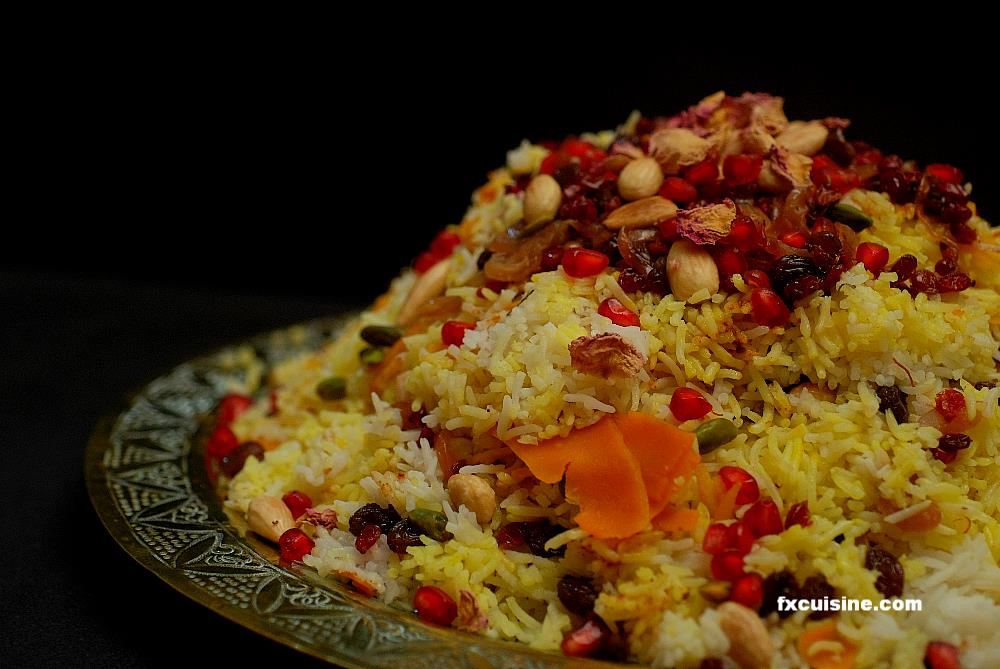 Above another version with pomegranate seeds and rose petals on top although the composition can become visually cluttered.
A good deal of what makes this dish royal is its presentation. Be careful when laying the berberis on top and take some time to make a nice ring of nuts all around the rice.
Above you see the first time I tried this recipe, with a roasted chicken cut in pieces around. The berberis bays were probably over the hill and quite dark, but a very convincing dish already.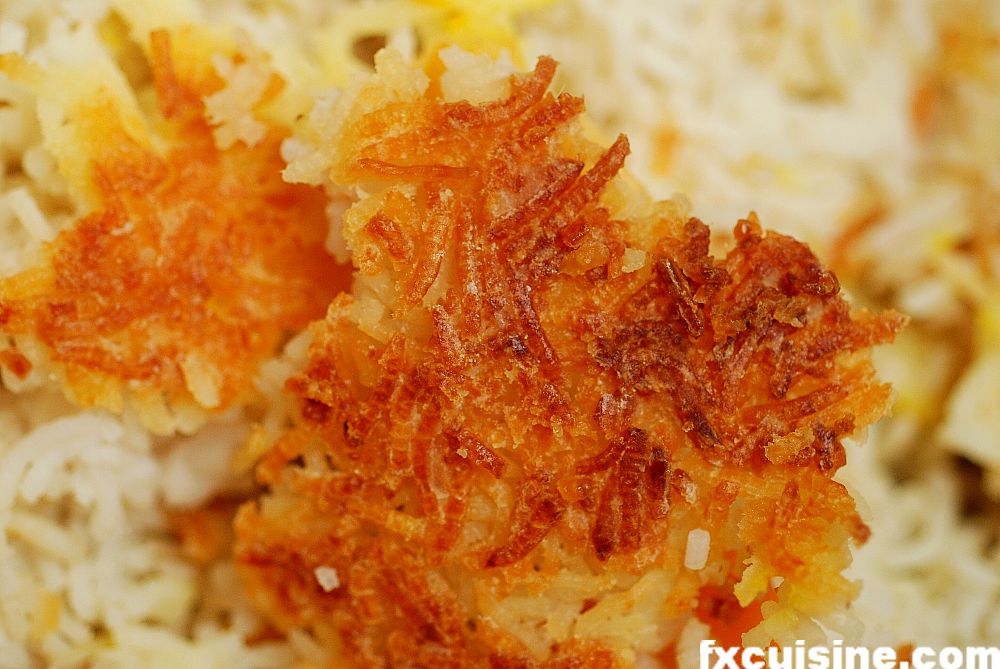 The rice at the bottom of the pot will form a delicious golden crust, crunchy and flavored with saffron. This is the part Persians all desire, the gratin, the duck skin, the crust on a leg of lamb. They call it tah-dig. Scrape it and serve one piece on each plate.
I served this with my Fig-stuffed quails - a resounding success! You can prepare the candied carrot and orange rind and toast the nuts the day before to gain some time.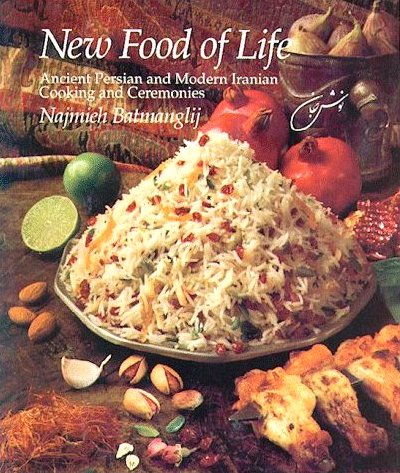 I found this recipe in New Food of Life, Ancient Persian & Modern Iranian Cooking & Ceremonies, one of the most amazing cookbooks ever, written by Najmieh Batmanglij, a New-York-based Persian powermama. She first wrote her book in France where she had fled the bearded thugs who took over from the Shah in 1979, and then translated it into English when she settled in the USA. The book tells you in great details and very practical recipes how Persians prepare both regular and festive food. This Jeweled Rice is on the cover of the book. Each recipe is so well explained that you could give it as a reference in a cookbook-writing class. She carefully lists a number of alternative ingredients and explains the whys of each step. Warmly recommended!
611361 views
Copyright FXcuisine 2020 - all rights reserved.
If you do this recipe at home please let me know how it worked for you by submitting a comment or send me a picture if you can. Thanks!