Sopa Mágica Italiana de Pesto
(página 2 de 2)
Home
>>
Recetas
Esta legendaria sopa italiana y a la vez tradicional sopa francesa de verduras se convierte en un elixir de larga vida al mezclarla con pesto.  Todo un culto, esta delicadeza veraniega estará lista en menos de una hora.
En tu mortero machaca 4 a 6 dientes de ajo cortados en mitades y habiendo removido el tallo.  Añade las hojas de albahaca poco a poco y velas moliendo por partes, hasta hacer una pasta.  Continúa añadiendo más hasta volver a tener una pasta.
Por alguna razón quimica que desconozco, el albahaca pierde su sabor si se la corta con cuchillo, pero lo retiene si se utilizan tijeras.  Le puedes preguntar al experto en la física de la comida Hervé Thais porqué es así, pero así es.  desde luego puedes poner las hojas enteras en el mortero, pero el resultado serán pedazos más grandes de albahaca en el producto final.  Esto no es tanto problema en una sopa en la que de cualquier manera ya tienes muchas cosas flotando, pero para una pasta definitivamente tendrías que cortarla con tijeras antes de machacarlas en el moretero.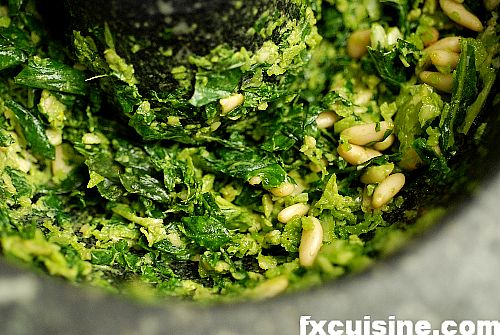 El pesto normalmente pide piñones, o por menos nueces.  En mi opinión, en una sopa al pesto, éstos son opcionales, aunque añaden sabor, textura y grasa.  Si utilizas nueces, cualquier nuez, asegúrate de mantenerlas en el refrigerador para que no se arrancie su aceite.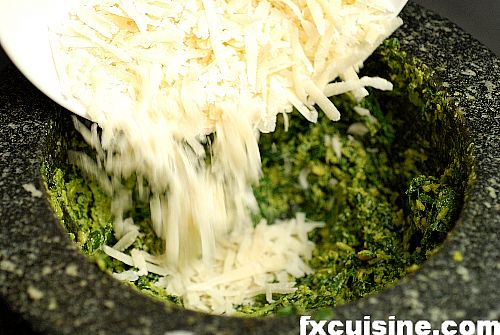 Cuando toda tu albahaca se ha convertido en una pasta, añade el queso.  En Provence los chefs usan mitad Parmesano y mitad Gruyere, mientras que en Liguria los cocineros prefieren solo Parmesano, o mitad Parmesano y mitad queso de Serdeña.  El Parmesano tiene un sabor maravilloso pero es un poco seco.  Añadirle gruyere u otro queso duro y grasoso incrementa la cantidad de grasa de leche en la sopa y la convierte en un platillo mucho más apetitoso.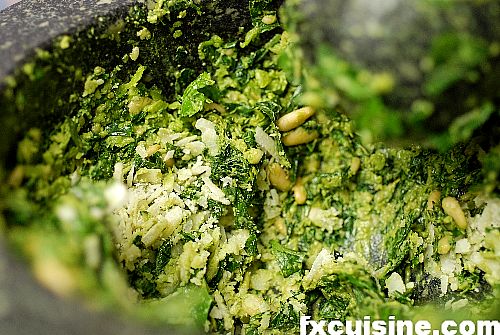 Algunas recetas añaden unas anchoas al pesto, haciéndolo una salsa hìbrida que es mitad un anchoïade de Provence y mitad un pistou.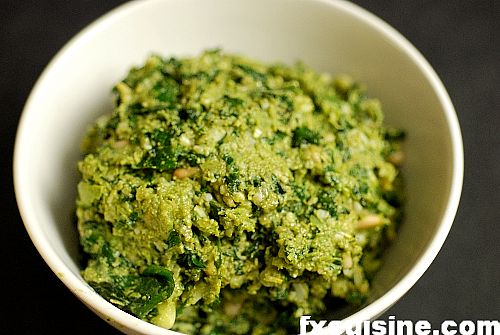 Puedes preparar un poco más pesto del necesario y guardarlo de un día pare el otro bien tapado en el refrigeador para utilizarlo con pasta.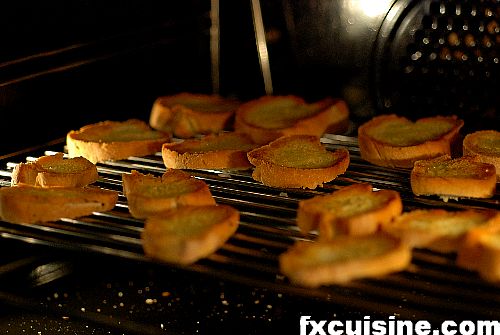 Los italianos añaden un poco de pasta a esta sopa 10 minutos antes de servirla.  Los cocineros franceses prefieren servirla con croûtons, [crootong] rebanadas fritas de pan duro.  Los crutones estaban e su lecho mortuorio con categoría de bomba calórica fosilizada, hasta que volvieron a cobrar interés con el resurgimiento del aceite de oliva.  Puedes hacer crutones tradicionales rebanando una baguette u otro pan largo en rebanadas delgadas y dejádolas endurecer un par de días, para después freirlos en aceite hasta que se doren.  La manera moderna, que aprendí en Ducasse´s (véase mi artículo article) es rociar una gotas de aceite en los crutones y meterlos unos minutos en un horno muy caliente hasta que se doren.  Uno esperaría poder hacer buenos crutones con pan fresco, ya que el que puede lo más puede lo menos, pero no es así.  Si no tienes pan duro puedes rebanar pan fresco y secarlo en un horno a 50ªC unos 30 minutos, pero el resultado no será el mismo.  Recomiendo hacerlo a la italiana y añadir algo de penne o maccheroni al final de la cocción.
Para espesar el caldo los chefs de Provence trituran una de las calabacitas cocidas para hacer una pasta que mezclan con el caldo.  Esto funciona muy bien y a quienes no les gusta un caldo ligero con sus verduras les encantará. 
No hay duda alguna de que el pesto debe mezclarse con la sopa hasta que el líquido tome su bonito color verde pálido.  Sin embargo, pocos pueden resistirse a servir pequeñas esferas de pesto sobre la sopa y dejar que sus invitados la mezclen ellos mismos.
Si haces más sopa de la que puedes comer en un solo día, ¡vacía el líquido en un recipiente aparte   y guárdalo en el refrigerador.  Si dejas las verduras en el líquido lo absorverán casi todo y se convertián en horribles criaturas infladas sin ningún sabor.  Toma solo un minuto vaciar  el líquido en una jarra o incluso sacar las verduras con un colador, dejando el colador sobre la misma olla, sin que las verduras toquen el caldo.
El pesto desaparece en la sopa caliente y el queso no se derrite, sino que se disuelve en el caldo.  Una sopa como Dios manda requiere un poco de grasa y no existe una grasa de mejor sabor que el pesto.  El efecto de comer un plato de este mágico licor esmeralda es como beber un litro de la Fuente de la Eterna Juventud.  La gloria del verano hecho sopa fluye por tus venas y te convierte en un gigante verde.
353869 visitas
Artículos Relacionados

Italian Minestrone Vegetable Soup *** Popular
The most delicious traditional Italian peasant soup, simmered for three hours. Learn how to make this soup with your local seasonal vegetable and the three secret ingredients that will make your soup really Italian.

Proper Pea Soup ***
Probably the best soup in the world, provided you get the key ingredient - a smoked ham bone.

Halloween Pumpkin Risotto ***
Serious gourmet traditional pumpkin risotto from Lombardy (Italy) anybody can cook in under 40 minutes.

Creamy Agliata Verde ***
This traditional recipe from the confines of Italy and Switzerland brings together the delicious full fat creamy tomme with a unique Alpine herbal pesto.

French Garlic Soup ** Popular
Simple and healthy garlic soup from the Provence.
Artículos màs populares ¦ Ultimos artículos ¦ Por temas ¦ Ultimos comentarios
Copyright FXcuisine 2023 - all rights reserved.
If you do this recipe at home please let me know how it worked for you by submitting a comment or send me a picture if you can. Thanks!