Nieve Sicliana de Mandarina
(página 2 de 2)
Home
>>
Recetas
Esta extraordinaria nieve servida en la cáscara es un postre espectacular apto tanto para los vegetarianos cuenta calorías como para los epicureístas come trufas.  Sin necesidad de cocinarlo ni de una máquina para helados, esta es una oferta que no puedo rehusar.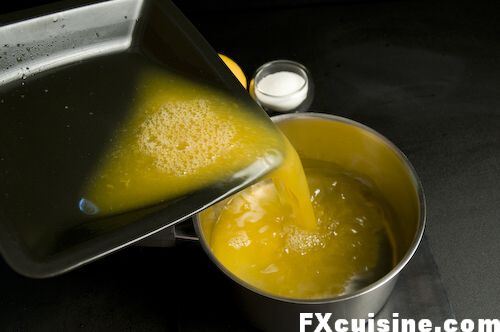 Vacía el jugo de mandarina en el jarabe.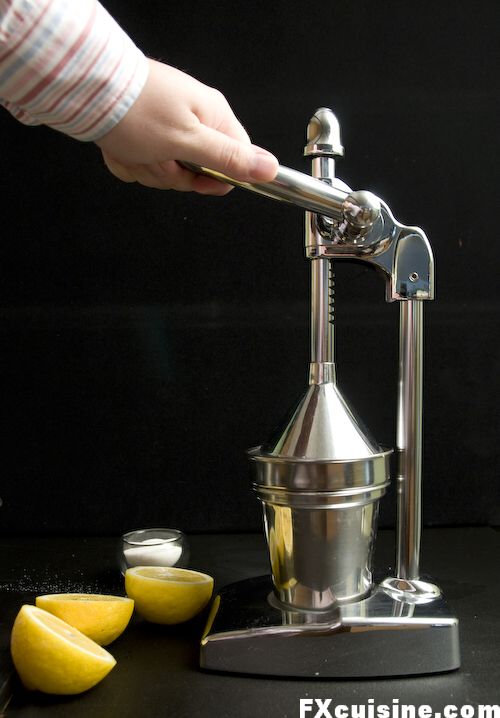 ¿Para qué añadir jugo de limón?  Lo ácido y lo dulce son de lo que se tratan las nieves.  Pero lo ácido es, si me permites, el alma de la fiesta.  Las mandarinas normalmente son medio sosas y les hace falta una patadita en la cola para que el postre sea el éxito que buscamos.  El limón es la opción obvia, pero un chef más inclinado a la química, podría usar ácido ascórbico.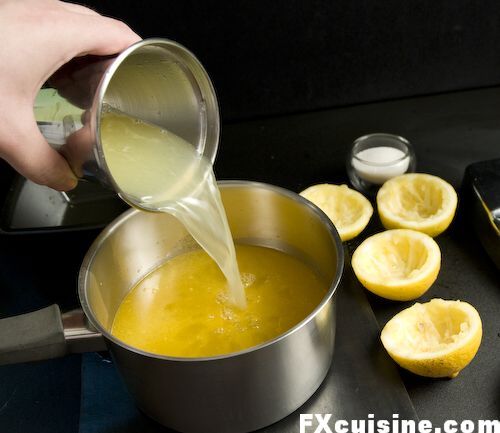 Mezcla el jugo de limón con el jugo de  mandarina, el agua y el azúcar.  Prueba un poco ¿Suficientemente ácido? ¿Tal vez demasiado dulce? Ya sabes que hacer.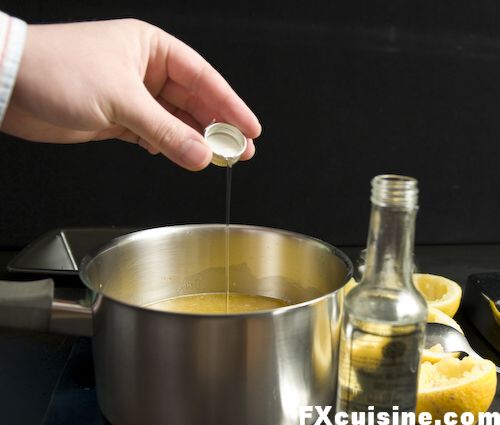 Ahora nuestro toque más artero.  Una gota de agua de azahar le dará otra dimensión de sabor a nuestra nieve.  Pero no te pases - una gota basta o todo el menjurge olerá a agua de colonia de agente de seguros, sí, de esa que compran ya en el área de cajas del super.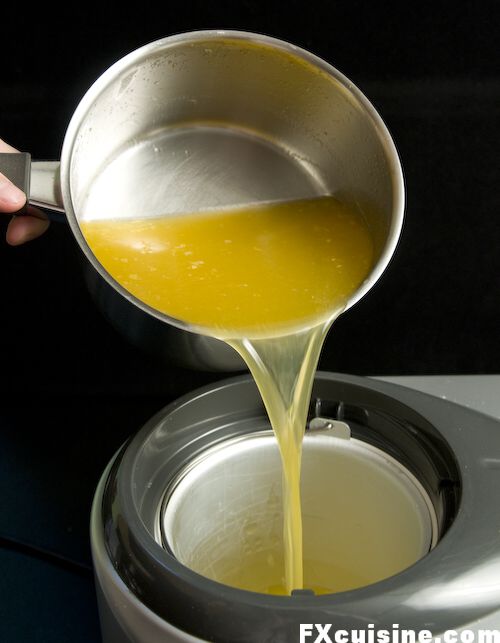 Ya estuvo - solo vacíala en la cubeta para hacer helado.  ¿Que no tienes cubeta ni máquina? No hay problema.  Ponla en un recipiente bajo y que quepa en tu refrigerador y déjala ahí hasta que casi se congele.  Sácala y desmenúzala con una batidora o a mano con un tenedor, y congélala de nuevo.  Haz esto un par de veces más hasta que obtengas una textura suave sin cristales visibles.  Así es como lo hace la gente en Sicilia.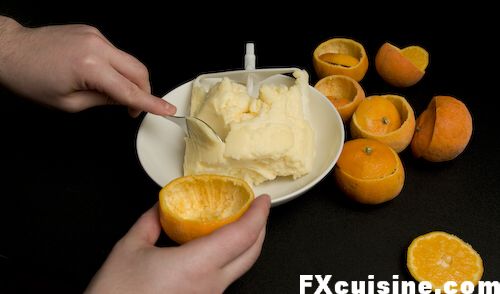 Saca las cáscaras de mandarina del refrigerador.  Toma una en tu mano - estará dura.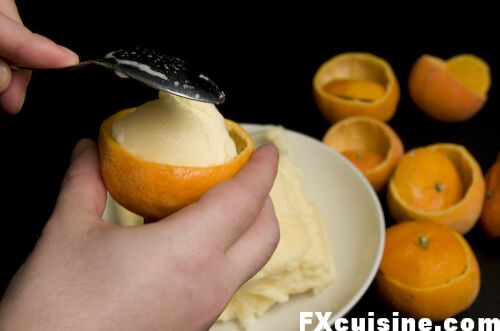 Con cuidado rellena la cáscara de nieve.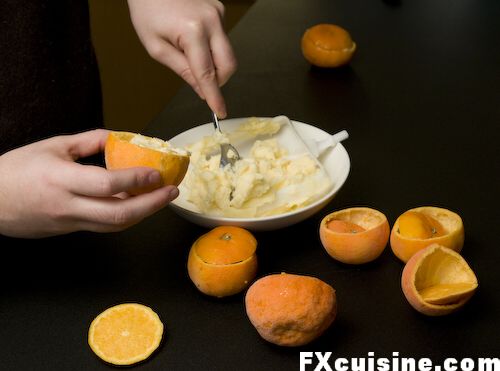 Con el desmenuzado y el líquido adicional, habrá suficiente para llenar todas las cáscaras, y te sobrará.  Ponles la tapa y regrésalas al congelador hasta que estén listas.  Sácalas del congelador 30 mimnutos antes de servir para que no estén tan duras.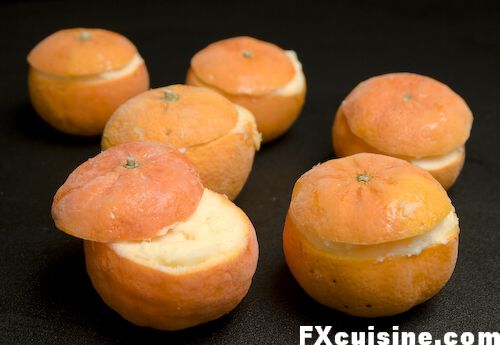 ¿Estaría mejor el postre si hubiésemos conservado las hojas de las mandarinas?  ¡Pues claro!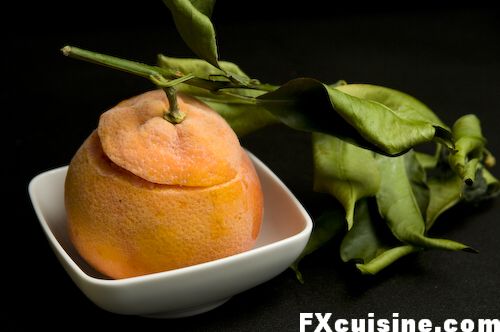 Una semana después hice una con toronjas rosas  ¡Delicioso!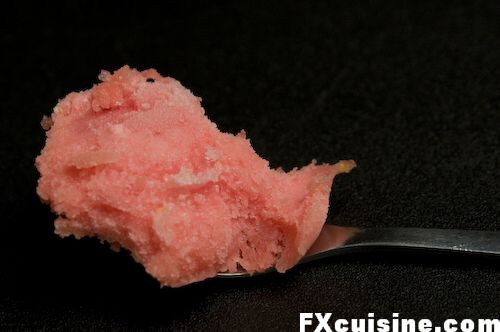 Distinto color pero un sabor igual de encantador.  Aquí no se necesitó agua de azahar.  Juega con la cantidad de azúcar o no utilizes agua para lograr un sabor más intenso.
Esta fue mi participación en Sugar High Friday 'Citrus' de Domestic Goddess y Tartelette.
414409 visitas
Artículos Relacionados

Sicilian Watermelon Folly ***
Eleonora makes Gelo d'anguria, the cult Sicilian dessert, in her home on Mount Etna.

Authentic Sicilian Pasta With Broccoli *** Popular
This traditional Sicilian recipe brings together North African and Italian culinary traditions. A cult dish!

My Boyhood's Hungarian Plum Dumplings ***
I had eaten these dumplings only once, when I was 12, but boy did they make an impression! Such a rich combination of gorgeous juicy sweet prunes covered in a soft potato-based simmered dough.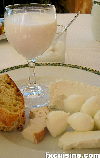 Sicilian Almond Sorbet ***
The most delicate sorbet of them all, and you don't even need an ice-cream machine!

Serious Pasta alla Norma ** Popular
Pasta alla Norma, a divine combination of eggplants, tomatoes, basil and ricotta, is one of the most elegant traditional Sicilian recipes. A real cult classic!
Artículos màs populares ¦ Ultimos artículos ¦ Por temas ¦ Ultimos comentarios
Copyright FXcuisine 2023 - all rights reserved.
If you do this recipe at home please let me know how it worked for you by submitting a comment or send me a picture if you can. Thanks!