Aspárragos à la Pompadour
Home
>>
Recetas
Esta receta inventada por la amante de Luis XV no ilustrará tu cintura.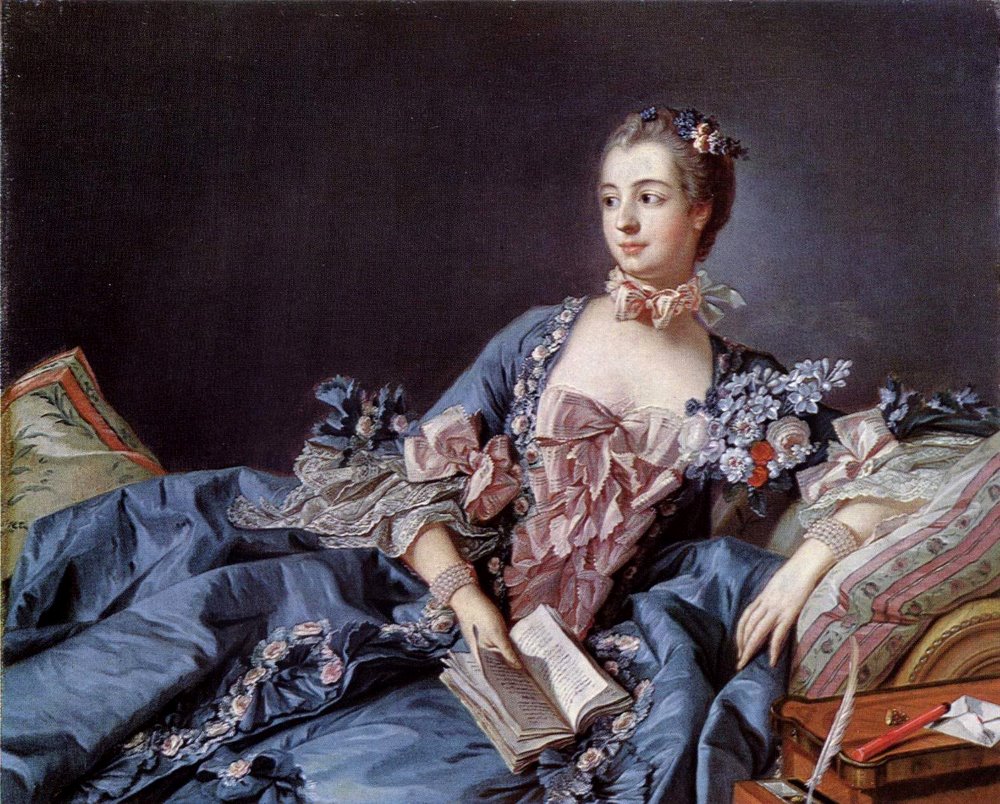 Madame de Pompadour (1721-1764) fue la más famosa de las amantes del rey francés Louis XV. Todo mundo sabe ésto, pero ¿Quién sabe que también era una cocinera apasionada?  Puedes estar seguro de que ella no lavaba los trastes pero aparentemente la receta que sigue fue inventada por ella.  No pude resistir probarla.  Si quieres seguir mi huella, prueba primero haciendo una salsa bernesa, que es una mejor salsa.  Pero si puedes encontrar el verjuice puedes intentar la versión de Madame de Pompadour.  Mientras tanto, simplemente disfrútala aquí: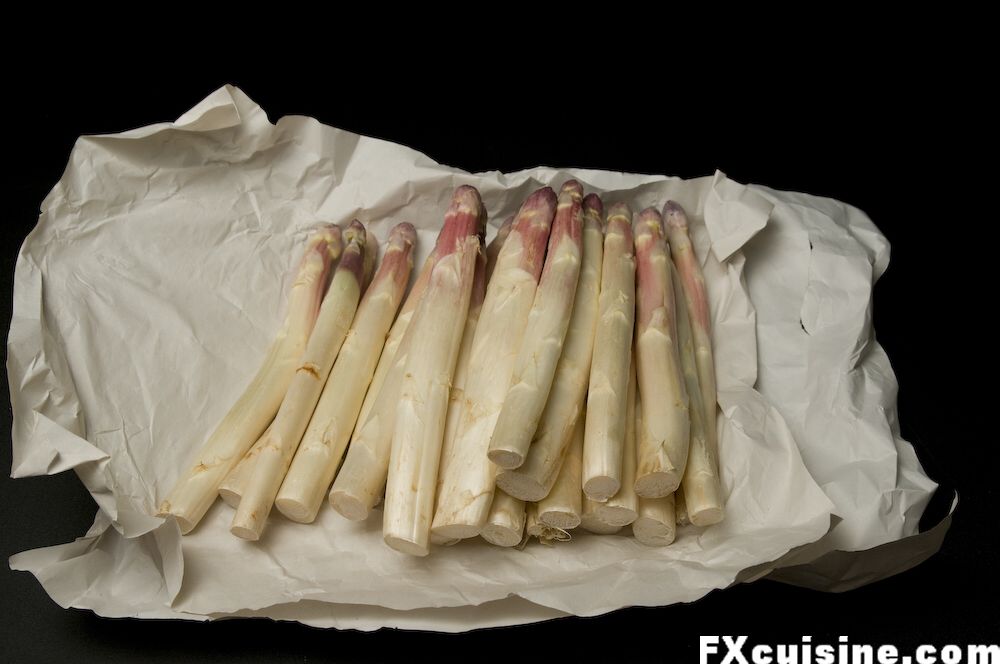 'Nos hemos reservado esta receta para el final para que se pueda dejar fuera.  Veremos que es al mismo tiempo exquisitamente delicada, de una simpleza encantadora y de una elegancia perfecta.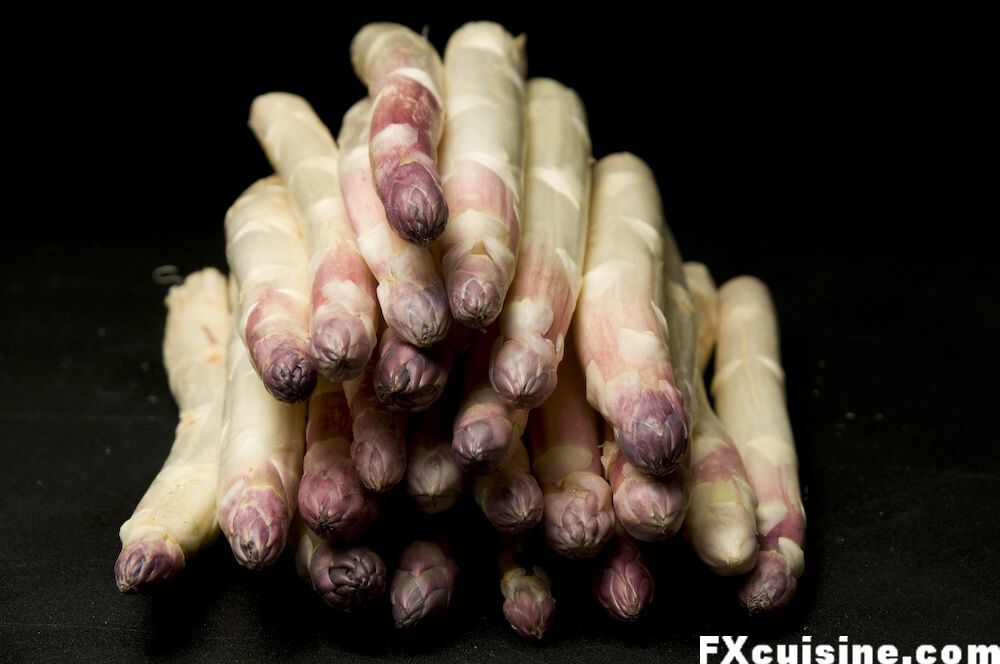 seleccione tres manojos de los mejores espárragos del gran plan de Holanda que son esos blancos con la punta morada.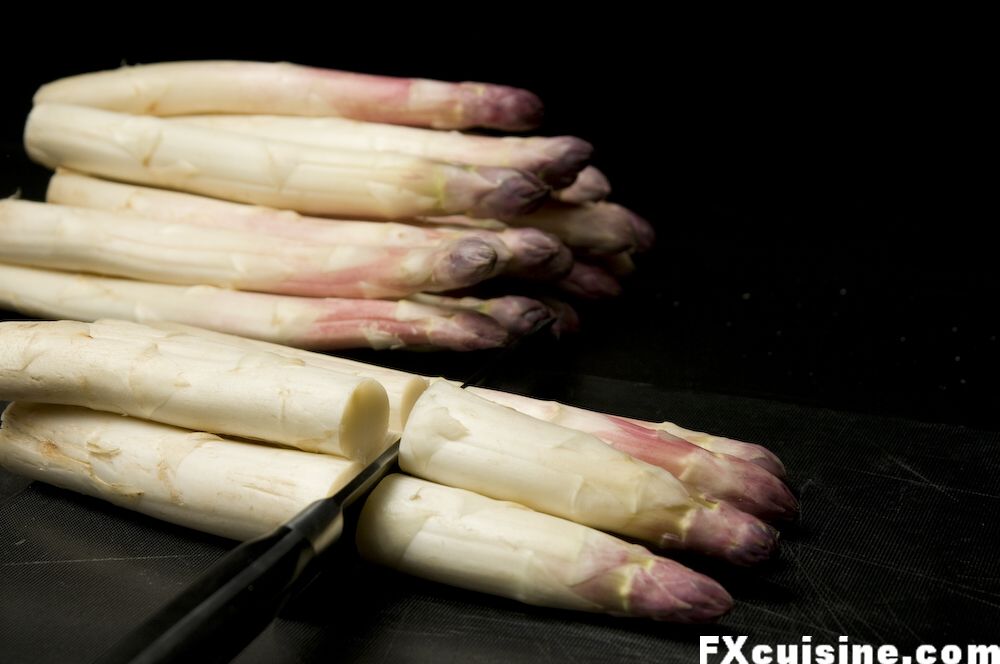 Deje que sean lavados y cortados.  Córtelos transversalmente del lado de la punta, de la longitud de su dedo meñique.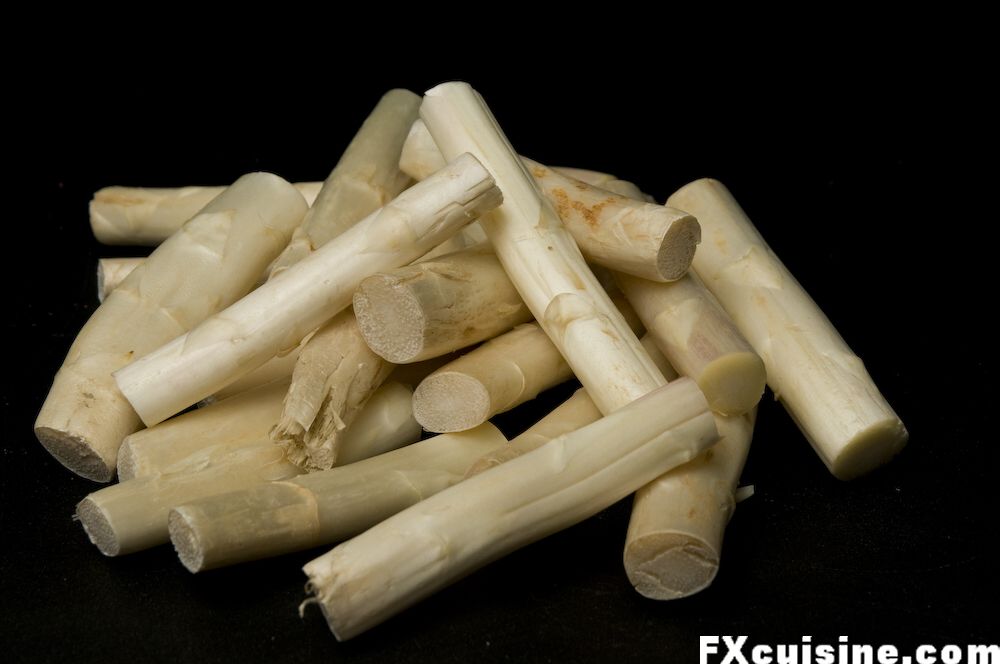 Preocúpese únicamente de estos selectos bocados y descarte el tallo restante.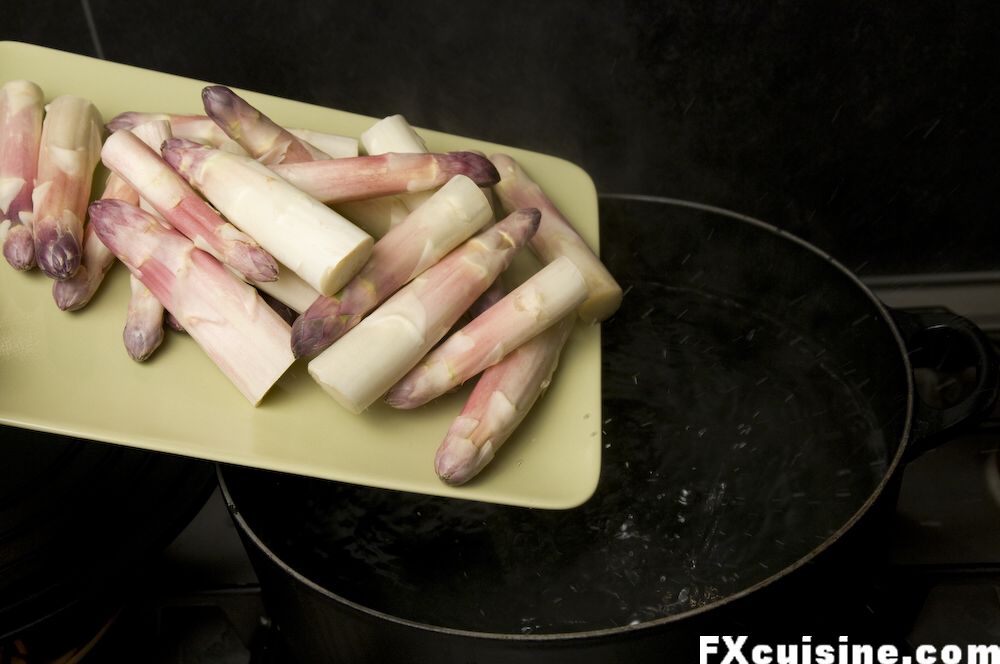 Cocínelos de la manera usual sumergiéndolos en agua salada.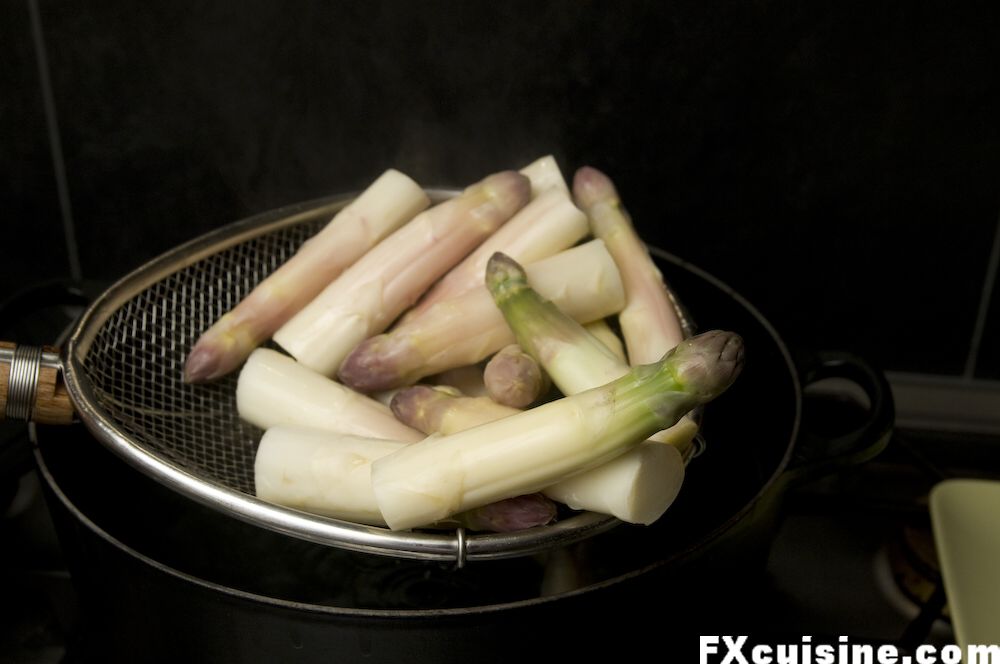 Sáquelos ...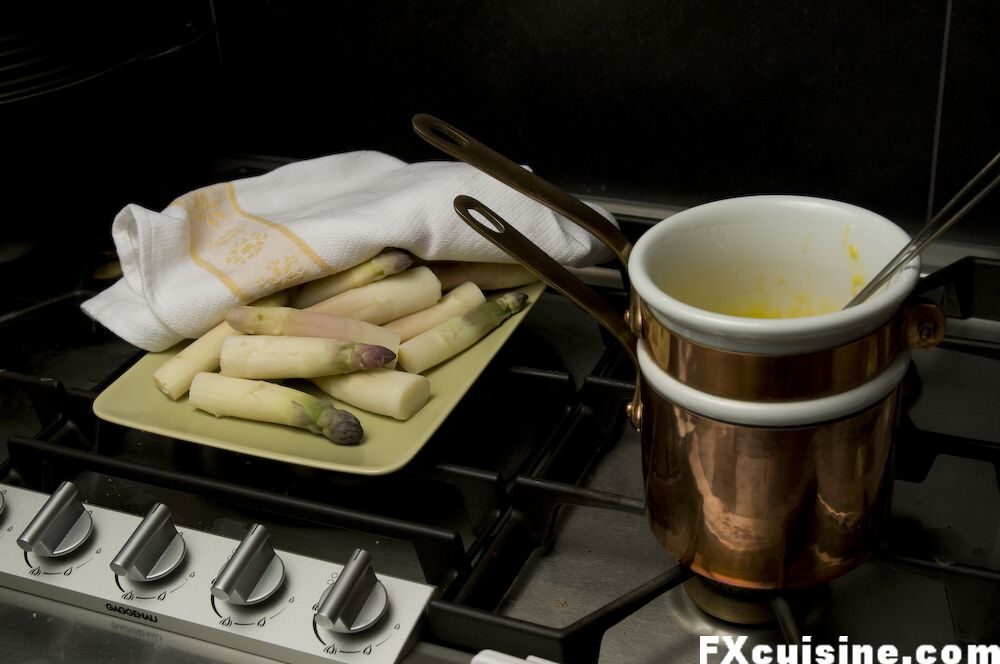 ... y colóquelos en una toalla para que escurran y se mantengan calientes mientras hace su salsa.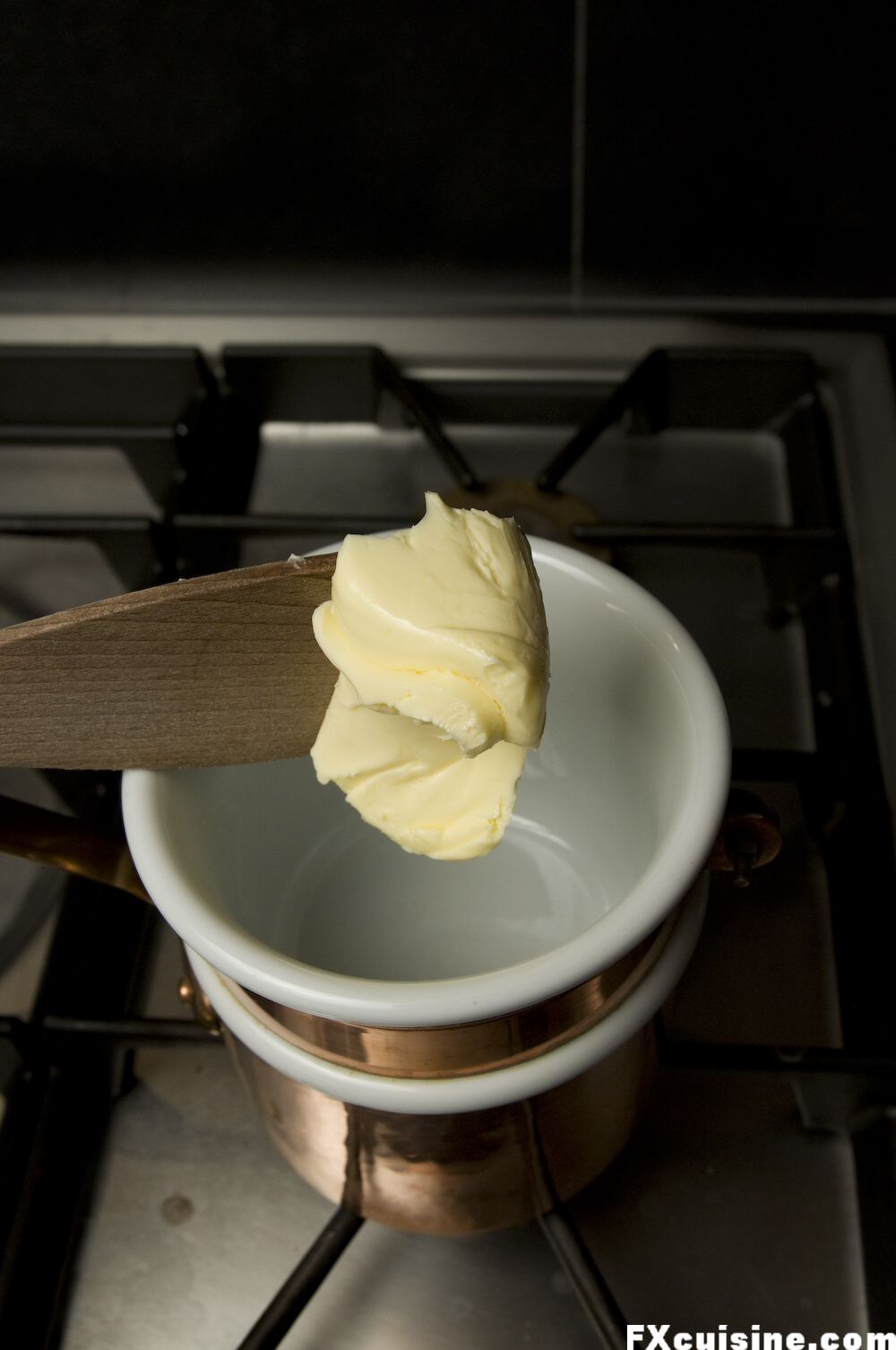 Vacíe un frasco de mediano tamaño de mantequilla de Vanvres o del Prévalais en una olla de plata.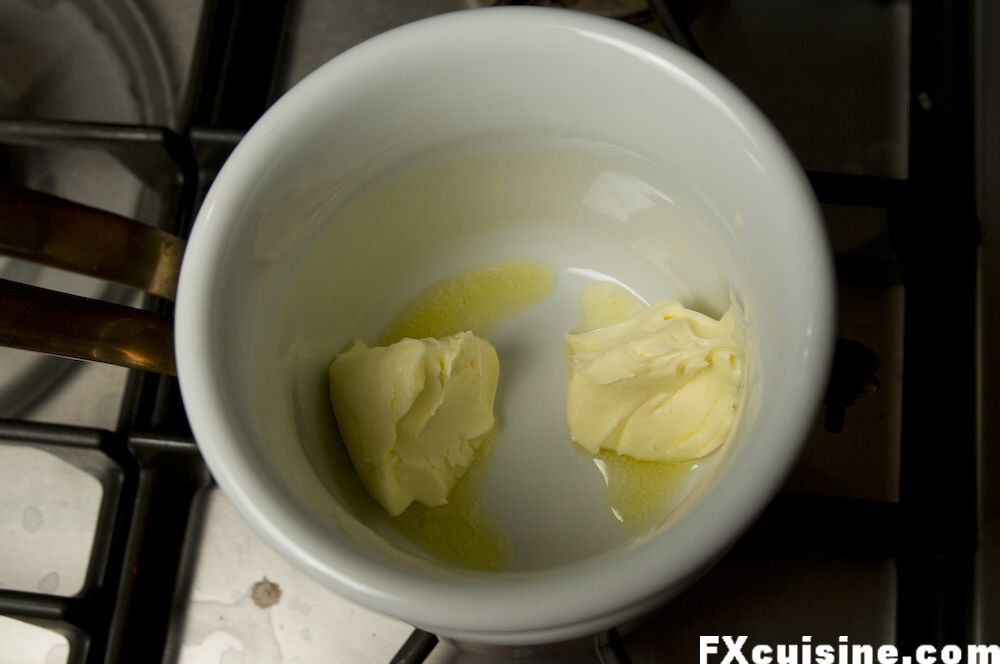 Derrita la mantequilla...'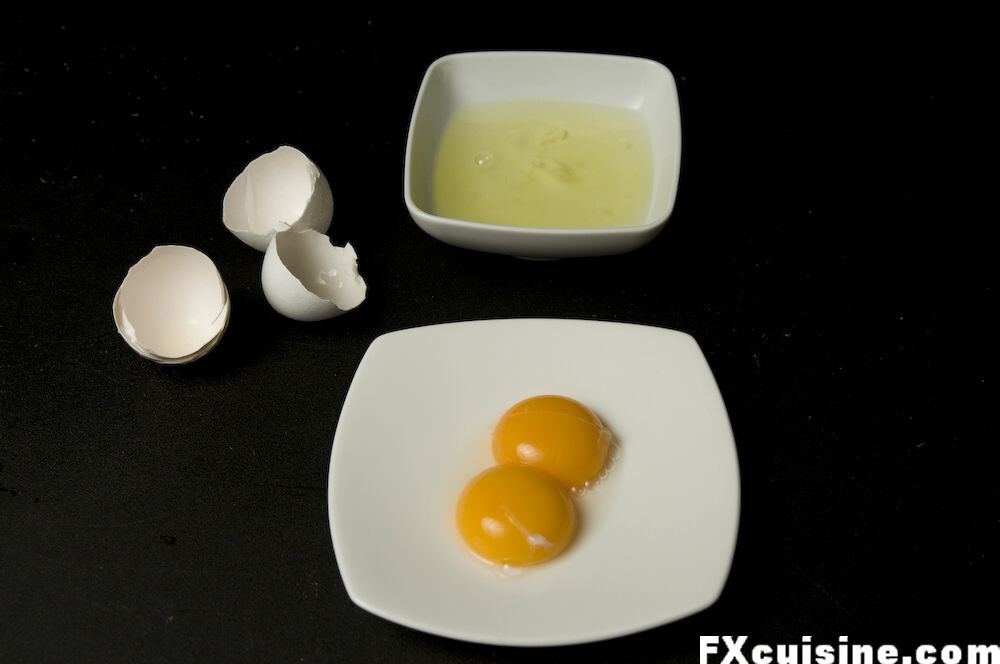 Esta salsa, como una holandesa o una bernesa, se espesa mezclándola con yemas de huevo y calentándola lentamente.  Definitivamente requieres un baño maría para hacer ésto y ádemás cuidar tu temperatura constantemente, ya que cualquier incursión más allá de los 68ºC arruinará la salsa - muerte por ennatillamiento.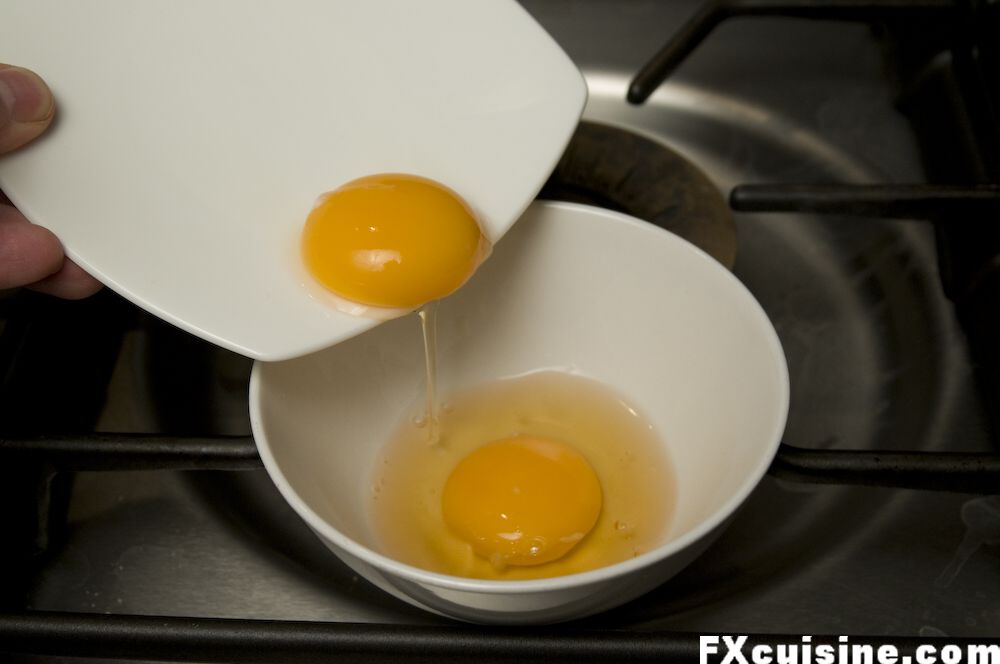 'dos yemas de huevo ...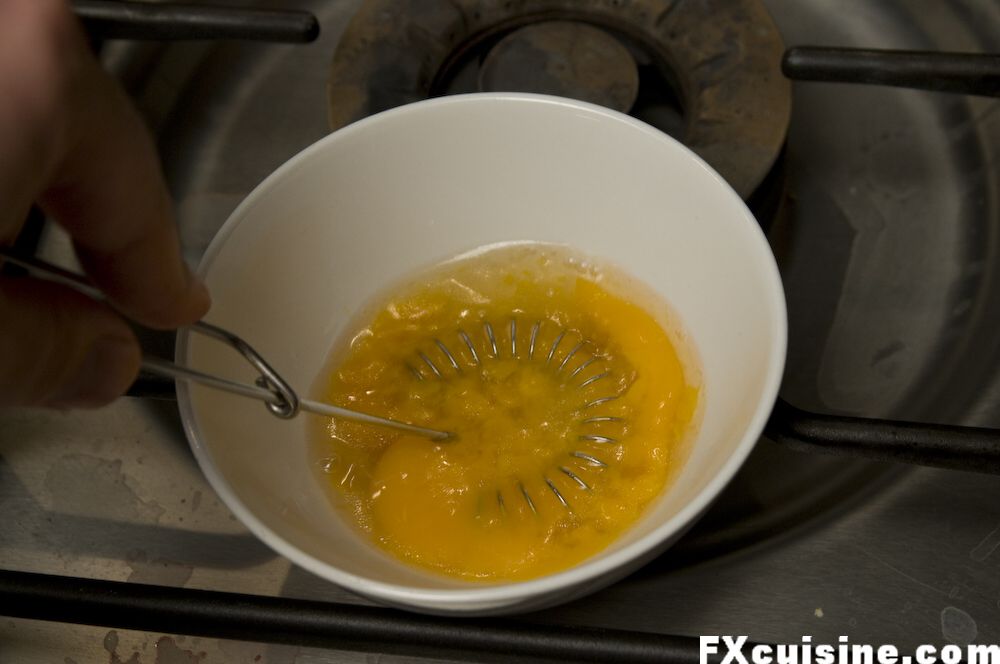 ...bien mezcladas con 4 cucharadas de Muscat verjuice.'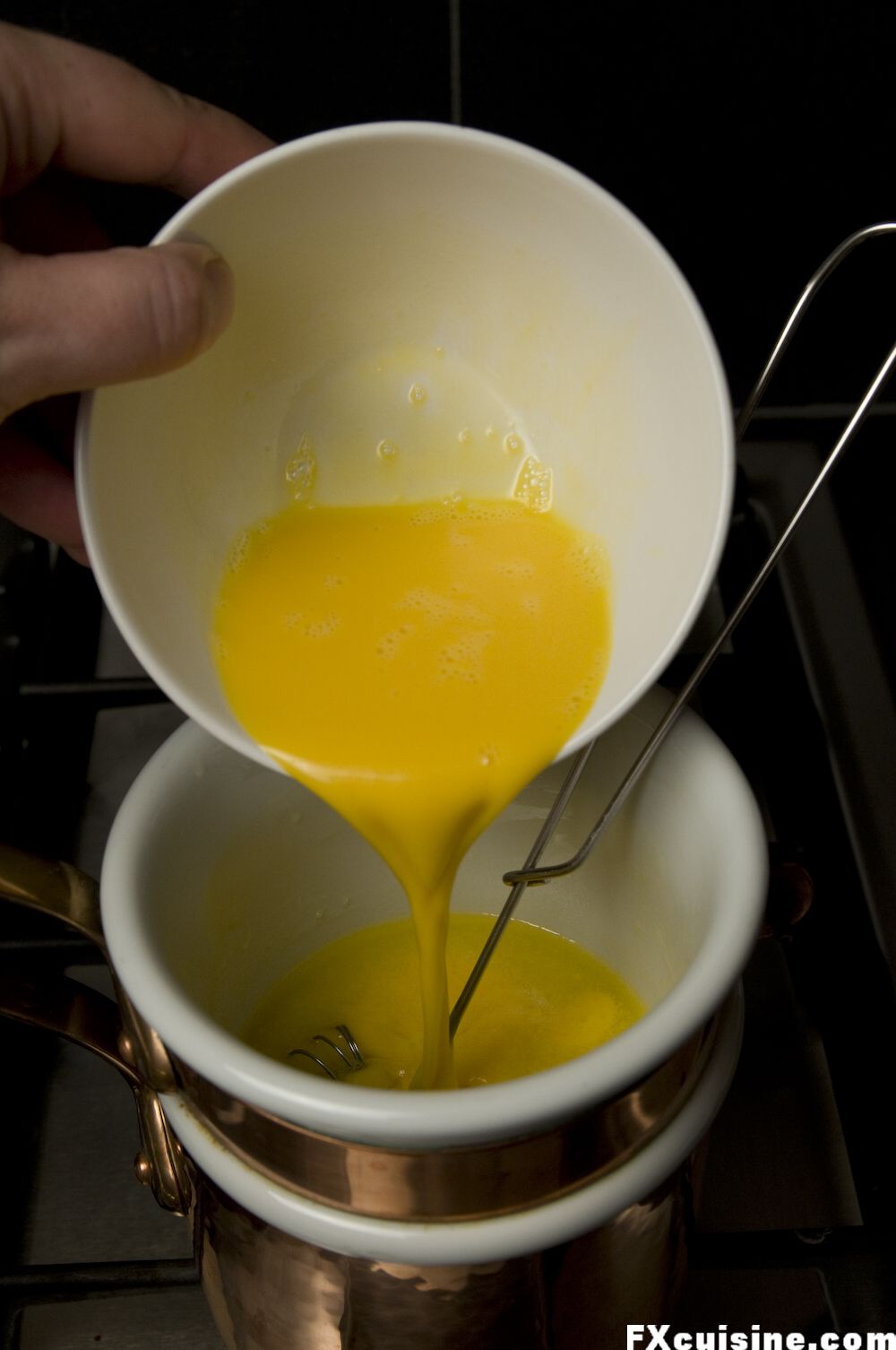 Agrégalo a la mantequilla de un jalón.  Si lo añades demasiado despacio, corres el riesgo de que se coagule la primera gota de yema de huevo.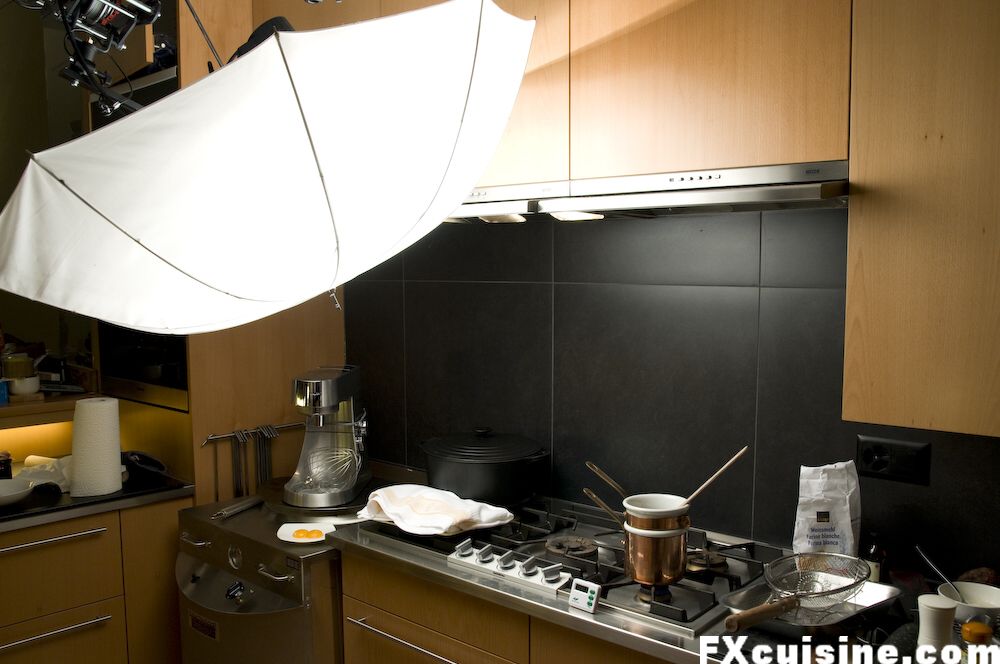 Mi sombrilla observando como se desenvuelve el evento como el Rey Sol.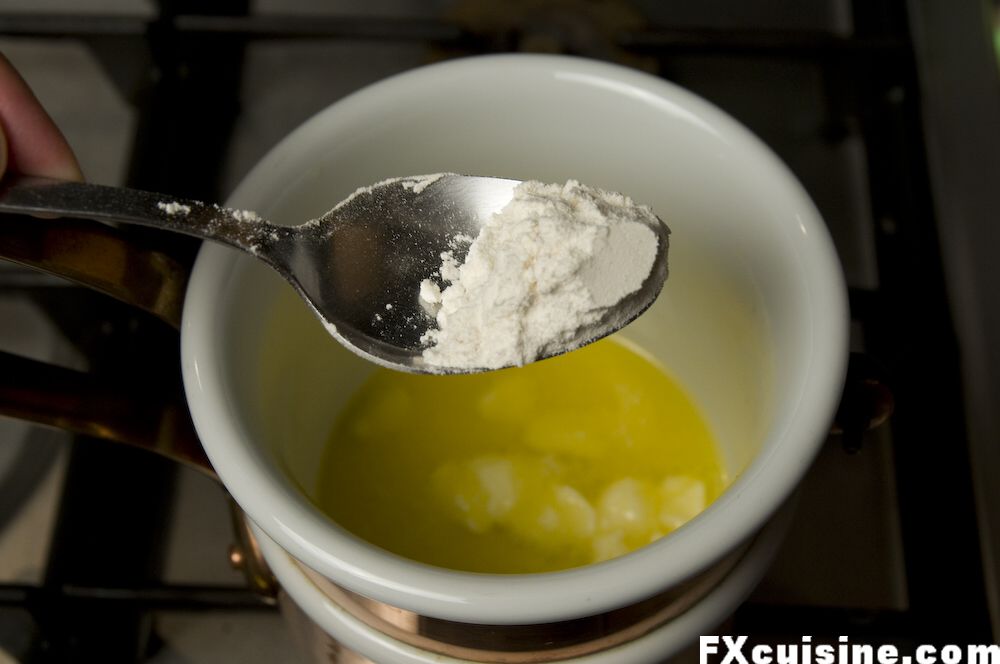 'Añada unos granos de sal y la mitad de una cucharada de harina mágica ...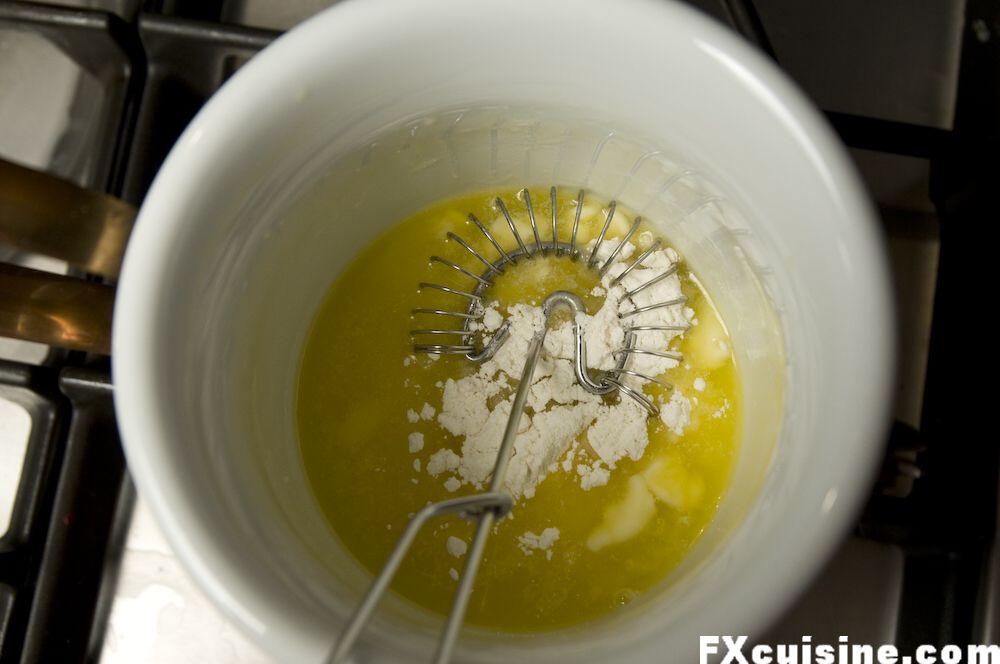 ... y mezcle bien.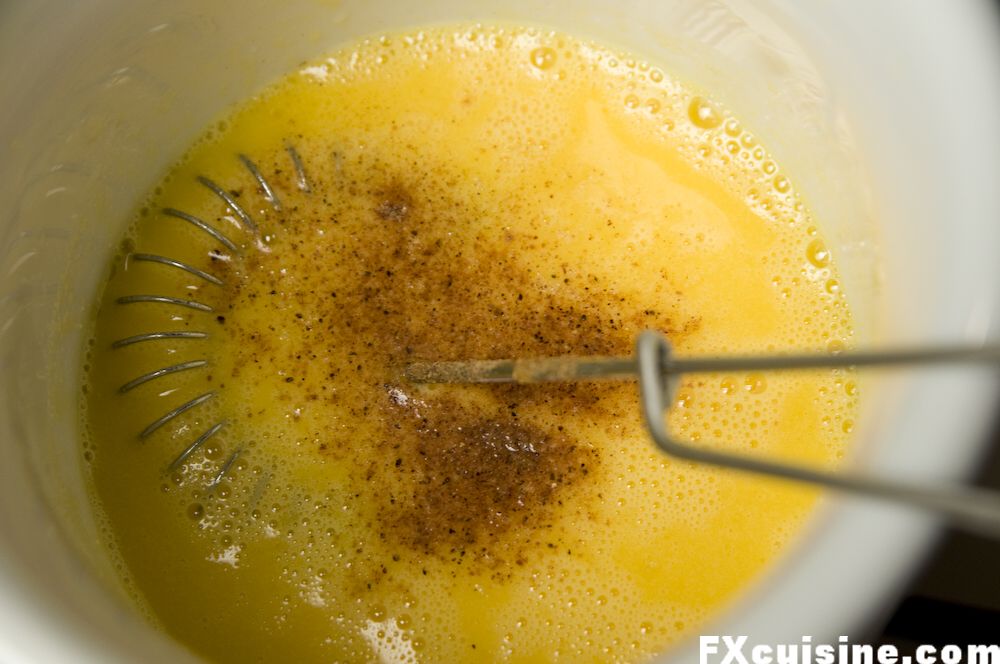 Agregue una buena pizca de mace en polvo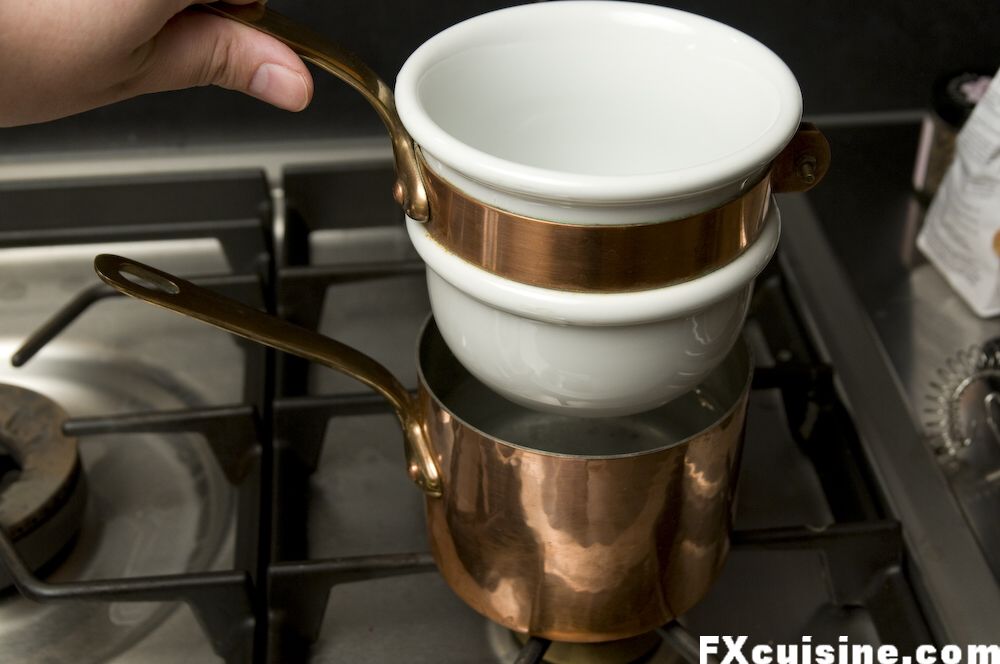 Deje que la salsa mencionada arriba se cocine en un bain marie...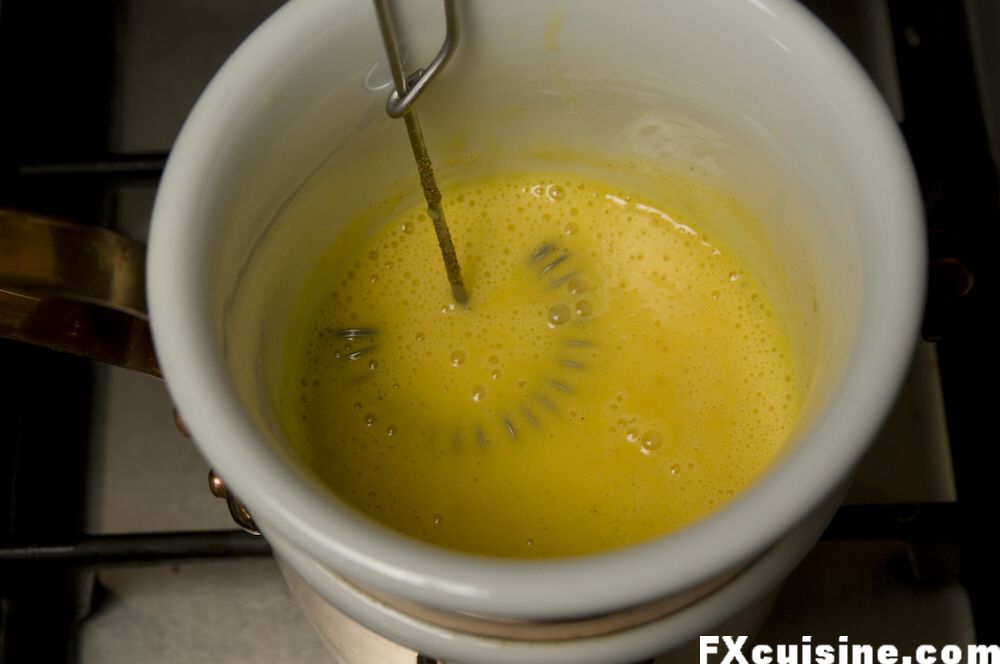 ... evite hacerla pesada por dejar que se haga demasiado espesa.'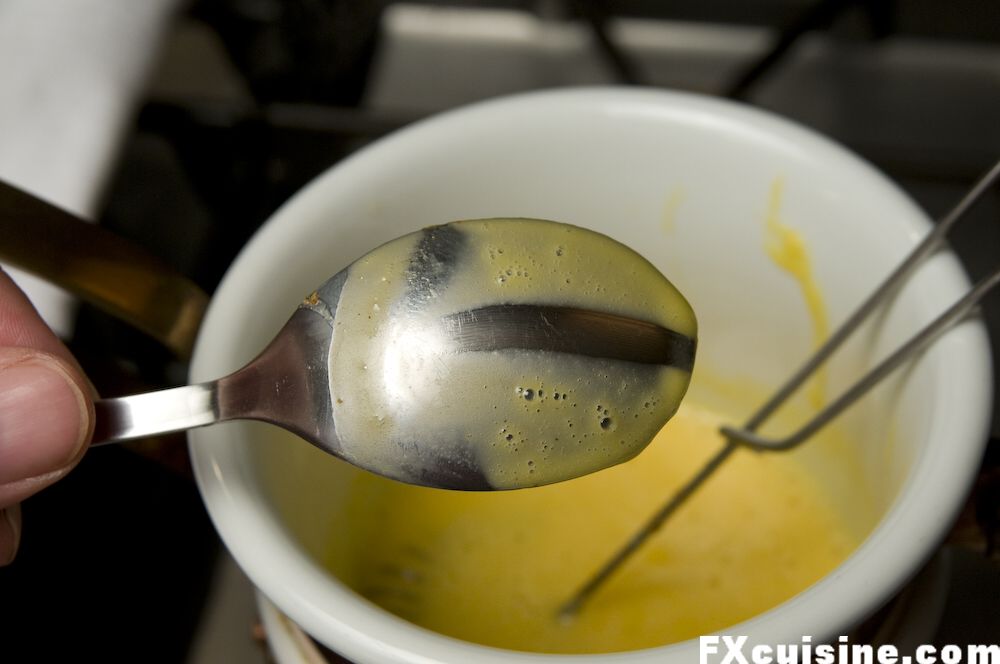 Esta salsa está lista en cuanto puedas dejar un surco en la parte trasera de una cuchara - quiere decir que la yema se ha coagulado suficiente.  No dejes la salsa en el agua caliente o la arruinarás ruin it.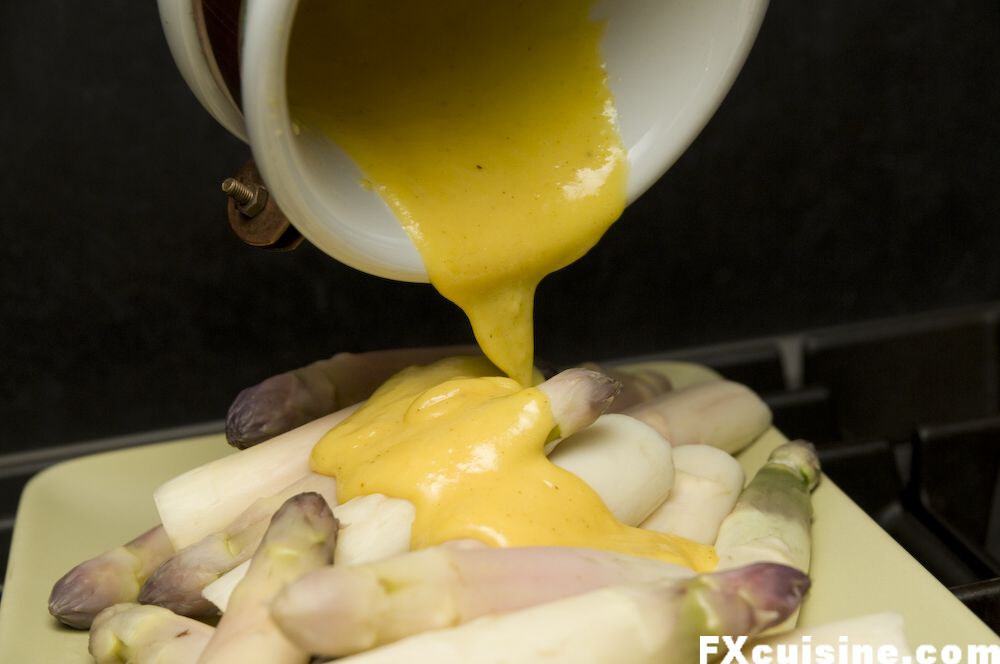 'Coloca tus espárragos cortados en la susodicha salsa y sirve ambos en una caserola abierta como un plato extra, de tal manera que este excelente platillo no languidezca en la mesa y pueda ser disfrutado en su máxima perfección.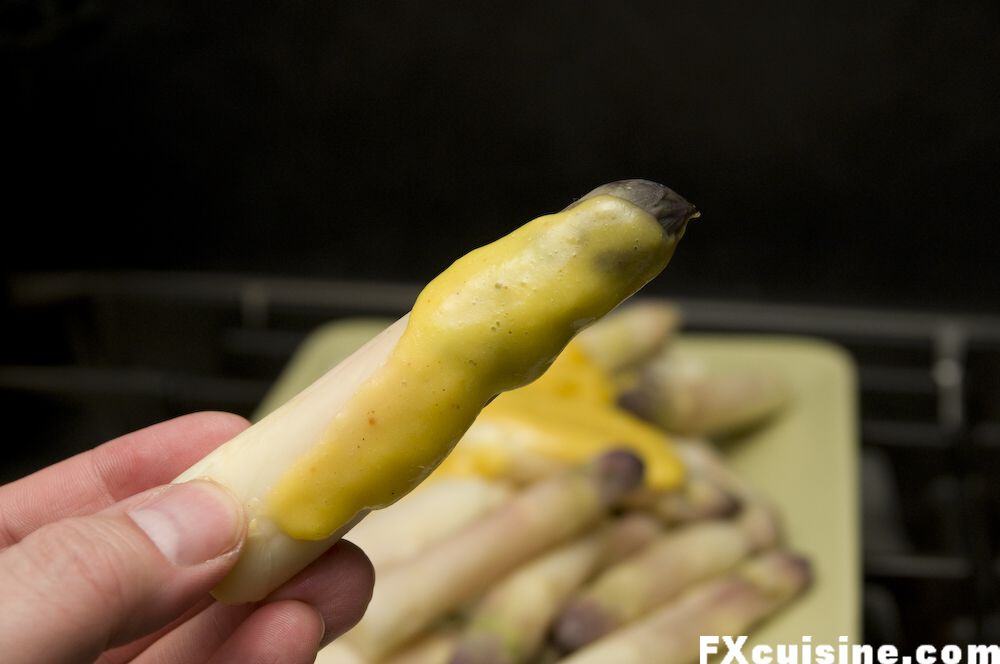 Esta interesante fórmula nos llegó a través de los archivos de Monsieur Grimod de la Reynière, quien la obtuvo a través de la herencia de su tío abuelo, Monsieur de Jarente, ministro de estado durante el período en que Madame de Pompadour encontró el favor del rey.  El autor del manuscrito original tuvo el cuidado de mencionar que estos Espárragos à la Pompadour deben servirse con una cuchara pero deben comerse con un tenedor.'
Esta receta se cita en el Diccionario Gastronómico de Alejandro Dumas, pero yo la encontré en la Néo-Physiologie du Goût, un libro de cocina de 1839. Para mi artículo yo corté los espárragos antes de blanquearlos, lo que cambia un poco el órden.   Aquí tienen el texto íntegro - Disculpen mi francés:
Asperges à la Pompadour
(On a réservé cette, presription pour la dernière, afin de, la maintenir hors de ligne. On verra qu'elle, est tout à la fois d'une, délicatesse exquise, d'une simplicité charmante et d'une élégance, parfaite). Choisissez trois bottes des plus belles asperges du gros plan de Hollande, c'est-à-dire blanches avec le bout violet. Faites-les parer, laver et cuire, en les plongeant comme à l'ordinaire dans de l'eau de sel bouillante. Tranchez-les ensuite en les coupant en biais, du côté de la pointe et de la longueur du petit doigt. Ne vous occupez que de ces morceaux de choix et laissez de côté le reste de leurs tiges. Mettez lesdits morceaux dans une serviette chaude afin de les égoutter en les maintenant chaudement pendant que vous confectionnerez leur sauce. - Videz un moyen pot de beurre de Vanvres ou de la Prévalais en en prenant le contenu par cuillerées et le mettant dans une casserole d'argent : joignez-y quelques grains de sel avec une forte pincée de macis en poudre, une demi-cuillerée de fleur de farine d'épautre, et de plus deux jaunes frais bien délayés avec quatre cuillerées de suc de verjus muscat. Faites cuire ladite sauce au bain-marie, en évitant de l'allourdir en lui laissant prendre trop d'épaisseur: mettez vos morceaux d'asperges tranchés dans ladite sauce, et servez le tout ensemble en casserole couverte et en extra, pour que cet excellent entremets ne languisse point sur la table, et puisse être apprécié dans toute sa perfection. Cette intéressante formule nous est parvenue des archives de M. Grimod de la Reynière, qui l'avait eue par succession de son grand-oncle, M. de Jarente, ministre d'État pendant la faveur de madame de Pompadour. L'auteur du manuscrit original a eu soin d'observer que ces asperges à la Pompadour doivent se servir à la cuillère, et se manger à la fourchette.
170152 visitas
Artículos Relacionados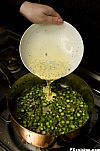 Asparagus like Green Peas **
Delicious 19th century French dish - asparagus served like green peas. This was a favorite of Napoleon's Foreign Minister Talleyrand. Simple, healthy and thoroughly decadent.
Artículos màs populares ¦ Ultimos artículos ¦ Por temas ¦ Ultimos comentarios
Copyright FXcuisine 2023 - all rights reserved.
If you do this recipe at home please let me know how it worked for you by submitting a comment or send me a picture if you can. Thanks!