Sopa de Chícharos Como Debe Ser
(página 2 de 2)
Home
>>
Recetas
Probabemente la mejor sopa del mundo, siempre y cuando consigas el ingrediente clave - un hueso de jamón ahumado.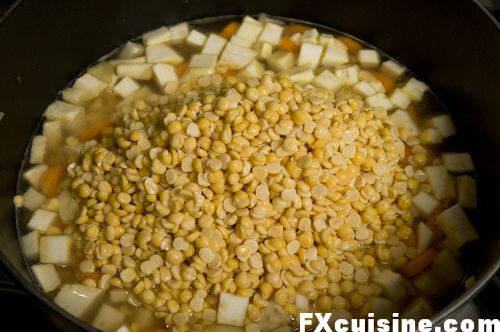 Detente un minuto para asomarte a la olla y observar el hermoso color y textura de tu montecito de chícharos.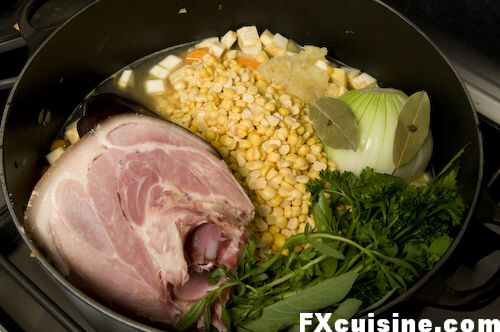 Agrega la cebolla y el jamón.  Puede ser que tengas que separar el jamón en la unión de la rodilla para que quepa en la olla.  Pero asegúrate de no quebrar ningún hueso ya que el tuétano puede estar rancio y dar un mal sabor a la sopa.  Toma una cantidad razonable de hierbas y átalas por sus tallos con hilo de cocina que amarrarás al asa de la olla para retirarlo cómodamente más adelante.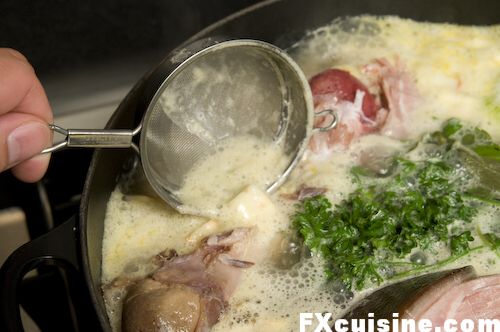 Agrega más agua hasta que todo esté nadando.  Déjalo a fuego medio para que la sopa tome un rato largo en comenzar a hervir.  Esto es necesario para poder quitar la espuma de proteínas que sale del jamón.  Una vez removida toda la espuma, dale un hervor y baja el fuego al mínimo y cuece al menos 2 horas, pero puede ser hasta 24 horas.  Si eliges un cocido largo, la puedes meter a un horno a 80ªC y programarlo para parar en un par de horas.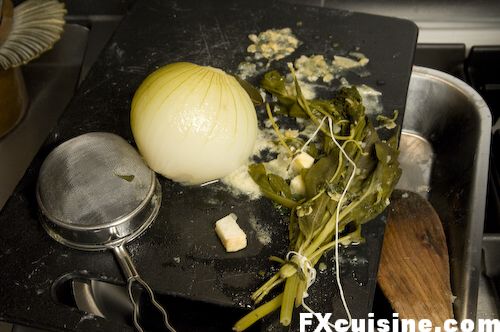 Saca las hierbas y la cebolla...
... luego el hueso de la pata ...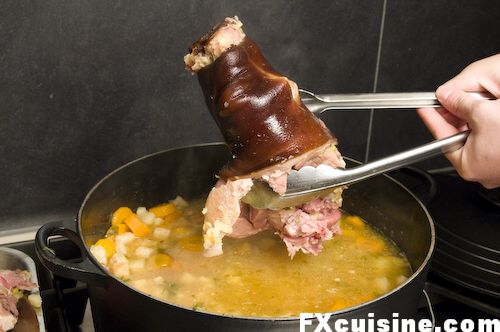 ... y finalmente el fémur.
Coloca la cebolla a un lado así como el fémur si aún le queda algo de carne.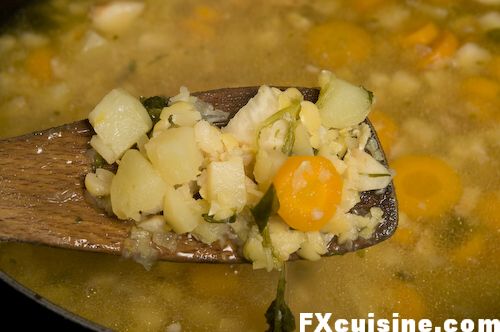 Me dicen que a los niños les encantra la sopa de chícharos - ciertamente a mí me encantaba en esos tiempos, pero no con grandes pedazos flotando en el agua.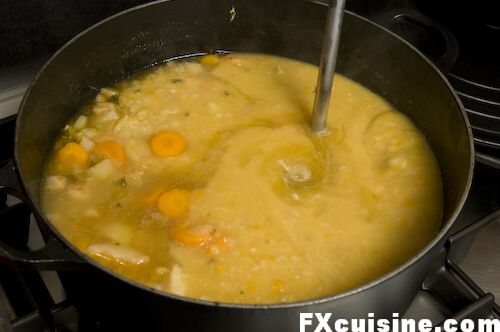 Usa una licuadora de mano (varita mágica), para convertir tu sopa en una sopa de chícharo como debe ser.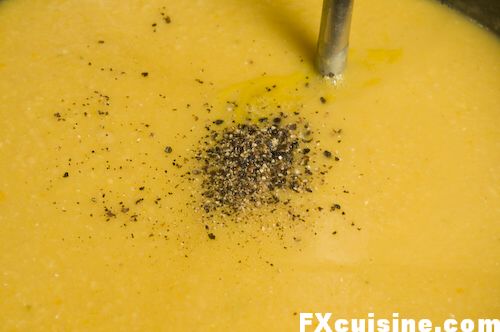 No recomendaría añadir mucha sal si hierves carne en la sopa, ya que hay mucha más sal de la que se ve en la mayoría de las carnes preservadas.  Sólo checa la sazón y corrige con sal y pimienta antes de licuar la sopa una última vez.  Pica algunas hierbas frescas y mézclalas.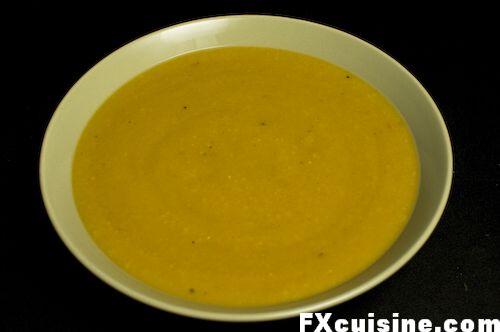 Ya estuvo.  Los chícharos molidos han absorvido el líquido restante y todo lo que ahora se ve es un cocido color miel digno de los Dioses.  Pruébala - increíble ¿No?  El delicado sabor ahumado y a puerco que te deja en la boca mezclado con el ajo y las hierbas.  Pruébala de nuevo.  Te empiezas a preguntar si no es la mejor sopa del mundo.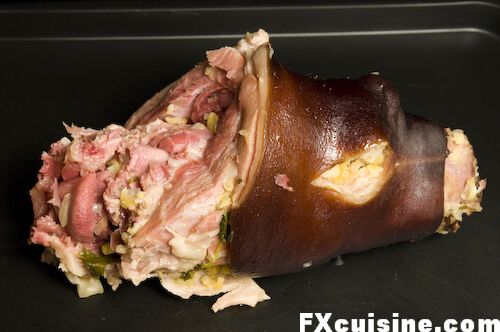 Puedes rebanar el jamón ...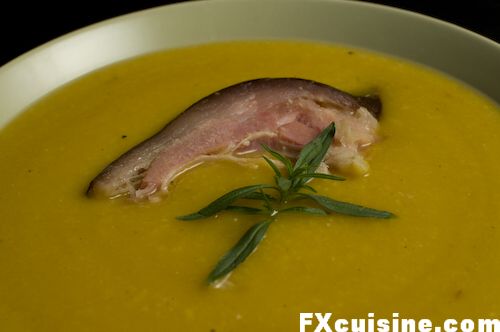 ... y servirlo en la sopa.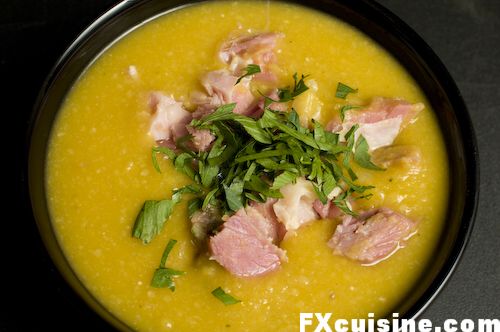 O picarlo y mezclarlo con la sopa.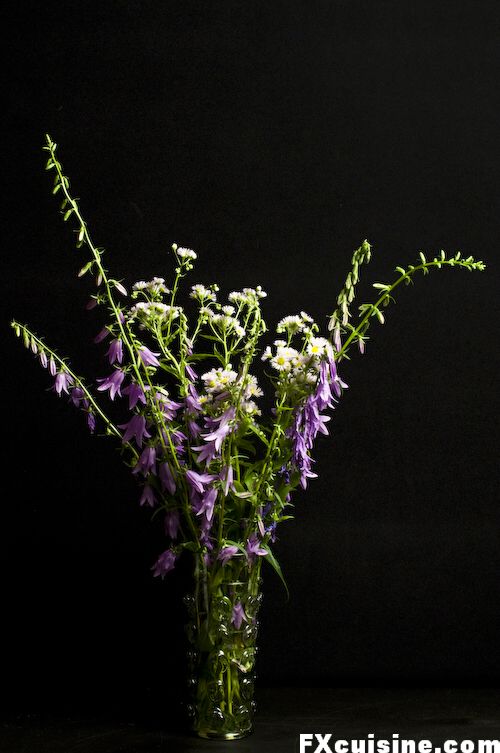 Aquí tienes un manojo de flores silvestres que corté de mi jardín para ayudarte a recordar que los placeres terrenales son transitorios.
¡Apresúrate mi amigo, antes que sea demasiado tarde!
Como dice la sabiduaría antigua, Carpe ius leguminum.
319559 visitas
Artículos Relacionados

Italian Minestrone Vegetable Soup *** Popular
The most delicious traditional Italian peasant soup, simmered for three hours. Learn how to make this soup with your local seasonal vegetable and the three secret ingredients that will make your soup really Italian.

Magical Italian Pesto Soup ***
This legendary Italian and French traditional vegetable soup is turned into an elixir of long life by mixing in fresh pesto. A cult summer delicacy ready in under an hour.
Artículos màs populares ¦ Ultimos artículos ¦ Por temas ¦ Ultimos comentarios
Copyright FXcuisine 2023 - all rights reserved.
If you do this recipe at home please let me know how it worked for you by submitting a comment or send me a picture if you can. Thanks!