Aïoli - La Sensacional Salsa Mediterránea de Ajo
(página 2 de 2)
Home
>>
Recetas
Una de las salsas más adictivas del mundo, aïoli se hace por todo el mediterráneo.  Observa como hacerla a la escuela antigua.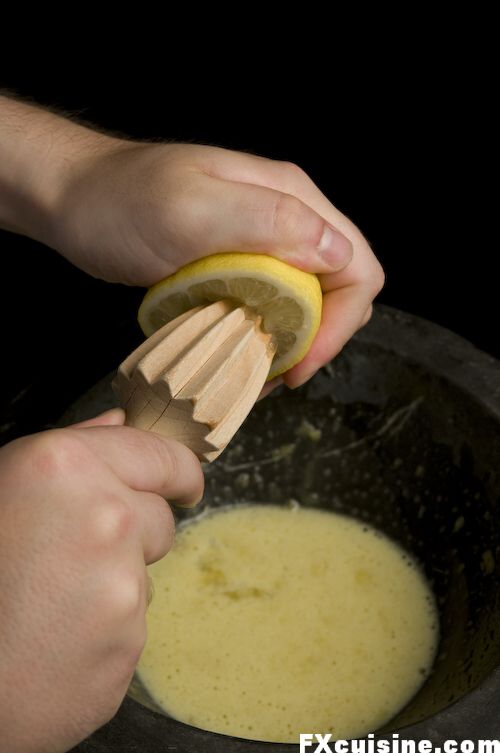 Agrégale sabor con el jugo de limón y pimienta blanca.
Me encantan mis utencilios de madera wooden tools , como la mano de madera y el exprimiodor de limón en forma de olivo.  El día de hoy ya no puedes utilizarlos en una cocina profesional - la norma es plástico y acero inoxidable.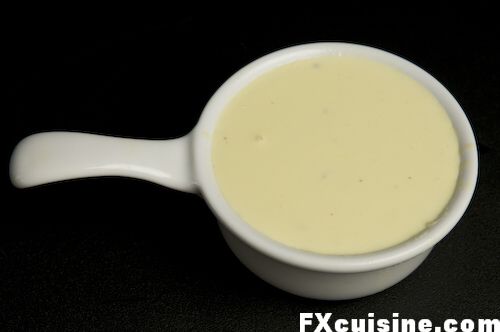 Si estuviésemos en un programa de cocina en la televisión, sólo te mostraría el aioli terminado y tu tratarías de hacer lo mismo que hice yo, probablemente con el mismo éxito.  El mortero y mano del siglo 16, con todo su encanto, me fallaron.  ¿Acaso así se veía el aioli hecho en casa en aquellos tiempos?  Me sorprendería mucho si las 'mamas' en Provence, en Italia y en España lograban aiolis firmes y duros cual roca, como las mayonesas industriales.
Si tu aioli no endurece, lo puedes salvar de la siguiente manera:  Toma un poco del aioli y ponlo en otro recipiente con un poco más de agua y mézclalo. En cuanto tengas una textura firme, como de mayonesa, comienza a añadir, poco a poco, el aioli fallido, batiendo constantemente.  Por supuesto, con una batidora eléctrica será más rápido.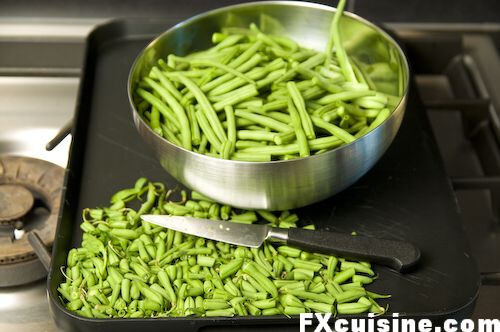 Hay mil y una maneras de comer aioli, siendo mi favorita simplemente en una rebanada de pan.  Pero hagamos una receta mediterránea tradicional de la estación para ilustrar otra manera sencilla.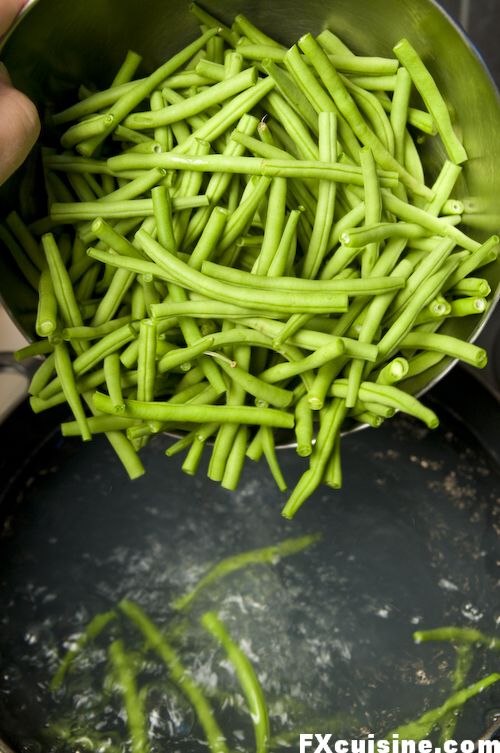 Lava y despunta unos ejotes frescos; éstos son de una granja local, pero tal vez tu eres más afortunado que yo y cultivas los tuyos propios.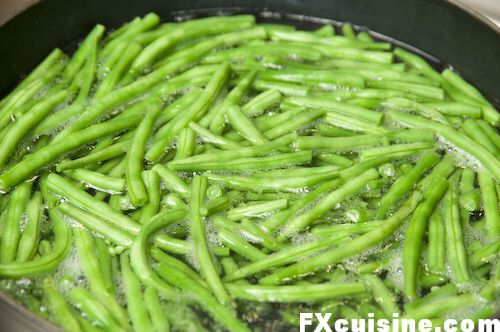 Cuécelos a tu gusto en agua salada con uno toque de bicarbonato de sodio para mantener el verde intenso...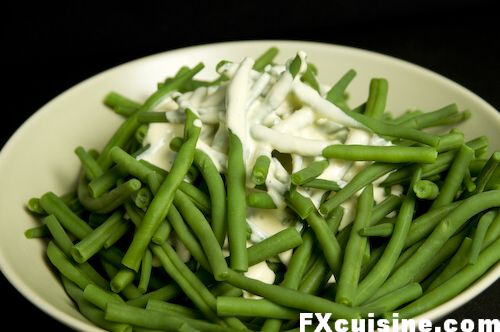 ... y sírvelos con el aioli y pan tostado.  Con esto tienes para obtener una tarjeta que te saque del consultorio del oncólogo.
683305 visitas
Artículos Relacionados

French Garlic Soup ** Popular
Simple and healthy garlic soup from the Provence.

Authentic Sicilian Pasta With Broccoli ** Popular
This traditional Sicilian recipe brings together North African and Italian culinary traditions. A cult dish!

Magical Italian Pesto Soup **
This legendary Italian and French traditional vegetable soup is turned into an elixir of long life by mixing in fresh pesto. A cult summer delicacy ready in under an hour.

Sainte-Maure Goat Cheese Feuilleté **
Use these intriguing cylindrical ash-colored French goat cheeses to make delicious puff pastry appetizers. A traditional French recipe.

My Boyhood's Hungarian Plum Dumplings *
I had eaten these dumplings only once, when I was 12, but boy did they make an impression! Such a rich combination of gorgeous juicy sweet prunes covered in a soft potato-based simmered dough.
Artículos màs populares ¦ Ultimos artículos ¦ Por temas ¦ Ultimos comentarios
Copyright FXcuisine 2023 - all rights reserved.
If you do this recipe at home please let me know how it worked for you by submitting a comment or send me a picture if you can. Thanks!