Ravioles de Papa
Home
>>
Recetas
Comida casera italiana en esteroides.  Sólo a los italianos les encanta tanto la pasta como para rellenarla con ingredientes tan simples como las papas.  Y que razón tienen, éste es un platillo muy refinado - y muy accesible.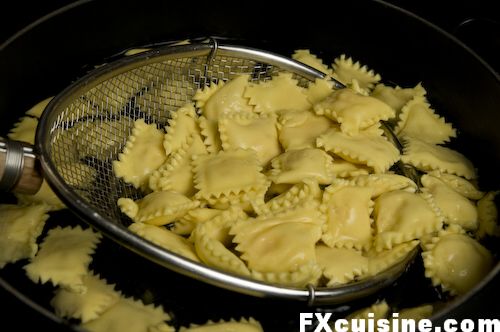 Fuera de Itralia la pasta hecha en casa se asocia con la atmósfera enrarecida de los restaurarntes caros y lujosos.  Esto aplica especialmente para la pasta rellena (ripieni) que la mayoría de la gente cree que solo es comestible cuando se rellena de langosta y caviar.  Sin embargo en Italia mucha gente hace pasta en casa y utilizan ingredientes muy humildes con muy buenos resultados, como por ejemplo una pasta con frijoles.  Esta semana te mostraré como hacer un platillo simple y muy popular - ravioles rellenos de papa.  Ésta es una receta familiar tradicional del norte de Italia, comida casera en esteroides, si me permites el término.  Por favor toma en cuenta que los italianos le tienen tanta adoración a sus pastas que les ponen cientos de nombres de cariño - se trata de balbuceo con bebés en la cocina.  Así, éstos los encontrarás como  raviolis o tortellis o agnolottis dependiendo de la región o del restaurante.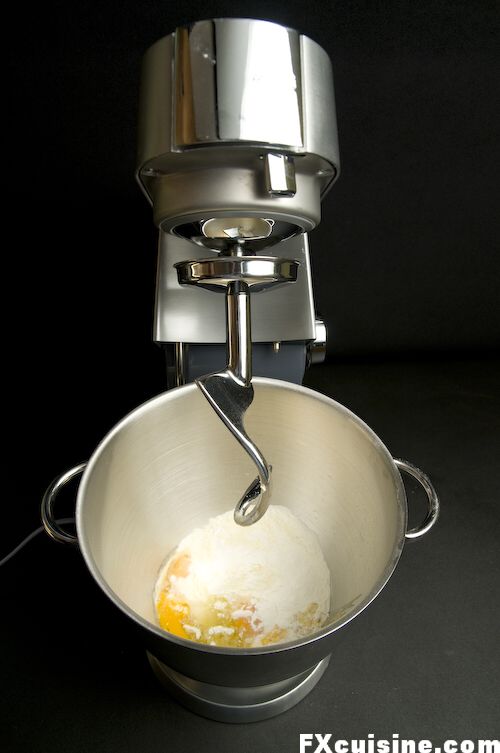 Comienza or preparar la pasta equivalente a un huevo más su harina por invitado.  Cuanta harina dependerá del tamaño de los huevos y la humedad relativa de tu cocina ese día en particular, pero como regla general, yo utilizo como 100 gr (3 oz) de harina para un huevo de 70 gramos (2 oz).  Mezcla el harina y los huevos flour and eggs ya sea a mano haciendo un volcancito de harina, o con una super batidora como en la foto.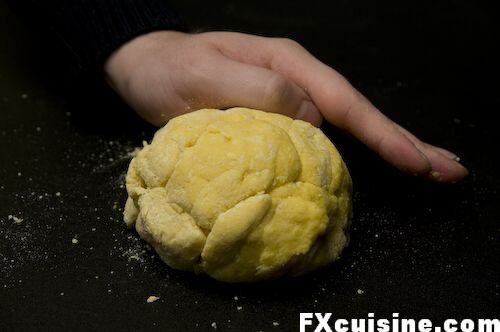 Amasa unos 10 minutos, luego forma una bola.  Envuélvela en film plástico y mantenla en un lugar fresco como una hora.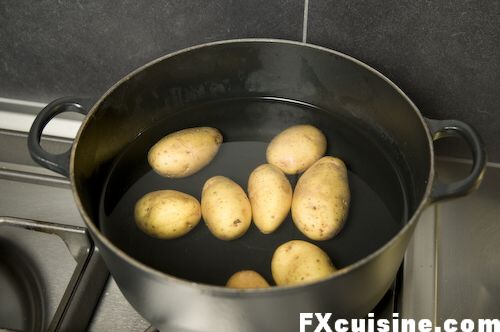 Mientras, preparemos el relleno.  Hierve 2 papas grandes o 4 pequeñas por invitado hasta que estén cocidas.  Si puedes utiliza papas con mucho almidón.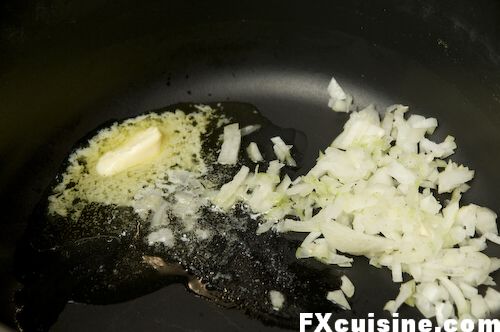 Finalmente pica una cebolla pequeña por cada dos invitados y fríela en un poco de mantequilla en una sartén caliente hasta que se suavice.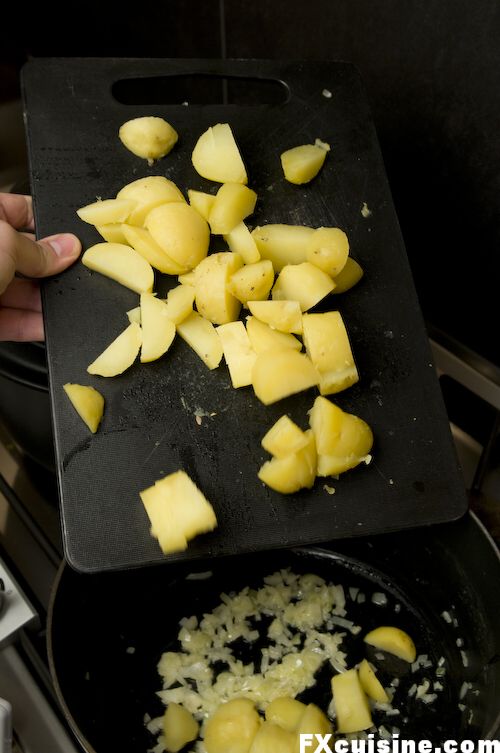 Mientras, pela las papas y cuando la cebolla esté suave, agrégalas a la olla.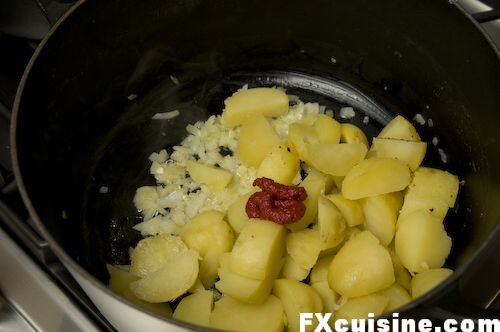 Añade una cuchara de concentrado de jitomte o lo necesario solamente para darle un color rosado a tus papas ...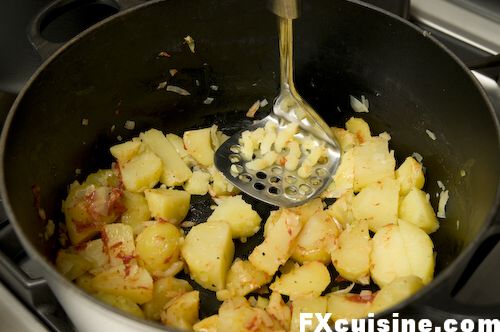 ... y machaca para obtener una pulpa.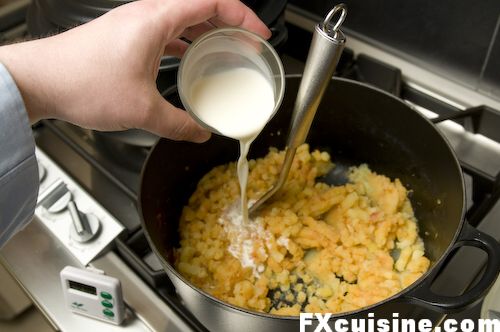 Agrega apenas la crema necesaria para obtener una mezcla suave pero no líquida.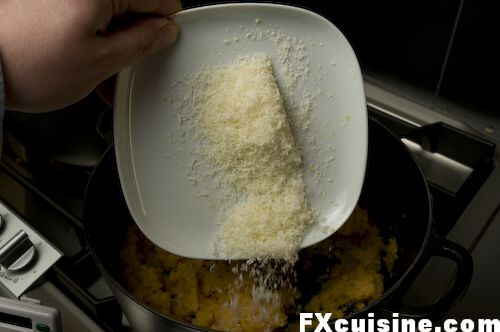 Agrega tanto parmesano rallado como quieras - para mí eso quiere decir mucho, pero hay quienes sólo le ponen una cuchara.  Sólo agrega un poco, pruébalo y añade más si es necesasrio.  Puedes rallar el resto sobre los tortellis terminados.
¡En la siguiente página verás como estirar la masa y darle froma a los raviolis/tortellis!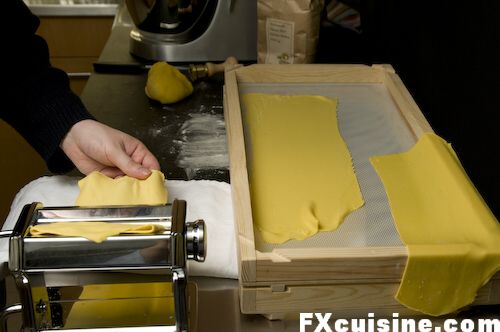 Nuestro relleno está listo y nuestra masa ya ha reposado.  Toma un pedazo de masa del tamaño de un chabacano y estíralo con una máquina de hacer pasta o con un rodillo en una superficie ligeramente enharinada.  Estírala hasta que esté muy delgada, hasta la penúltima marca de la maquina.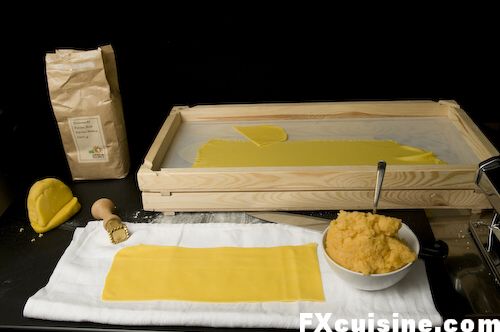 Luces, cámara ...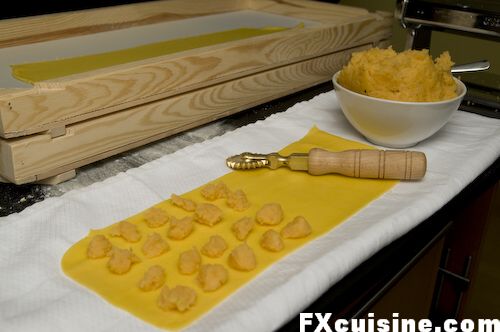 ... ¡Acción! Coloca una tira rectangular de pasta sobre un trapo de algodón ligeramente enharinado.  Esto asegura que tu pasta no se pegue, pero no te excedas con el harina ya que dejaría feos parches en los ravioles terminados.  Con tu uña si eres una dama, o con un cuchillo romo si eres un caballero, traza muy ligeramente líneas paralelas a lo largo de la mitad de tu tira de pasta, luego traza líneas trasversales para formar pequeños cuadrados.  Ahora imagina a un pajarito  jugando al avión en este imaginario tablero de ajedrez y soltando una cagadita de relleno de exactamente del mismo tamaño en cada cuadro que va pasando. Continúa hasta haber cubierto la mitad de la pasta con pequeñas cantidades de relleno a intervalos iguales.  La cantidad exacta depende del tamaño de tus cuadros.  Es mejor poner de menos que demás o no podrás cerrar los ravioles.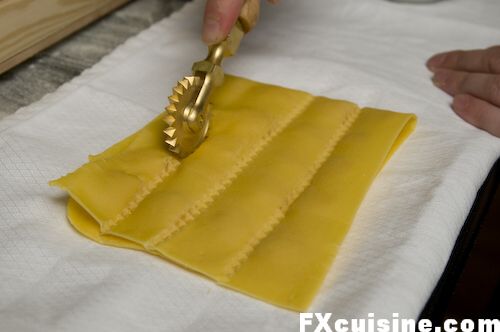 Dobla la parte libre de la tira de pasta sobre la que cubrió el pajarito y presiona suavemente con los dedos para delinear los ravioles.  Con un cortador de pasta, corta con cuidado tiras de ravioles, una por una ...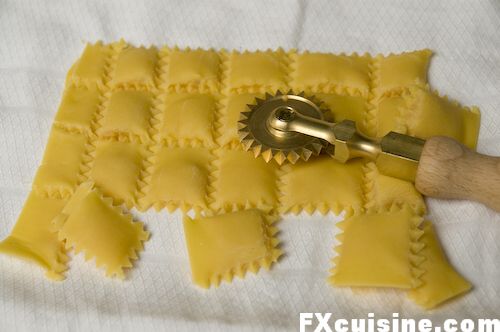 ... luego corta trasversalmente para separar cada raviolo.  Compré este bonito cortador de ravioli en Cremona, Italia, pero puedes encontrar similares por centavos  en Ebay o en los pasillos de artículos de repostería de muchos supermercados.  Asegúrate que el cortador no sólo corte sino que también presione los bordes para sellarlos, de otra manera tendrás escurrimientos.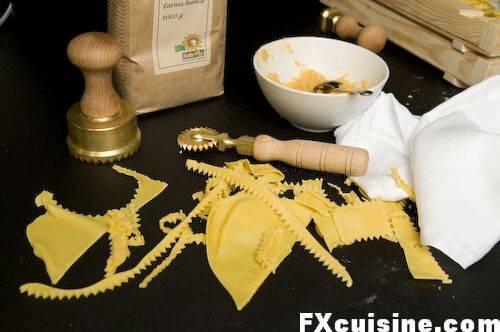 Puedes usar los recortes de la pasta en una sopa o preparar pasta al día siguiente y llamarla maltagliati (malcortada).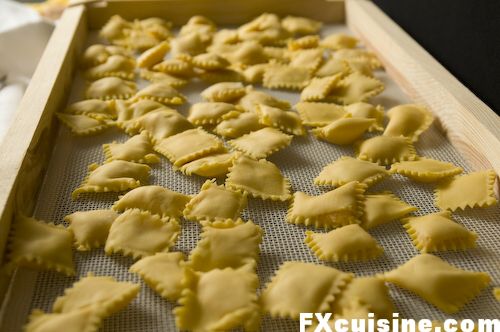 Deja que los ravioles se sequen en una charola especial para secar pasta o simplemente sobre una toalla de algodón limpia, seca y ligeramente enharinada hasta que estés listo para cocerlos.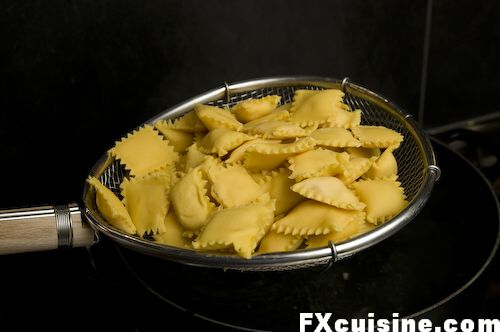 Llena tu olla más grande de agua, agrégale un poco de sal y ponla a hervir.  Cuando el agua hierva como las aguas de Lago Lucerna en el primer acto de William Tell, la ópera de Rossini, echa tus ravioles todos a un tiempo.  Asegúrate de sacudir toda el harina de los ravioles antes de meterlos al agua.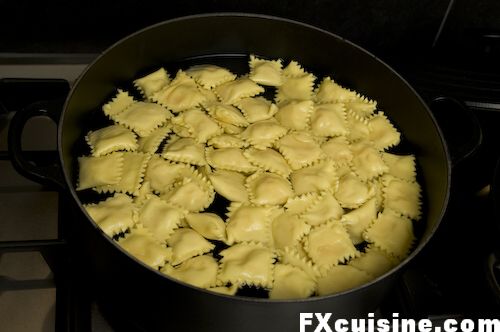 Debeb cocerse en menos de 2 minutos.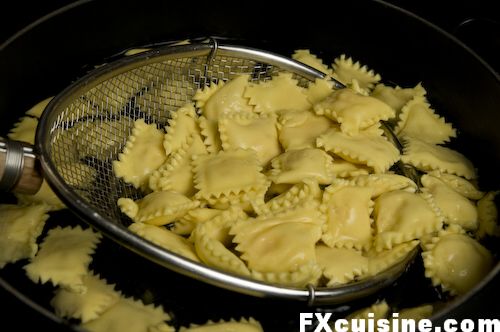 En cuanto la pasta esté casi completamente cocida - y eso quiere decir antes de que de hecho esté totalmente cocida - sácalos con un colador.  Por favor no vacíes toda la olla de agua en un colador como algunas mamas suizo alemanas iletradas porque arruinarías todo tu trabajo cuando los ravioles se te abran.  En cambio, péscalos suavemente con el colador o con un araña de cocina como una mama suizo alemana instruida.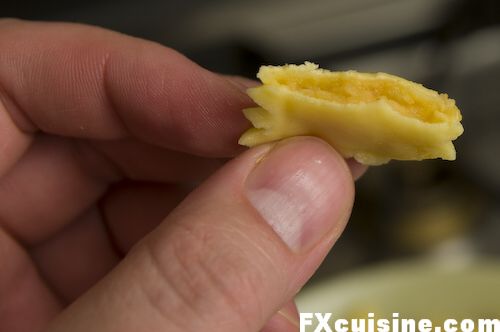 Aquí lo tienes - refinamiento italiano con los ingredientes más básicos.  El triunfo del trabajo, el ingenio humano y el arte sobre la entropía universal.  Acabas de hacer la pasta más delicada utilizando simples papas y harina.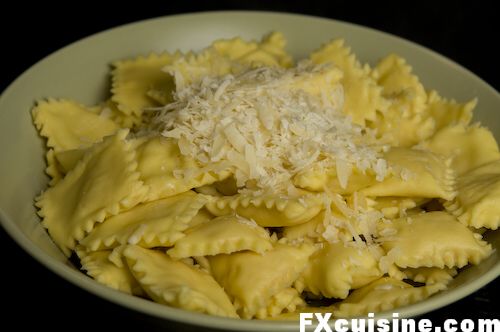 Felicítate a ti mismo por un trabajo bien hecho y come tantos ravioles como puedas antes de que otros en casa se den cuenta de lo que se están perdiendo.
300451 visitas
Artículos Relacionados

Pasta con i fagioli ***
Homemade wholewheat spaghetti with a delicious beans ragu for a typical Tuscan peasant dish.

Pasta all'arrabbiata **
By request of a reader, one of the most popular Southern Italian pasta sauces ever. Simple, affordable, healthy, delicious.

Priest-stranglers in Neapolitan Meat Sauce **
These gnocchis served in the cult Napolitan ragù sauce would be a world-famous dish if they didn't take 7 hours to cook.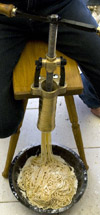 Bigoli, Bigolaro, Bigolarist **
My largest and most unusual pasta-making accessory, the bigolaro, made 28 fat spaghettis, called bigoli, each as long as the room. Served with the traditional duck ragù, this made my guests very happy despite the fact they had to make their own pasta.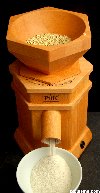 Italian Alpine Buckwheat Pasta Pizzocheri **
Traditional buckwheat noodles from the Italian Alps with cabbage and Fontina cheese. I made them from scratch with my own freshly milled buckwheat flour. Hard core pasta!
Artículos màs populares ¦ Ultimos artículos ¦ Por temas ¦ Ultimos comentarios
Copyright FXcuisine 2023 - all rights reserved.
If you do this recipe at home please let me know how it worked for you by submitting a comment or send me a picture if you can. Thanks!