La Feria Slow Food en Torino, Italia
(página 2 de 2)
Home
>>
Experiencias Gastronómicas
Mi visita a la exposición de comida tradicional más grande del mundo, en Torino, Italia.
El Slow Food no es un movimiento vegetariano, y había un mundo de cerdos world of pigs en la exposición.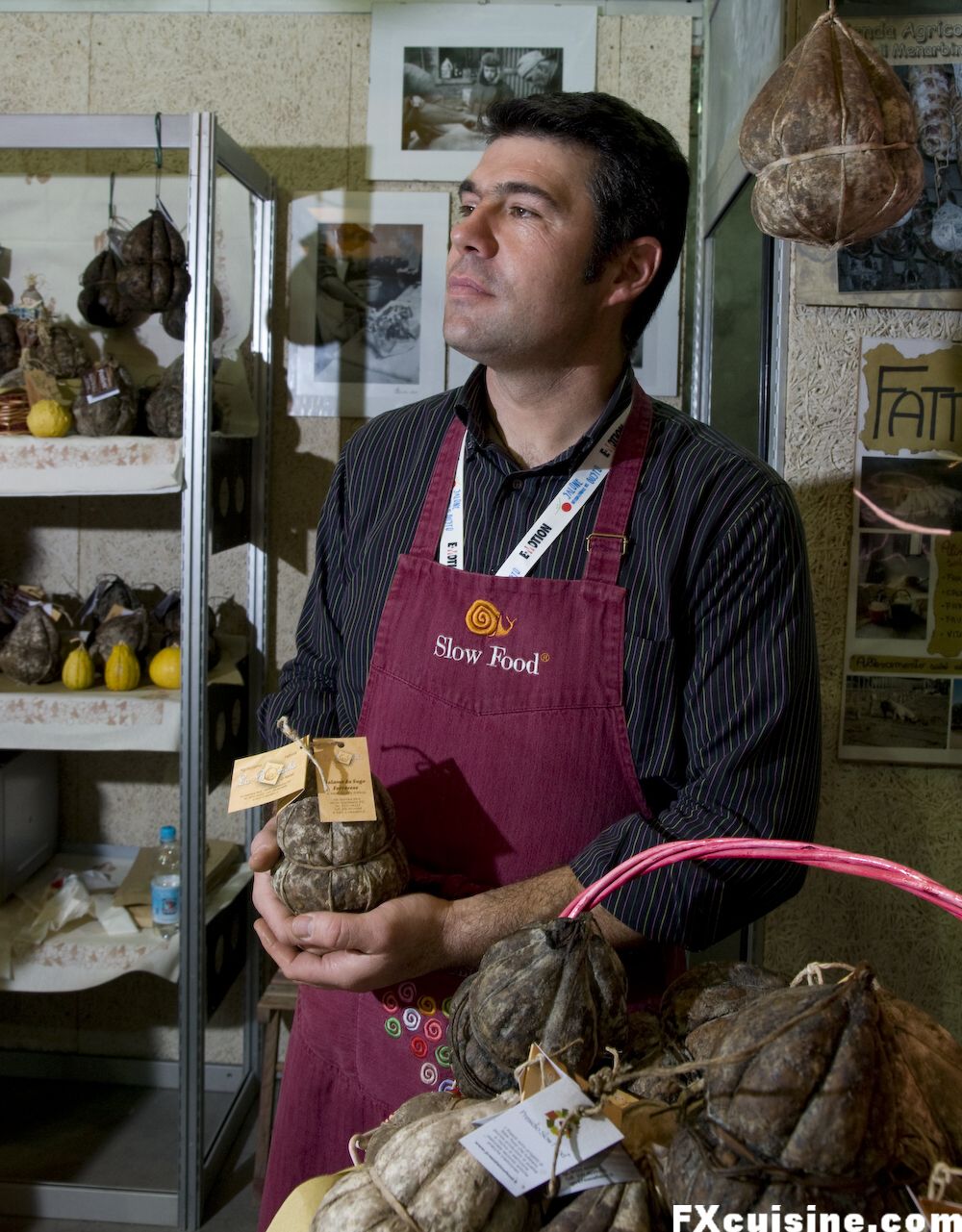 Le compré un salama da sugo a este caballero que venía de Ferrara.   Nada que ver con esos chorizos frescos que las mamas italianas compran para desmoronar en sus salsas de tomate para hacer un ragù rápido.  En cambio este chorizo duro como piedra se debe remojar en agua durante dos horas y luego hervir otras cinco horas antes de vaciarse en un puré de papa.  Te puedo cocinar uno o decirte que lleva dentro, pero no creo que ambas pues acabo de lavar la alfombra.  Es un chorizo de lineaje impecable que se remonta al siglo 14.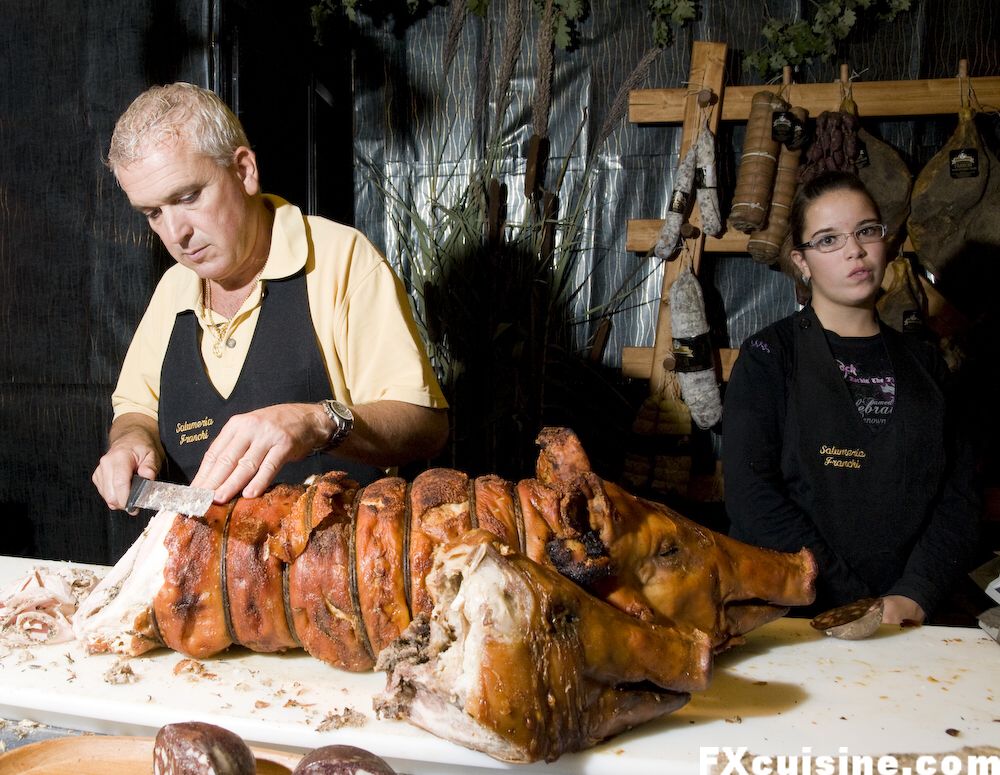 Este caballero se pasó el fin de semana rebanando un cerdo relleno tras otro y sirviéndolo a los fanáticos de la comida ¡Que hacían cola!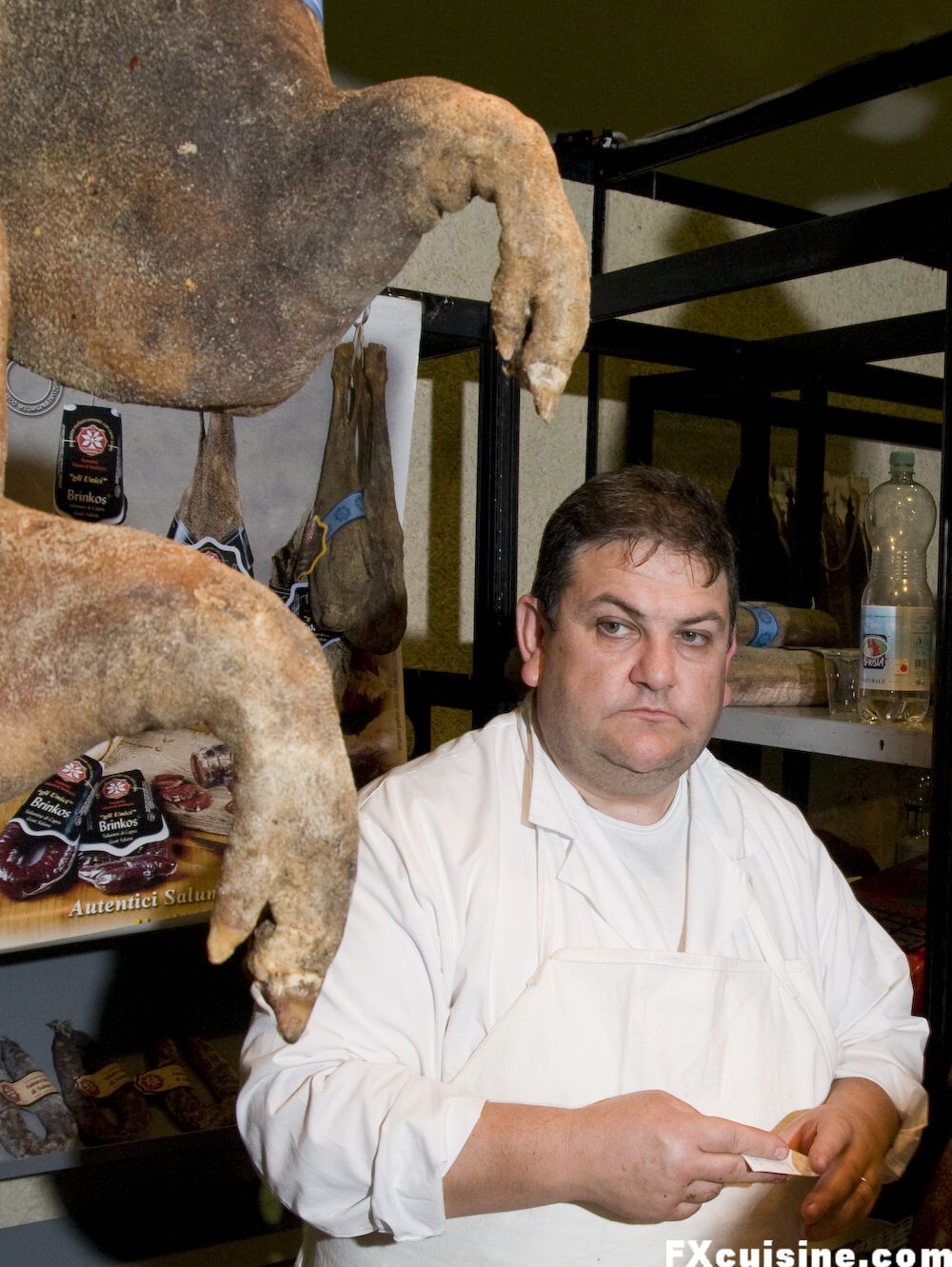 Este caballero hace jamones que no ocultan de donde vienen ...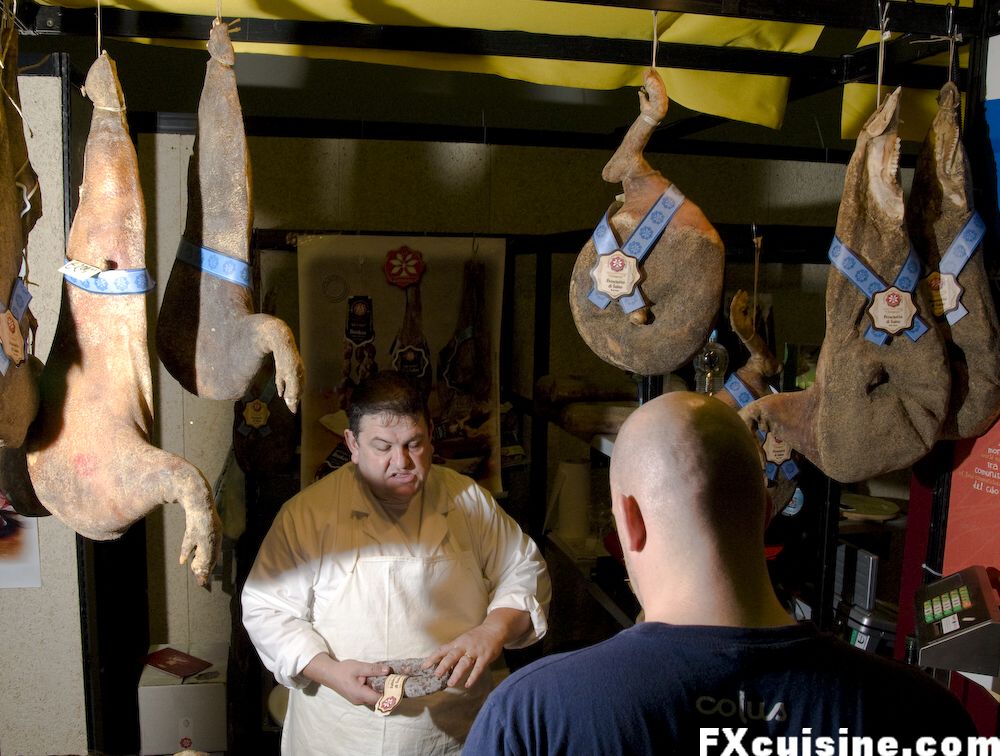 ... que demostraron ser populares con la gente devota de las pelonas rasuradas.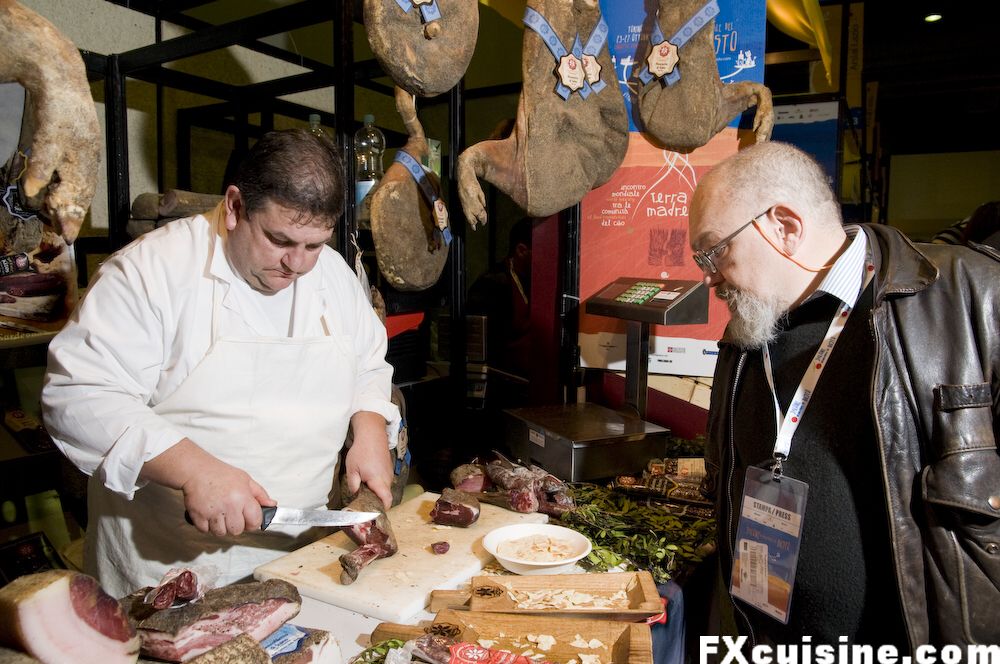 Le da mucho gusto que pruebes uno.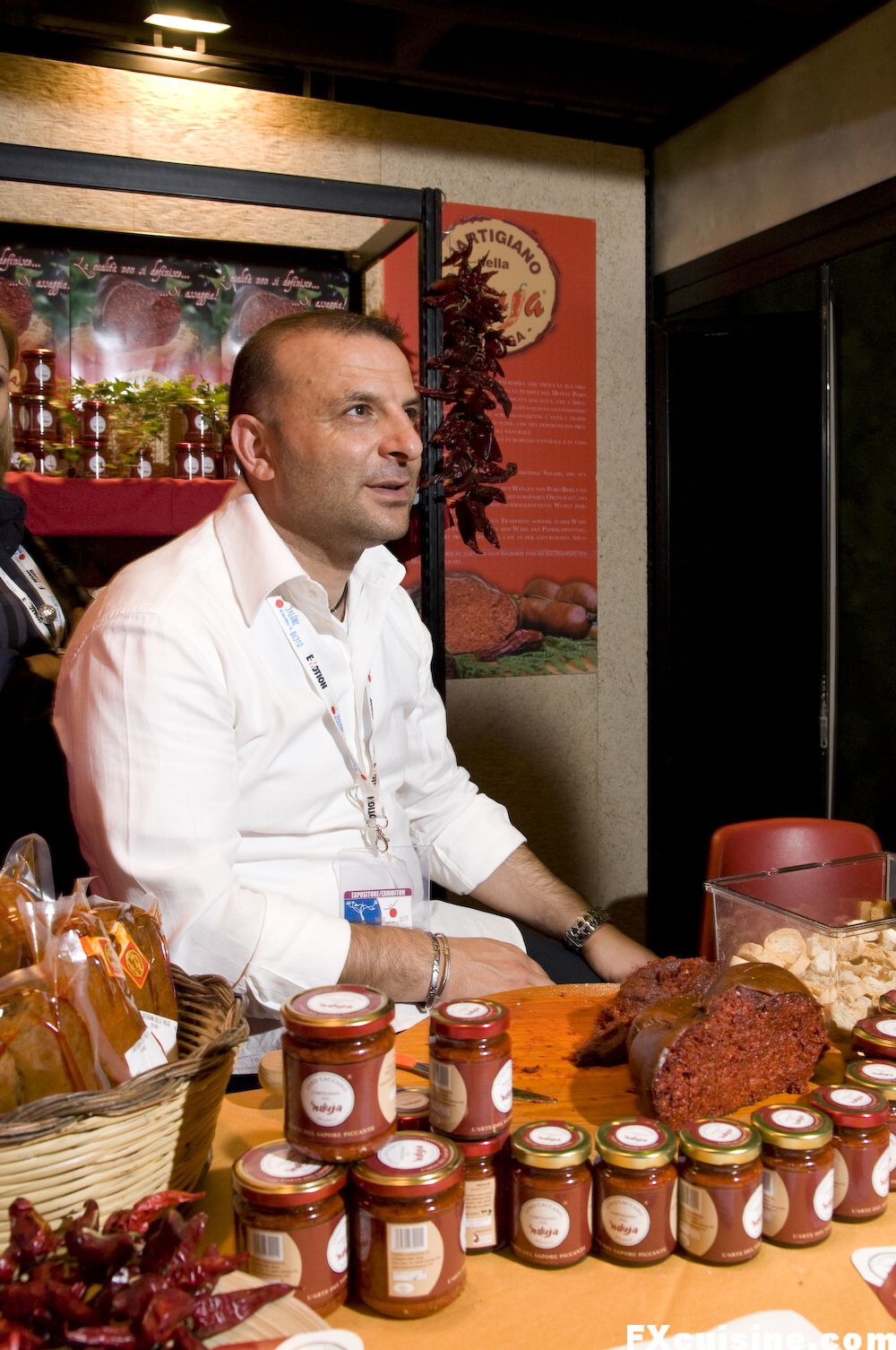 Nduja es un salami extremadamente especiado que se puede untar, y es un alimento caracteístico de Calabria.  Mientras más escuchas lo que contiene,  más se te quita el hambre.  ¿Pero acaso te has preguntado que hay en tus adoradas salchichas, mortadella y corned beef?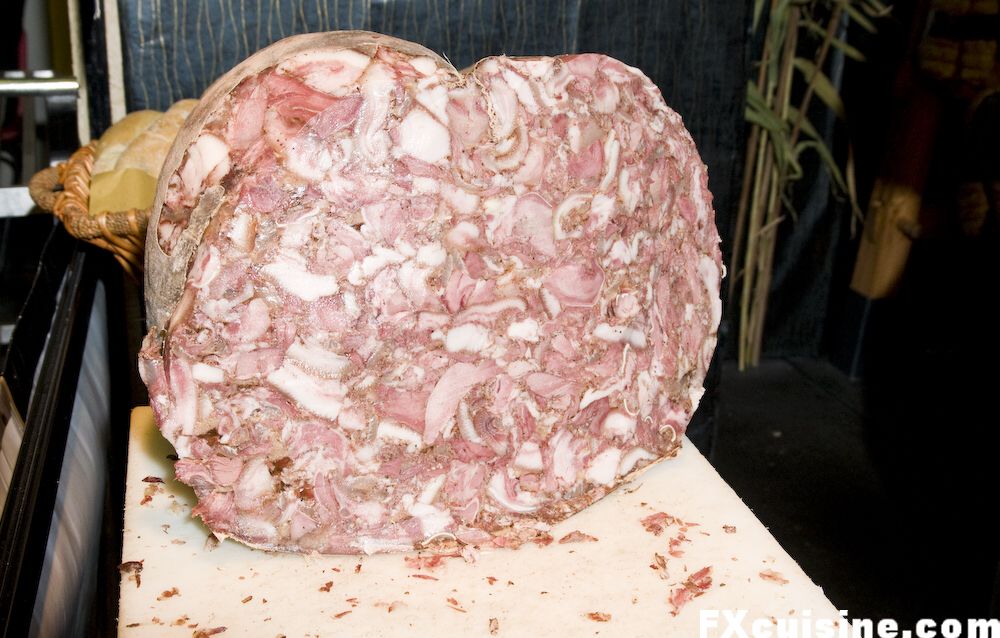 ¿Cuántas cabezas de cerdo para rellenar una de éstas? ¿Asqueado? ¿Cuántas te has comido ya en tus hot dogs?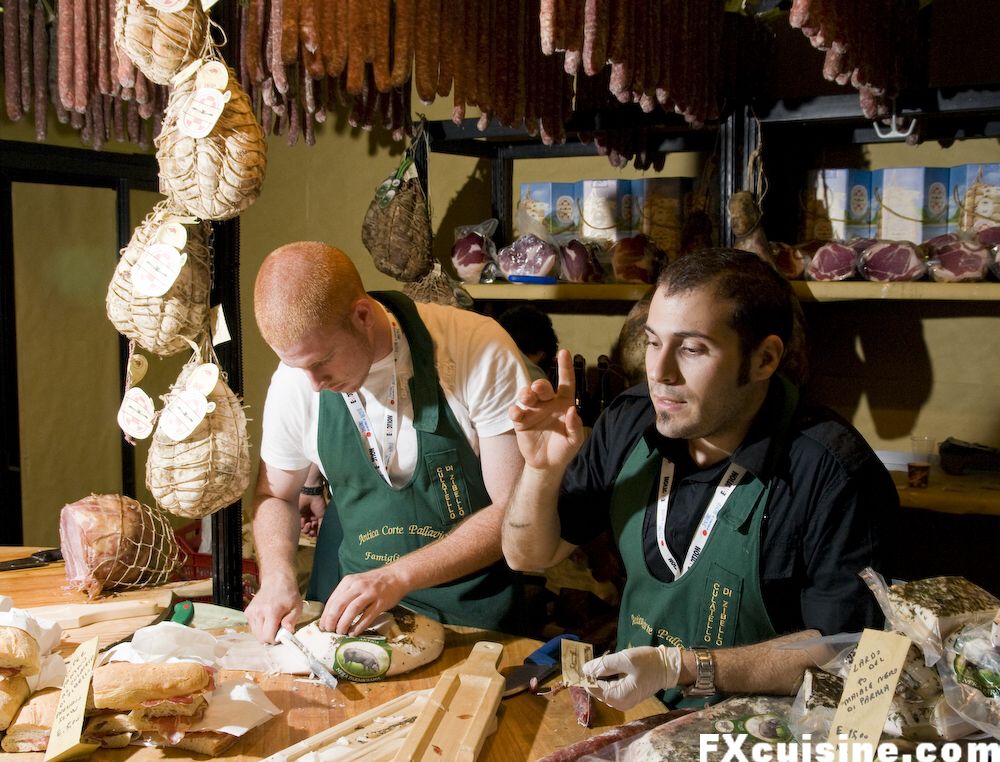 Una salumeria ilatiana típica, una de esas tiendas del marido y su mujer donde compras carnes sazonadas y embutidos ...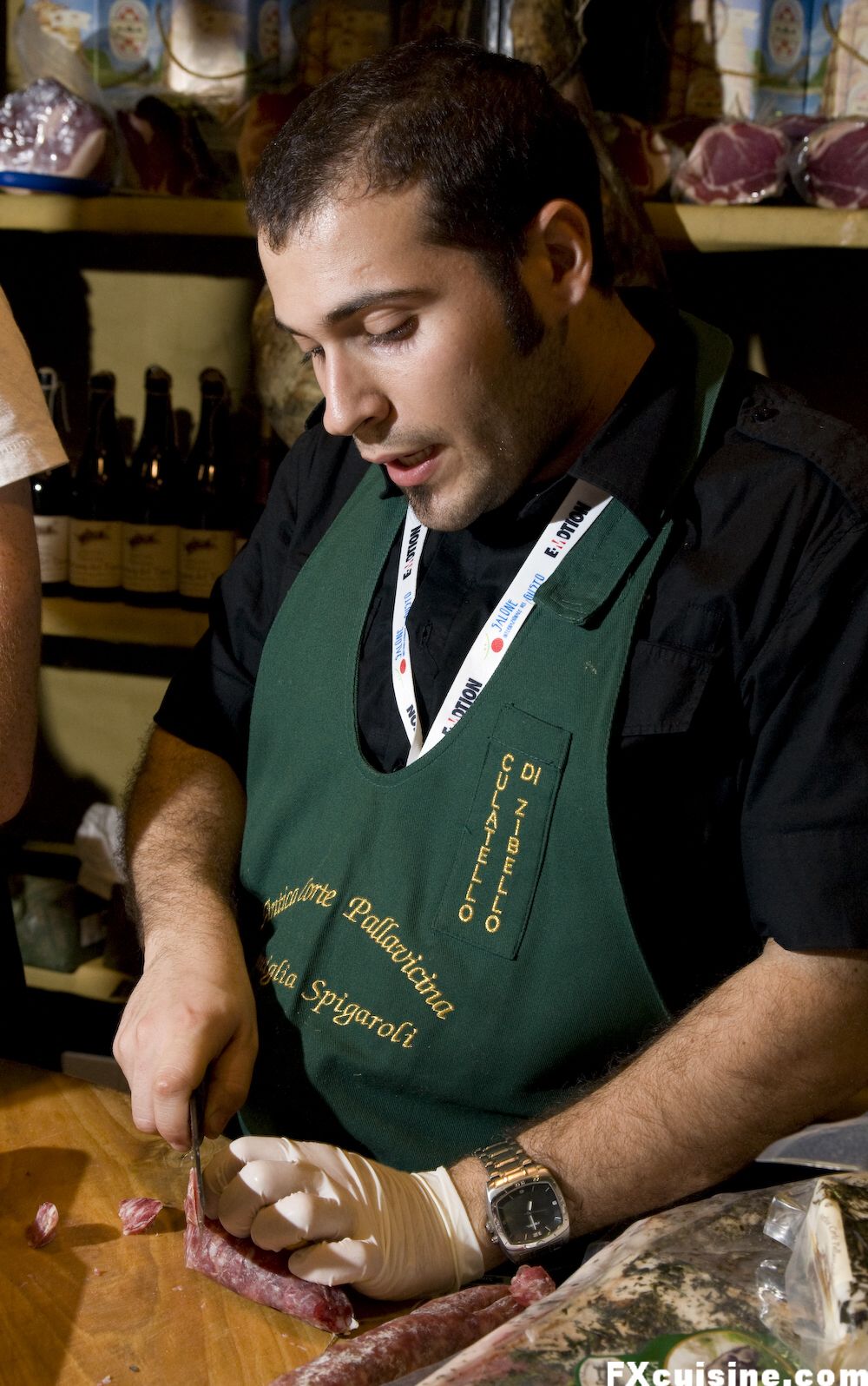 ... y donde siempre puedes probar una rebanada de chorizo.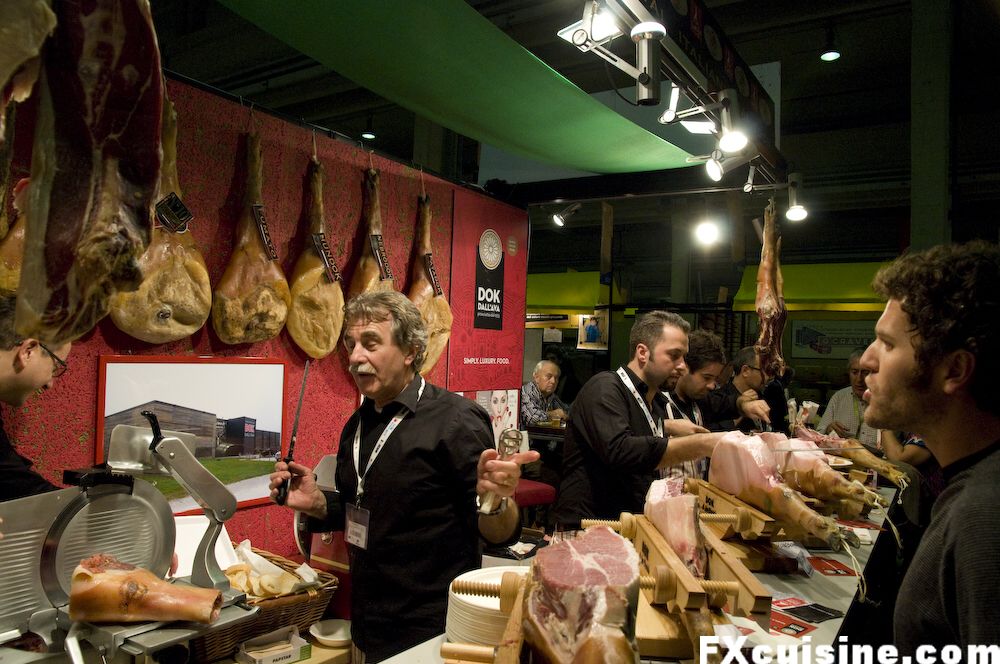 Esta barra de jamón estaba tan llena que los empleados no podría rebanar slice con suficiente rapidez ...
... para alimentar a los conocedores que abarrotaban la barra.
Como pude llegué al hotel para pasar una noche dormido profundo y con dulces sueños.
Nop estoy seguro de que en el futuro celebren Madre Terra (la convención de Slow Food) y el Salone del Gusto (la exposición de comida artesanal) conjuntamente en Torino, pero hacerlo fue una excelente idea.  EL mismo tipo de roductos que podías probar,m discutir y comprar en todos los stands.  ¡Seguro regreso por más!
Si te perdiste este evento, no llores y sólo espera mi siguiente artículo sobre el Eataly, el upermercado de Slow Food, la próxima semana - éste está abierto los 7 días de la semana.
¿Qué tan 'Slow' es FX?
La mayoría de mis artículos tratan de especialidades de comida tradicional que hablan tanto de su historia y su identidad como de su atractivo para nuestro paladar.  Tengo todos y cada uno de los libros que ha publicado 
Slow Food Editore
.  Cocino todo desde cero utilizando en su mayoría productos frescos comprados a agricultores locales.  ¿Me convierte esto en una persona Slow Food?  Bueno, aunque me encanta lo que 'Slow Food' hace para proteger las históricas especialidades culinarias que se están muriendo, no comparto todas sus  
posturas políticas
. Aunque no me verán muy seguido bajo los arcos dorados de 
Mac Donald
's, no estoy de acuerdo con los yahoos que van y 
vandalizan los restaurantes de comida rápida 
en el nombre de la Lentitud.  Me gusta la idea de impulsar el comer platillos cocinados desde cero utilizando ingredientes locales, pero no le veo el caso a atacar la forma de vida de personas que no tienen la oportunidad de pasar mucho tiempo cocinando.  Aunque me encanta comprar verduras de una mama local y convertirlas en platillos tradicionales cocinados lentamente, no me gustan los 
pueblerinos oportunistas
que llaman a la prensa para que presencie como 
destruyen un campo de plantas modificadas genéticamente
, haciéndose pasar por Cristos modernos que atacan a los mercaderes de semillas en el Templo de la Naturaleza, o Atila el Huno, destruyendo todo a su paso para que nada pudiese crecer de nuevo.  Estas personas le hacen un enorme daño a su causa.  Y cuando al final las 
cadenas de supermercados
comienzan a comprar los mismos productos que Slow Food protege, verdaderamente no tengo mucha comprensión hacia aquellos que claman que esta es una alianza con el demonio.                                                    Así es que si yo fuese un adolescente mochilero en busca de identidad, ya habría puesto el Caracol de Slow Food en mi bandera hace tiempo.  ¿Porque no?  Después de todo, apruebo casi todo lo que hace esta asociación.  Pero no necesito una etiqueta para decireme quien soy y que no puedo solo con el peso de ideas que no son mías.  Por lo que simplemente seguiré compartiendo mi amor por la comida tradicional sin ser un miembro.  Por favor tú haz lo que tengas que hacer - cada quien a lo suyo. 
481160 visitas
Artículos Relacionados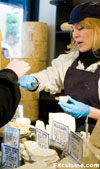 Neal's Yard Dairy **
My visit to the cult London cheese shop, selling no less than 57 types of British cheeses.

Ultimate Speck **
Proper Speck, a cult Tyrolian dried and smoked pork meat, can only be found in a narrow corner of Val d'Ultimo, in Italy. Probably the best dried meat on earth, and you can't really buy it. But let me show you how it's made.

Montgomery's Cheddar **
My Christmas article will show you how the best cheddar since King Arthur is made in Somerset, including a 4 minutes video.

Hard Core Swiss Vacherin Cheese **
Follow me as I wake up in the wee hours of the morning to see Swiss armailli make a unique cheese in a small chalet up the Gruyere Alps.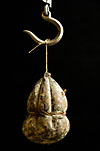 Salama da sugo **
This medieval Italian sausage from Ferrara nearly made me pass out.
Artículos màs populares ¦ Ultimos artículos ¦ Por temas ¦ Ultimos comentarios
Copyright FXcuisine 2023 - all rights reserved.
If you do this recipe at home please let me know how it worked for you by submitting a comment or send me a picture if you can. Thanks!