Stilton con Oporto
Home
>>
Experiencias Gastronómicas
Para una muy memorable sesión gourmet, compré una rueda entera de Stilton y la bañé en el Oporto más fino.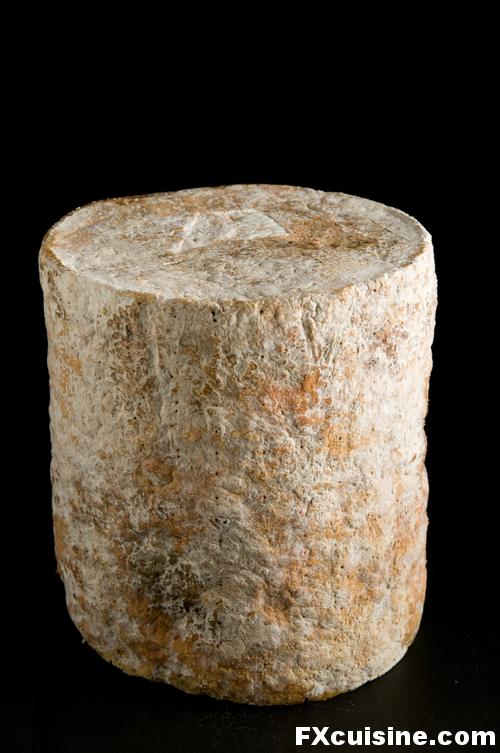 ¿Qué sabe de queso suizo, aquel que sólo de queso suizo sabe?  Para variar, la semana pasada decidí invitar a unos colegas suizos a probar un queso inglés.  Stilton con oporto puede ser cosa del pasado para los paladares hartos que se pasean por el área de comida de Harrod´s, pero para nosotros los suizos sigue siendo una sorprentende y deliciosa novedad.
Compré una rueda de 7.5 Kg de Stilton de Clawson con mi quesero local.  Venía envuelto wrapped en papel azul.  Estoy seguro que en Colston Basset hubiera conseguido un queso aún mejor, pero así es la vida de aquel que depende del queso importado.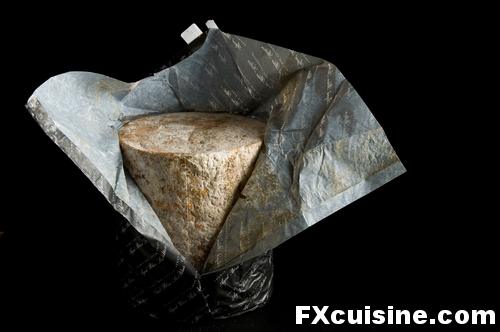 Ya
Ya en casa, comencé a desenvolver el queso gigante como alguien que compra una obra de arte antigua de alguna tierra lejana, sin haberla visto y está a punto de ver lo que finalmente es suyo.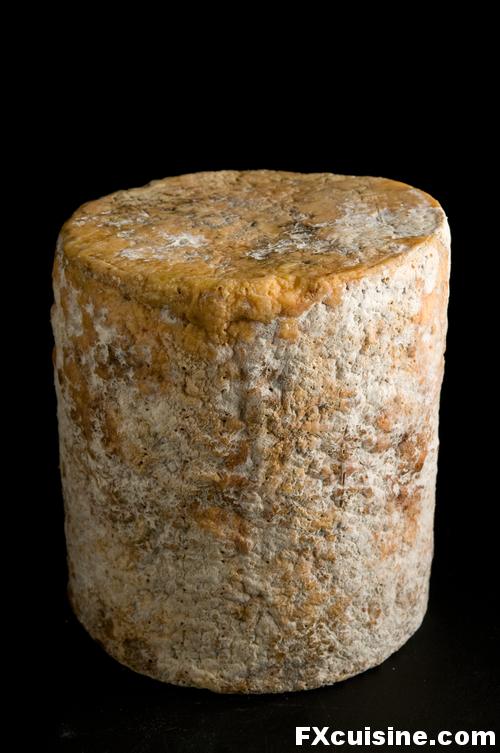 El queso azul Stilton es un poco como un cheddar que fue tocado por la gracia del penicillium roqueforti, uno de mis hongos favoritos.  Fue creado en una pequeña granja al norte de Londres en algún momento del siglo 18.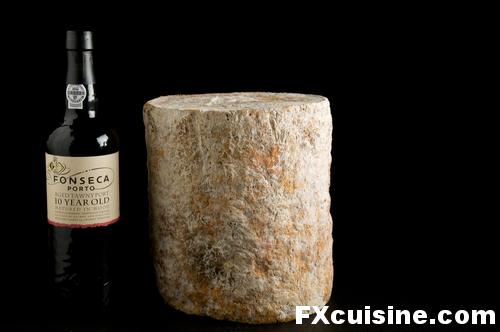 Los quesos azules son mejores cuando se comen con algo dulce.  Los franceses sirven el Rocquefort con miel de acacia o con fresas.  Los ingleses tienen su manera única de servir el Stilton inyectado de oporto.  Aunque puedo comprar Stilton con Oporto en varias tiendas aquí en Suiza, decidí hacerlo yo mismo para deleite de mis lectores y de mi estómago.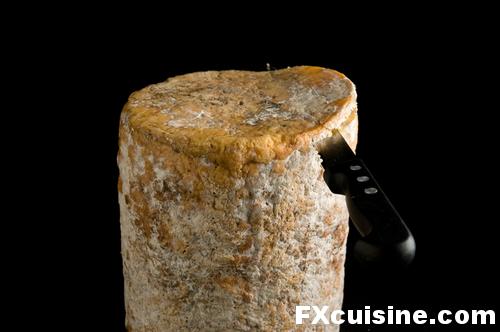 Primero asientra tu ruedaa de queso en su cara más plana y corta la tapa ...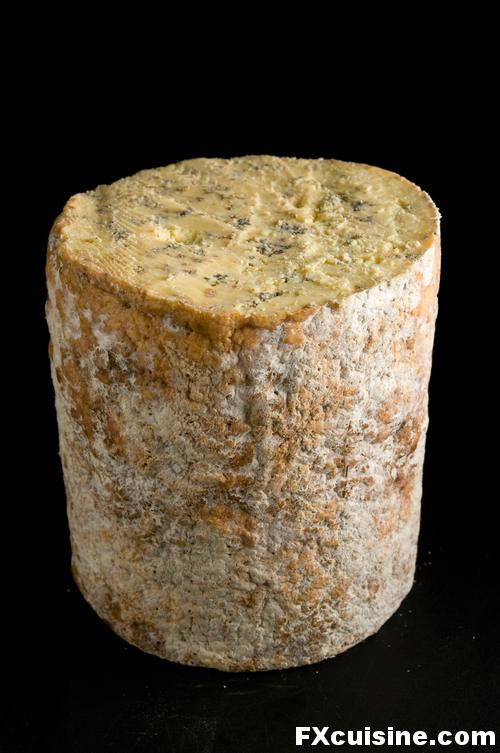 ... para obtener arriba una superficie plana también.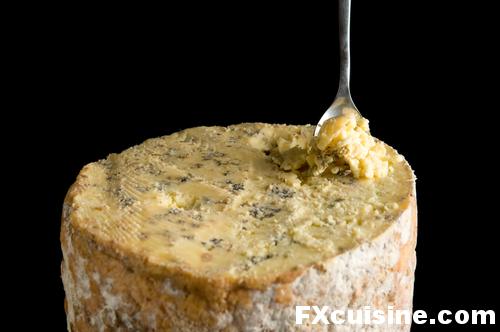 Escarba un poco del queso de arriba dejando un anillo alrededor con una cuchara de plata especial para Stiltin, si la tienes (yo no tengo).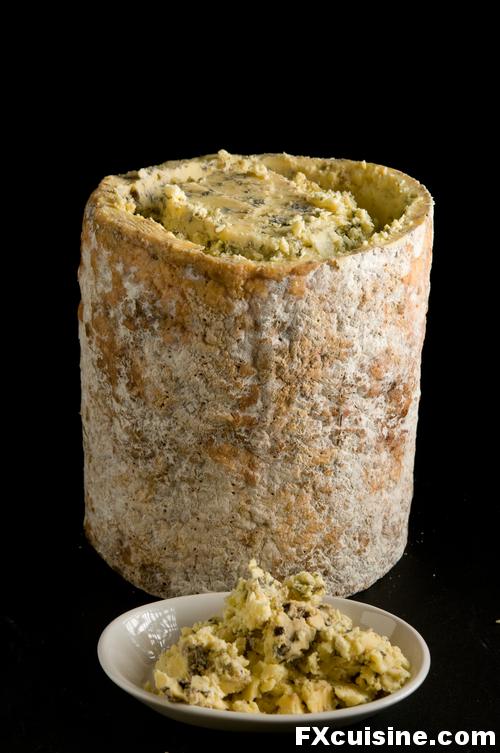 and El queso que quitaste se llama la porción de FX y debes enviármelo para que me lo coma.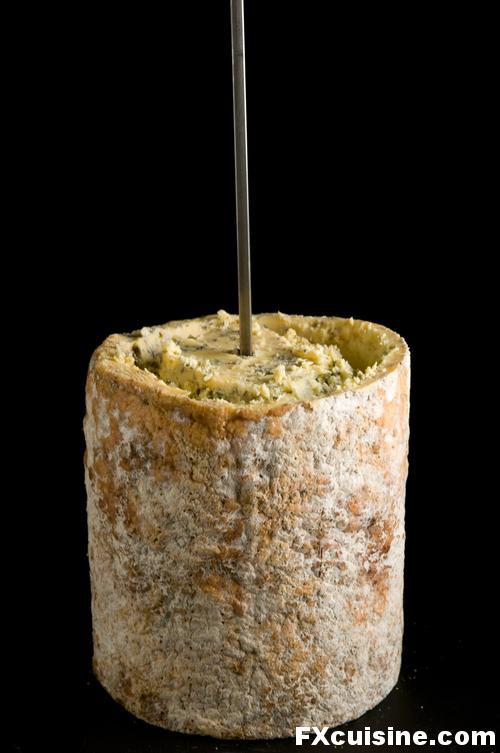 Pincha el queso de arriba hasta abajo con una brocheta gruesa para que el oporto fluya libremente e irrigue las venas de queso azul.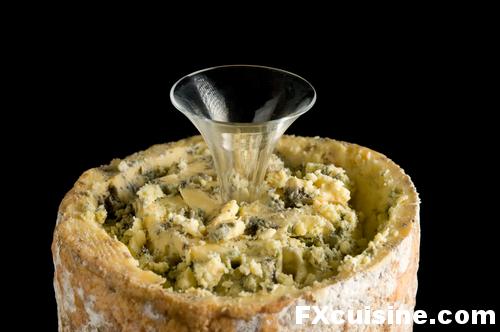 Continúa pinchando hasta que tengas 9 agujeros.  En las tiendas frecuentemente verás la botella de oporto clavada de cabeza en el queso, cual oscuro semáforo.  Yo prefiero usar un embudo.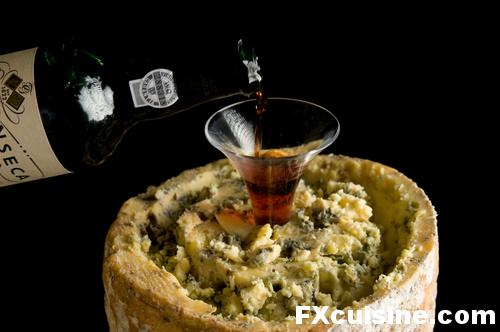 Comienza a vertir lentamente el oporto..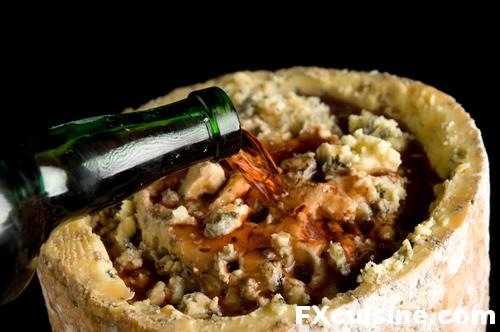 Mientras el queso esté plano y hayas dejado completo un buen anillo superior, puedes también vertir el oporto directamente sobre el queso.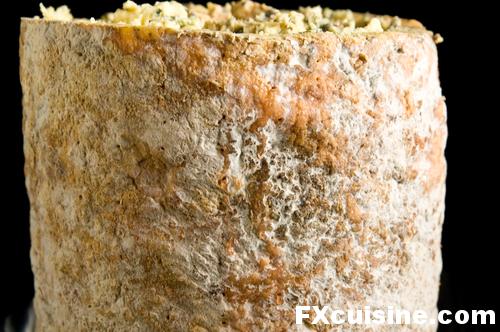 El queso está lleno de venas y el oporto comenzará a deslizarse a través de los agujeros en la superficie, como un buque que hace agua.  Definitivamente necesitas colocar el queso en un recipiente profundo pues la mayor parte del oporto saldrá pronto por debajo del queso.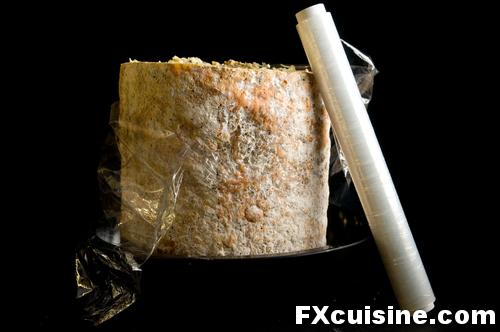 El queso necesita envolverse bien apretado en film plástico ...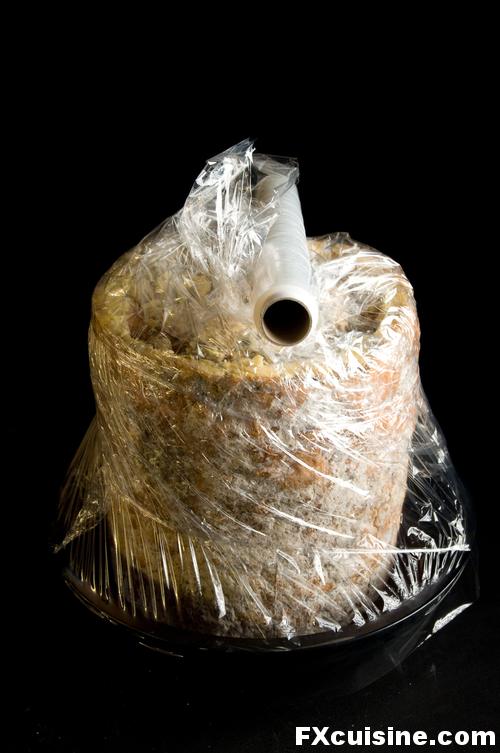 ... hasta estar completamente cubierto.  Necesitas hacerle perforaciones adicionales y volver a vertir encima el oporto que ha salido varias veces en el curso de los siguietnes dìas.  Me dicen que una rueda de Stilton se tomará dos semanas en beberese una botella completa de oporto.  Bastante más que yo.
Invité a unos colegas para un brindis navideño anticipado.  ¡Cómo se sorprendieron al verme luciendo donning mi delantal con mi queso gigante!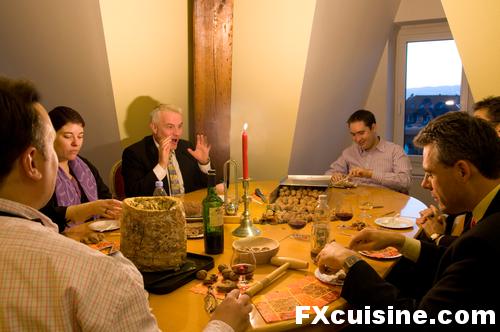 Senté a todos alrededor de una mesa grande y serví el Stilton con otra botella de oporto fino y una gran caja llena de nueces de castilla.  Cada invitado recibió un cascanueces y un tenedor para nueces mientras yo presidía la reunión con mi martillo para nueces.  Una hora bien vivida sin duda.
Al acercarse el final de la sesión, corté sliced unas rebanadas grandes de Stilton y las puse en bolsitas con un cucharón de oporto para que cada invitado pudiese llevarse a casa un pedacito de la campiña inglesa. 
Al día siguiente, comencé a escuchar lo que la gente había hecho con su Stilton.  Salsa para pasta fue una de las elecciones populares, una bruschetta con peras y mis humildes cebollas caramelizadas, así como un quiche de Stilton. 
354430 visitas
Artículos Relacionados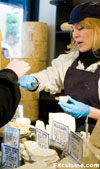 Neal's Yard Dairy **
My visit to the cult London cheese shop, selling no less than 57 types of British cheeses.

Montgomery's Cheddar **
My Christmas article will show you how the best cheddar since King Arthur is made in Somerset, including a 4 minutes video.
Artículos màs populares ¦ Ultimos artículos ¦ Por temas ¦ Ultimos comentarios
Copyright FXcuisine 2023 - all rights reserved.
If you do this recipe at home please let me know how it worked for you by submitting a comment or send me a picture if you can. Thanks!