Sicilian Cash Cow
(page 2 of 2)
Home
>>
Recipes
This baked eggplant pasta dish has been keeping client queuing at the door of Geneva's most successful popular Italian restaurant 15 years. Find out how you can milk the Sicilian cash cow for yourself.
Dilute the tomato sauce with a glass of water if it has become too thick. Add the peppers and eggplants and mix well. Cover and keep hot.
Italian culinary orthodoxy commands to always discard crushed garlic fried in olive oil, because tradition says the garlic turns bitter when fried and the good part of the flavor is transferred to the oil already. It is true, and yet, at La Trattoria they leave large chunks of fried garlic in the pasta and the result is very pleasing, with bursts of browned garlicky flavor exploding in your mouth from time to time. Just make sure you don't let the garlic brown too much or it will be bitter. Just add the garlic you have reserved from the eggplant and tomato sauce preparation back into the finished sauce.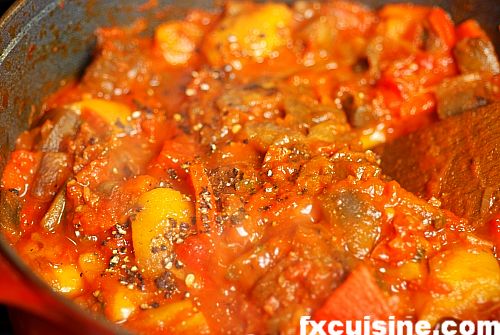 Last but not least - the pasta. As you can see I used maccheroni where as La Trattoria uses penne. But mine are way better - I make them from scratch with free range eggs and semolina flour with a bronze extruder. You can use bought bronze-extruded pasta and obtain good results.
Fill the largest pot you own with water, add some salt but please do NOT add any oil. Boil your pasta until well undercooked. The pasta will continue to cook in the sauce and there is nothing worse than overcooked pasta.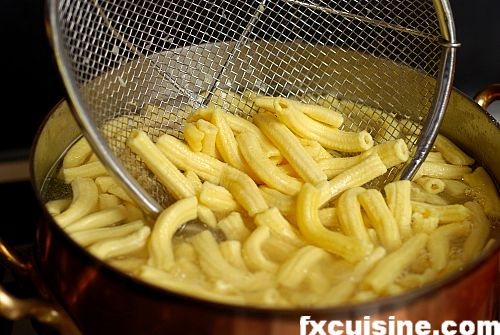 Use the best mozzarella you can find - it will really show in the finished dish. I used mozzarella from the local market, imported from Italy and stored in its own jar of whey. Dice the mozzarella and reserve.
Mix the undercooked pasta with the sauce, add some finely chiselled basil and half the diced mozzarella and lay everything in a large, flat oven-proof dish.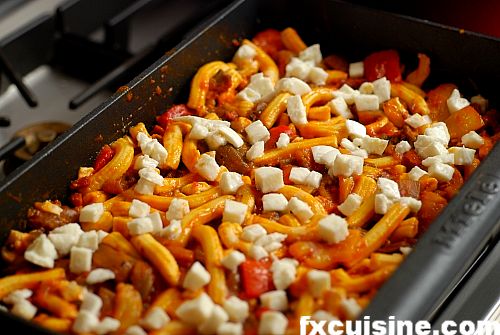 Sprinkle the rest of the mozzarella on top and bake in a hot oven until the mozzarella is well melted.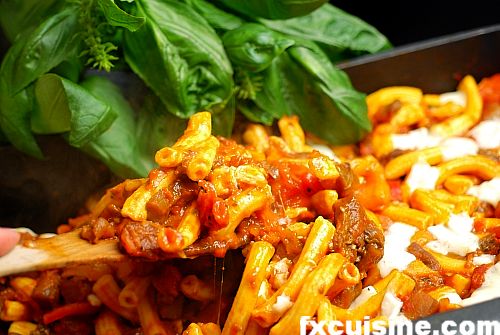 Serve immediately!
FXCUISINE VS LA TRATTORIA
How does my version compare to the original? Clearly the secret of La Trattoria's permanent success is not in the greasy eggplants or overcooked pasta. It is really the combination of all ingredients, melted mozzarella and fried garlic that makes it so memorable. I'm glad to say my version tastes better and is much, much lighter. Here is why:


| | | |
| --- | --- | --- |
|   | FXcuisine.com | La Trattoria |
| Pasta | Bronze extruded freshly made maccheroni from freerange eggs and semolina flour | Bought overcooked penne |
| Eggplant | Peeled eggplants fried in a moderate quantity of quality olive oil. Tasty and easy to digest. | Unpeeled eggplants fried in a gallon of standard oil - very greasy and hard to digest. |
| Peppers | Oven roasted, peeled & seeded peppers. | No peppers (traditional recipes use peppers - this part is really optional). |
| Garlic | Crushed and fried in olive oil, then removed when light brown and added back at the end. | Mostly overfried and bitter. |
Cook a dish like this in a restaurant and you'll be bankrupt in two months. As a home chef, I'm after great taste, but a smart restaurant owner like Antonio Porcedda of La Trattoria doesn't pursue the best taste at any cost. He wants long-term healthy cash flow. Frying eggplants in little oil just costs too many man-hours. And for all its greasiness
La Trattoria
's Penne Siciliana have been bringing me back for more for nearly 20 years.
Try the original at
La Trattoria
Rue de la Servette 1 (just behind the train station)
Geneva (Switzerland)
+41 (0) 22 734 52 19
308902 views
Related Articles

Authentic Sicilian Pasta With Broccoli *** Popular
This traditional Sicilian recipe brings together North African and Italian culinary traditions. A cult dish!

Serious Pasta alla Norma *** Popular
Pasta alla Norma, a divine combination of eggplants, tomatoes, basil and ricotta, is one of the most elegant traditional Sicilian recipes. A real cult classic!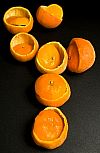 Sicilian Tangerine Sorbet **
Extraordinary sorbet served in the shell for a spectacular dessert suited for the calorie conscious vegetarian and the truffle-eating epicure alike. With no cooking and no ice cream machine required, this is an offer I can't refuse.


Pasta con i fagioli **
Homemade wholewheat spaghetti with a delicious beans ragu for a typical Tuscan peasant dish.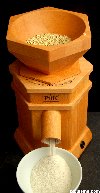 Italian Alpine Buckwheat Pasta Pizzocheri **
Traditional buckwheat noodles from the Italian Alps with cabbage and Fontina cheese. I made them from scratch with my own freshly milled buckwheat flour. Hard core pasta!
Copyright FXcuisine 2023 - all rights reserved.
If you do this recipe at home please let me know how it worked for you by submitting a comment or send me a picture if you can. Thanks!