Indian Eggplant Spread Cooked Over Hot Embers
Home
>>
Recipes
Aubergine spread cooked directly over hot embers - a hot and smokey traditional Indian recipe.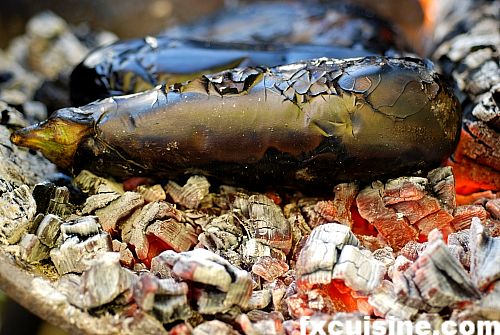 After Ducasse's Mediterranean Eggplant Caviar and Middle-Eastern Baba Ganouj, I now complete my tour of aubergine spreads across the world with the mighty Indian Baingan Bartha. Make sure you do them over hot embers for the smokey taste and caramelized aubergine flavor. You can do this in an indoor fireplace too.
Baingan Bartha
4 eggplants
2-4 garlic cloves
2-3 scallions
1 walnut sized ginger root
1tbsp whole coriander seeds
1tbsp whole cumin seeds
1 dried chili
5-8 black peppercorns
Mustard seeds oil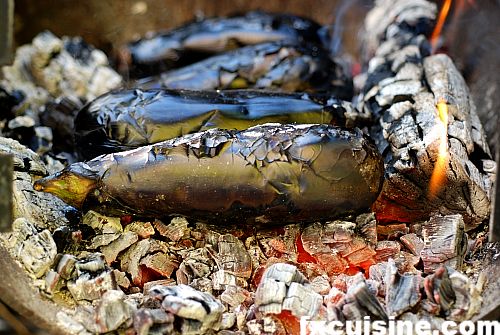 Start a large fire with hardwood or quality charcoal. No briquettes and no softwood as they would impart a bad taste to the food. When the wood has turned to glowing embers, after about 30 minutes or so, carefully lay the eggplants to rest, one by one, on this bed of embers. Leave them until they are soft all over and the skin is shrivelled.
Remove the eggplants from the fire, brush off any ashes and return to the kitchen.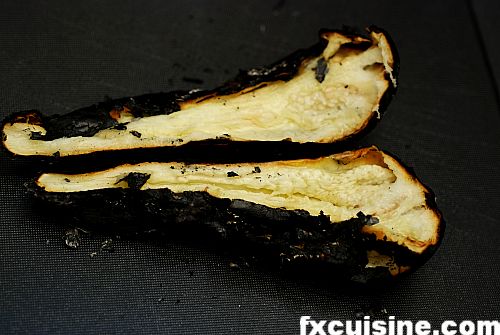 Carve the eggplants open carefully so as not to introduce any ashes. Miraculous! The vegetable has slept for 30 minutes on hot embers and yet it is still juicy inside.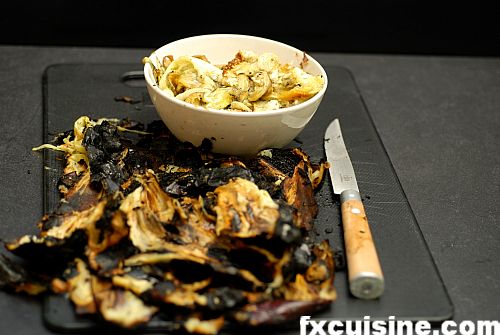 Carefully scrape off the flesh from the eggplant with a spoon, avoiding any black area. Burnt flesh is not the problem but ashes are. They are quite caustic.
Seasoning is what makes this aubergine spread an Indian baingan bartha. Use whole spices and dry roast them in a hot frying pan. Do not add any fat and remove only when the cumin seeds start to smoke.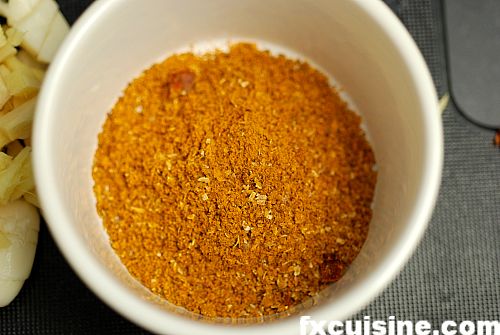 Grind to a powder in a mortar or with an electric spice grinder or manual pepper mill.
Mash ginger and garlic to a paste and finely chop the scallions.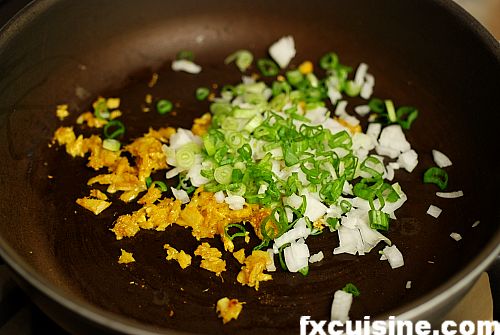 Fry in a tablespoon ghee or oil until soft.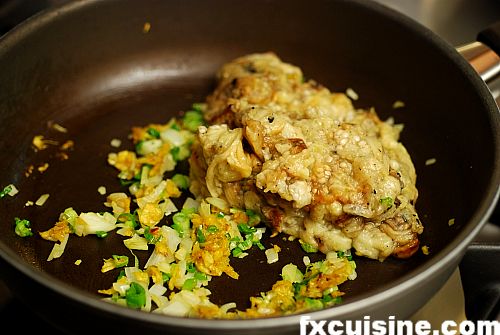 Add the eggplant pulp and combine.
Add the spices. Now for our most dreadful ingredient - mustard seeds oil. A very pungent taste indeed, more akin to vinegar than oil. Use only the finest oil and make sure it is not rancid or you'll ruin your fine efforts.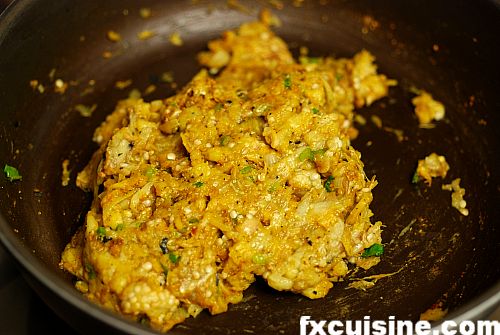 Add drop by drop and taste regularly until the flavor balance satisfies you.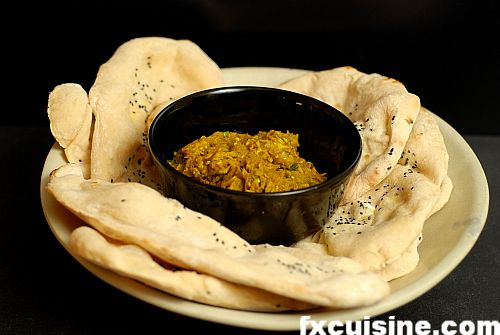 Serve with naan as a starter, a side dish or even a light meal. On the picture are afghan snowshoe naans I baked in my tandoor.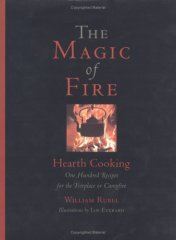 I was inspired to cook directly over hot embers by The Magic of Fire by William Rubel, an amazing book about cooking on open fires. This is one of my 20 favorite cookbooks and I have several hundreds cookbooks in 6 languages. You need to get this book - the recipes are all traditional and yet immensely original. Mr Rubel (www.williamrubel.com) is a Californian home chef versed into literature and gastronomy. He cooked some of his dishes at Chez Panisse, one of America's top restaurants, and yet most recipes use only a handful of ingredients. A masterpiece. Warmly recommended! I wonder if Mr Rubel was in some accident or something happened to him, I posted some pictures on his forum at www.williamrubel.com but in 3 months he's never visited it. Let me know if you have any information about his whereabouts!
72782 views
Related Articles

Baba Ganouj on Hot Embers **
Amazing Lebanese eggplant caviar roasted directly over hot embers and served with crispy lavash bread with toppings.
Copyright FXcuisine 2023 - all rights reserved.
If you do this recipe at home please let me know how it worked for you by submitting a comment or send me a picture if you can. Thanks!