My Most Intriguing Pan
Home
>>
Recipes
I brough back from the Spice Coast of Malabar this
bronze 'unniappan' pan
to cook banana-coconut fritters just like they do inKerala. Heavier than an anvil but a resounding success!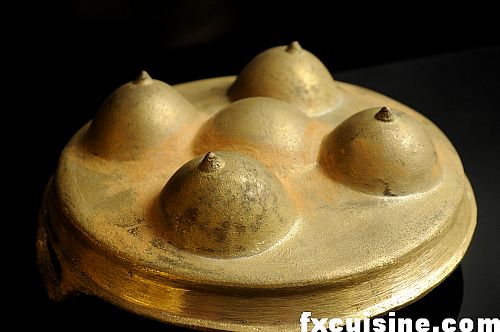 I visited India over the New Year and as you expected bought more cookware than I could carry. Down the Spice Coast, in the beautiful state of Kerala, I found this intriguing bronze unniappam pan. You can buy some in cast iron or even - God forbids - non-stick pans. But the real thing is in bronze. The pan has a very intriguing shape, with the bottom (picture) looking like a Hindu Goddess breast. This makes you wonder: can you have too much or too many of a good thing?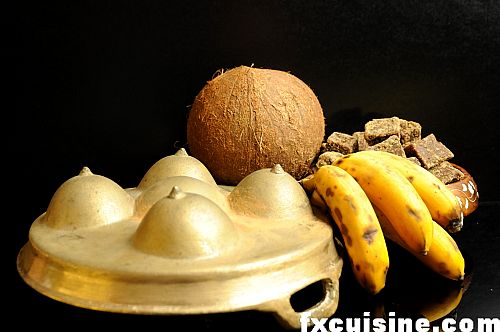 Unniappam
Coconut-banana fritters from Kerala
100gr jaggery
1 cup water
1 cup rice flour
0.5 cup coconut fried in ghee
0.5 cup mashed banana
1 teaspoon sugar
1 teaspoon same bicarbonate
Unniappam pans are used for a variety of ball-shaped dishes but my favorites are the ping-pong-ball-sized coconut-banana fritters fried in coconut oil. Most people don't have such a special pan at home, so just look at how it's made and then do the alternative deep-fried version I published earlier.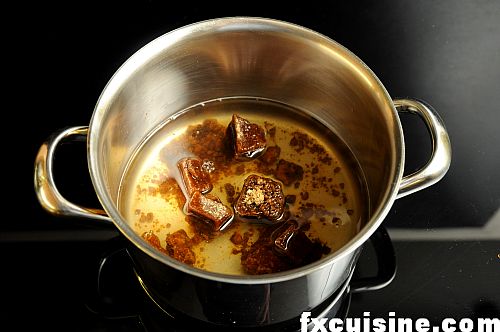 Start by heating a cup of water with 100gr of jaggery (palm-tree sugar) until the sugar dissolves.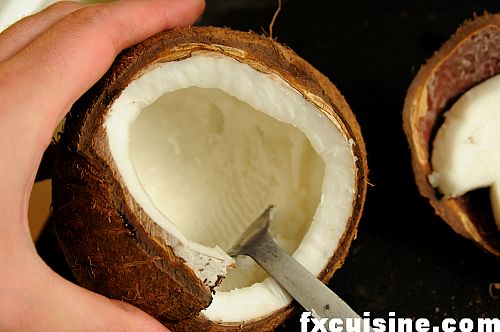 Scrape the inside of a coconut until you can fill half a cup.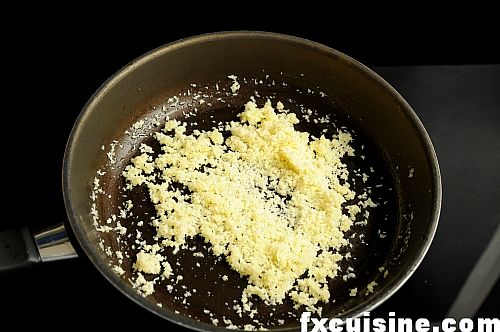 Fry in ghee (clarified butter) or coconut oil until it turns light brown.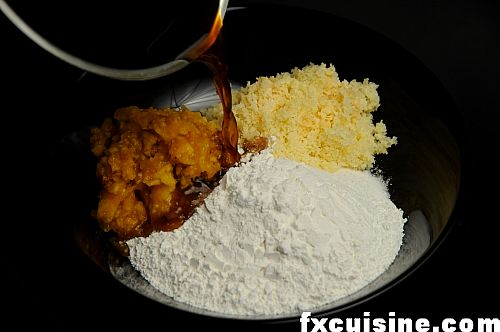 Mix the rice flour with the sugar and bicarbonate of soda (baking powder), then add the banana mashed to a pulp and the fried coconut. Pour the jaggery syrup on top ...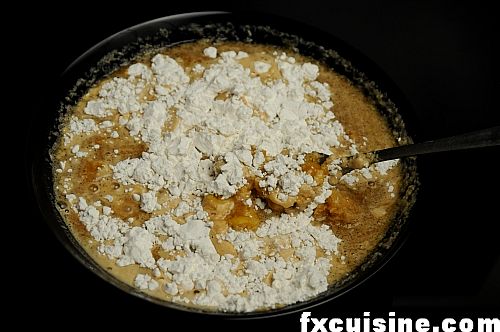 ... and mix thoroughly.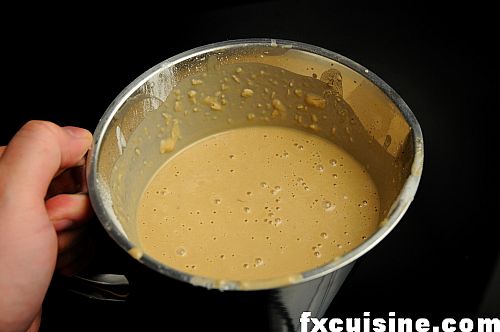 You can use a plunging mixer to get a really smooth batter.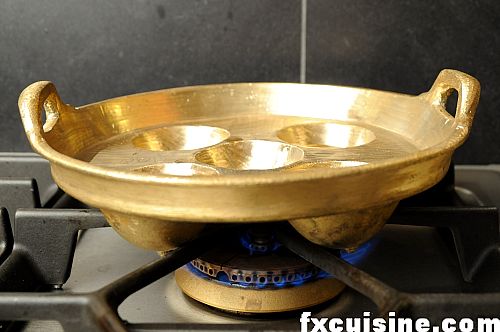 Heat the unniappam pan over the fire. I suppose you could do this on an electric stove but gas here is an advantage.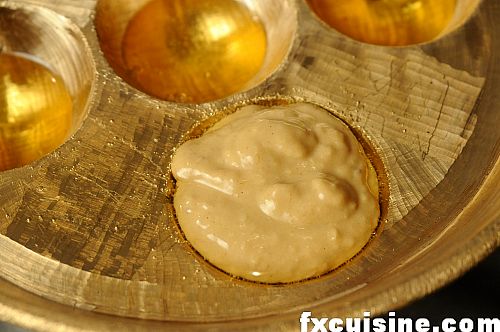 Fill the pan cavities with coconut oil. How much oil exactly? Some books recommend to fill each cavity to a third, which is what you see on these pictures, but I had success with less oil. Use heat-resistant kitchen brush to oil the entire cavity including the rim.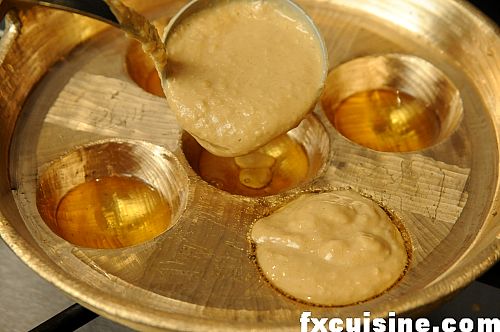 Fill with batter up to the rim.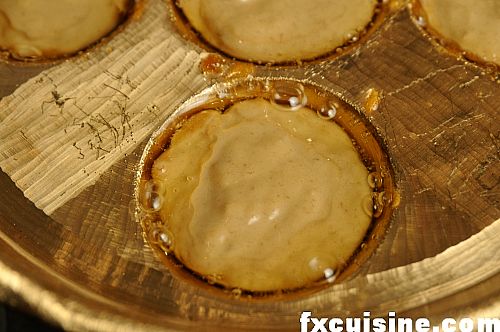 Fry on a moderate heat. If the heat is too high the crust will burn before the inside is cooked through. Nobody wants raw batter in his mouth.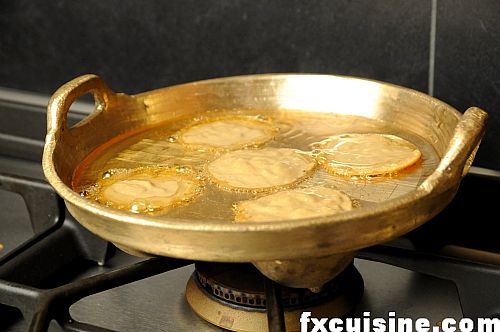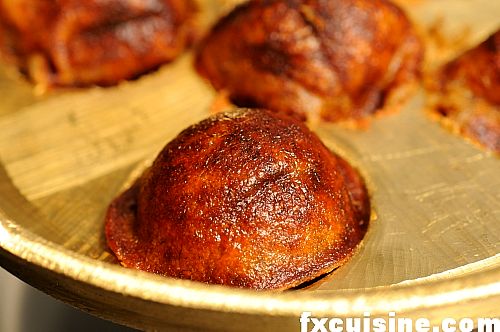 You can turn the fritters halfway through the cooking so that they are cooked on both sides. I don't think you can achieve perfectly spherical shapes and I've never seen any so far. Why? If you turn the unniappam when the batter is still runny inside, it will flow out and you'll have two pieces soaked in oil. You can't really glue them back together. If however you wait until the batter is hard, then when you turn it upside down you'll have a flattish bottom. But if you serve them laid on their flat backs people won't mind and all they'll see is perfect hemispherical top (photo).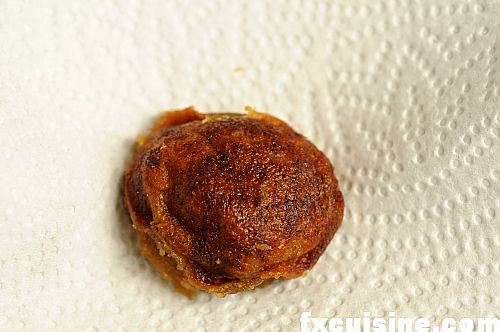 Serve as a snack for tea. The caramelized jaggery sugar develops extraordinary flavors, and the inside is fragrant and juicy, warm and conforting. I love India!
84584 views
Related Articles

Ginger Allspice Banana Fritters *
If you are not afraid of deep-frying these gorgeous fritters are for you. They can be prepared in minutes and are great both for tea or breakfast.
Copyright FXcuisine 2023 - all rights reserved.
If you do this recipe at home please let me know how it worked for you by submitting a comment or send me a picture if you can. Thanks!