Swiss Raclette
Home
>>
Experiences
The national dish of Valais, my Swiss canton, raclette is the most gorgeous melted cheese you will ever have. Here at its best at the Manoir de Villa in Sierre.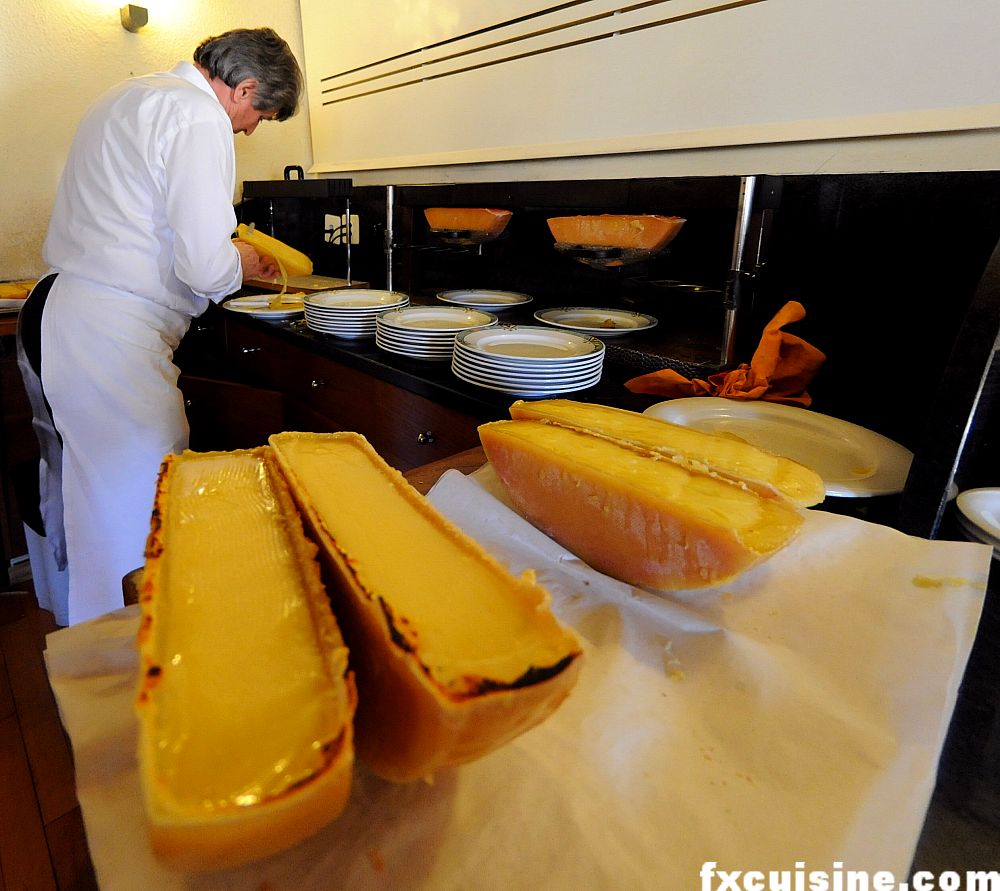 Raclette [raklayt] is the national dish of Valais, my Swiss canton of origin and birth. People have been eating this in my neck of the Alps since the 16th century. As slow food goes, it is relatively quick to prepare. Raclette is full fat alpine cheese melted and served with potatoes. There are three way it is normally served. The first is the alpine meadow raclette. In an alpine meadow or some hard-core raclette places, a large head of cheese is cut in half and placed next to a woodfire. The cheese's surface slowly melts, then the racleur (scraper) scrapes the melted cheese onto a place. That's the original raclette and the best you can have. I've only have it once in my lifetime, and I'm a local. The second type is the restaurant raclette. It works with same half cheeses but replaces the fire with an electric device designed for raclette. That's the one you see in restaurants and family gatherings in the Valais. Finally, there is the raclonette, a cheap electric appliance where you can place slices of cheese on minuscule square pans. This is no serious raclette and is best avoided for it lacks the proper temperature to roast the crust. You end up with an oily mess. For all its shortcomings, it is as popular among Swiss nuclear families as pancakes are in America.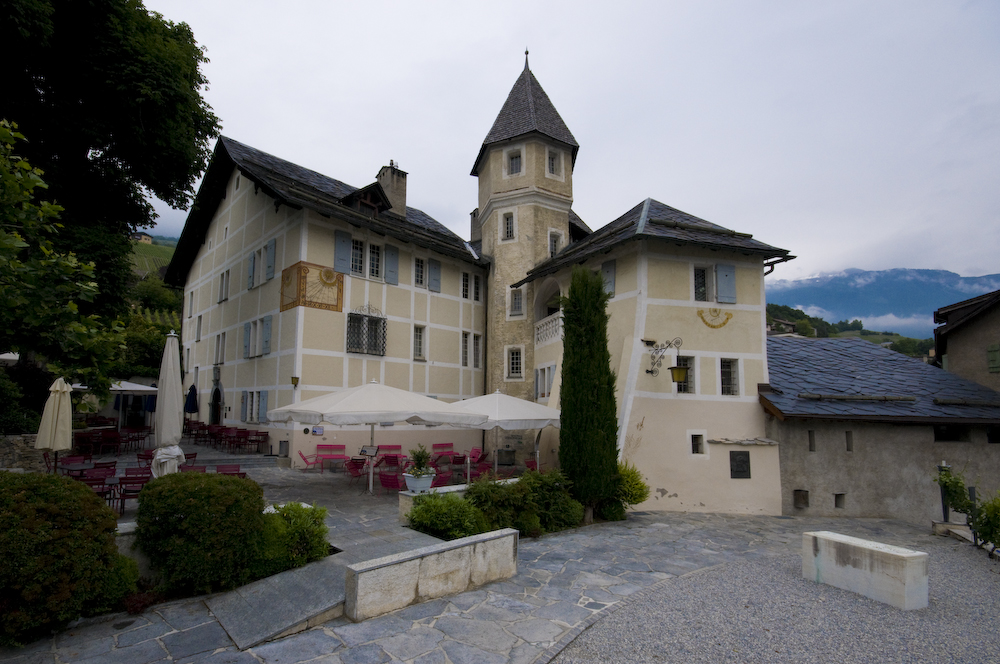 Today I will show you the best 'restaurant raclette' it has been my privilege to eat. I've been coming to the Villa castle in Sierre with my father for decades and they still are the best. The restaurant is set in a 16th century castle, owned and very professionally operated by a non-profit foundation created in 1951 to save the castle. You need to book to eat raclette at le Château de Villa. People come in small groups and the place is packed full for Sunday lunch. I shot this the other day with my fisheye lens, so if you get seasick, don't blame the cheese but the fish.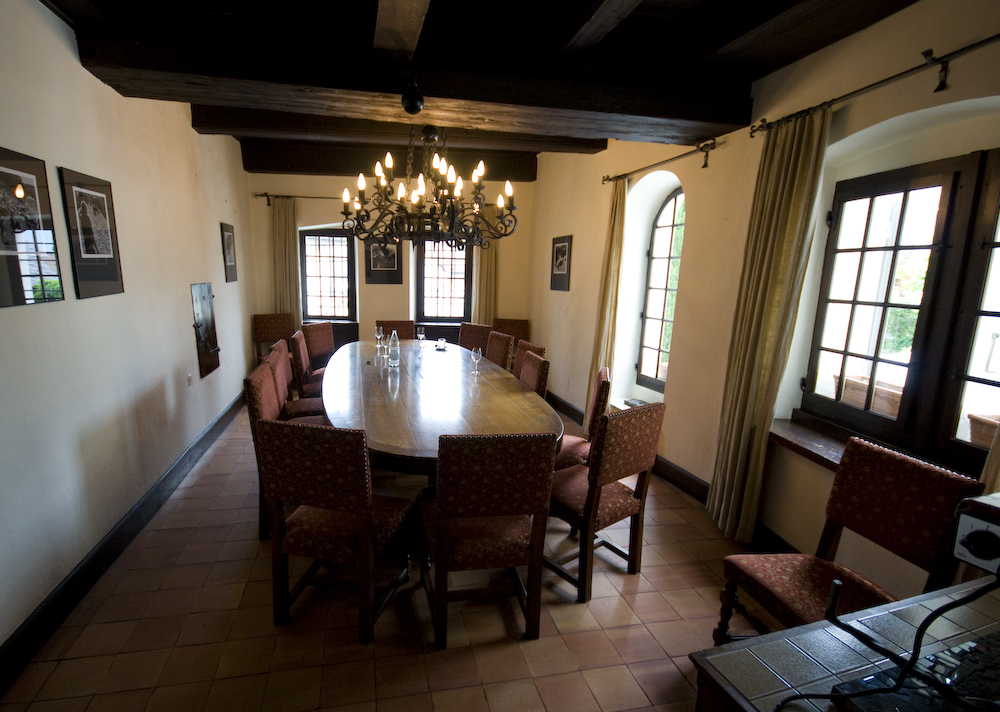 If you are a connected person or if you bring in a large party and know how to ask, you may be given one of the two beautiful private rooms for peaceful and quiet raclette eating.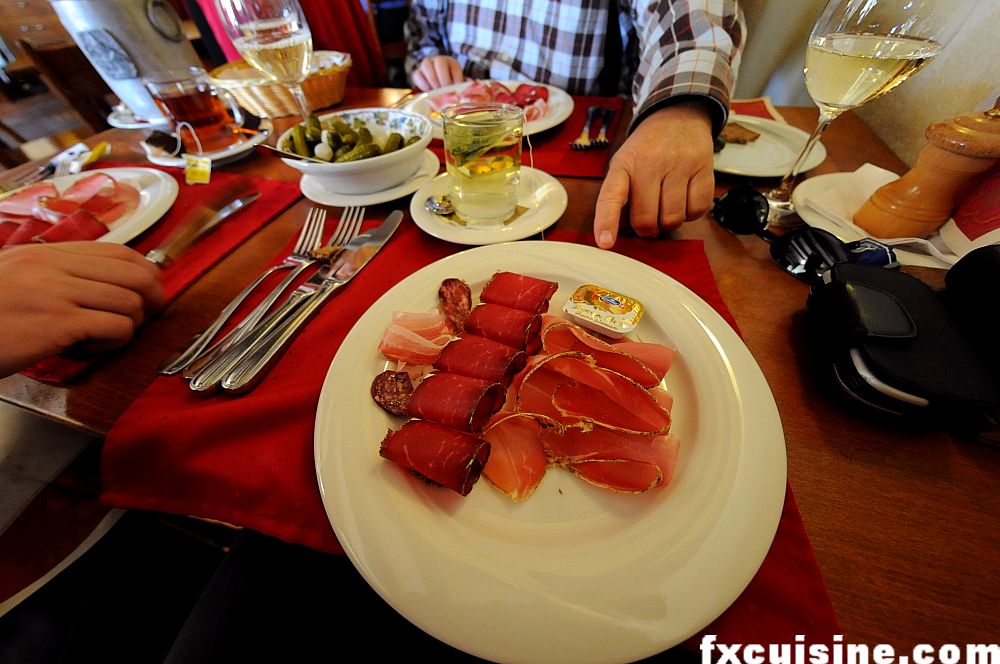 The meal invariably starts with an assiette valaisanne 'Valaisian plate', a selection of thick slices of dried bacon, ham, sausages and beef meat, eaten over sourdough rye bread. All of these meats are local and typical to the region, and are hugely popular with the locals. This makes Valais a mighty fine place for cardiologists and oncologists, but remember that this is a hard place between steep rocks and until very recently most people died prematurely anyway.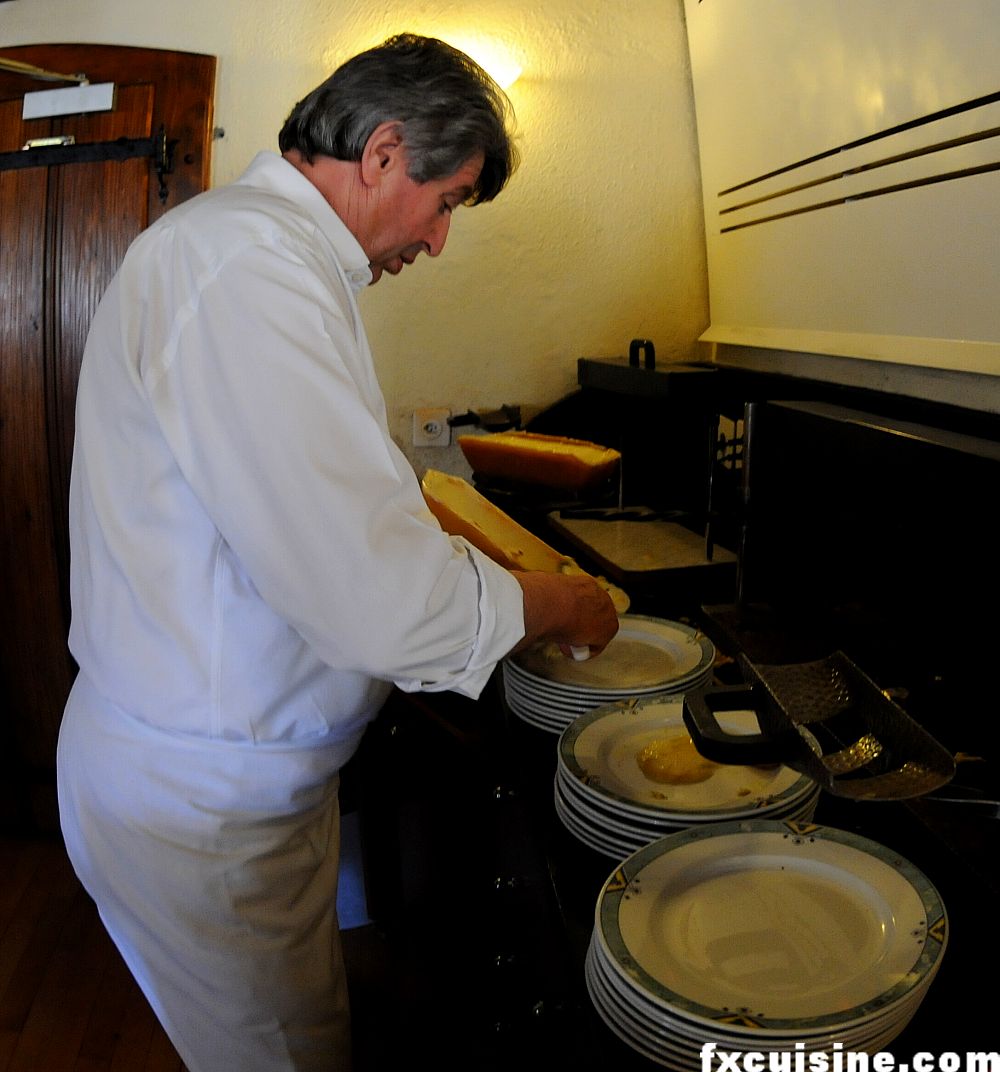 The manoir de Villa's goal is to promote local food products. Their most brilliant idea is to use a selection of 5 cheeses, all from alpine meadows in Valais, all made traditionally using raw milk. You may never have the chance of eating cheese like this in your life, so if you are in Valais, don't miss this!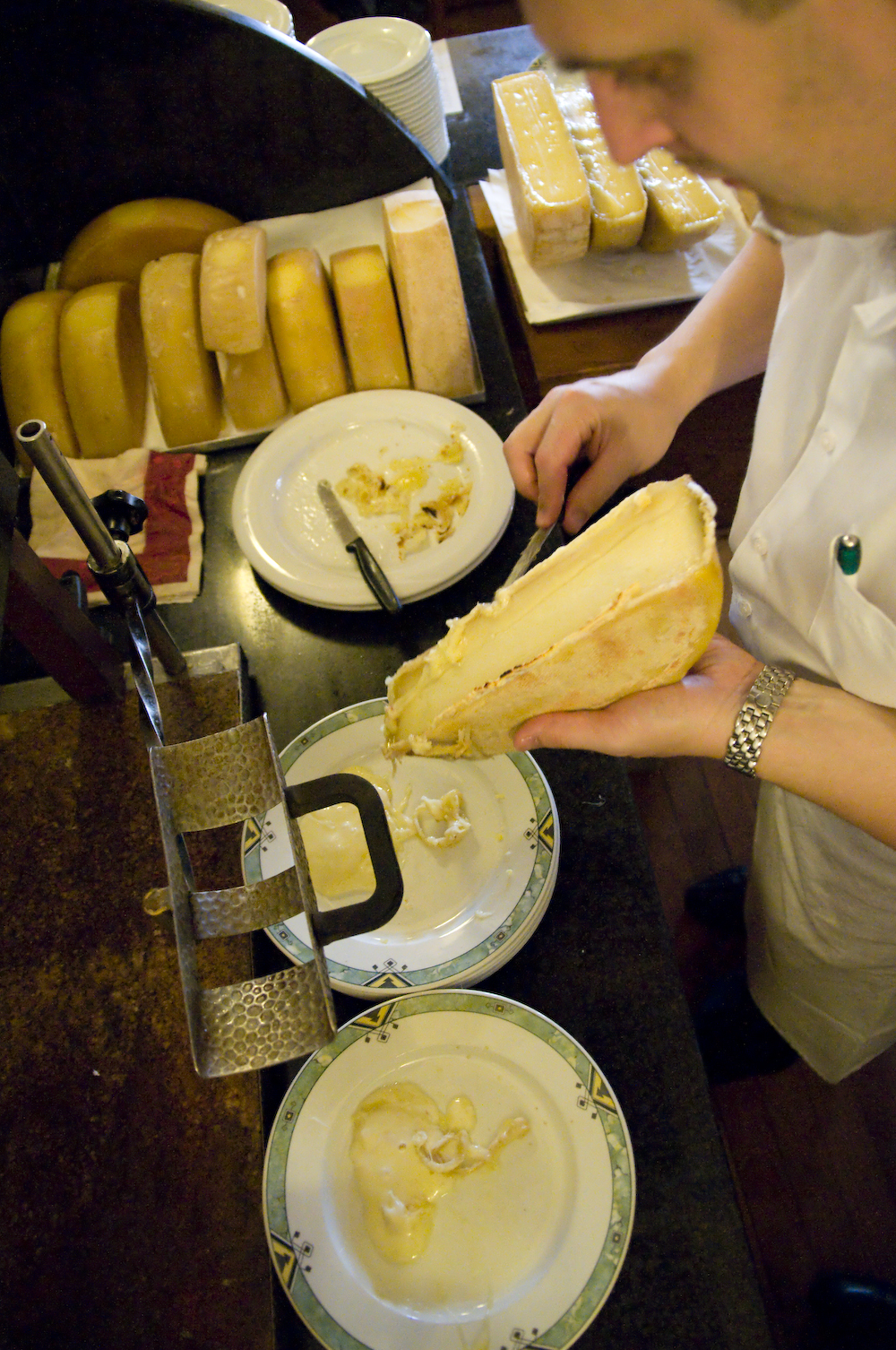 Three half-heads of the same cheese are placed under electrical raclette ovens, flat side up. The cheese quickly melts and bubbles. The racleur (scraper) scrapes the melted cheeses onto the plates of the same table, then places the cheese backs in the ovens.
...