Swiss Raclette
(page 2 of 2)
Home
>>
Experiences
The national dish of Valais, my Swiss canton, raclette is the most gorgeous melted cheese you will ever have. Here at its best at the Manoir de Villa in Sierre.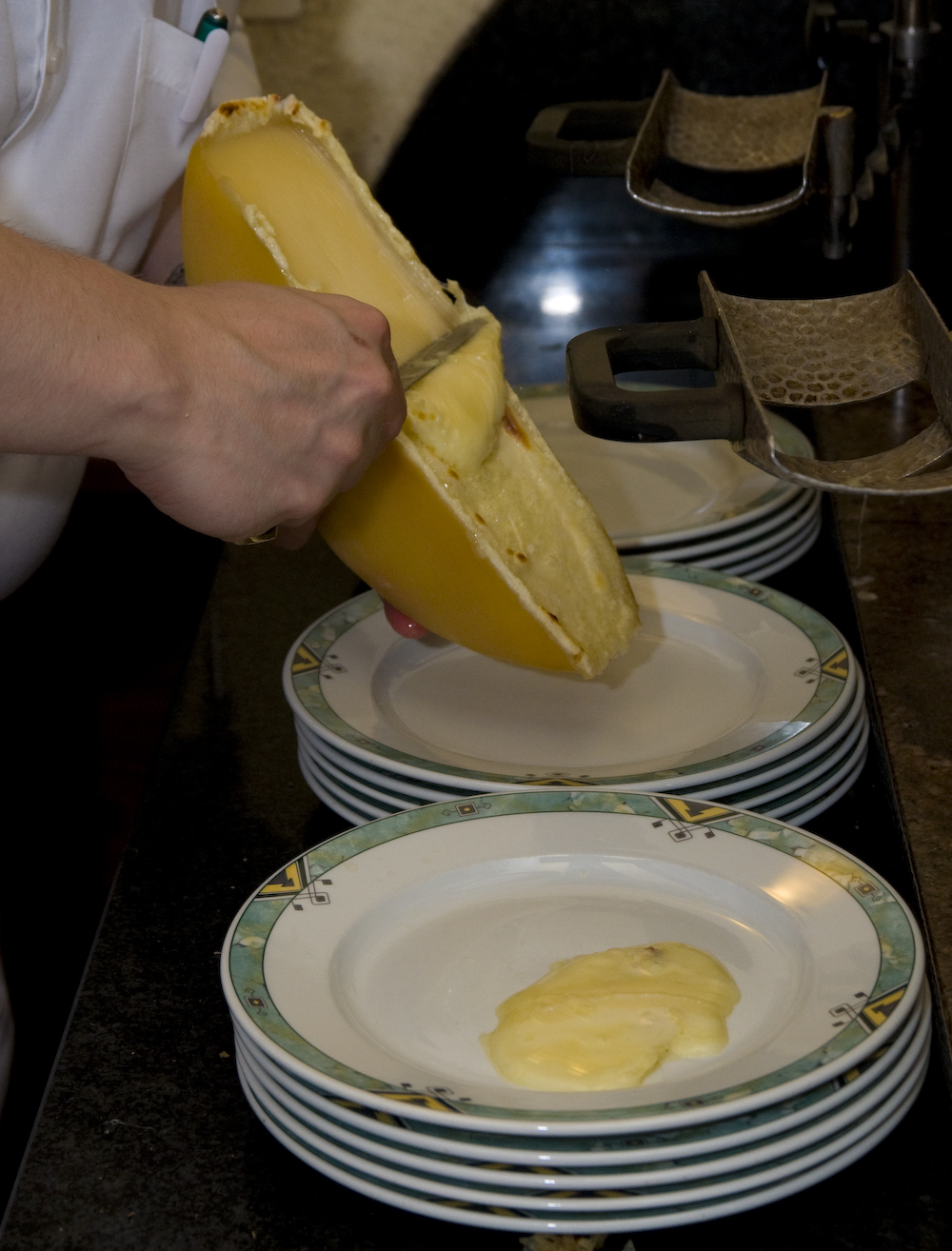 He continues with the next plates and then flies across the restaurant
You may notice two different gentlemen working the racleur shift. I shot these pictures on two separate occasions. Nothing else has changed. Good raclette, like the river Rhone, always remains the same.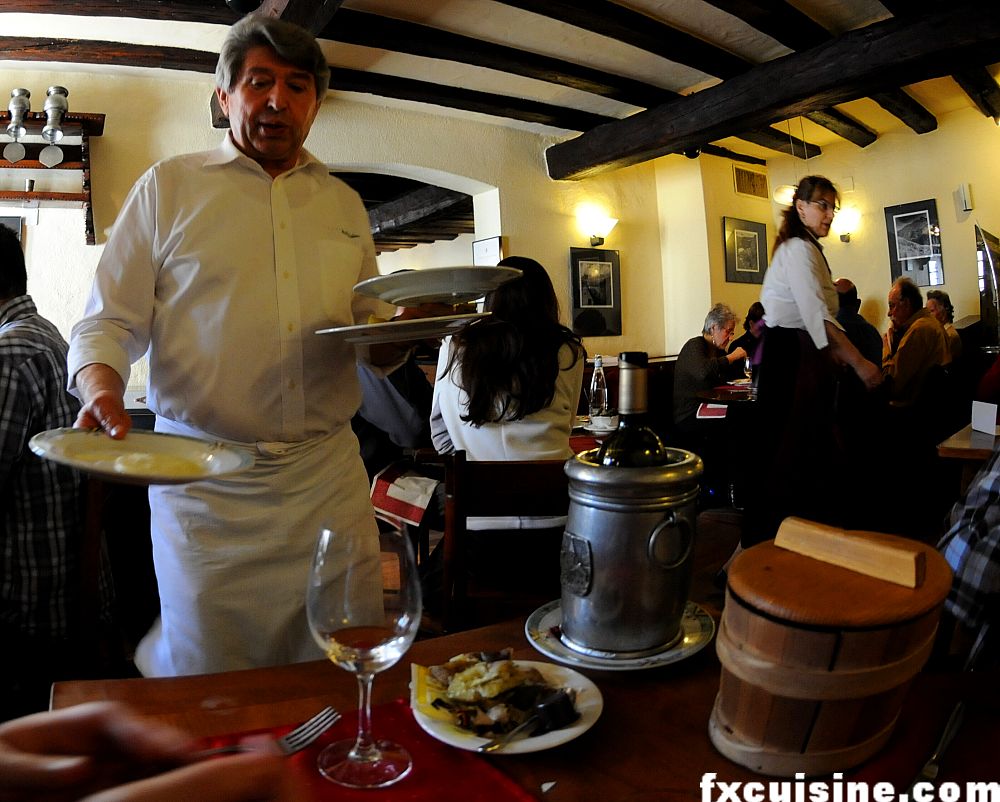 ...to deliver them personally to each guest, announcing which cheese he just served. 'This one is from Les Haudères in the Vald d'Hérens'.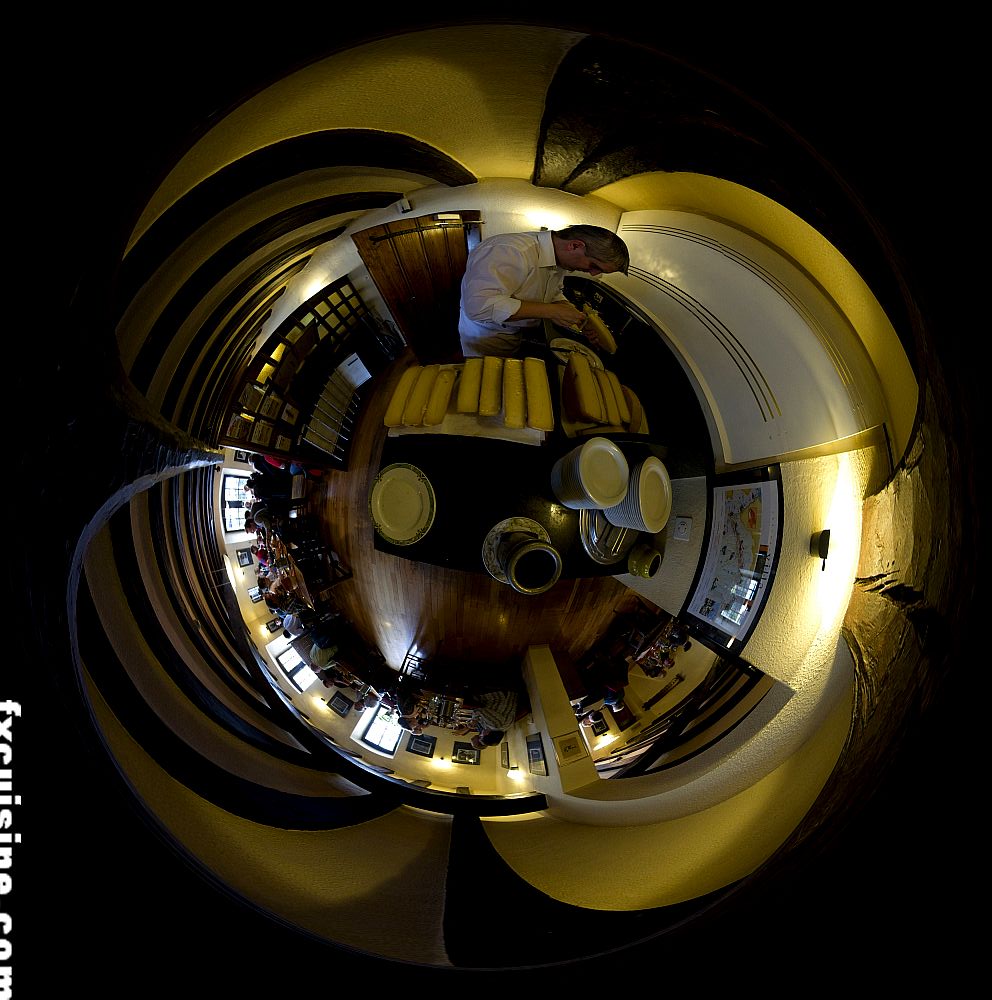 360° immersive panorama (Flash, 2 MB) - see the racleur 'scraper' at work.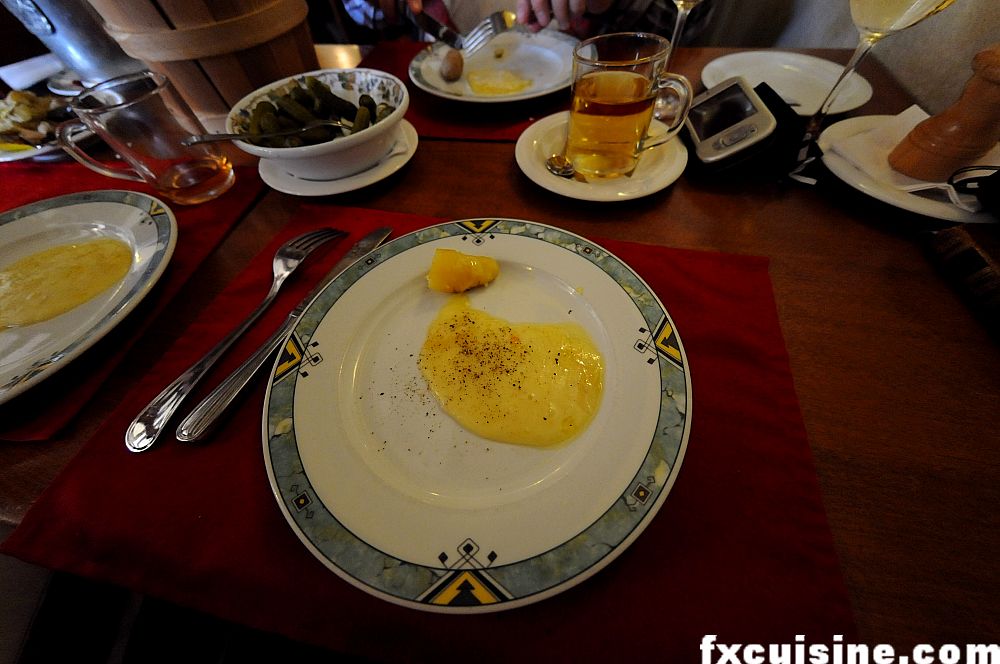 Raclette etiquette is very important if you eat with Valaisians. If you salt your cheese, people will look at you like if you put ice cubes in a glass of Château Cheval Blanc in Bordeaux or ask for well done Kobe beef in Tokyo. Christ, they might even throw you down a glacier for all I know. Then there is the pepper. I'd have pepper in my coffee if I drank coffee, but if you start adding pepper to your raclette before having tried the first bite, people will think less of you. As the country tale goes, 'One day a man was interviewing for a new job, and his future boss invited him for raclette. The man peppered his raclette without first tasting it. Upon seeing this, the boss decided not to hire him. It turned out he was right, as this man was prone to make rash and premature judgements and was a bad employee.' I've been told this story countless times and now it's so ingrained that I would never dream of adding a picogram of pepper to my raclette before tasting it. Of course you might point out that the story might not make much managerial sense, but the point is not this. Raclette is identity food, it is as much about history, tradition, eating-this-makes-us-who-we-are than anything else.
Another tip, which the casual visitor of Valais might easily mistake what follows with another identity-defining tradition. He would soon find out this is no tradition. With raclette you can drink only alcohol or warm tea. Go try to wash down the raclette with a coca cola or some mineral water if you want, but please sit in the back so the smell of your vomit will not distract the other diners. Valaisian parents tell their children that 'If you drink something cold with raclette, it will turn the cheese into a hard ball in your stomach and you'll be sick'. The children might point out that the white wine is cold and that nobody gets sick 'Alcohol prevents the formation of the ball in your stomach'. Those children who argue too well or who disregard their parent's advice soon find out the value of experience as they rush out of the room.
The man comes back after a couple minutes, grabs your plates and returns with more cheese. 'This is from l'Alpage du Marais in Grimentz'. Each cheese gives you a slice of the Alps, the unique combination of topography, soil, micrometeorology, the breed of the cows who pastured there, how the cheese was made and seasoned. Each cheese is very different from the others while still being a raclette cheese, much like people in the same family may all look alike to a stranger but are worlds aparts when you get to know them.
The plates keep coming until you drop. Unless you have a lilliputian appetite, go for the all-you-can-eat formula and have at least one full cycle, 5 plates in total.
Another time I'll show you raclette in a different setting.
Château de Villa
http://www.chateaudevilla.ch
Rue de Sainte-Catherine 4
Tel. +41 (0)27 455 18 96
Sierre
Valais (the Matterhorn state!)
Switzerland
The castle is owned by a foundation, and is run by Dominique Fornage, a leading Swiss oenologist. If upon hearing the words 'Swiss foundation' you expect soviet-style service, you are in for a good surprise. The restaurant is always full, even on a Monday lunch. Advance booking is absolutely necessary. At 44 CHF for a first course and unlimited raclette, the most popular option, it is not a cheap meal either. People come here not for the price but for the quality and the fast service. Indeed, you can tell that if Mr Fornage is as apt at getting his waiters to work the room so efficiently, he must not be the kind of vintner who forgets a couple drops in the grapes. But he is not resting in his wine cellar or behind his director's desk either and you can catch a glimpse of him helping out delivering fondue or raclette. A very well-run operation, even so more for a non profit organization.
610797 views
Related Articles

Hard Core Swiss Vacherin Cheese ***
Follow me as I wake up in the wee hours of the morning to see Swiss armailli make a unique cheese in a small chalet up the Gruyere Alps.

A night at the Liboson ***
A memorable fondue in an over-the-top dungeon chalet straight out of a Hammer film. Our host, Paul du Marchie, has been building an architectural fantasy in the middle of the woods for the last 50 years. Dont' miss my eight 360° panoramas!

Swiss Alps Ricotta ***
See how we make sérac, the Swiss ricotta, up in the Swiss Alps and learn about about Swiss cheese botanics with a field trip to see what the cows graze up there.

Swiss Alpine Pasture Cheese Croûte ***
How I bought cheese in a small cheese making chalet in the Swiss Alps 2 hours walk from the last road and how I turned it into a delicious Croûte au fromage.


Swiss Cheese Fritters ***
The mighty Beignets de Vinzel is a cult dish from the Swiss coast of Lake Geneva. It would fit nicely into the Scottish Diet.
Copyright FXcuisine 2023 - all rights reserved.
If you do this recipe at home please let me know how it worked for you by submitting a comment or send me a picture if you can. Thanks!