Swiss Cheese Fritters
Home
>>
Recipes
The mighty
Beignets de Vinzel
is a cult dish from the Swiss coast of Lake Geneva. It would fit nicely into the Scottish Diet.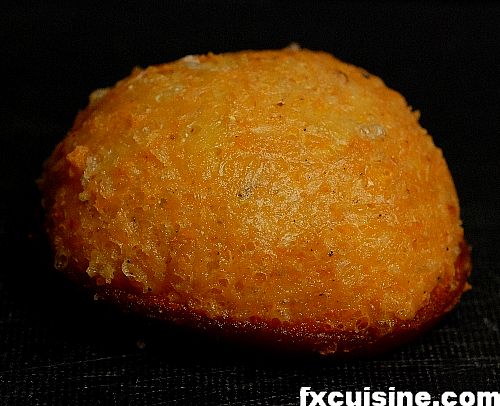 After my making fun at the Scottish Diet and other deep-fried calorie bombs across the world, let me have a dose of my own medicine. In two villages on the Swiss coast of Lake Geneva, Luins and Vinzel, you can eat cheese fritter whose recipe has been brought back by Swiss soldiers fighting for the French in the Crimean war (1853-1856).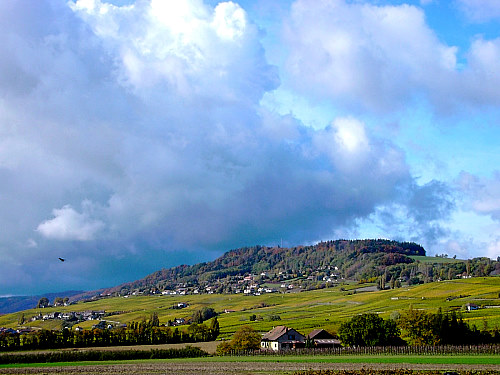 If you live in those parts, you would drive up to Bursins, Luins or Vinzel at least once a year to have a couple of these caloricious fritters with your friends. The correct name is Beignets de Vinzel but most locals call them Malakoffs, which are in fact deep-fried cheese sticks. The villages are picturesque and surrounded by wineyards with a spectactular view over Lake Geneva and the French Alps as a backdrop. The restaurants are nothing fancy, Swiss country pubs of sorts, but over the years you might have bumped into Alain Prost, Phil Collins or Peter Ustinov who all lived within a couple miles. The recipe is supposedly a secret but I found it in Aus Schweizer Küchen, the mother of all Swiss cookbooks, by Marianne Kaltenbach. Here is how to do it at home and get even better results than at the restaurant.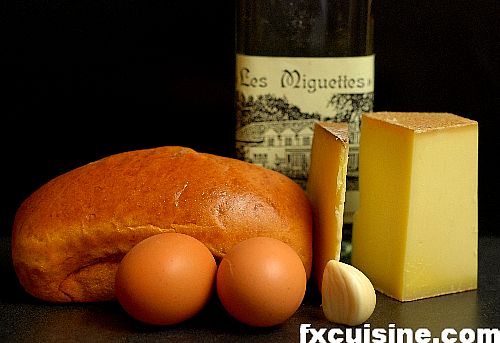 Beignets de Vinzel [bay-nyay dugh venzell]
1 English bread or small toast bread sliced in 0.5cm/0.2'' slices
400gr Gruyère cheese or another full-fat hard cheese fit to be melted
Pepper, nutmeg
3 eggs
2 tbsp flour
1 tsp baking powder
1 clove garlic
2 tbsp kirsch or fruit brandy
If you want to prepare a fish soup Switzerland is probably not the best place in the world for shopping, but when it comes to cheese we have what you neeed. I stopped at the farmers' market in Vevey and immediately went to the cheesemonger from the Gruyère, an area that makes the best cheese of the same name. I explained my need - a Gruyère that would melt nicely and he had me taste half a dozen Gruyères. Finally we settled on 300gr 'sweet' Gruyère and 100gr 'salted' Gruyère from last year, both made from alpine meadow cowmilk. You can certainly prepare this dish with lesser cheeses and you'll have a great time, but if you ever have the opportunity to come to Switzerland, I recommend you buy some Gruyère d'alpage - the taste is incomparable. Regular Gruyère is a fine product but the cows that supply the milk eat straw and the taste is much blander. Very much like comparing black and white TV with mono sound to a modern home theater. There is little question that the cheese I used here is superior to the one used in restaurants. Grate the cheese.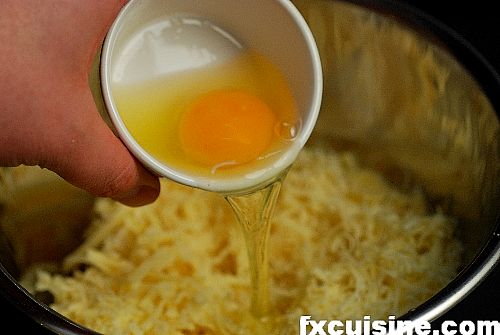 Break 2 eggs and add to the grated cheese.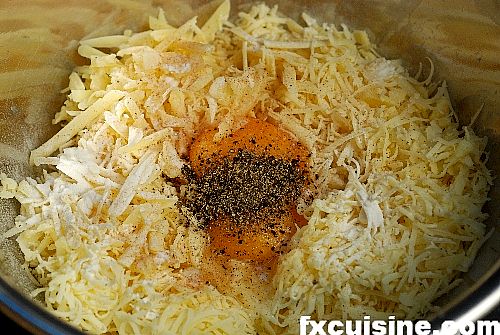 Season with nutmeg, pepper and a crushed garlic clove.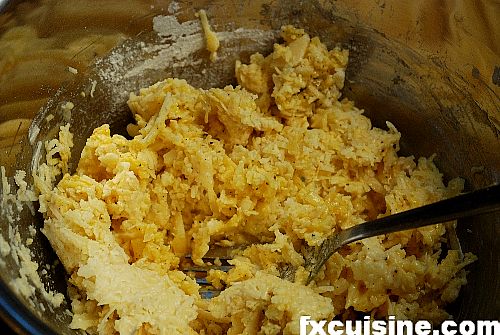 Add the flour, baking powder and brandy. I used Marshall Mobutu's brandy.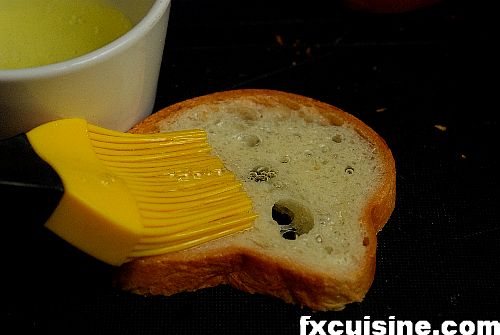 Separate the white from the yolk from your last egg and lightly beat the white to break it. Using a kitchen brush wet carefully the top side of each bread slice. You can also toast the bread beforehand, this gives an even better taste. This will ensure the cheese dough sticks on the top.
...