Cauliflower Frittata
Home
>>
Recipes
Delicious egg and cauliflower Mediterranean dish I cooked with my local vegetables, with an explosive finale!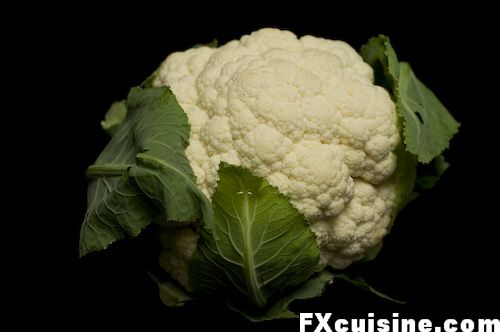 Frittata is an Italian word for beaten eggs mixed with various ingredients, mostly vegetable and cheese, and baked until it sets. But you find the same sort of dish all around the Mediterranean, for instance the Spanish potato-egg tortilla. Tonight we'll do a frittata of Tunisian inspiration with a cauliflower at my local farmers' market.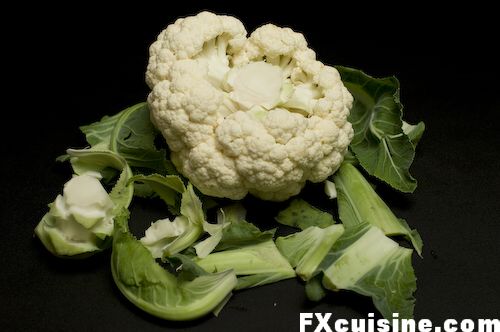 Remove the leaves and the trunk from the cauliflower.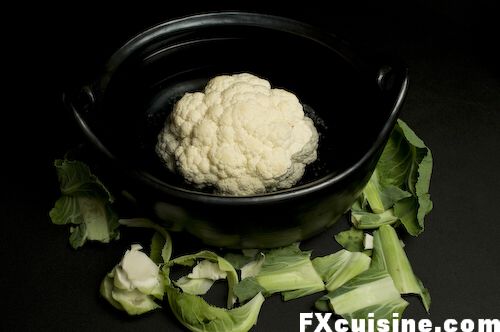 Place the cauliflower head in a pot, here a black La Chamba clay pot, one of the many legal exports of Colombia. Cover with water, add a bit of salt and boil until soft. You need to be able to mash the cauliflower with a fork, so don't cook it granola-style.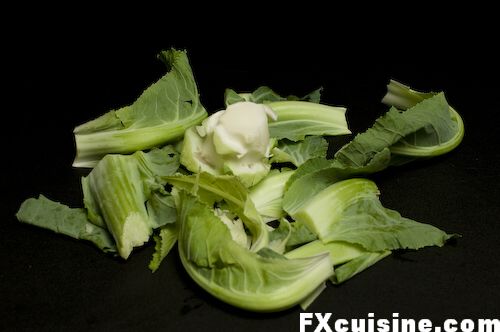 Cauliflower leaves are usually not considered edible and you can discard them for now. One day I'll show how you can use them, but tonight we have other things to do.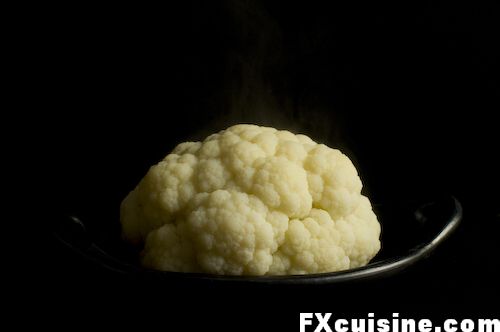 Reserve the cooked cauliflower.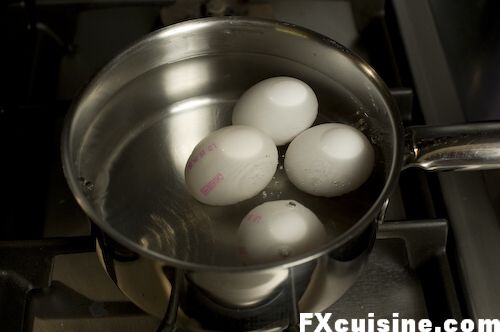 How to boil an egg? I brought a pot of water to a boil and delicately placed my free range eggs in the water, then waited 5 minutes. For a hard-boiled egg, that's 5 minutes, right? Well, after my eggs had cooled down a bit I started shelling them and they felt a bit soft. I made a hole with sharp knife in one egg and, sure enough, the yolk came out. Gosh. It was already 9PM, no time to reheat more water. That's exactly when I had the briliant idea of placing the not-quite-hard-boiled eggs in the microwave.
That ought to work, right? First I put them for 60 seconds, then checked. The egg yolk from the bleeding eggs started to ooze out slowly, but otherwise no problem. Another 60 seconds, fine but still soft. I put then for 180 seconds and closed the microwave.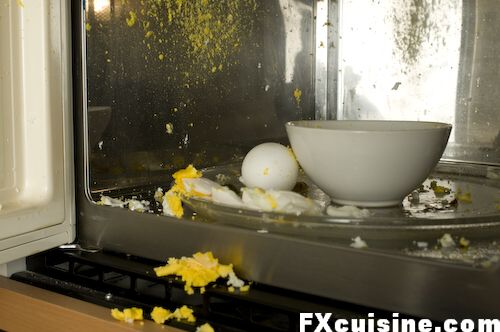 BANG! As I lay on the floor wondering if I just had been attacked by the Scottish Anti-Defamation League or the Tandoor Liberation Front, I saw this. An egg bravely sacrificed itself to blow the microwave door open and save his brothers. Faced with such selfless bravery, I decided to grant each surviving egg their life. The least I could do, really.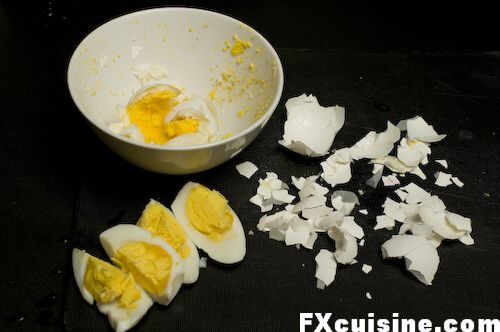 Should you not be as magnanimous as I was, shell your hard-boiled, unexploded eggs, and cut them in quarters.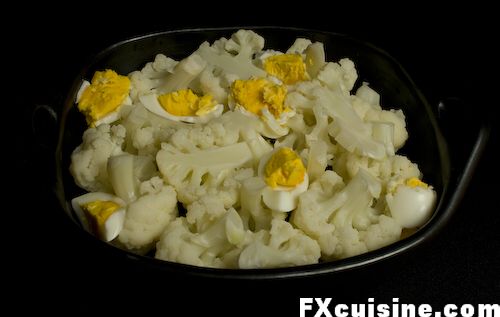 Cut the cauliflower into florets and place them together with the hard-boiled eggs into an ovenproof dish.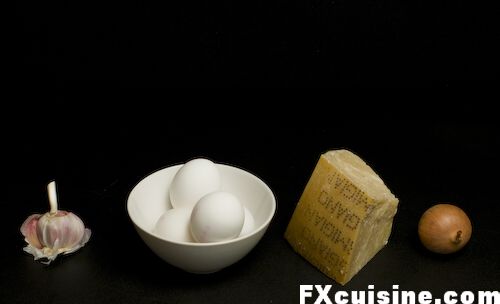 We will now prepare the body of the frittata that will bind eggs and cauliflower forever.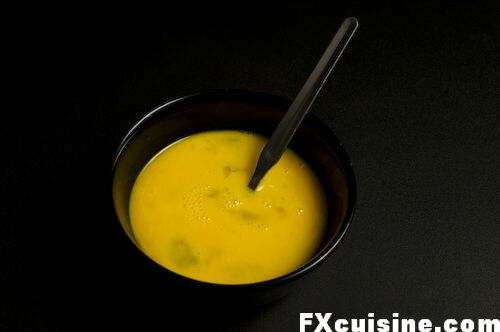 Beat the 4 remaining eggs together.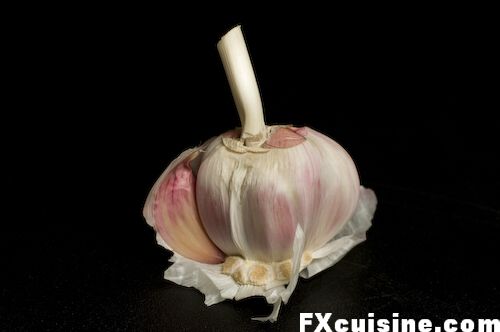 Garlic. The original recipe from Clifford Wright's Mediterranean Vegetables, a most enjoyable book, called for harissa, the Maghreb hot pepper-garlic-cumin-oil paste. I didn't have proper harissa and replaced it with garlic. Frankly, if there exists a dish that cannot be improved with garlic and parmesan, I have never seen it.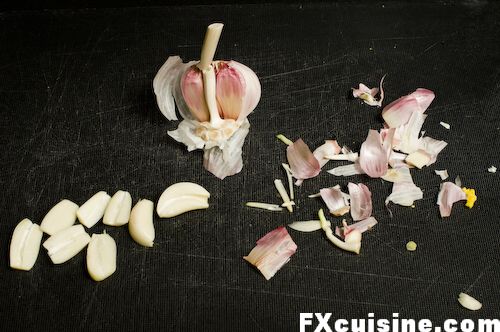 Skin the garlic cloves, slice them through and remove the green sprout inside.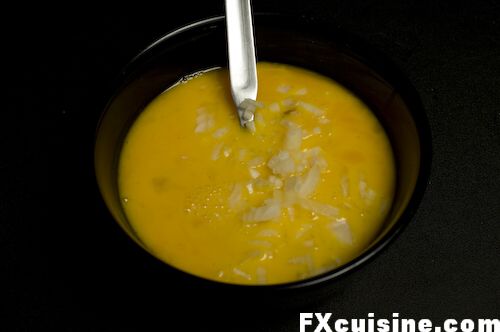 Crush the garlic and add to the eggs.
Finely dice an onion ...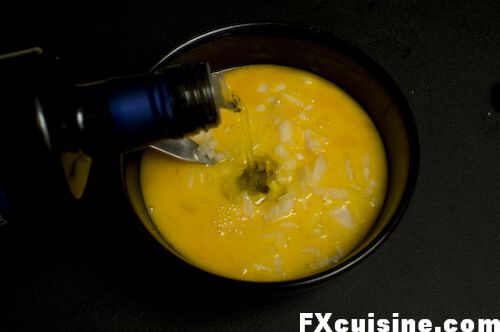 ... and add it to the egg mixture with a drop of olive oil.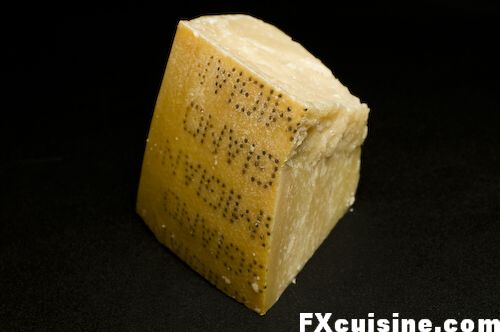 Good Parmesan is called Parmigiano Reggiano, made according to exacting specifications.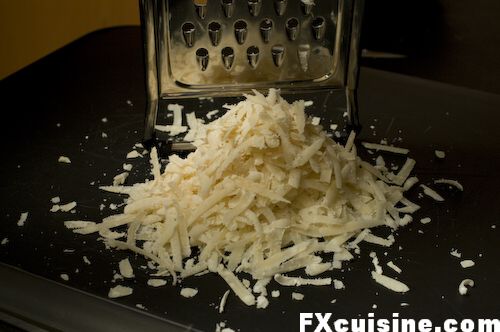 Grate coarsely...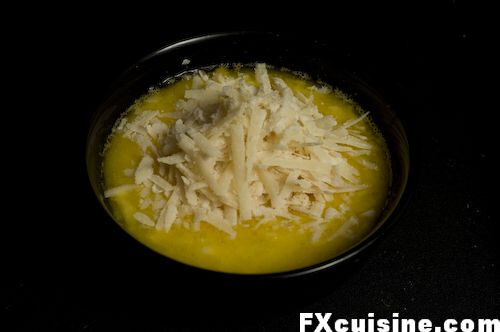 ... then add to the eggs.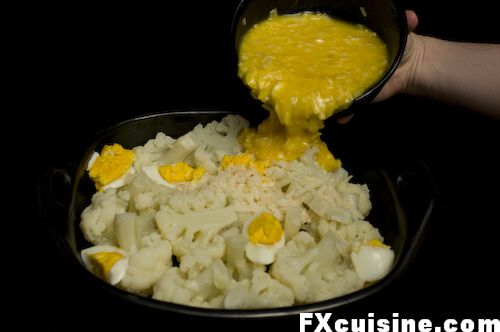 Showtime. Spread the egg mixture evenly over the cauliflower, then mash with a fork to ensure that you have an homogeneous, flat layer in the dish.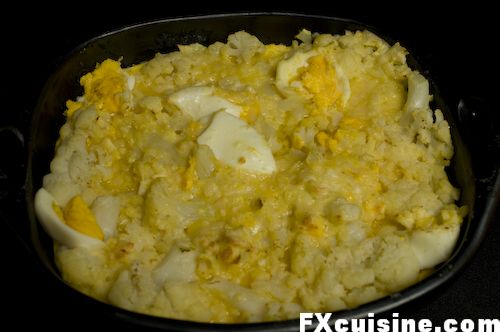 Bake for 30 minutes in a medium-hot oven or as long as it takes for the eggs to coagulate.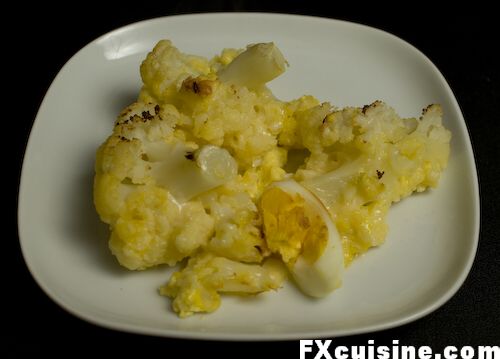 Serve with toasted bread as a relatively light evening meal (as light as it goes in my kitchen at any rate).
And so to bed.
94219 views
Copyright FXcuisine 2023 - all rights reserved.
If you do this recipe at home please let me know how it worked for you by submitting a comment or send me a picture if you can. Thanks!