Japanese Bladesmiths
(page 2 of 2)
Home
>>
Tools & Ingredients
A unique behind-the-scenes visit of the crafstmen who hammer out the best and most expensive kitchen knives in the world in the city of Sakai, Japan.
III. Hafting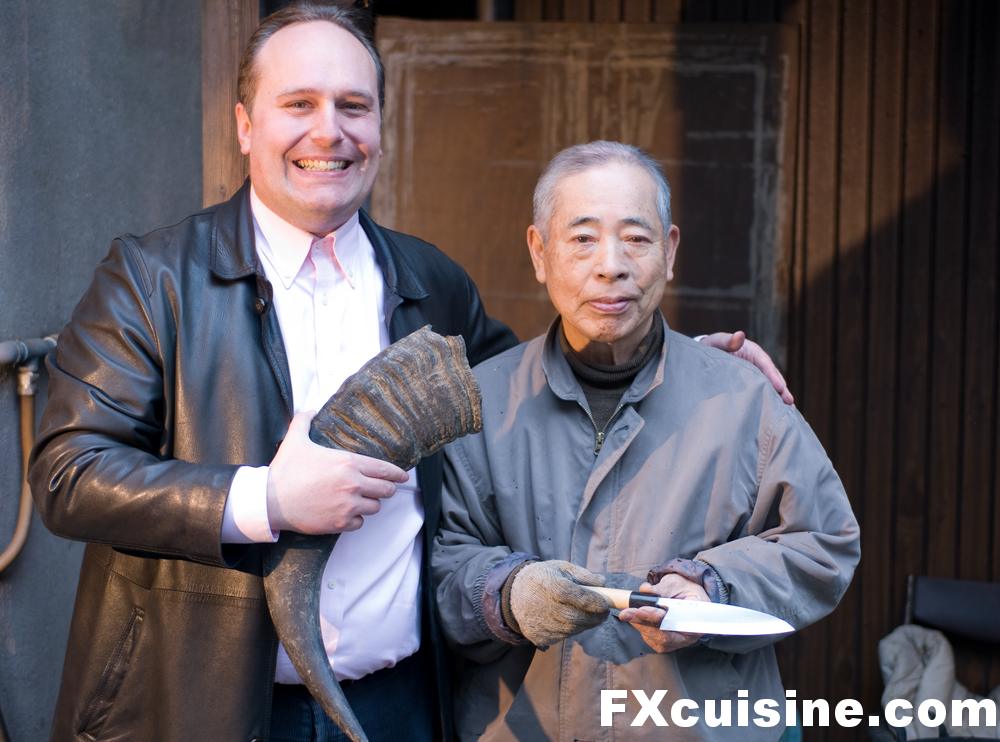 With the knive blades know finished, we need to get a firm handle on this things. We walk some more across Sakai and enter the workshop of TATSUMI MASARU, master handlemaker.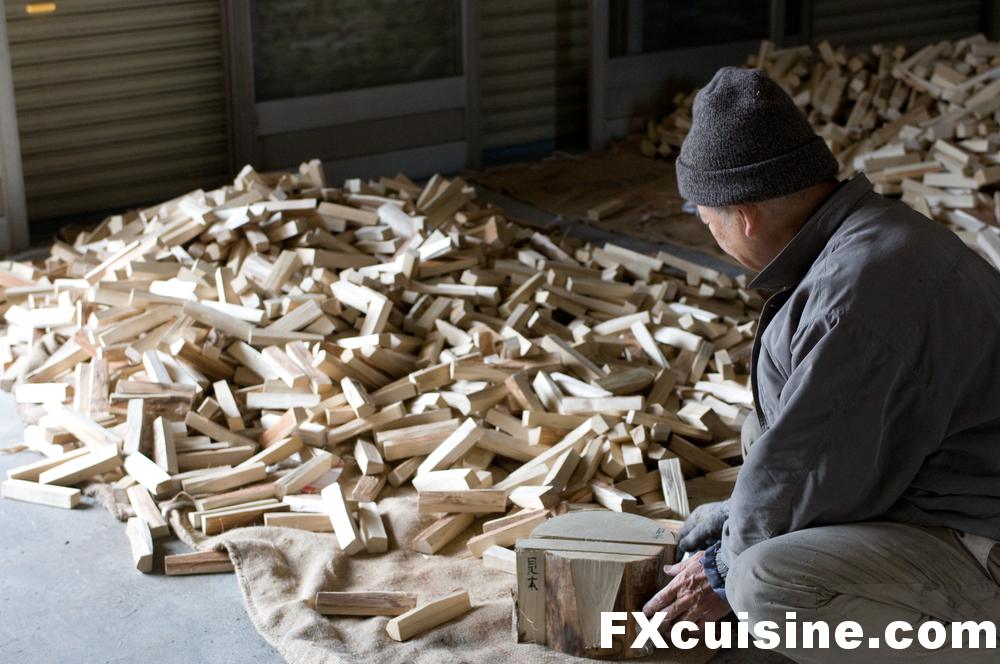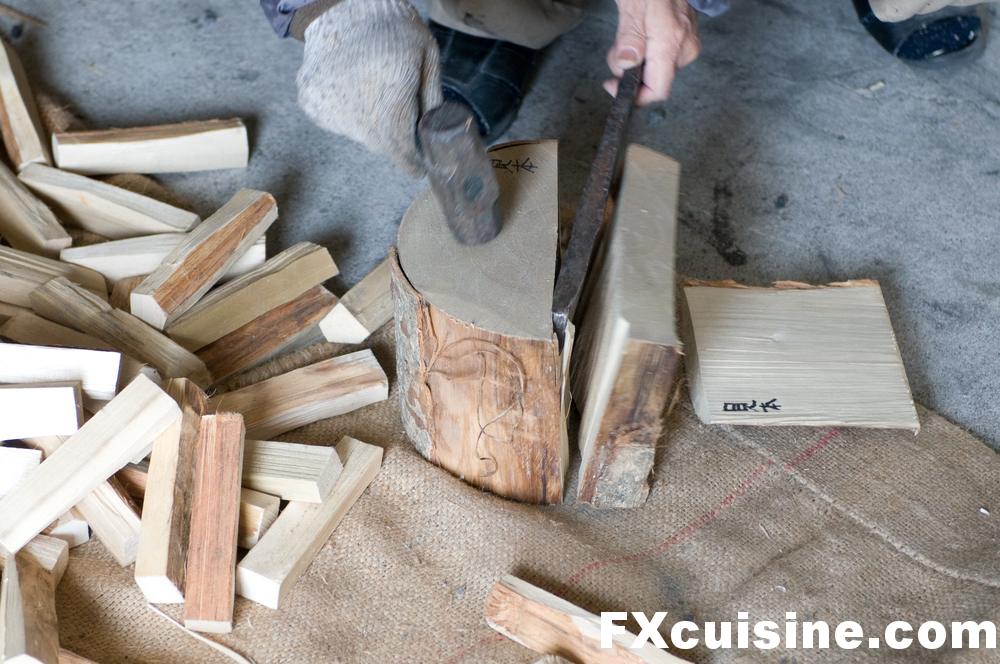 Mr Masaru makes knife handles from Magnolia Hypoleuca (Whitebark Magnolia), a fine and expensive wood called honoki in Japanese. His timber merchant cuts the centenary tree trunks into smaller logs ready to shape into handle knives. Let's see how.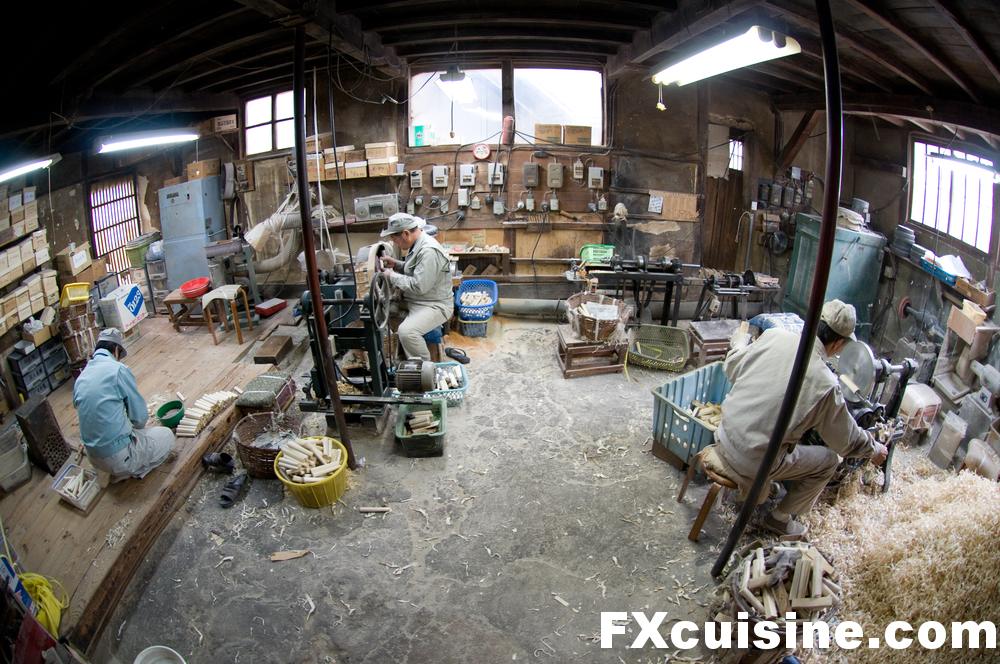 Entering Mr Masaru's workshop is like stepping into a Japanese print or a Samurai movie. Were it not for the electricity, you'd think this was Edo time. The craftsmen are all absorbed in their work, not one word is spoken. They move with a that sense of purpose you find in gestures that have been repeated every day for the last couple hundred years.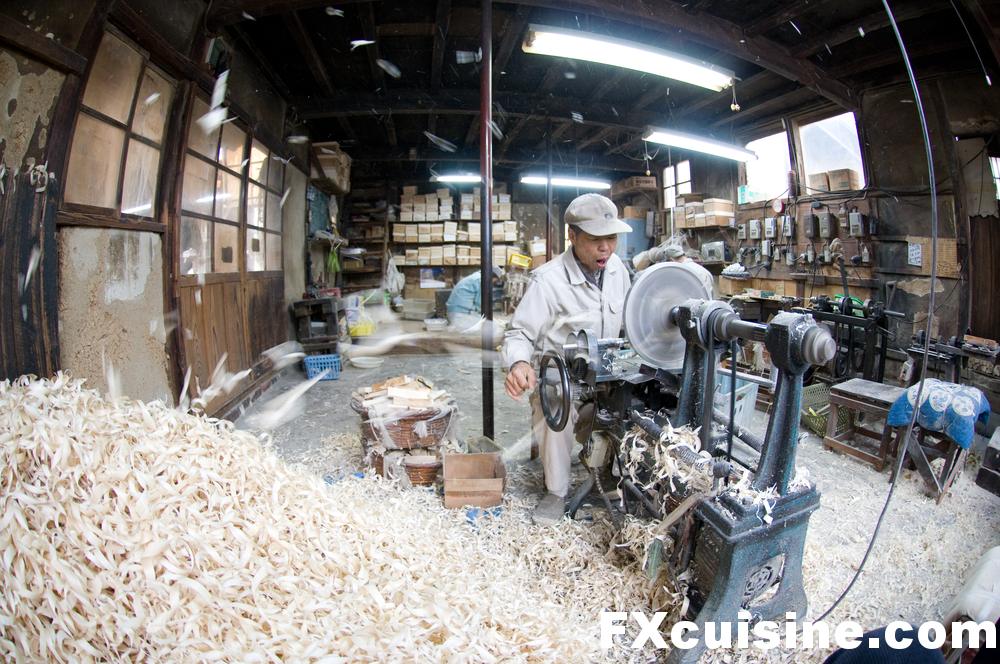 A man feeds a machine older than his father with the little pieces of Magnolia, and a the machine sprays a geyser of wood shavings in a huge pile, contrasting with the timeless order of the scene.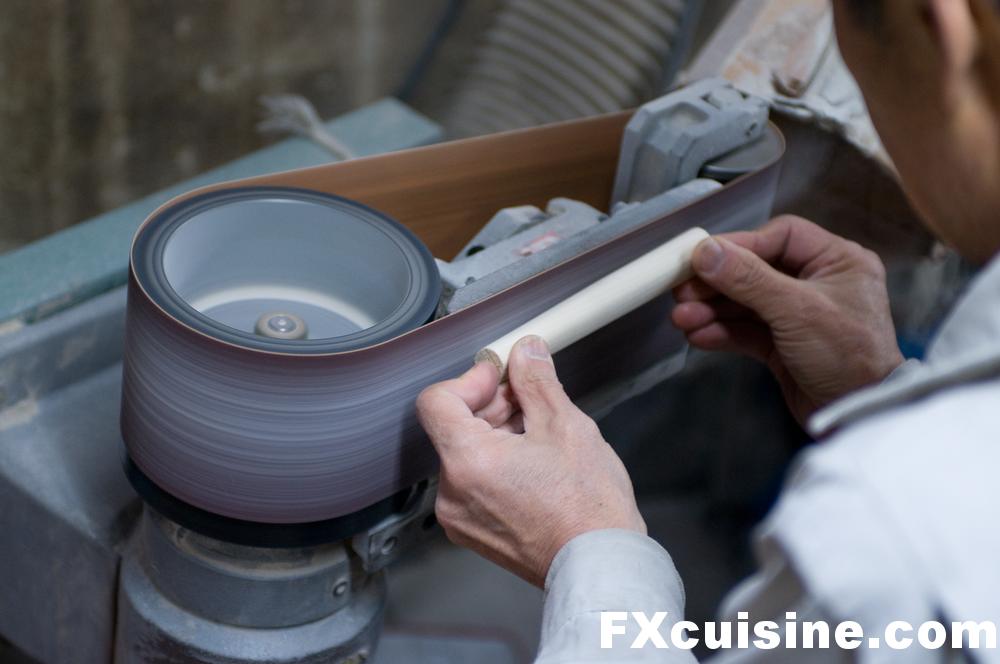 The now roughly circular wooden handles are ground down to a smooth circular surface ...
... then handed to a man who works kneeling Japanese-style with his shoes off, to drill a little hole inside.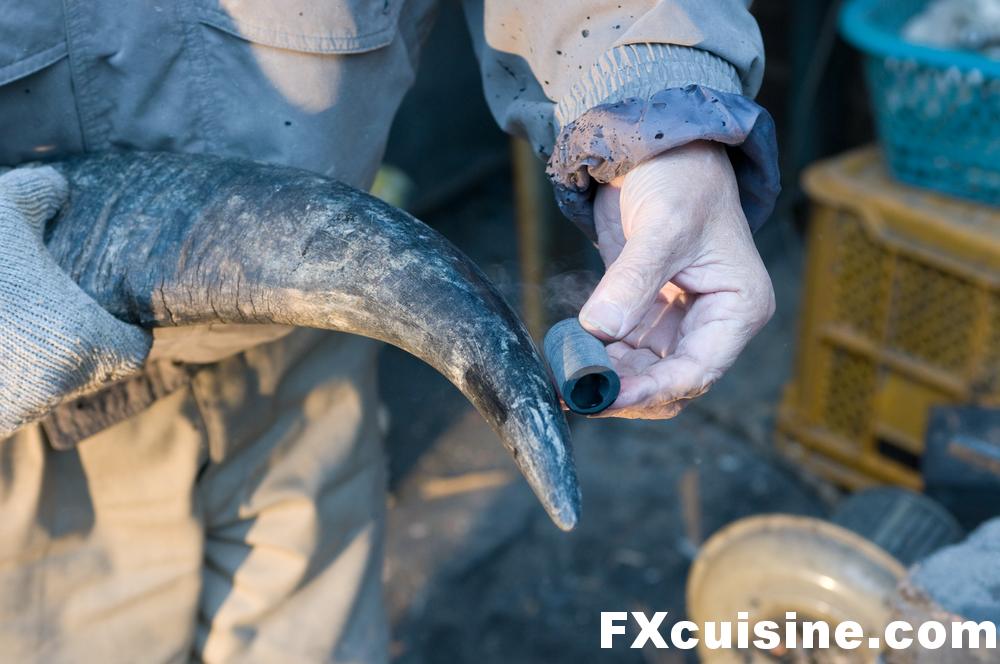 We step outside where Mr Masaru shows me how the bolster, that ring between blade and handle is made, using a buffalo horn. We only use about an inch of the horn for our knive handles, says Masaru, the rest is used to make combs.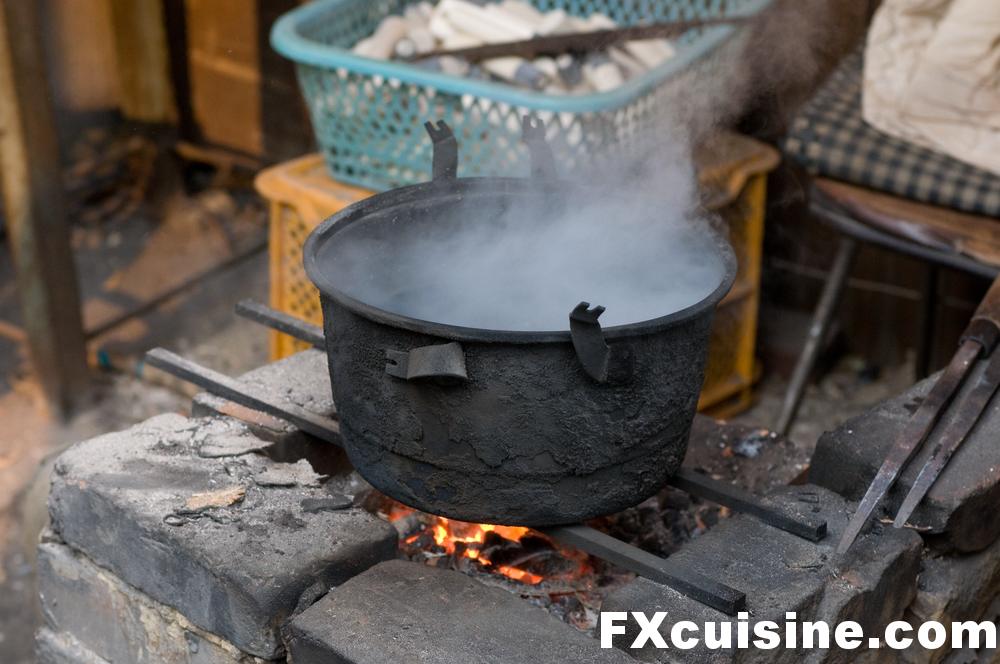 A horn ring is boiled in hot water ...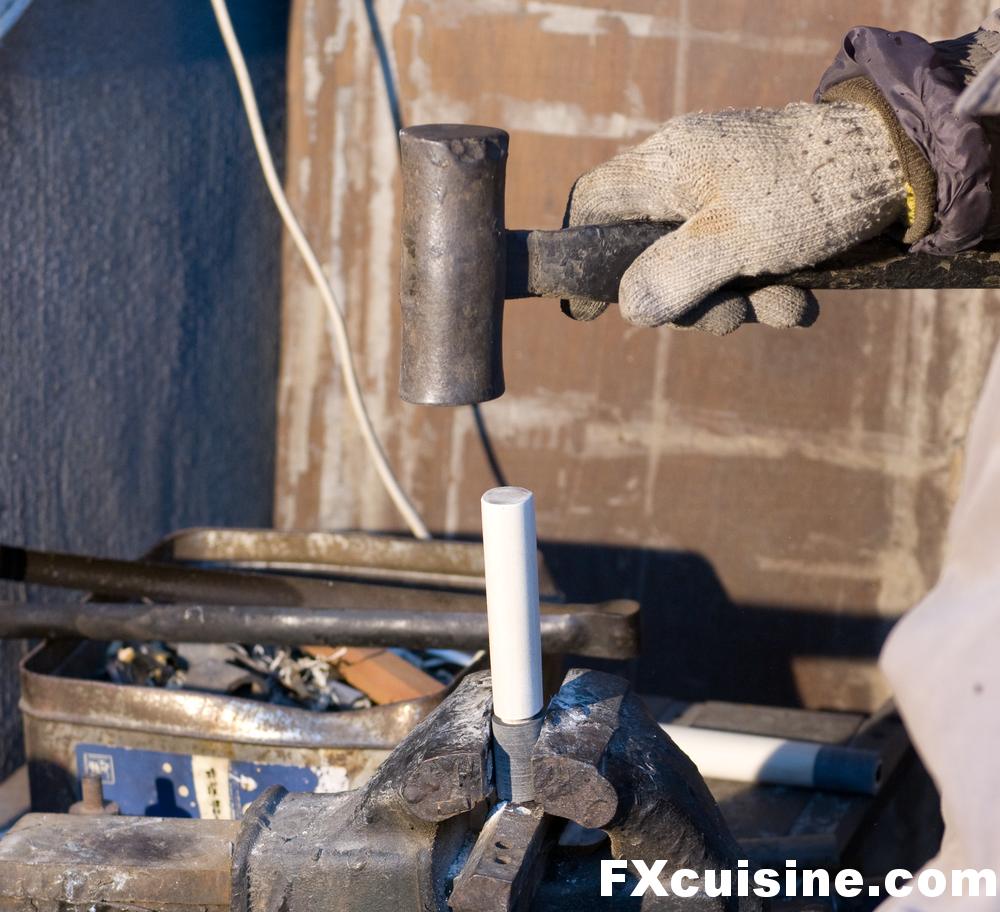 ... then the knive is inserted into the horn ring for a perfect fit.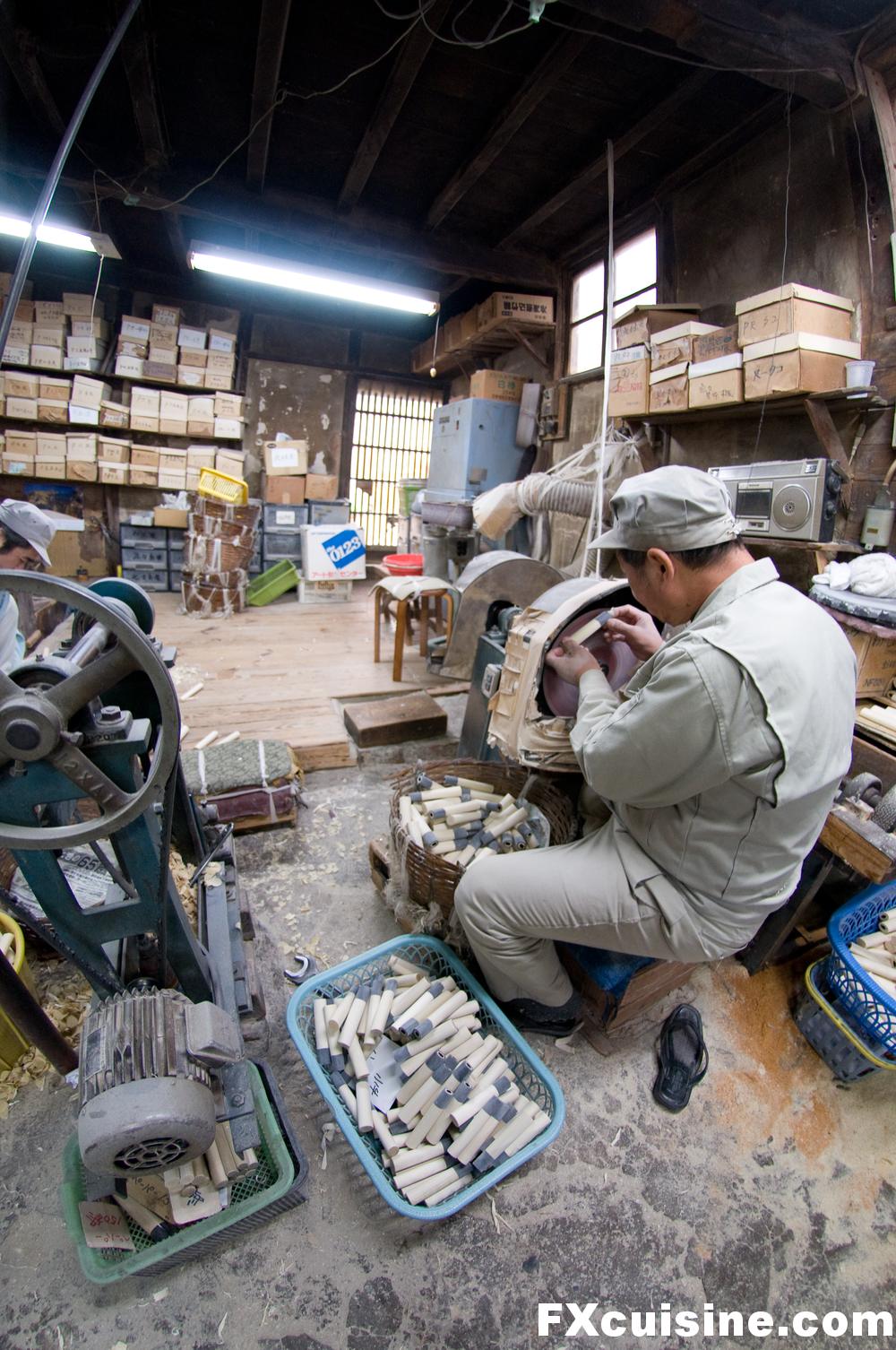 Finally another man sands the completed handle to ensure an even surface on both the wood and the bolster. When you pass your fingers on the handle of such knives, you can't even feel the crevice between bolster and handle.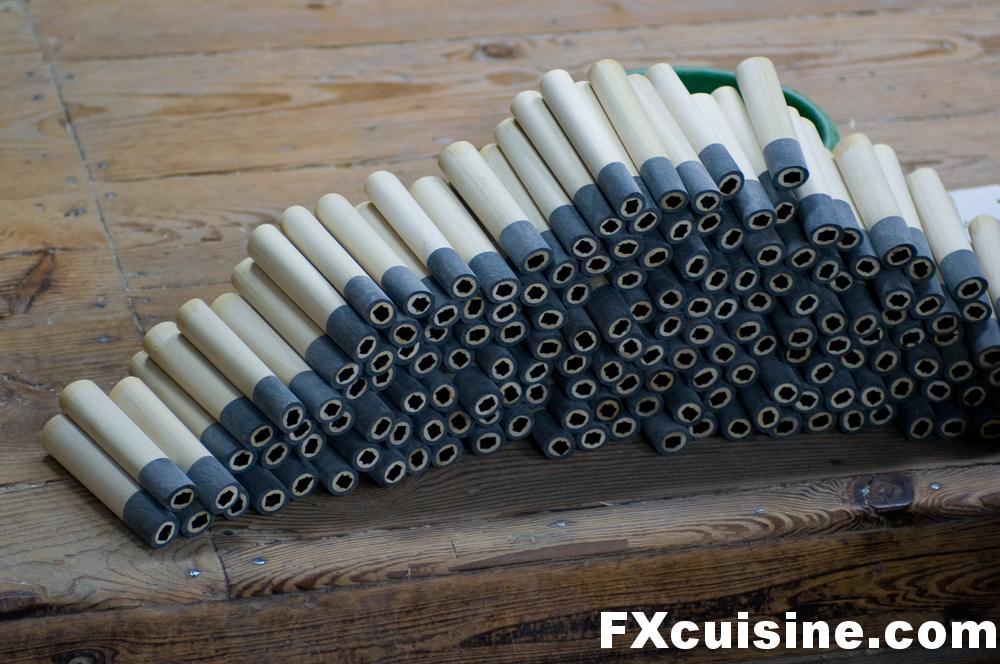 The completed handles wait ...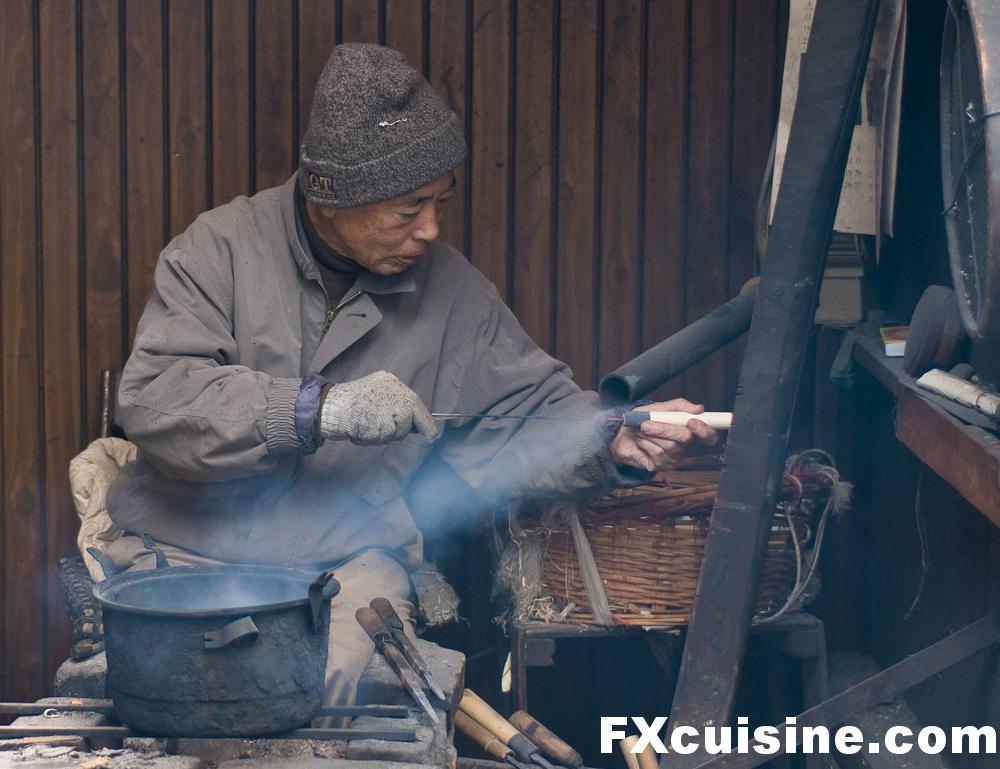 ... until Mr Masaru can heat the knive's tang until red hot, then inserts it into one of his handles. A pipe blows fresh air onto the handle so that he may continue his work without being smoked out of his own workshop. He then bangs on the handle with a wooden mallet, carefully listening to the sound to see how far the tang has gone up the handle. Too far and it will split.
Why divide the manufacture of knives into four different workshops?
Are these men bound by tradition or by plain economic common sense? All you need is read my good friend
Adam
's ramblings on the English Pin Factory:
To take an example, therefore,*19 from a very trifling manufacture; but one in which the division of labour has been very often taken notice of, the trade of the pin-maker; a workman not educated to this business (which the division of labour has rendered a distinct trade),*20 nor acquainted with the use of the machinery employed in it (to the invention of which the same division of labour has probably given occasion), could scarce, perhaps, with his utmost industry, make one pin in a day, and certainly could not make twenty. But in the way in which this business is now carried on, not only the whole work is a peculiar trade, but it is divided into a number of branches, of which the greater part are likewise peculiar trades. One man draws out the wire, another straights it, a third cuts it, a fourth points it, a fifth grinds it at the top for receiving the head; to make the head requires two or three distinct operations; to put it on, is a peculiar business, to whiten the pins is another; it is even a trade by itself to put them into the paper; and the important business of making a pin is, in this manner, divided into about eighteen distinct operations, which, in some manufactories, are all performed by distinct hands, though in others the same man will sometimes perform two or three of them.*21 I have seen a small manufactory of this kind where ten men only were employed, and where some of them consequently performed two or three distinct operations. But though they were very poor, and therefore but indifferently accommodated with the necessary machinery, they could, when they exerted themselves, make among them about twelve pounds of pins in a day. There are in a pound upwards of four thousand pins of a middling size. Those ten persons, therefore, could make among them upwards of forty-eight thousand pins in a day. Each person, therefore, making a tenth part of forty-eight thousand pins, might be considered as making four thousand eight hundred pins in a day. But if they had all wrought separately and independently, and without any of them having been educated to this peculiar business, they certainly could not each of them have made twenty, perhaps not one pin in a day; that is, certainly, not the two hundred and fortieth, perhaps not the four thousand eight hundredth part of what they are at present capable of performing, in consequence of a proper division and combination of their different operations.
Adam Smith, An Inquiry into the Nature and Causes of the Wealth of Nations (1776)
Answer
: by splitting the work so that each artisan gets to work one set of tools and always performs the same gestures, they make many, many more knives
IV. Engraving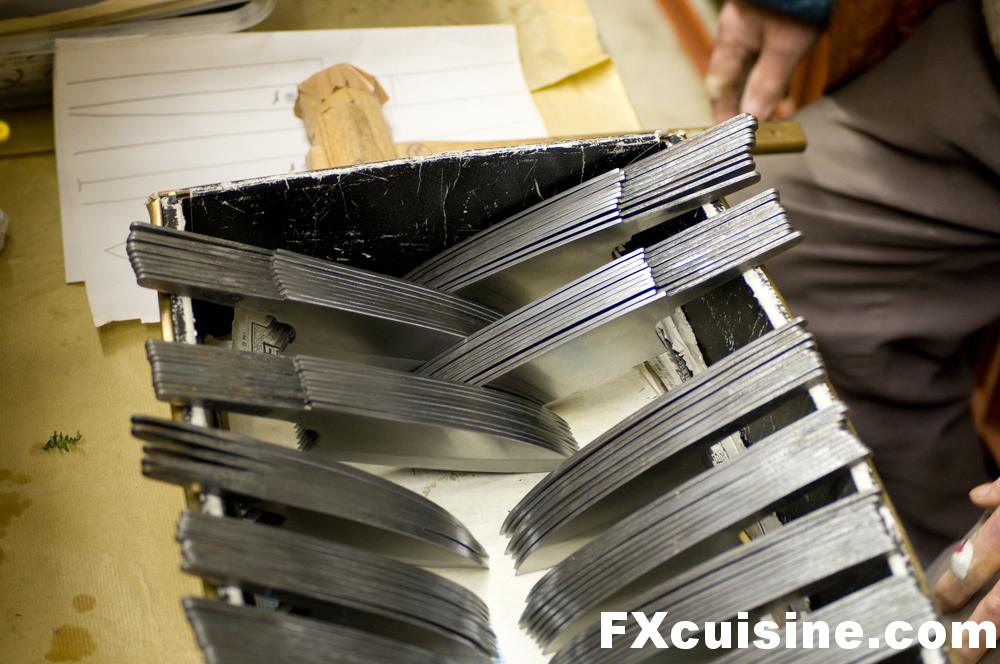 The last stop in the crafting of these fine knives is HARADA TAKAYUKI's shop, the master engraver. He was not in town but we could have a look at his shop, a luminous room in downtown Sakai.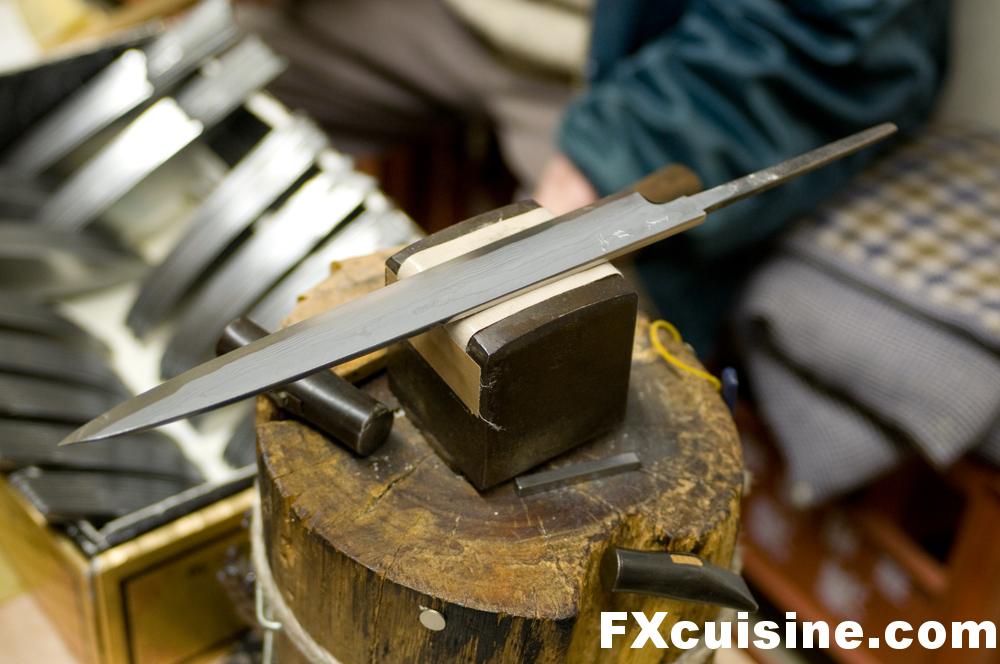 Knives are placed one by one on a little anvil and the craftsman engraves them with the Haiku logo - a falcon - or the chef's name.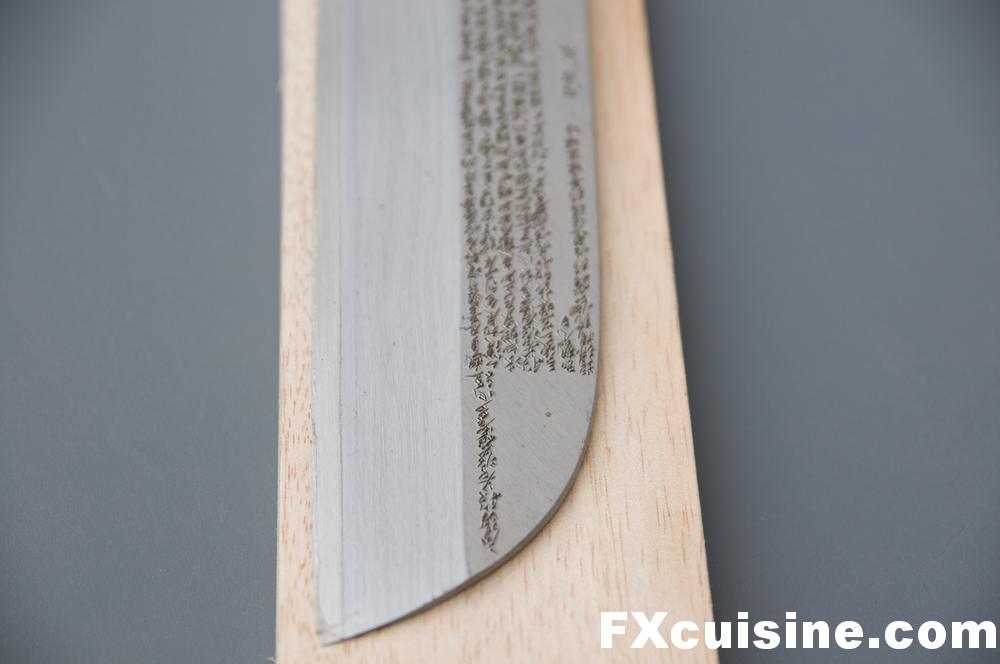 They can engrave a fair amount of text, all by hand, such as on this knive with a whole chapter from a book of philosophy.
Chroma Cutlery
http://www.chroma-cutlery.com
These knives are sold as the Haiku traditional Japanese knives by Chroma Cutlery Inc.
I love Chroma's Porsche knives which you see often in my articles, although they are not made in Japan.
They don't sell directly to individuals but you can buy these knives in various online and regular shops such as www.kochmesser.de in Germany. At 400 Euros a pop, these are not disposable knives but serious professional tools. Only about 250 are sold a year by Chroma. I have two of those and am very happy with them. I'll show you how they work in a later article!
A reader pointed that you can buy some "Chroma Haiku" knives on Amazon for only 99$. I asked Bjorn Heiberg of Chroma Cutlery if these were the same knives: The standard Haiku knives you sent a link to are stainless steel. Those are from Seiki City (Gifu prefecture) not forged.. They are stamped in the shape and of a stain-resistant steel.. Great knives, light and sharp, and easy to maintain, but the sharpness is not to be compared to the incredible edge you can put on a handforged Haiku Pro or handforged Haiku Itamae knife from Sakai.
Life is too short for cheap knives.
1034321 views
Related Articles

A Soba Noodles Class in Tokyo ** Popular
My private lesson at the Soba Academy in Tokyo to make these Japanese buckwheat noodles from scratch.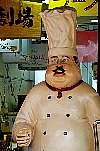 The World's Largest Cookware Market - Kappabashi-Dori in Tokyo **
Easily the largest place on earth to buy cookware and restaurant equipment, this huge street in the Asakusa district of Toyko got me busy for an entire day.

Verdun Sugar Coated Almonds **
During my stay at Hattonchâtel castle in France, I managed to arrange a private tour of the largest dragées factory in Verdun, dragées Braquier.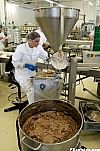 Swiss Pastry Factory **
One of the most modern industrial pastry plants in Switzerland allowed me to spend a morning with them - with my camera. Feel like making 7000 Napoleons? Follow me in.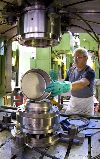 The Five Hundred Dollar Pot **
I was given a private tour of the Kuhn Rikon factory near Zurich, who makes some of the best cookware in the world.
Copyright FXcuisine 2023 - all rights reserved.
If you do this recipe at home please let me know how it worked for you by submitting a comment or send me a picture if you can. Thanks!