Tony Sopranos neapolitanisches Ragù
(Seite 2 von 2)
Home
>>
Kulinarische Erfahrungen
Wie mein Freund Pasquale mich auf ein traditionelles neapolitanisches Maccheroni al Ragù besuchte, so dass ich endlich wieder die Sopranos gucken konnte.
Das Ganze in einer Bratpfanne anbraten, bis kein Wasser mehr in der Zwiebel und kein Fett mehr im Speck ist.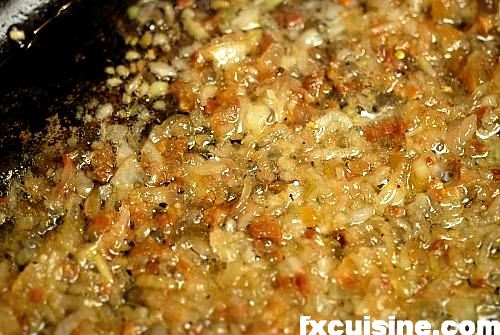 Es kommt dabei eine Art beigefarbene, fettige Pfütze mit einem "schweinischen" Geruch heraus.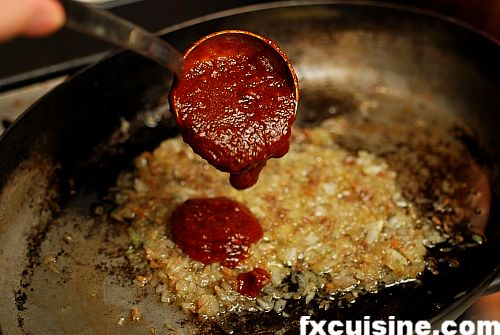 Nun das Ragù mit der Kelle hinzufügen. Man sollte nur so viel Ragù nehmen, wie man zu essen vorhat.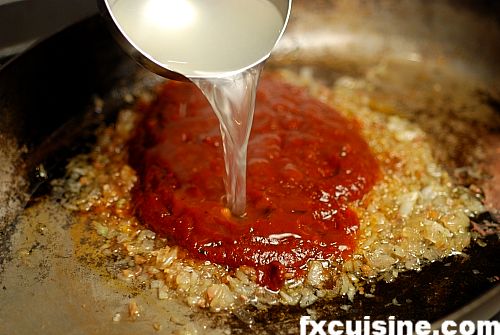 Um das Ragù etwas zu verdünnen, etwas Nudelwasser nehmen und verrühren (Bild).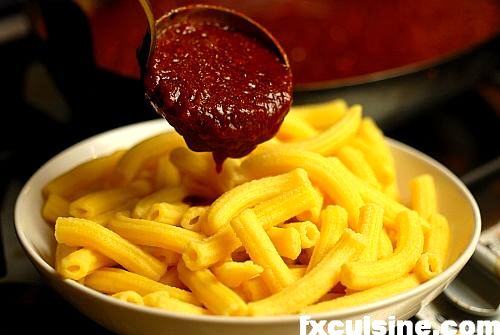 Jetzt das Ragù lardiato ('Fleischsoße mit Schweinespeck') über die heiße Pasta geben...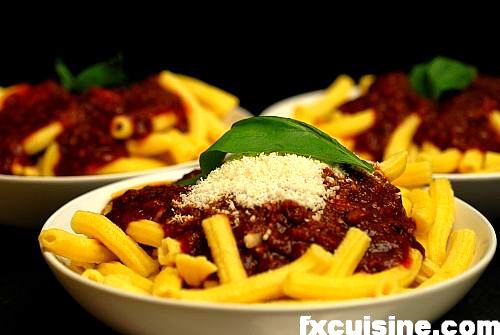 ... und mit geriebenem weißen Parmesan oder Caciocavallo bestreuen, dann mit einem Basilikumblatt dekorieren.
Pasquale war sehr zufrieden und dank des Ragù neapolitano hat das Herrichten meines Medienzimmers statt zwei Wochen zwei Tage gedauert. 
 Die Sopranos ist eine Mafiaserie, die von  psychoanalysierten Drehbuchautoren mit jüdischen Müttern geschrieben wurde, die so ein Ventil für ihre Fantasien fanden. 
Sie haben allerdings den gastronomischen Hintergrund ihrer neapolitanisch-stämmigen Charaktere gut recherchiert. Ihnen hätte dieses Ragù neapolitano bestimmt sehr gut geschmeckt. Aber wer würde die schon zum Essen einladen?
197421 gelesen
Related Articles

Priest-stranglers in Neapolitan Meat Sauce ***
These gnocchis served in the cult Napolitan ragù sauce would be a world-famous dish if they didn't take 7 hours to cook.

Pasta for the Sopranos ***
How I convinced Switzerland's top custom installer to come and fix my home cinema the next day with a promise of homemade maccheroni with real Neapolitan ragù.

Neapolitan Genovese Pasta Sauce **
The second most distinguished member of the holy trinity of Neapolitan pasta sauces is based on sausage leftovers and a lot of work.

Sicilian Chocolate Lasagna **
Savory lasagna in a chocolate meat sauce, a century old recipe from one aristocratic Sicilian family. Easy, quick, delicious and no, it doesn't taste funny.

FXcuisine's Ragù Finto **
My own version of the Neapolitan quick ragù. Ready in under 20 minutes it has a unique hit-me-back taste that will keep you coming and coming to the pot until none is left.
Beliebste Artikel ¦ Letzte Artikel ¦ Nach Stichwort ¦ Letzte Kommentare
Copyright FXcuisine 2018 - all rights reserved.
If you do this recipe at home please let me know how it worked for you by submitting a comment or send me a picture if you can. Thanks!