El Ragú Napolitano de Tony Soprano
(página 2 de 2)
Home
>>
Experiencias Gastronómicas
Cómo mi amigo Pascuale vino a comper mi Maccheroni al Ragù 'como en Nápoles' y arregló mi salón de entretenimiento para que yo pudiera ver Los Sopranos.
Fríelos en una sartén hasta que la cebolla haya soltado el agua y el tocino la grasa.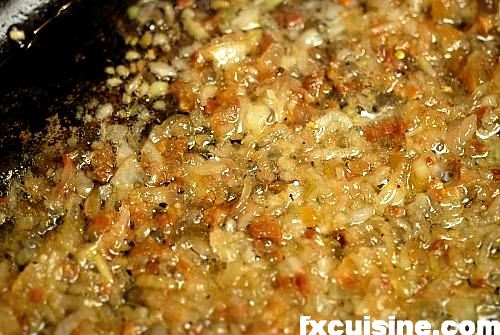 Obtendrás un charquito grasoso color beige con el aroma a puerco más delicado.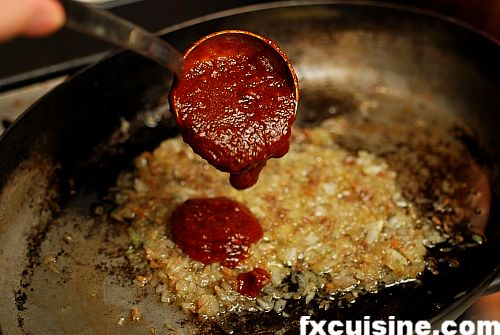 Agrega tu ragú con un cucharón.  Utiliza únicamente el ragú que vayas a cenar esta noche.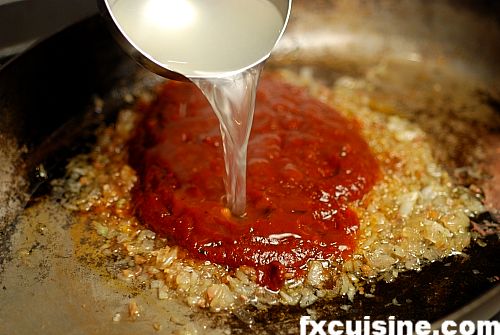 Agrega algo del agua en que se coció la pasta para rebajar un poco el ragú y mézclalo (photo).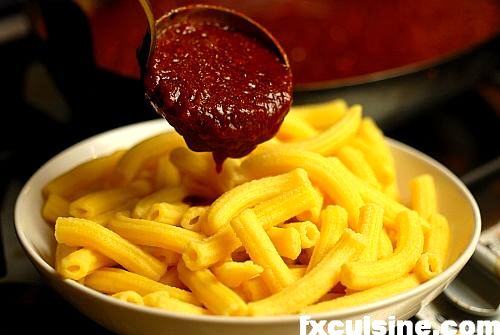 Vierte el ragù lardiato ('salsa de carne atocinada o mantecada') sobre la pasta caliente...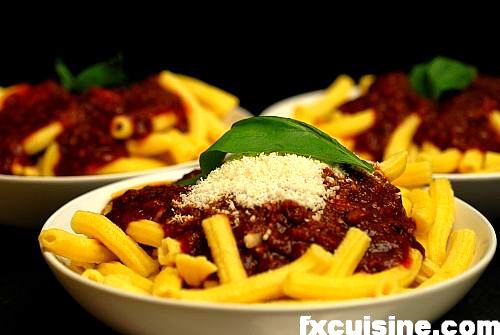 ... Espolvorea con Parmesano o Caciocavallo rallado y decora con una hojita de albahaca.
Pascuale estaba feliz y yo logré tener mi cuarto de entretenimiento arreglado en dos días en lugar de dos meses, gracias al eterno ragù napoletano.
Los Sopranos es una ficción sobre la mafia inventado por escritores psicoanalizados con madres judías para proyectar sus fantasías.  Pero hicieron una buena cantidad de investigación gastronómica acerca de los orígenes napolitanos de los personajes quienes en verdad disfrutarían este ragù napoletano.  Pero ¿Quién los invitaría  a ellos a cenar?.
201410 visitas
Artículos Relacionados

Priest-stranglers in Neapolitan Meat Sauce ***
These gnocchis served in the cult Napolitan ragù sauce would be a world-famous dish if they didn't take 7 hours to cook.

Pasta for the Sopranos ***
How I convinced Switzerland's top custom installer to come and fix my home cinema the next day with a promise of homemade maccheroni with real Neapolitan ragù.

Neapolitan Genovese Pasta Sauce **
The second most distinguished member of the holy trinity of Neapolitan pasta sauces is based on sausage leftovers and a lot of work.

Sicilian Chocolate Lasagna **
Savory lasagna in a chocolate meat sauce, a century old recipe from one aristocratic Sicilian family. Easy, quick, delicious and no, it doesn't taste funny.

FXcuisine's Ragù Finto **
My own version of the Neapolitan quick ragù. Ready in under 20 minutes it has a unique hit-me-back taste that will keep you coming and coming to the pot until none is left.
Artículos màs populares ¦ Ultimos artículos ¦ Por temas ¦ Ultimos comentarios
Copyright FXcuisine 2018 - all rights reserved.
If you do this recipe at home please let me know how it worked for you by submitting a comment or send me a picture if you can. Thanks!