Mi Nueva Chitarra - Para Cortar Pasta
Home
>>
Equipo e Ingredientes
Pasta hecha en casa con la legendaria c
hitarra
italiana, una herramienta en forma de harpa para cortar pasta.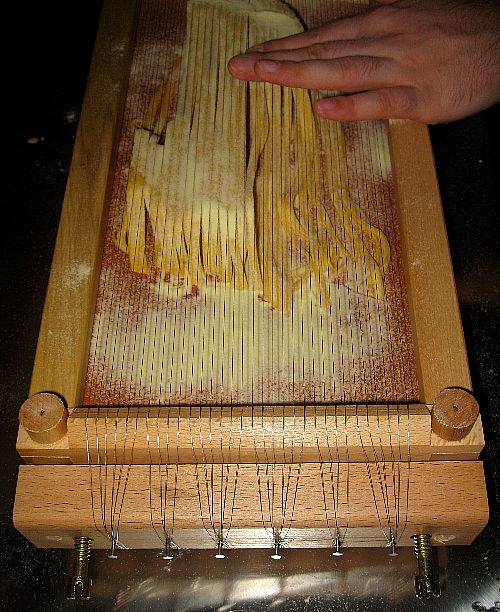 Pasta alla chitarra es pasta hecha en casa que se corta utilizando el instrumento de la foto.  Es una especie de guitarra para la cocina.  Tiene 36 cuerdas de un lado y 72 dfel otro.
Ayer, al abrir la caja le explicaba a un amigo que estaba a punto de hacer realidad un sueño de antaño.  Al recorrer yo con la mano las cuerdas de la chitarra me miró y me dijo '¡Así es que quieres convertirte en músico!'. Lo decía en serio.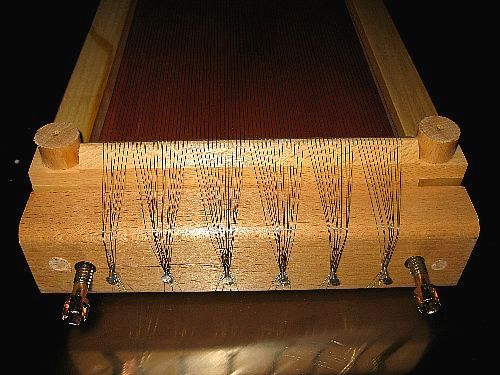 Y es que la chitarra en efecto parece una pequeña harpa, sólo que mucho más económica. El instrumento y 3 cassetti asciugapasta, o marcos con red de alambre para secar pasta fresca cuesta sólo €44 en el Centro Casalinghi cerca de Mantova. Mucha gente la vende también en los Estados Unidos.  Viene de Ambruzzo, donde la llaman carrature.
Primero tienes que hacer pasta fresca.  Hice la mía con unos 100 gr de harina normal por cada huevo, pero creo que hubiera sido mejor hacerla con semolina para obtener una pasta más dura y menos elástica que se cortara mejor.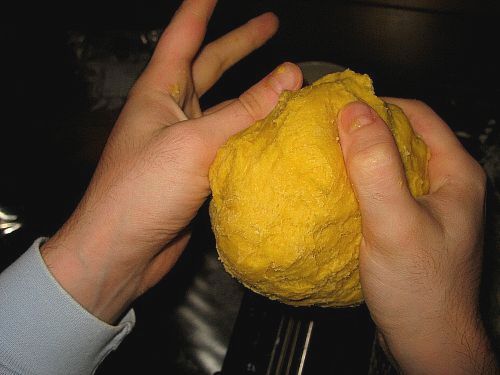 Luego laminas la pasta en la maquinita, doblando en dos cada vez para lograr una textura tersa, sin agujeros.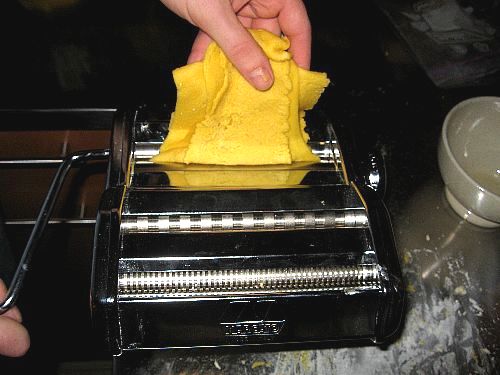 Abajo puedes ver la hoja de pasta a mitad del proceso; aún no está tersa.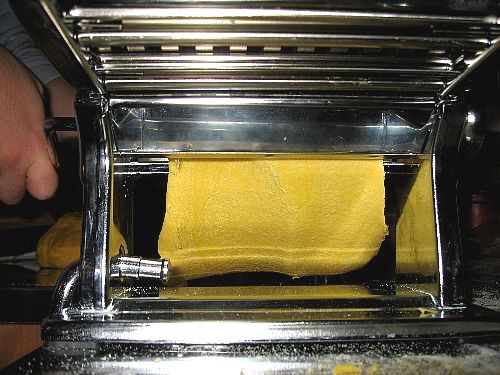 Colocas una hoja de pasta en la chitarra y con un rodillo de cocina y las manos la presionas contra las cuerdas.  Un poco como en la película Cube.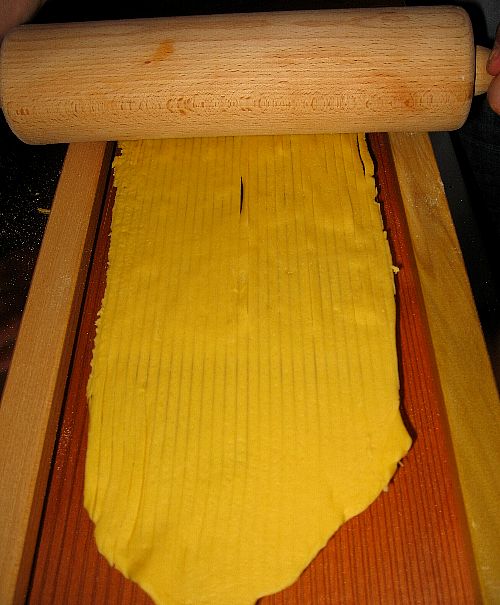 Enharina bien ambas caras de la lámina de pasta o se te pegará en cuando pasen por las cuerdas.  Mis primeras dos tandas se arruinaron al utilizar el otro lado de la chitarra, donde las cuerdas están mucho más juntas una de otra.  La masa simplemente se curaba milagrosamente y volvía a ser una sola lámina un instante después de pasar por las cuerdas.  Lo intentaré de nuevo con una masa más dura.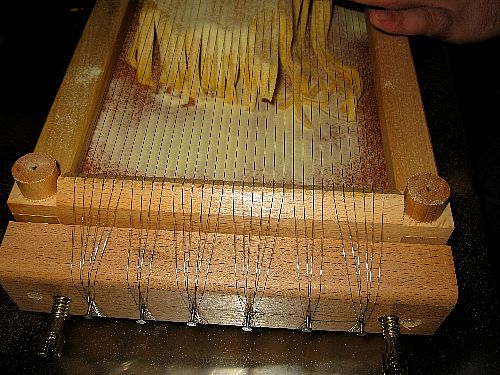 Retira la pasta y colócala sopbre un trapo enharinado o sobre una marco para secar pasta como yo hice aquí.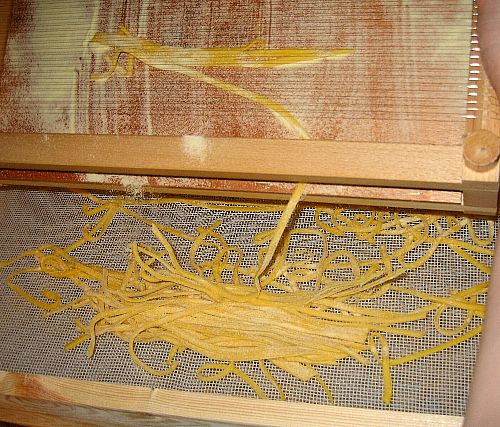 Bonita textura.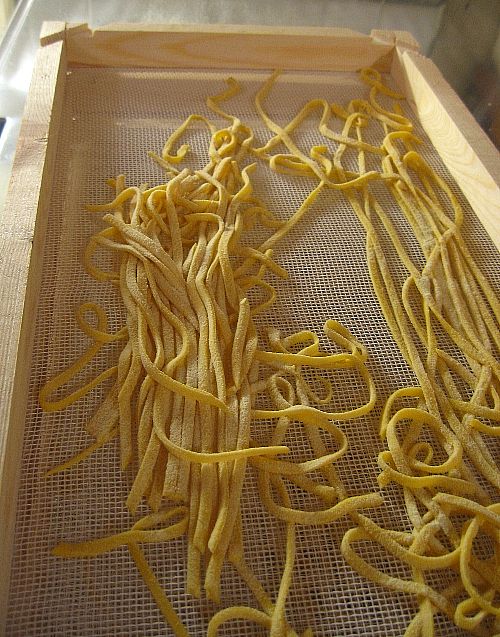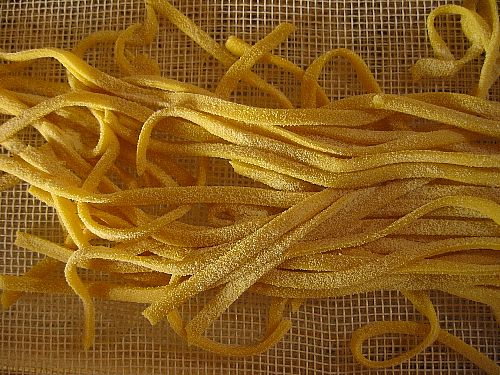 Cuécela unos 2 minutos en agua salada.  No le pongas nada de aceite si quieres que la salsa se adhiera mejor a la pasta.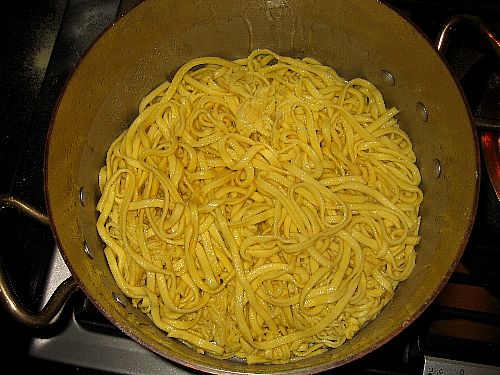 <>È pronto! Aquí tienes mi pasta servida con un ragù.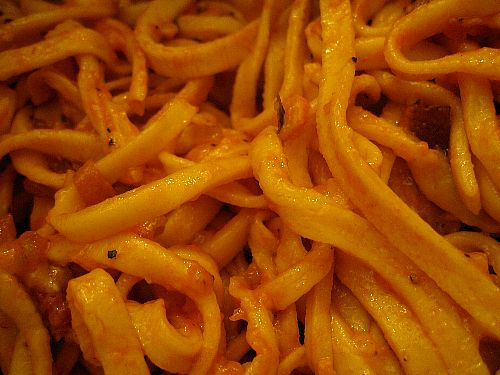 El lado de la chitarra para espeghetti es más difícil de usar.  Con el doble de cuerdas, la pasta normal se pega y los espaghettis se pegan.  Utilizando harina de semolina (harina de grano duro) y agua únicamente, logré hacer el espaghetti más delicioso en la chitarra: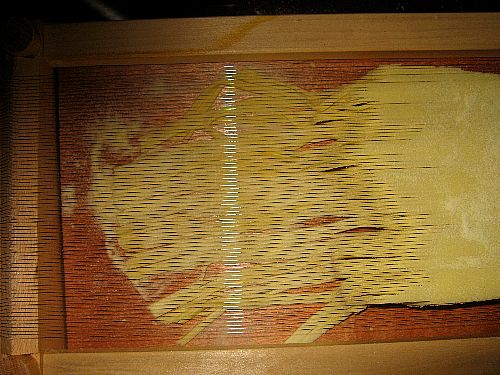 Puedes ver la cantidad generosa de harina que utilicé para ehnarinar los espaghetti, para que no se pegaran: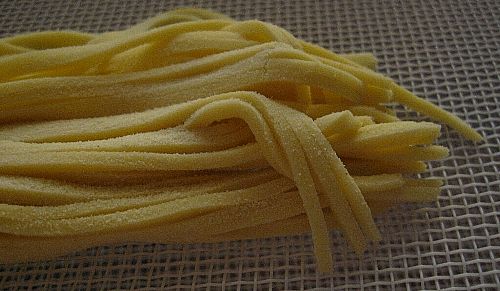 Necesitas separar los espaghetti y dejar que se sequen.  ¡Es muy divertido!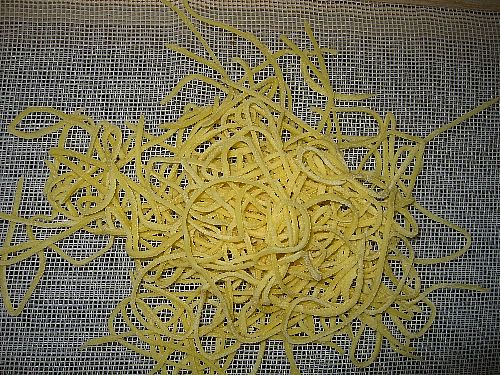 The
Los espaghetti se cuecen en sólo 2 minutos en agua caliente.  Hice esta tanda con ajo, aceite y chiles. ¡Deliciosos!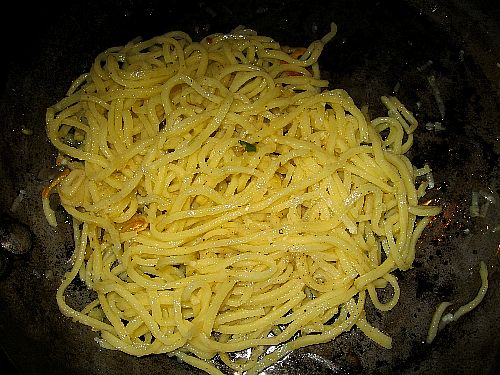 457315 visitas
Artículos Relacionados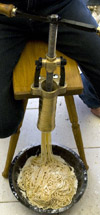 Bigoli, Bigolaro, Bigolarist **
My largest and most unusual pasta-making accessory, the bigolaro, made 28 fat spaghettis, called bigoli, each as long as the room. Served with the traditional duck ragù, this made my guests very happy despite the fact they had to make their own pasta.

Homemade Garganelli Pasta **
Thanks to a tiny a garganelli comb ordered from Italy I was able to make these legendary hand-rolled penne. A treat!

I Made My Own Macaronis From Scratch **
How do they make the hole in the maccheroni? I had thought about it long and hard only to conclude you just can't make tubular pasta at home. I was wrong - see how I made my first batch of macaronis!

Priest-stranglers in Neapolitan Meat Sauce *
These gnocchis served in the cult Napolitan ragù sauce would be a world-famous dish if they didn't take 7 hours to cook.

Pasta con l'anatra - pasta in duck sauce *
Using a whole duck to make pasta sauce is uncommon outside Italy.
Artículos màs populares ¦ Ultimos artículos ¦ Por temas ¦ Ultimos comentarios
Copyright FXcuisine 2023 - all rights reserved.
If you do this recipe at home please let me know how it worked for you by submitting a comment or send me a picture if you can. Thanks!