A Sicilian Cookery Class on Mount Etna - Peperonata in Agrodolce
Home
>>
Experiences
Sicily's top food authority let me into her kitchen on Mount Etna while she was preparing sweet-and-sour peppers.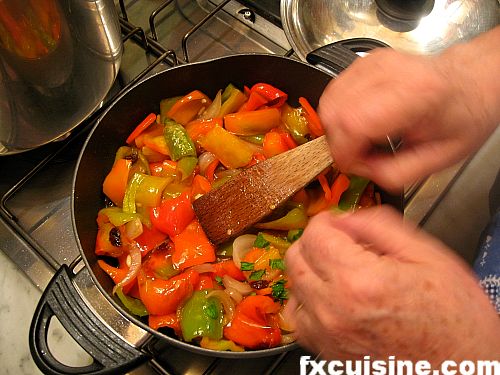 After two years of studying Sicilian cookery, I finally visited the island last week and managed to arrange a cooking lesson with Eleonora Consoli, the top authority on Sicilian cuisine. Mrs Consoli received me in her huge Mediterranean kitchen in her home on the slopes of Mount Etna and together we cooked four dishes. It does not get more authentic than this.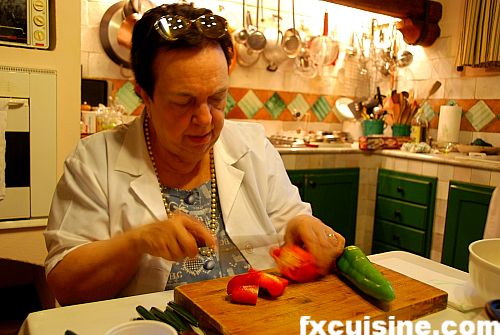 In this article you'll see how Sicilian mamas prepare sweet and sour peppers, a very typical course on the island, with a heavy Arabic influence.
Peperonata in agrodolce [paypayrawNAHtah in agrawDOLLshay]
4 bell peppers
1 large onion
1 small glass vinegar
1/4 cup pinenuts
1/4 cup raisins
1/4 cup capers
1 tbsp sugar
Mint leaves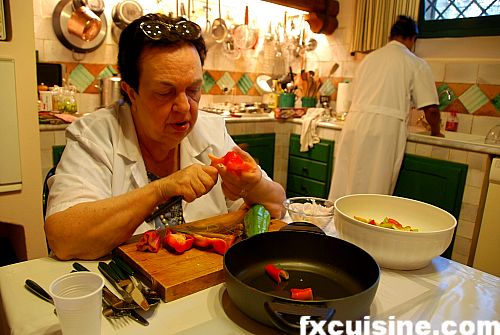 Wash, stem and seeds the peppers. Cut in 2.5cm/1'' squares. Peel the onion and slice thinly.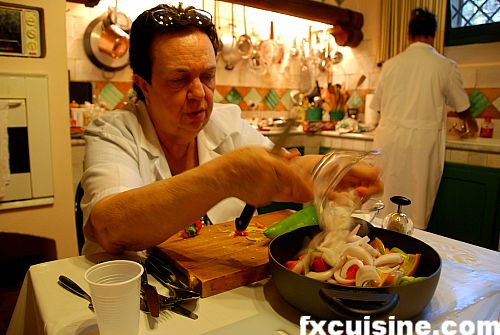 Pour 2 tbsp olive oil in a deep frying pan and add the onion and peppers.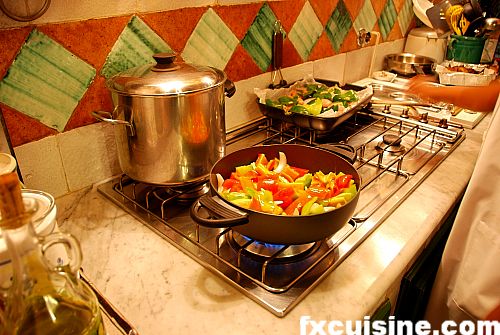 Heat on a moderate-high flame.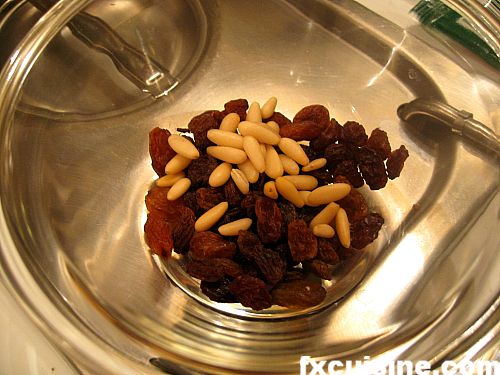 Prepare 1/4 cup pine nuts and 1/4 cup raisins. Most versions of this recipe also add capers under salt, but as I don't care for them too much Mrs Consoli instructed her assistant to leave them.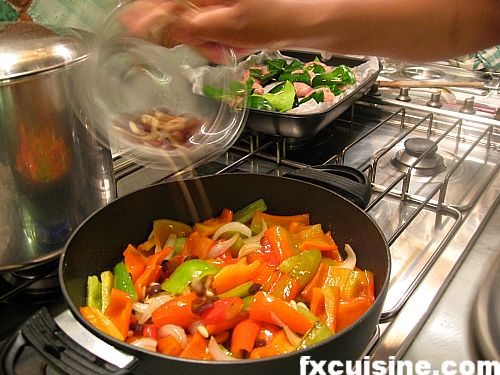 Add the pine nuts and raisins to the peppers.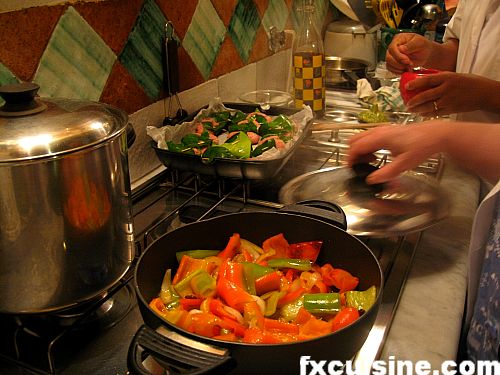 Pour in a small glass vinegar, stir and cover. Add the sugar. Let it cook on a low flame until the peppers are soft, about 12 minutes.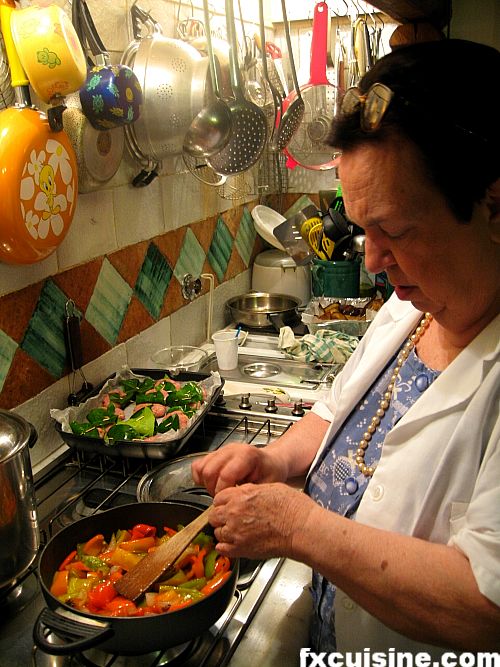 Mrs Consoli now shreds a few fresh mint leaves by hand and adds them to the cooked peperonata.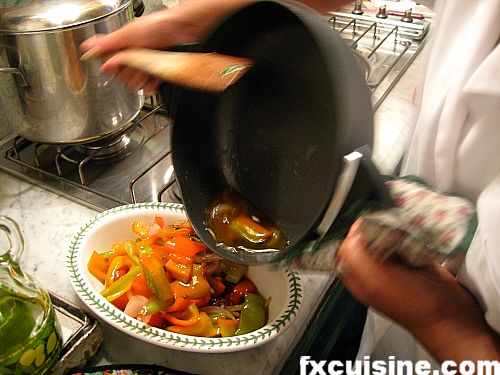 Pour into the serving platter, cover and set aside until dinner is ready. This dish is usually served lukewarm.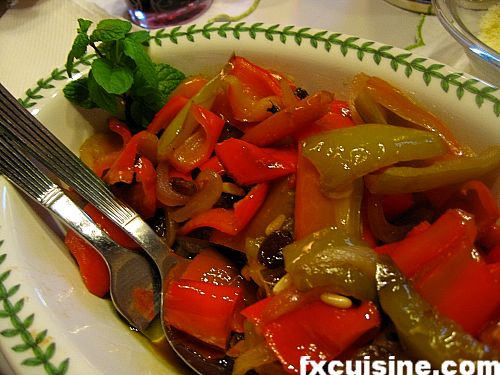 Mrs Consoli is a former food journalist and she teaches in Italian, French and English. Although we spoke Italian, I saw that her French and English are excellent. Most of her clients are wealthy Americans who come and explore Sicily. She is extremely knowledgeable in all things Sicilian and has an extensive literary background. Her cookbook La cucina del sole 'Sun's Kichen' is available in Italian and Japanese but not in English. It is definitely just as good as Il Diamante della cucina siciliana, my reference so far. Mrs Consoli is extremely well traveled and is really a pleasure to deal with. She tries to cook everything with as little fat as possible while retaining all the traditional ingredients. Since I know quite a lot more about Sicilian cooking than her average student, she was nice and flexible and the discussions moved on to more advanced topic without a glitch. A great course and warmly recommended. Make you sure you call ahead because Mrs Consoli has many engagements.
Eleonora Consoli
[haylayawNAWnawrah KONsawlee] www.cucinadelsole.it
info@cucinadelsole.it
Via Contemare 9
95029 - Viagrande Catania
Italia
Tel/Fax +39-095-7890116 or +39-095-7899091
177630 views
Related Articles

Sicilian Watermelon Folly ***
Eleonora makes Gelo d'anguria, the cult Sicilian dessert, in her home on Mount Etna.

Sicilian Lemon Leaf Meatballs ***
Another dish with Eleonora in her kitchen near the Etna in Sicily - gorgeous veal meatballs wrapped in lemon-tree leaves and grilled.

Authentic Sicilian Pasta With Broccoli ** Popular
This traditional Sicilian recipe brings together North African and Italian culinary traditions. A cult dish!

Fry Eggplants like a Sicilian Mama ** Popular
Frying sliced eggplants is one of the trickiest things to get right in Italian cuisine. See how Eleonora Consoli, an authority on Sicilian cuisine, does it in her own kitchen on Mount Etna in Sicily and you will never end up with oily sponges ever again!

Serious Pasta alla Norma ** Popular
Pasta alla Norma, a divine combination of eggplants, tomatoes, basil and ricotta, is one of the most elegant traditional Sicilian recipes. A real cult classic!
Copyright FXcuisine 2023 - all rights reserved.
If you do this recipe at home please let me know how it worked for you by submitting a comment or send me a picture if you can. Thanks!