Papardelle in Sicilian Walnut Meat Sauce
Home
>>
Recipes
My best pasta meat sauce - pork, red wine and walnuts. Spectacular photos!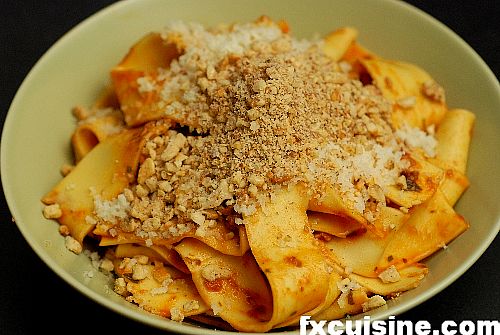 This is my best ragł pasta meat sauce. Very simple to make with easy-to-find ingredients, you can do it tonight if you want to. If you can't find Sicilian wine, no problem, but please try to use whole walnuts you crush yourself. It's great fun and they taste better!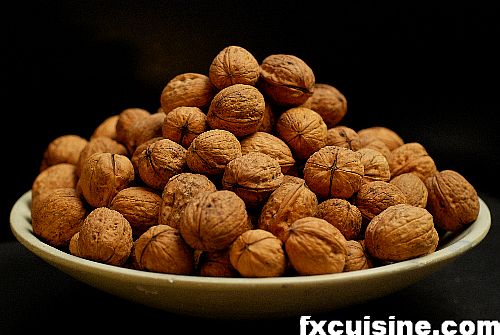 Papardelle in Walnut Sauce
Papardelle al ragł di noci [papardaylay al ragoo dee notchee]
As a main course for 4
500gr / 1lbs Pork shoulder
500gr walnuts
400gr tomato puréed
fresh parsley
1 onion
1 glass red wine
1 stick cinammon
1-2 bay leaves
Olive oil
Salt, pepper
800gr papardelle or other flat egg noodles
Grated pecorino or Parmesan
First let's first turn these walnuts into a delicious topping for our pasta. I bought them at the local farmers' market from a man who grows them in Prilly on the shores of Lake Geneva in Switzerland.
Crush the nuts shells and remove the walnuts one by one. Check they are not black, shrivelled or furry. I use my granite pestle to break them on the side of my mortar. Great fun in the kitchen!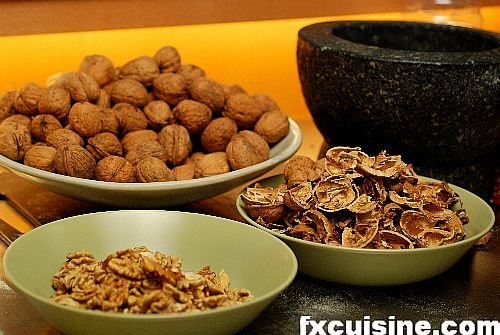 A fistful of whole nuts will yield you only a couple tablespoon crushed walnuts. Try not to eat them all while working!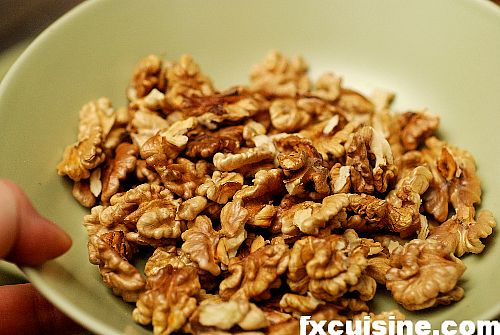 Place your shelled walnuts on a tray in a hot oven and toast until they turn light brown and fragrant. Do not abandon the nuts in the oven or you'll burn them. Check every 2 minutes for doneness. In my oven, it takes about 6 minutes at 180C° but rely on frequent tastings to know when they are toasted.
Coarsely crush the toasted walnuts in a mortar or using a rolling pin on a hard surface. You want texture, with crunchy pea-sized walnut bits emerging from the powdered nuts.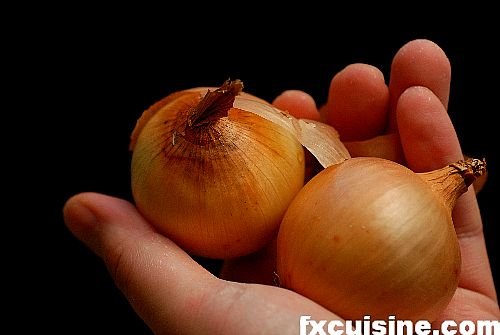 We now turn to the ragł. These onions will serve as the base from which we will build up the taste.
Peel and finely dice the onions.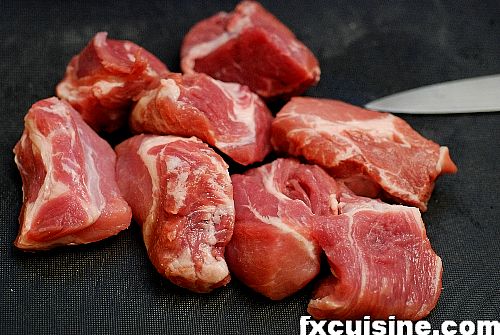 Cut the meet in 2.5cm/1'' cubes. Do not remove the fat.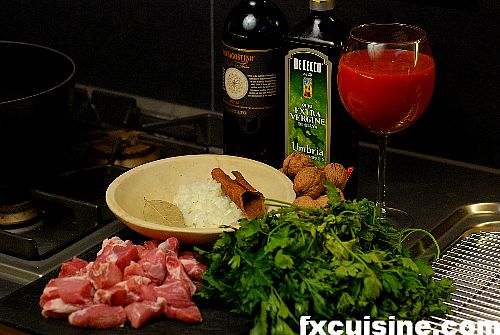 Prepare all the ingredients for the ragł next to your Dutch oven - clockwise from the bottom left: pork, bay leaf, diced onions, cinammon stick, Sicilian red wine, olive oil, tomato purée and parsley. The whole walnuts are here only for the picture.
Left: Fry the diced onions in a little olive oil. Add the cinammon stick and bay leaf. This is a they way Indian cooks use large spices, toasting them to enhance their taste and dissolving it in fat. Sicily is indeed at an amazing crossroad of cultures! Middle: Add the meat and continue to fry over high heat. Right: the meat should be well browned before you move to the next stage. A more rational process would be to first fry the meat in very hot oil, reserve it, then fry the onions. You would get better browning.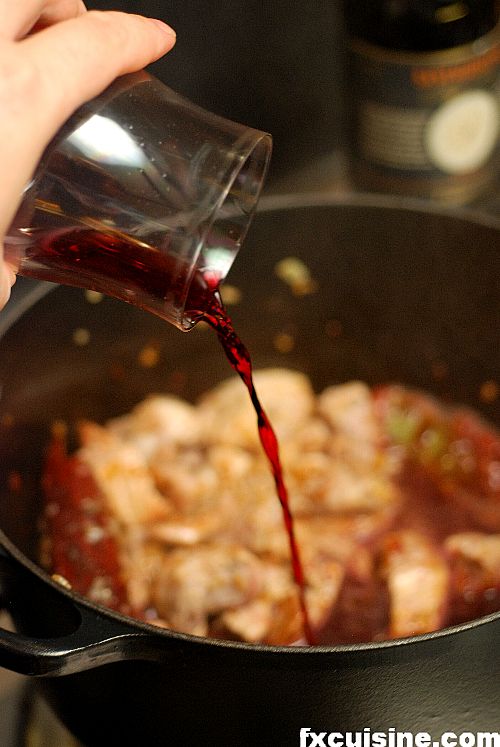 Now for a magical moment. Add a large glass of red wine to the still very hot pot. Your ragł will bubble fiercely and spit alcohol-soaked fumes back at the cook. Turn vigorously so that any browned meat or onion that stuck to pan will dissolve in the wine and contribute to the sauce's overall taste.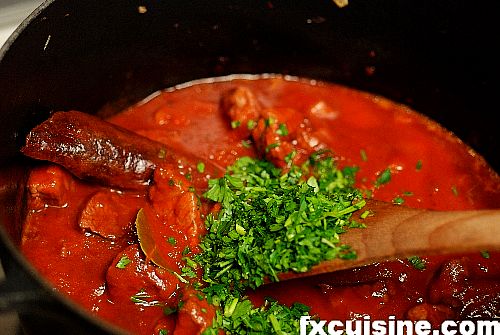 When the alcohol has evaporated, add the tomato purée and parsley. Notice the huge cinammon stick from Istanbul's Egyptian Bazaar I used that day.
Bring to a boil, reduce heat to the lowest flame and cover. Leave your pot to simmer for an hour.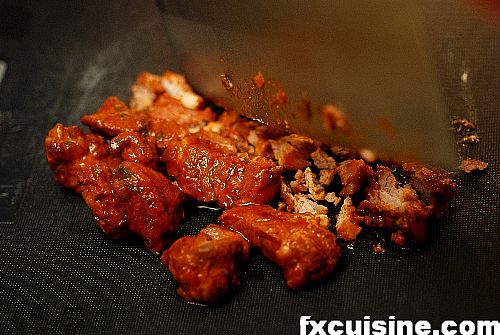 Fish the meat cubes out of the ragł and finely chop them on a board. If you have a meat grinder that will work even better.
Chop in one direction, then turn your knife crosswise and chop again until you have ground meat. Why not use ground meat in the first place? This recipe, and others, is very specific about using meat cubes that are ground only after cooking. I think you would not be able to brown the meat efficiently using ground meat which would give out too much liquid, but there might be another good reason. Please do this on faith at least the first time, it's very easy and quite fun to chop the cooked meat. Return the meat to the ragł, add some water if needed and continue to simmer until the pasta is ready.
| | | |
| --- | --- | --- |
| | | |
Let's make the pasta. Italians eat strong meat sauces such as our ragł almost exclusively over wide flat noodles they call papardelle or fettucine. I recommend you make them yourself as this is the easiest pasta you can make from scratch. Look up my Spelt Paperdelle in Grouse Sauce article for more instructions. For today's ragł you could use eggs and semolina pasta or even add some whole wheat or spelt flour. The ragł can stand up to a little character in the pasta. Please do not make your noodles too wide nor too long or your guests will have trouble eating them without splashing sauce all over.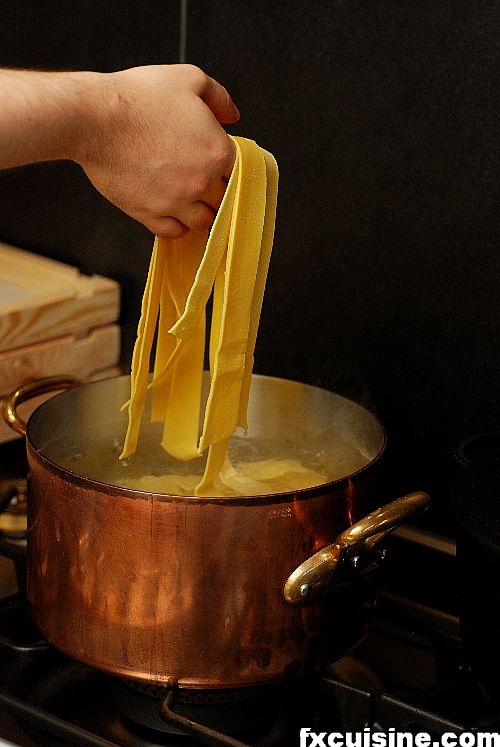 Fill your largest pot with water, add salt and bring it to a boil on your hottest burner. Cook the pasta very much al dente - sometimes as little as 30 seconds is all you need.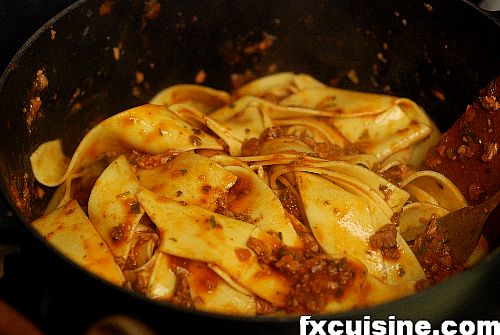 You can mix the pasta with the ragł but you'll need a very large pot to manage an even distribution of the sauce. It is safer to plate the pasta and then add a laddleful of ragł.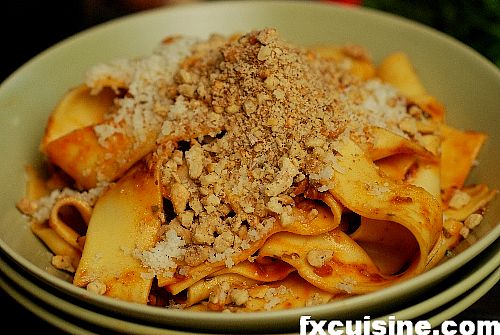 Sprinkle with a little grated pecorino or Parmesan cheese and then with the ground toasted walnut.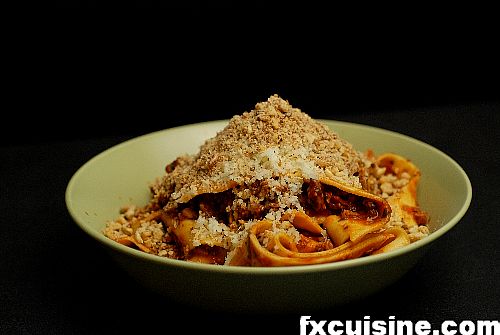 That's it. This immensely original and yet very authentic Sicilian dish will be a hit. The sauce has an intense red wine flavor with a hint of cinammon that reminds you of Sicily's proximity to Africa. The toasted walnut give it a crunchy texture and great seasonal appeal. Leave some whole nuts on the table to remind your guests of all your fine efforts shelling the nuts!
99898 views
Related Articles

Sicilian Chocolate Lasagna ***
Savory lasagna in a chocolate meat sauce, a century old recipe from one aristocratic Sicilian family. Easy, quick, delicious and no, it doesn't taste funny.

Authentic Sicilian Pasta With Broccoli ** Popular
This traditional Sicilian recipe brings together North African and Italian culinary traditions. A cult dish!

Serious Pasta alla Norma ** Popular
Pasta alla Norma, a divine combination of eggplants, tomatoes, basil and ricotta, is one of the most elegant traditional Sicilian recipes. A real cult classic!

Priest-stranglers in Neapolitan Meat Sauce **
These gnocchis served in the cult Napolitan ragł sauce would be a world-famous dish if they didn't take 7 hours to cook.

Sicilian Cash Cow **
This baked eggplant pasta dish has been keeping client queuing at the door of Geneva's most successful popular Italian restaurant 15 years. Find out how you can milk the Sicilian cash cow for yourself.
Copyright FXcuisine 2023 - all rights reserved.
If you do this recipe at home please let me know how it worked for you by submitting a comment or send me a picture if you can. Thanks!